Title: She and Her Perfect Husband
Also Known As: 爱的二八定律, The 80/20 Rule of Love, Qin Shi and Her Perfect Husband, The Two Eight Law of Love
Director: Lin Yan
Screenwriter: Zhu Li
Genres: Romance, Comedy, Law
Country: China
Episodes: 40
Year: 2022
Original Network: Tencent Video
Where to Watch: Viki, WeTV
List of Recap:
Hola readers… did you enjoy this drama? Did you find it as fascinating as I did? Qin Shi and Yang Hua might be flawed, but their relationship was good and unlike any other couple. It's time for another She and Her Perfect Husband episode recap. In these episodes 9 and 10, we might see some sweetness that started to melt Qin Shi's frozen heart. Yang Hua.. good job!
By the way, I also wrote She and Her Perfect Husband drama review. Let's start the recap, but first, these are new characters appearance in these episodes, from Cheng & Hui Law Firm.
She and Her Perfect Husband Characters
Lawyer Fang and Lawyer Chen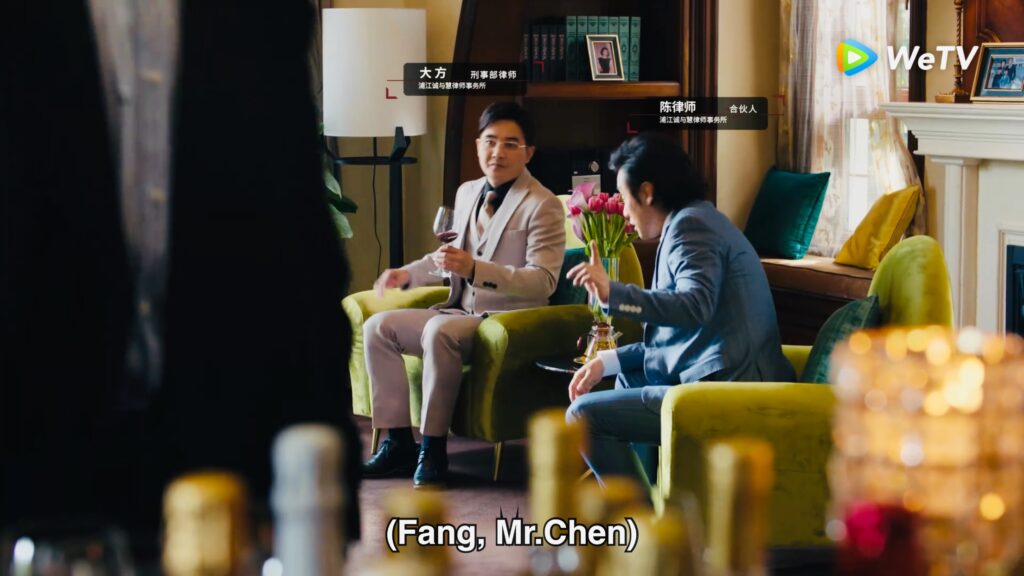 Lawyer Fang was from the criminal department and a candidate for partner. While Lawyer Chen was already a partner of the Cheng & Hui Law Firm. He worked for the company department.
Lawyer Shen and Lawyer Ma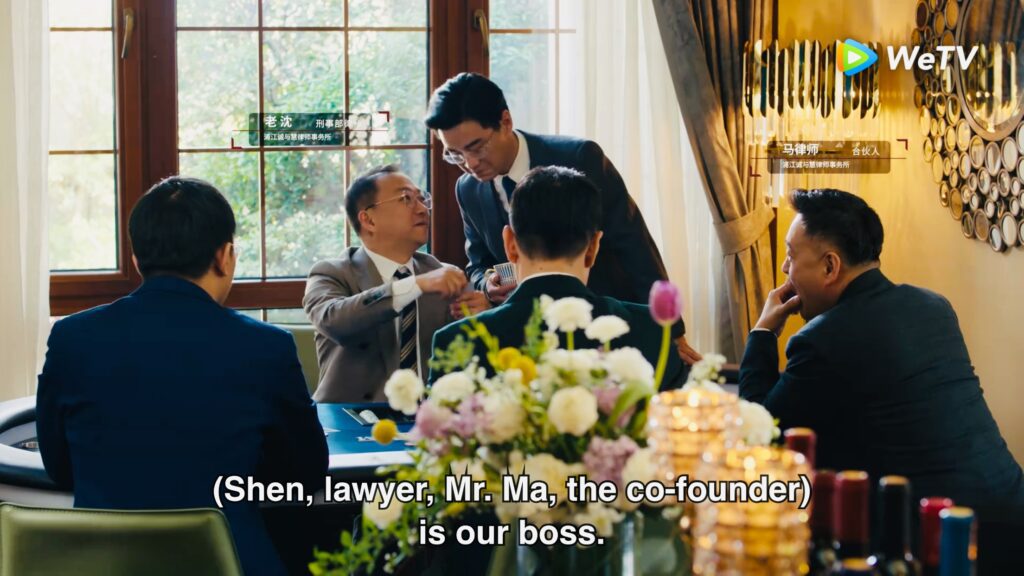 Lawyer Shen (the one with the glasses) was another lawyer from the company department while Lawyer Ma, who was a sharp minded person, was the co-founder of Cheng & Hui law Firm.
Episode Recap
Episode 9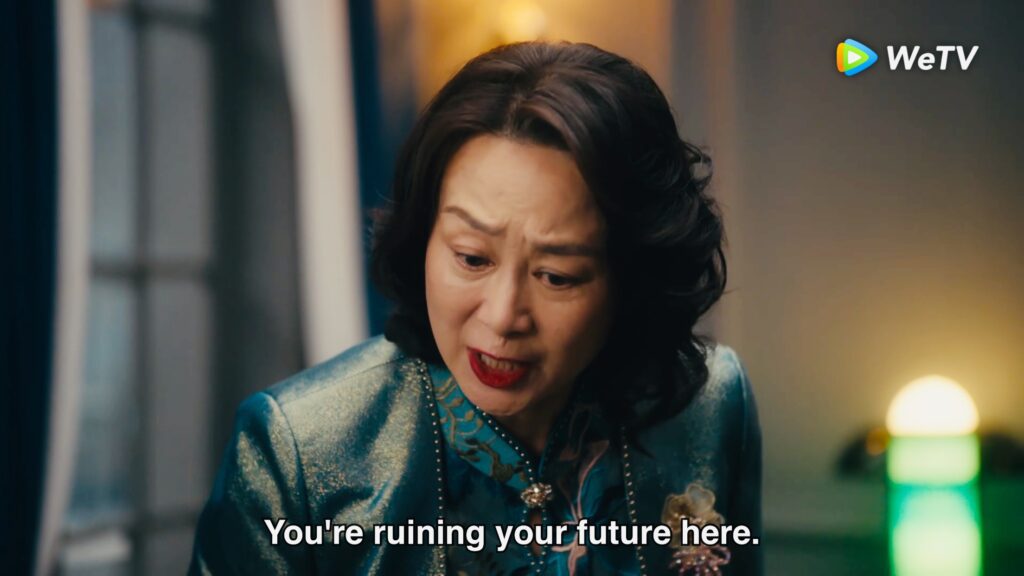 Mother Yang was still angry over Qin Shi's words and tried to persuade Yang Hua to leave her. However, she was completely beaten up by Qin Shi's sharp words. Qin Shi said that she and Yang Hua had the same values and it would surely bond them together. And because Mother Yang always urged him to get married, she should be happy that Yang Hua would get married soon.
Mother Yang could not accept Qin Shi's words and snapped that Yang Hua should find someone properly. Qin Shi smiled and took a deep breath before she responded that she interpret Mother Yang's words as Yang Hua could get married but his spouse would be decided by her and not him. Choked by Qin Shi's words, Mother Yang refuted her statement.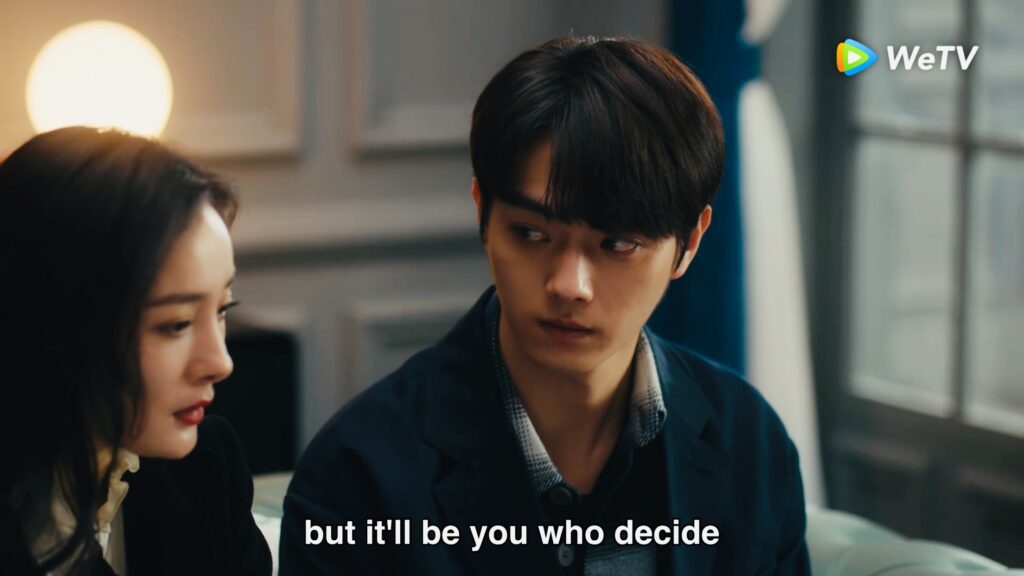 Mother Yang reassured Yang Hua that she was happy to see him get married but he should find someone suitable for him. Someone that he truly liked. Yang Hua responded that Qin Shi was the perfect fit for him.
Mother Yang snapped that Qin Shi was irreverent towards marriage. If he married her, there would be only a divorce in the end. She added that in their family, they have never had any divorced couple and she did not agree to their marriage. Mother Yang talked about Qin Shi's family since her father had been divorced twice.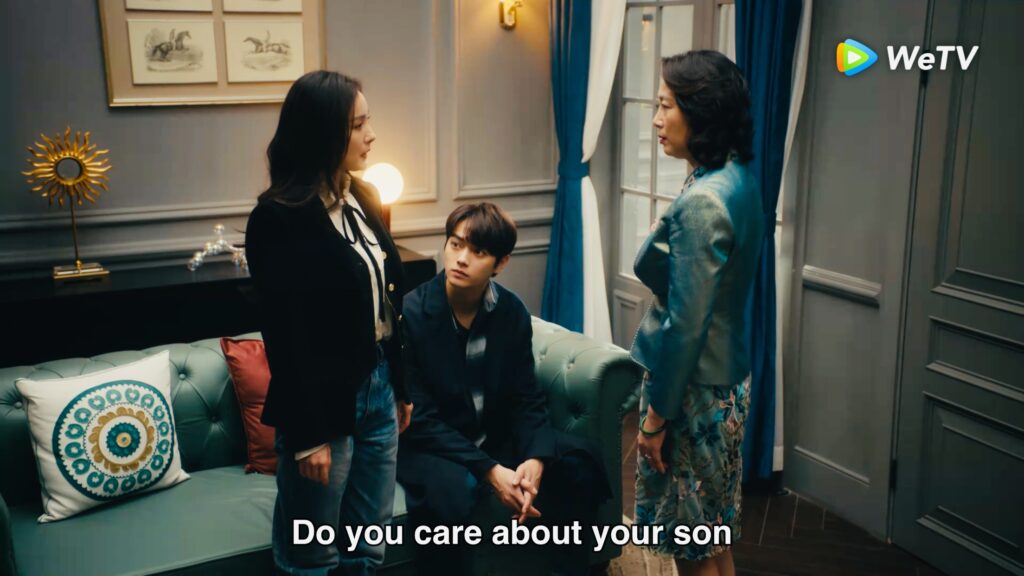 Mother Yang's words angered Qin Shi. She stood up and with a firm voice she rebuked that Mother Yang always said that she cared about Yang Hua but never considered his feelings. Yang Hua did not want to get married but she made him to attend blind dates. And now he wanted to get married but she made it hard for him.
There was no problem with being single, married, or divorced. Lastly, Qin Shi asked Mother Yang whether she cared about Yang Hua or cared about how people judged them. Qin Shi added that as a mother, Mother Yang should give him support, understanding and protection from societal prejudices instead of joining them and hurting him.
Yang Hua stared at Qin Shi in awe while Mother Yang was rendered speechless. Mother Yang was terrified of Qin Shi's accusation while Yang Hua's expression showed that he just received enlightenment…😅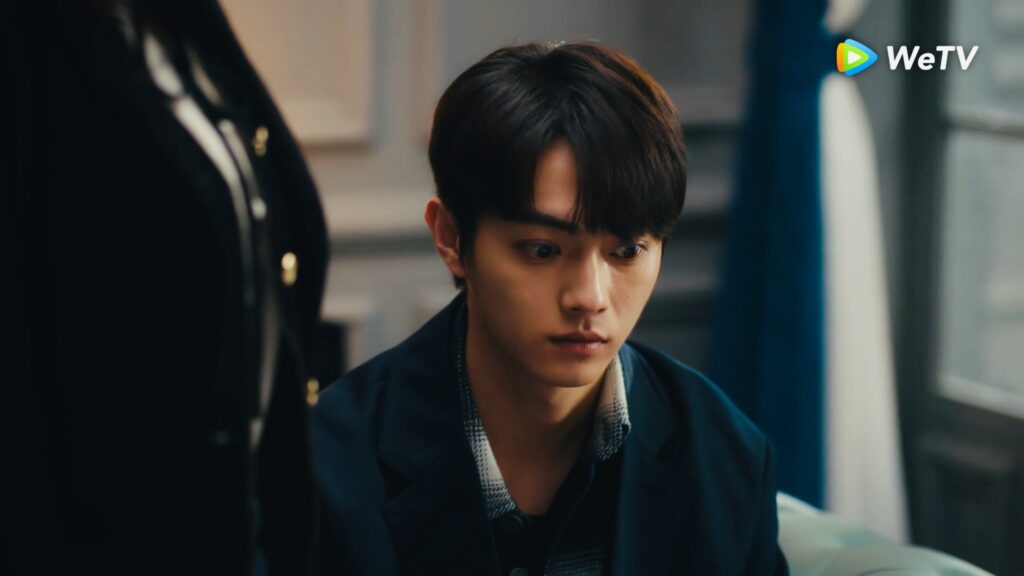 Mother Yang immediately promised that she would not force Yang Hua to get married or to attend any matchmaking events. Right now, she just wanted Yang Hua to come home with her. Yang Hua glanced at Qin Shi who made a peace sign with her hand. Mother Yang took her purse and dragged Yang Hua to the door.
Qin Shi stopped her and in a more serious tone, she said that this should be the first and last reminder for Mother Yang to not barge into Qin Shi's workplace without prior notice or discuss anything about Qin Shi with her colleagues. Embarrassed, Mother Yang snapped that people like Qin Shi did not have any respect for the elderly or superior (she thought Li Dai was Qin Shi's superior 😂). She continued to drag Yang Hua out of the room.
Yang Hua smirked with triumph at Qin Shi before he noticed that she did not wear any shoes. Qin Shi sighed and sat on the sofa. The meeting seemed tiresome for her. Well, Qin Shi had to run all the way from the restaurant to her office and then engaged in a critical situation. If it was me, I would immediately look for a cold drink… a bubble milk tea would be best…😅
Meanwhile, after he sent his mother to a taxi, Yang Hua went back to the building and waited for Qin Shi in front of the elevator. When she stepped out of the elevator, still with no shoes, Yang Hua carried the dumbstruck Qin Shi and took her to the office. What he did caused uproar in Cheng & Hui's family department.
Some of them stopped their meeting to follow the couple. Everybody was distracted by the rare sight of the mighty Qin Shi carried like a princess by a handsome young man. Even Li Dai was flabbergasted when she saw it. When she regained consciousness, Li Dai dismissed the people who stared a the closed door of Qin Shi's office.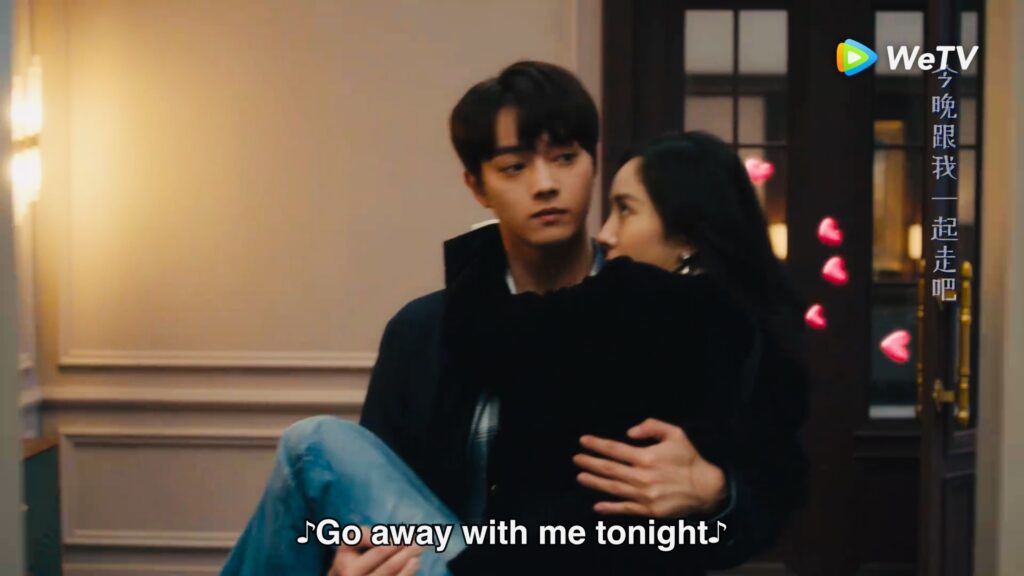 I really like the heart sign that followed Qin Shi and Yang Hua…💖
Everybody went back to their work after Li Dai returned to her office. Some of the female workers still could not forget the sight. They whined that the sweetness hurt their single heart…😂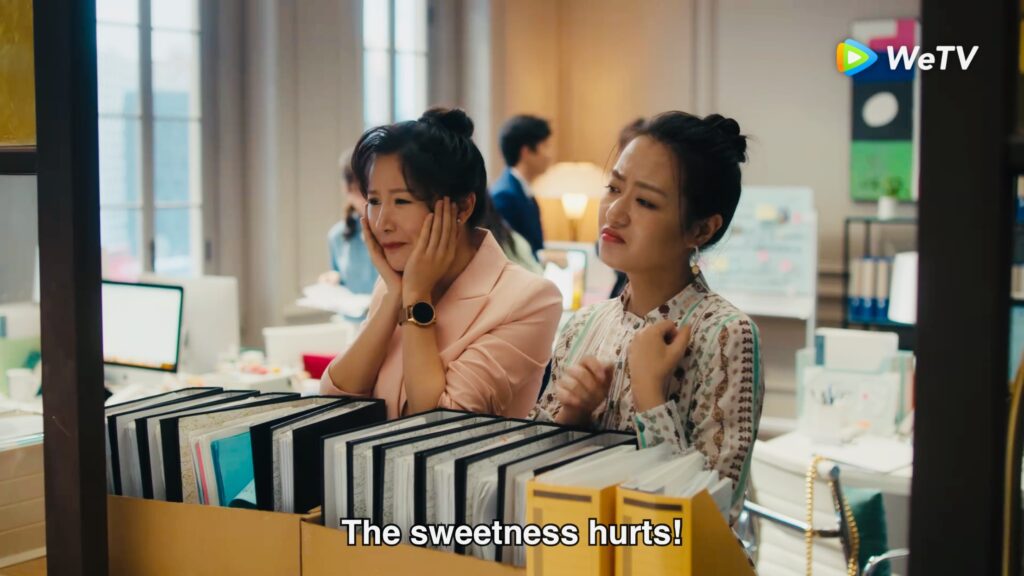 Yang Hua cleaned Qin Shi's dirty soles with tissues. He reminded her to use high heels less and put on shoes at home. The sight of Yang Hua who took care of her carefully caused a disturbance in Qin Shi's heart. She thought that she might have been single for too long and a single romantic gesture would send her heart flying.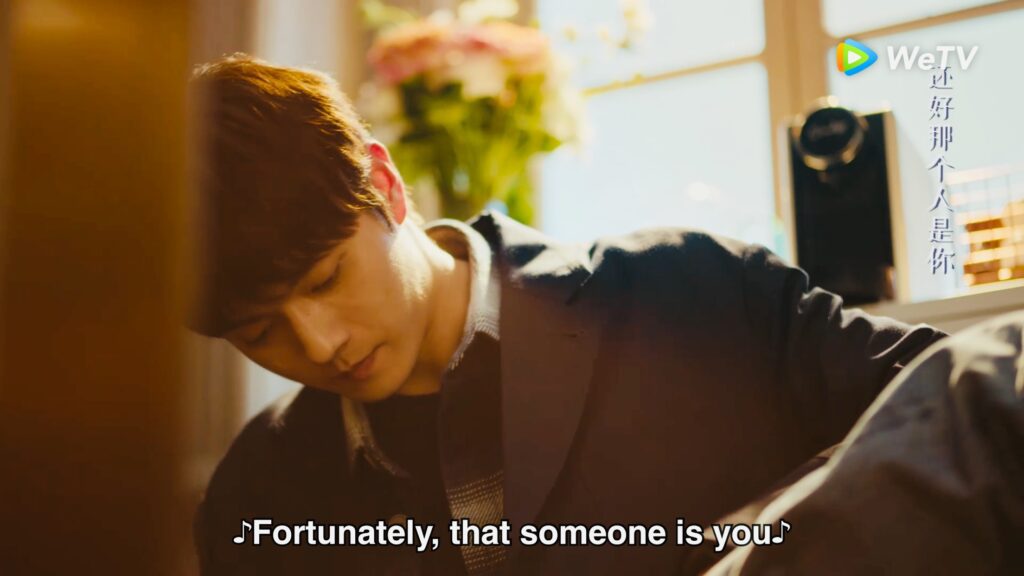 Yang Hua wanted to apologize for her mother's behavior back then, but Qin Shi stopped him. She pointed to the room next door and reminded him that Li Dai would try to eavesdrop on them. And she was right. Li Dai tried many ways to listen to the conversation in Qin Shi's office. But it was for naught because the wall was too thick.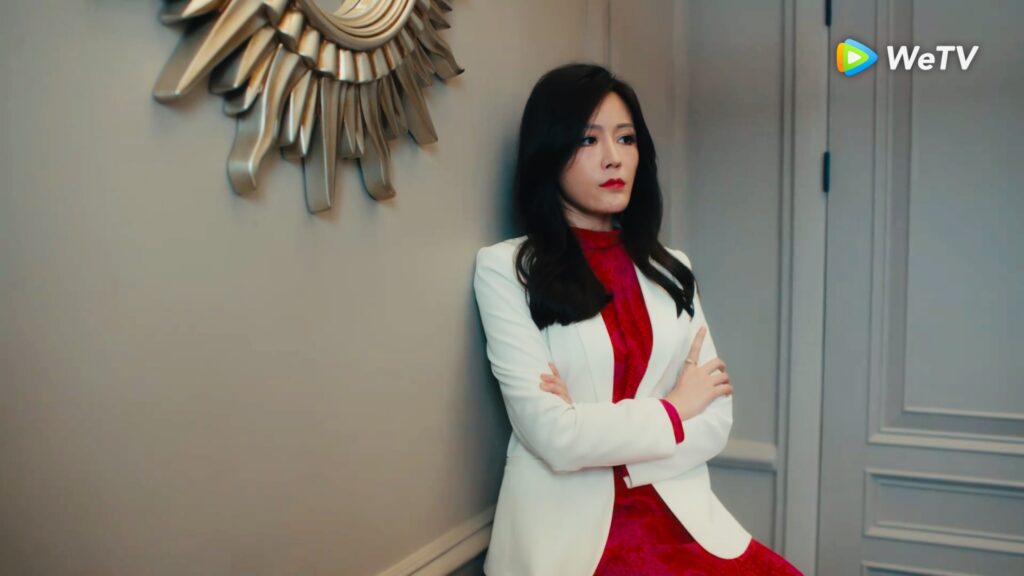 Yang Hua lowered his voice and whispered that he apologized on his mother's behalf and that he hoped that she did not cause her trouble. Qin Shi reassured him that the damage was still in an acceptable range. Before he left, Yang Hua praised Qin Shi because she had the eloquence of a good lawyer. Qin Shi awkwardly took the compliment.
Li Dai tried to assess the matter between Qin Shi, Yang Hua, and Mother Yang. But she could not figure out why Qin Shi had to hide her marriage with Yang Hua from Mother Yang. She even called Qiao Si Ming to help her with it. She was suspicious because Mother Yang had Yang Hua attend blind dates.
Qiao Si Ming said that there were two possibilities for Yang Hua's behavior, he tried to shut his mother up or he cheated on his wife. Li Dai had some idea about it and after some thought, she was able to conclude that if Yang Hua was single, then Qin Shi lied about her marriage.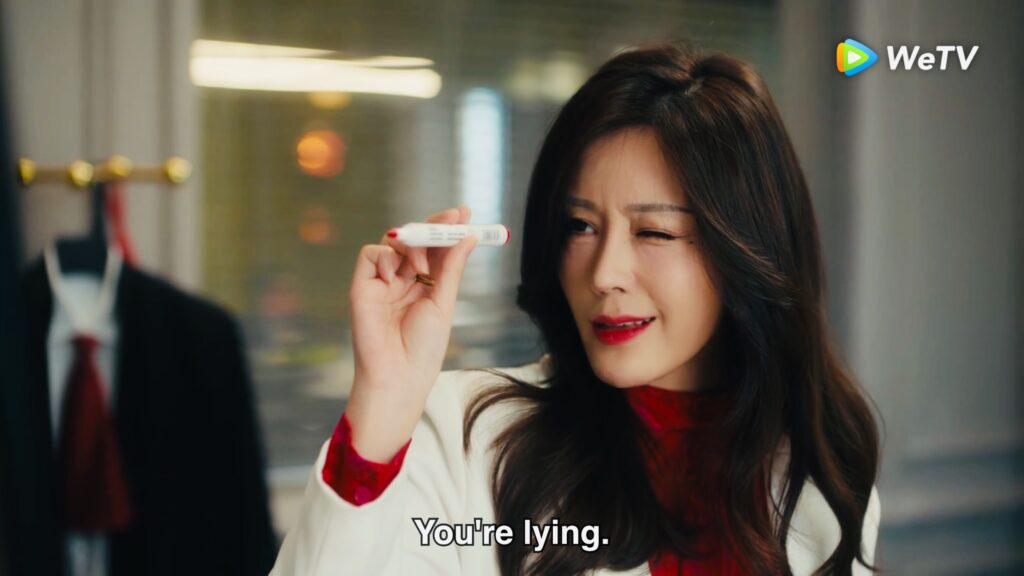 At the same time in a luxurious Japanese restaurant, Qin Wenyu and Vivian were having a good time. Vivian did not want to eat there because the restaurant was too expensive, but Qin Wenyu reassured her that they should enjoyed the food. Hence, they ate with gusto.
Problems arised when they were at the cashier. Ren Mei Mei had Qin Wenyu's phone accounts frozen, so he could not pay for the food. Qin Wenyu told Vivian to pay the bill. She rejected it at first but eventually she had to pay a large sum of money..😂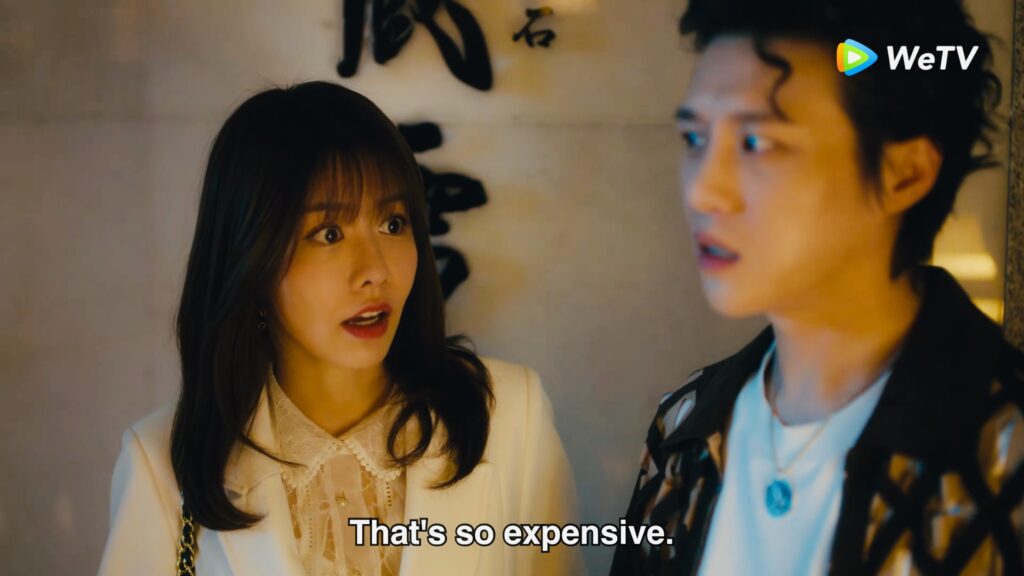 Yang Hua went back to his home. Father and Mother Yang were very happy and cooked him a table full of his favorite dishes. Mother Yang commented that Yang Hua had lost weight and told Father Yang to take his luggages back. Father Yang was confused that if Yang Hua returned home, then how about Qin Shi? Mother Yang snapped that he should not mention an outsider at the table. Yang Hua hesitated before he apologized to his parents for making them worried about him.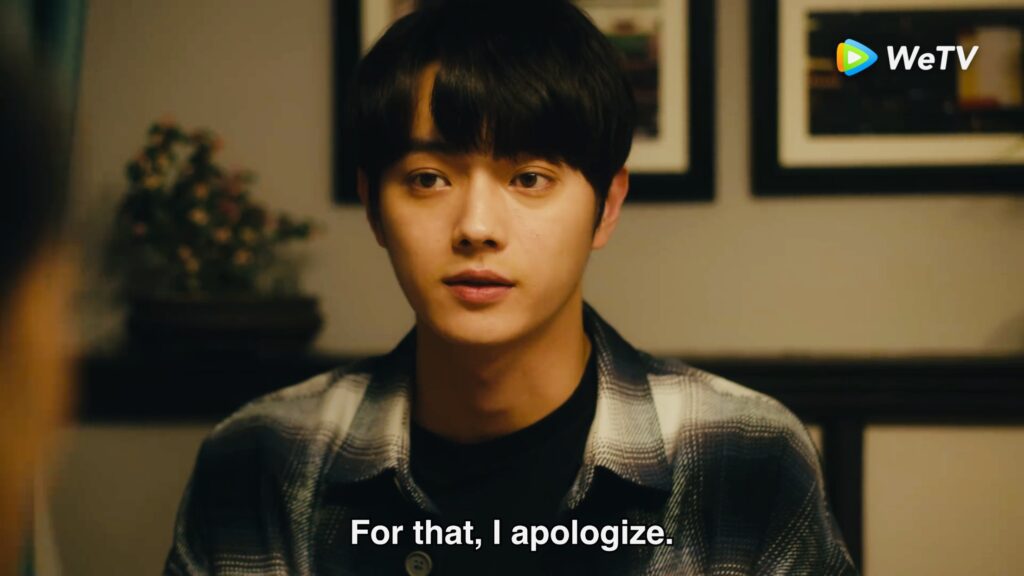 He told them that he realized that he had been a selfish person that took them for granted. He also said that he learned a lot since he spent time with Qin Shi. She was a brave, independent, and responsible person, who dared to face challenges. Yang Hua said that those traits were qualities that he did not have himself. Mother Yang was confused because Yang Hua suddenly brought up the matter. But Father Yang smiled, knowing that Yang Hua finally admitted his shortcomings.
Yang Hua told his mother that she was disrespectful when she barged into Qin Shi's workplace. Father Yang angrily looked at his wife. He did not know about the incident that happened because Mother Yang only told him that she had a business to attend to, and did not mention anything about Qin Shi. Yang Hua said that he did not want her relationship with him to draw any criticism from others.
He also said that Qin Shi's parents having marriage problems was not her responsibility. Mother Yang tried to defend herself by stating that she was carried away at that time, and family conditions had a huge influence on someone. Yang Hua refuted that Qin Shi's parents had raised her in a good way since she was able to be a successful lawyer.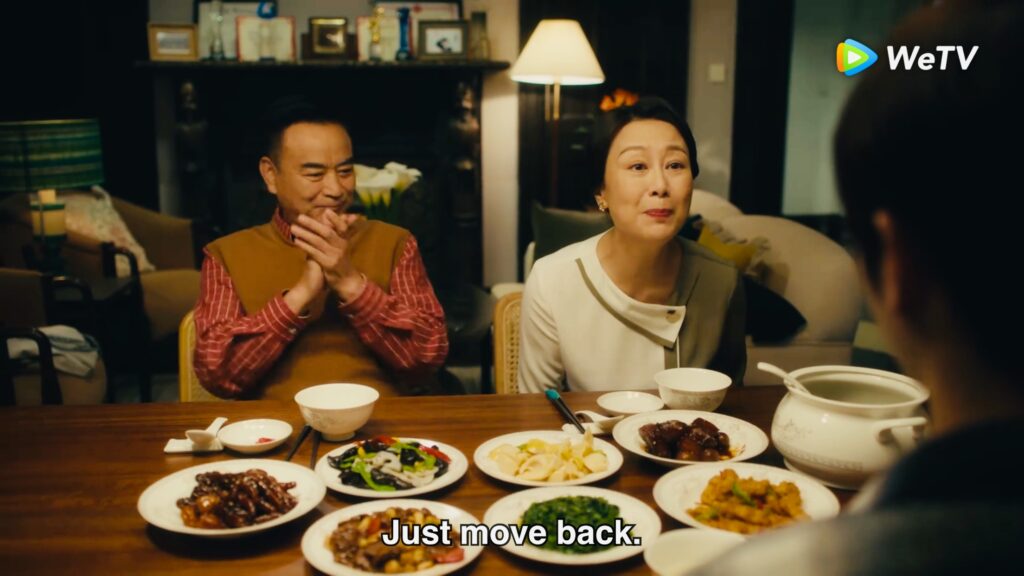 Yang Hua said that even if he did not marry Qin Shi, he would not move back to their house. Yang Hua realized that he was almost 30 years old. He should be responsible for his life. Mother Yang persuaded him to stay but Father Yang stopped her. He praised Yang Hua for everything he said and invited him for a drink with the special wine that he kept for Yang Hua's wedding.
Father Yang was happy because Yang Hua showed him that he was a determined and responsible person. And Father Yang was proud of his son. He also praised Qin Shi as an amazing woman because she was able to change Yang Hua. However, Father Yang still told him that they did not have to rush in getting married. They should take their time slowly.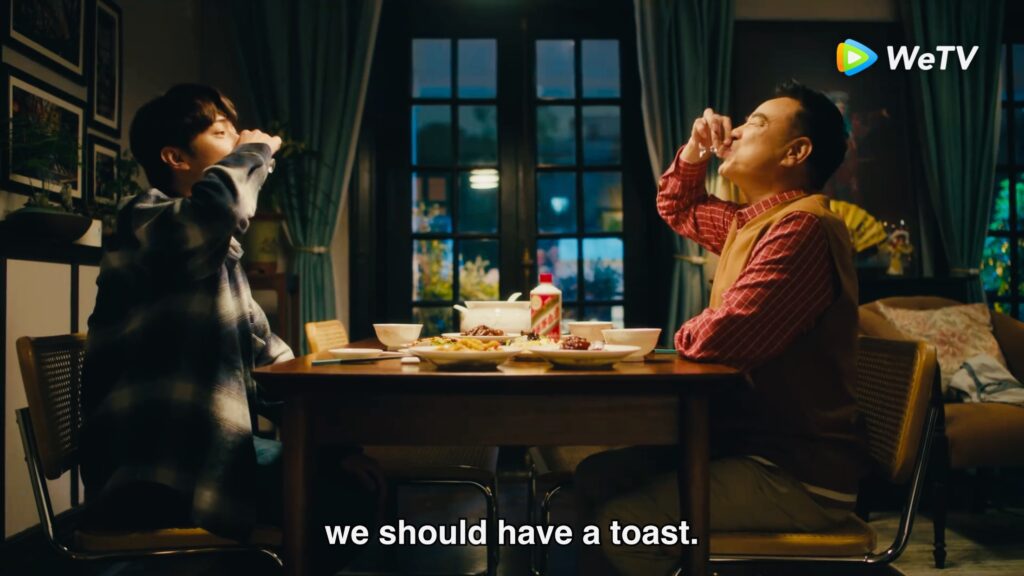 Qin Shi had been waiting for Yang Hua for a long time when he came home completely drunk. She wanted to talk to him about Tang Yi Hui's invitation. Qin Shi said that her plan had changed. Previously they agreed that Qin Shi would tell her colleagues that Yang Hua would go abroad. However, since they were invited to partners lunch meeting the next day, she could not do that.
Instead of answering her request, Yang Hua asked Qin Shi whether she told him to keep Luowei Yulan's matter a secret because Cheng & Hui had something to do with the 25 million yuan debt.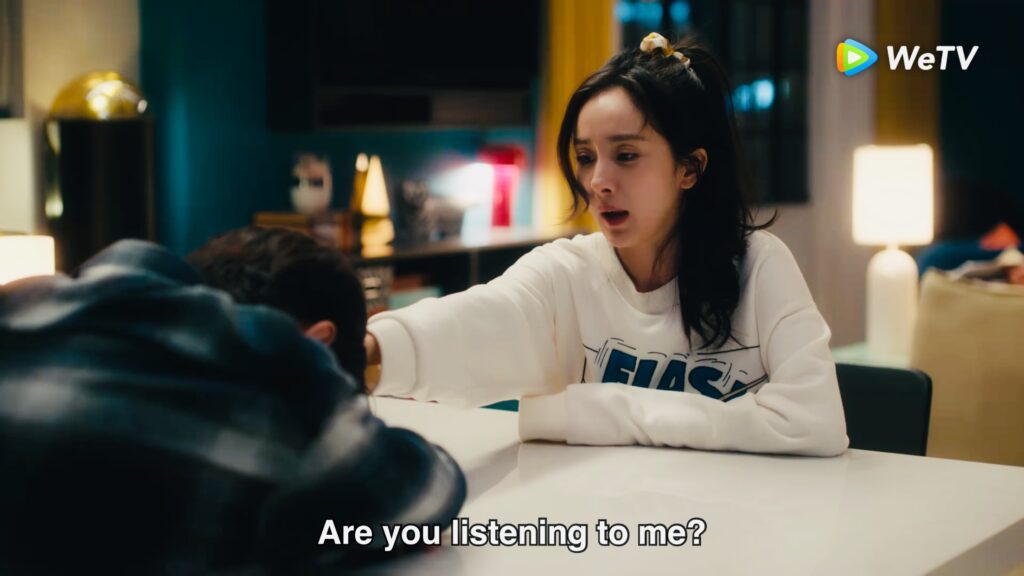 Meanwhile, Mother Yang racked her brain because she felt that she used to see Li Dai somewhere. She was shocked when she saw Father Yang sat on the bed and recited poetry for her. He always did that every time he was drunk.
At the same time, his son also did the same. Yang Hua stared at Qin Shi before he started to recite a poem about how life was short. Yang Hua suddenly stretched his hand and took Qin Shi to her bedroom, sat her on the bed, and recited another poem about how pretty she was. He ended his poem with the line which made Qin Shi burst out laughing.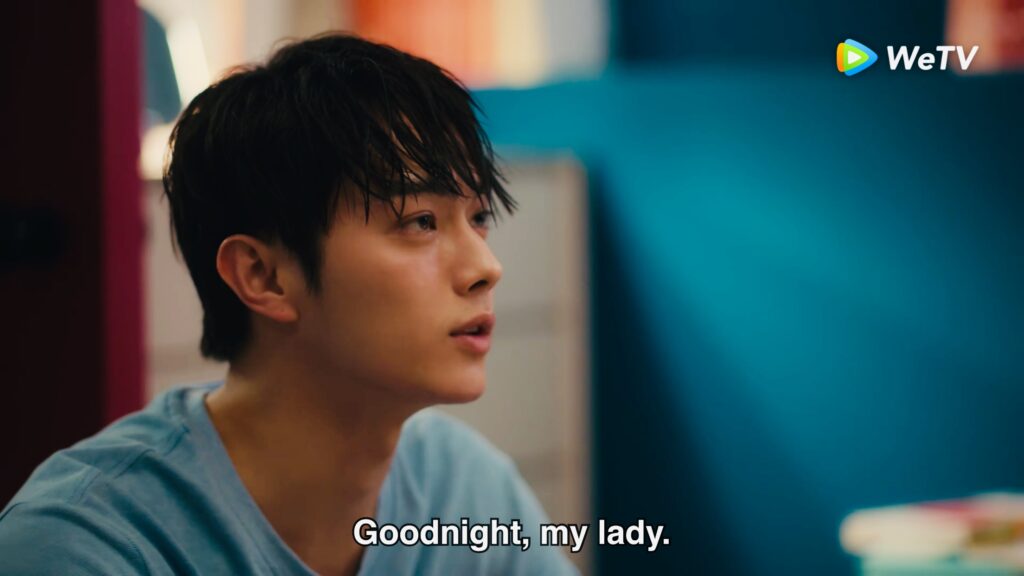 The next morning, Qin Shi made him a hangover juice and told him to get ready for the partners' lunch meeting. Yang Hua asked her again about the 25 million yuan money. He said that he always thought Qin Shi was a good lawyer. However, he wanted to know if Qin Shi told him to keep the matter a secret because she wanted to protect her law firm and if her law firm's interest violated others' interest, what would she do.
Qin Shi explained that if the 25 million yuan did exist, she would support her law firm because it was her work ethic and her responsibility. She did not have any obligation to warn other investors about Luowei Yulan's situation. Yang Hua criticized her because she hid the truth from other investors. They were ordinary people who used their hard-earned money to invest in Luowei Yulan. Qin Shi did not agree with his words. She reminded him that every investment has its own risk.
Investors should be prepared for a downfall. As a finance graduate, Yang Hua should know about awareness better than anybody. Qin Shi told Yang Hua that he must be too compassionate to not heed the risk taking principle. And that was the reason why he could only be a shareholder. Her words rendered him speechless.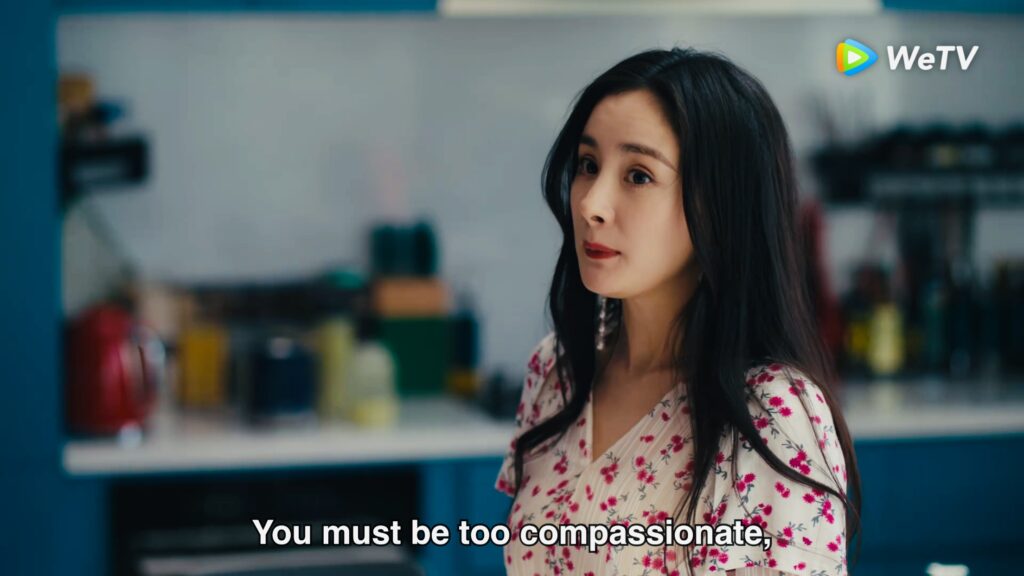 Yang Hua recalled when he was still working for investment company, one of his stocks dropped to the point it had to be sold because the company was worthless. He was confused about what happened. But there was a Chinese man with glasses who stood behind him and looked elated when everybody was in chaos.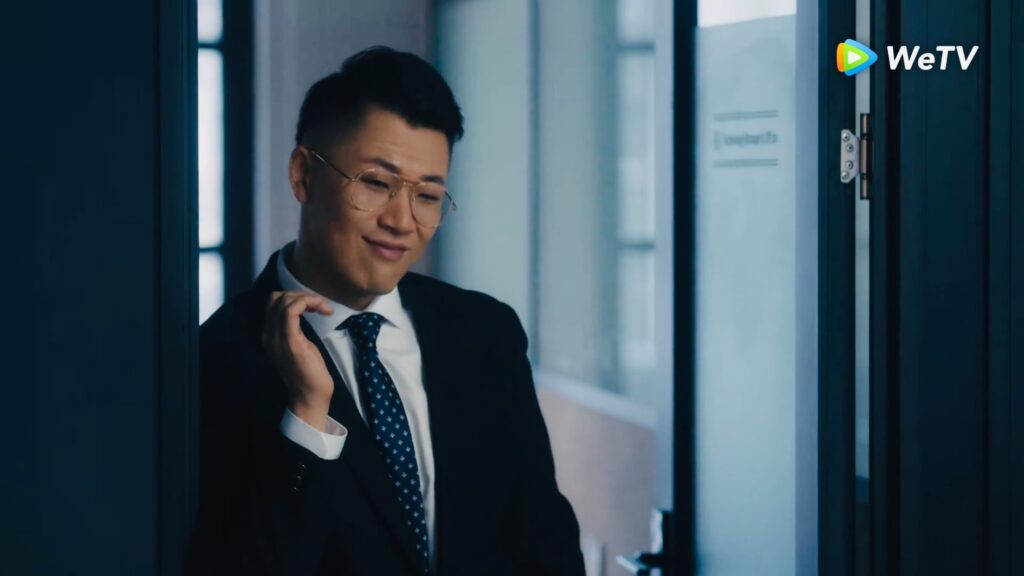 Because Yang Hua still refused to go, Qin Shi used her last resort. The poem that he recited last night. It turned out she recorded everything Yang Hua said to her. And because of that, Yang Hua had to agree. When they were in the car, Qin Shi helped him with the safety belt and put a wedding ring on his finger. Yang Hua stared at her. Inexplicable feeling arose in his heart.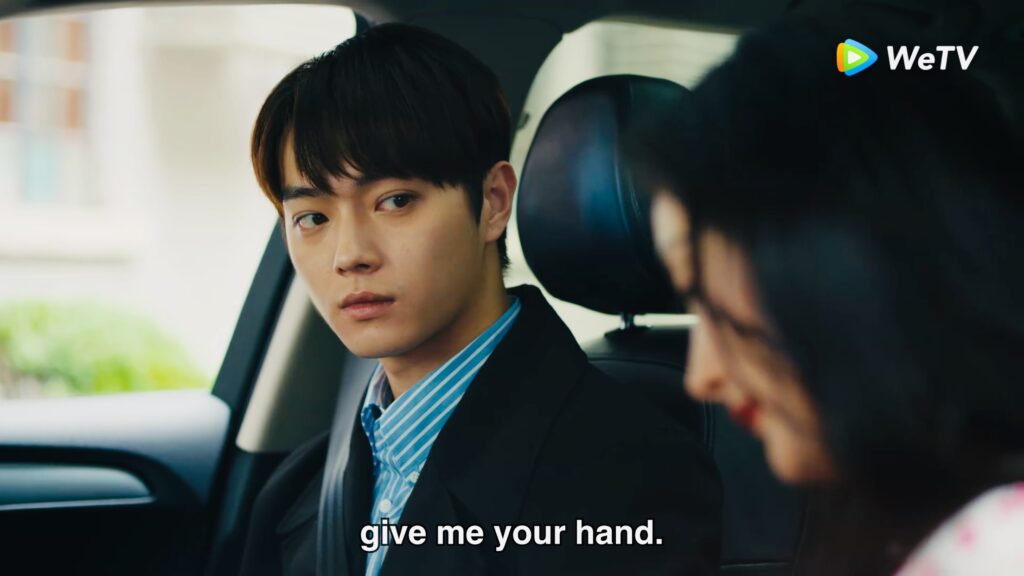 Tang Yi Hui welcomed them into her grand house. When she took Qin Shi and Yang Hua to the leisure room where most of the partners and candidates were, they looked down at her. However, Qin Shi ignored them and pretended that everything was okay. Jin Cheng took Qin Shi and Yang Hua to drink a special tea that could cure hangover.
Episode 10
Li Dai appeared at the lunch meeting. She came with a face that was brimming with happiness. Nobody could guess how much determination was hidden behind the friendly face.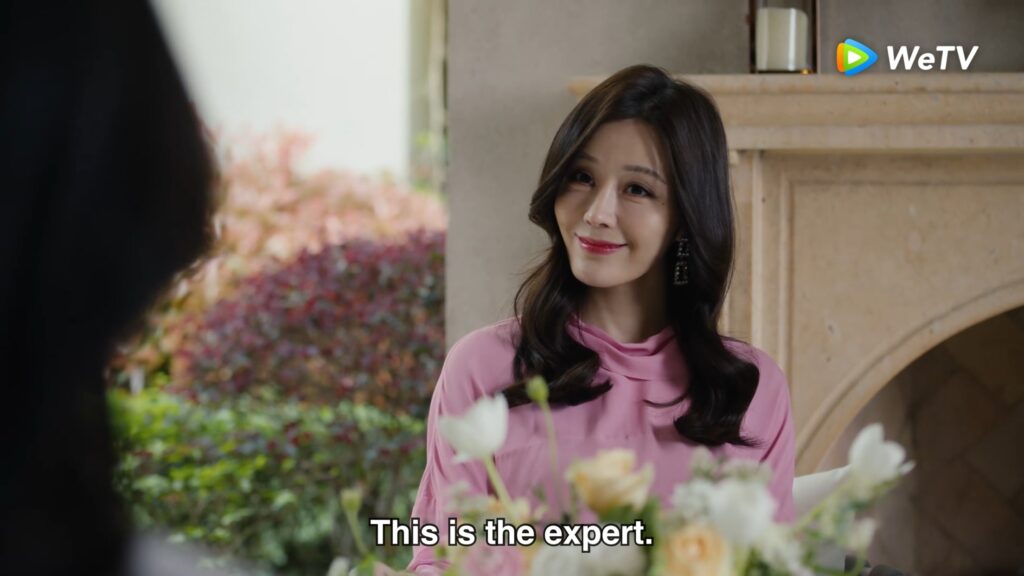 Qin Shi, Yang Hua, Lawyer Ma, and Jin Cheng were enjoying some tea when Li Dai came and snatched Qin Shi's cup of tea. Only with one sip, she could determine that the tea was produced in 1982. Even Jin Cheng was impressed. Lawyer Ma praised the report that Yang Hua made and asked about his job.
Yang Hua answered according to the lie that Qin Shi had prepared that he graduated in International Finance and worked as a technology analyst and risk controller and right now, he was responsible for the sale and purchase of investment projects. When Lawyer Ma asked which company he worked for, Qin Shi cut in and in a playful manner asked Lawyer Ma whether he wanted to poach Yang Hua from her.
Li Dai slipped in and commented that Qin Shi and Yang Hua had lived away from each other, Lawyer Ma might just want to help them so they could stay together. Qin Shi explained that she did not refuse the idea of living together. However, they both had an agreement to not constrain each other when it comes to careers. Therefore, they did not have to be worried about any distance.
When they walked to the lunch table, Qin Shi asked why Li Dai was there. Li Dai answered that Qin Shi was not the only candidate. According to the company rules, everybody who held the position of the chief department and above had a right to recommend a candidate. And Li Dai was recommended by Lawyer Hua from their department.
At the lunch table, Tang Yi Hui asked Qin Shi to sit next to her. Before lunch, Jin Cheng expressed his gratitude to the lawyers of Cheng & Hui and proposed a toast to everyone at the table. Yang Hua raised his wine glass but Qin Shi told him to drink juice instead of wine. I guess she was afraid that if he was drunk he would recite several poems in front of her colleagues…😂.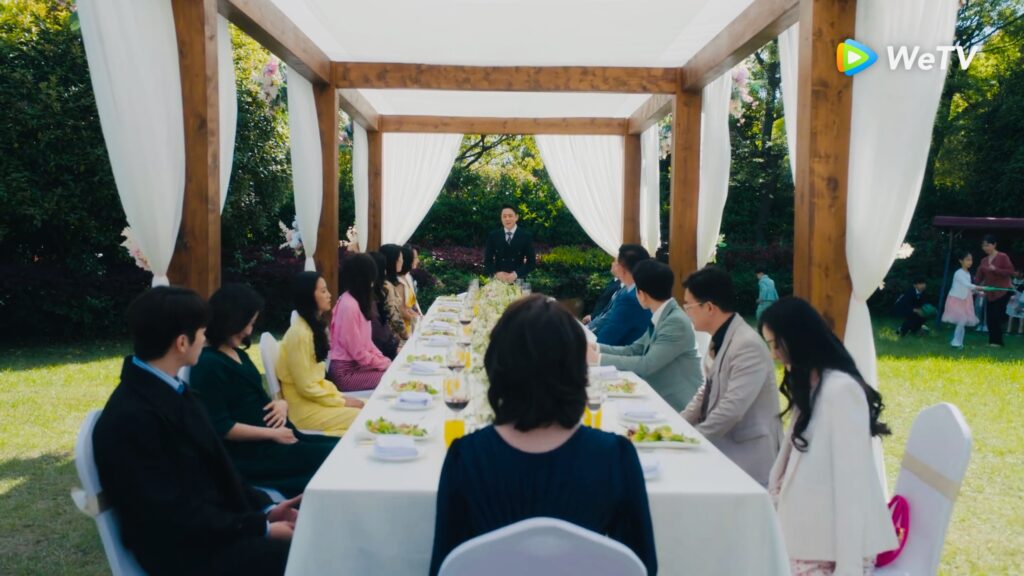 Jin Cheng continued with his announcement that they would choose a partner for the 11th floor. And the candidates would be lawyers from the family department and criminal department, respectively. Qin Shi's expression showed how nervous she was and on the contrary, Li Dai seemed unaffected at all by the announcement.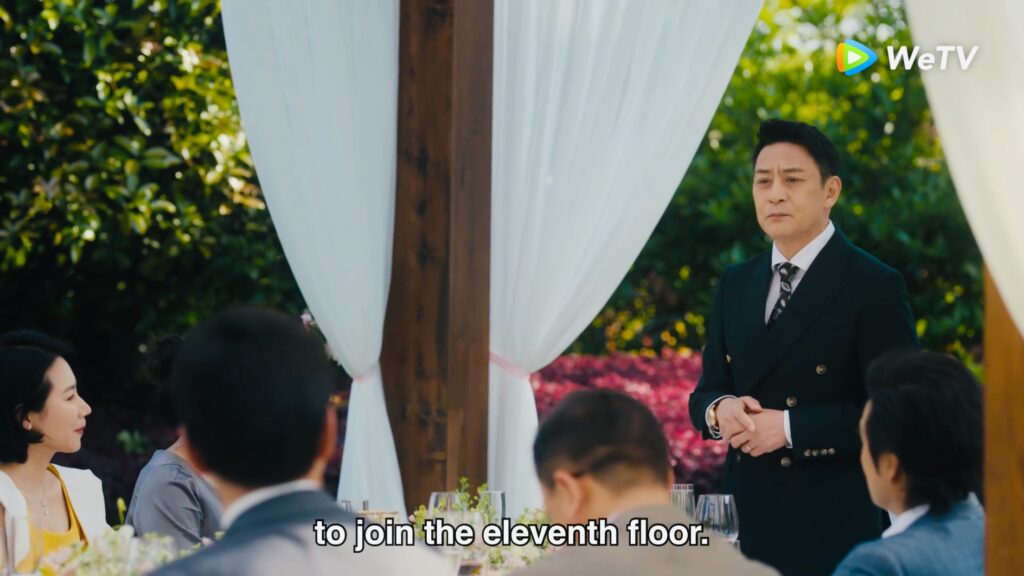 After lunch, Yang Hua told Qin Shi to join the conversation between the lawyers. However, she was reluctant because she knew that the lawyers used to talk about golf, women, and whiskey. Qin Shi was never interested in any of these.
Li Dai heard their conversation and mocked Qin Shi because it turned out that the mighty Qin Shi could not control everything. She thought that Qin Shi would have more opportunities than her since Qin Shi had Tang Yi Hui backed her up. But she was wrong.
Qin Shi finally pulled some courage to join the male lawyers when they were smoking cigars. Of course, in the end she did not do it, but she sat there holding a glass of drink and listening to every conversation they made. Meanwhile, Yang Hua also did the same when he sat at the lunch table and listened to Tang Yi Hui's conversation with other female guests.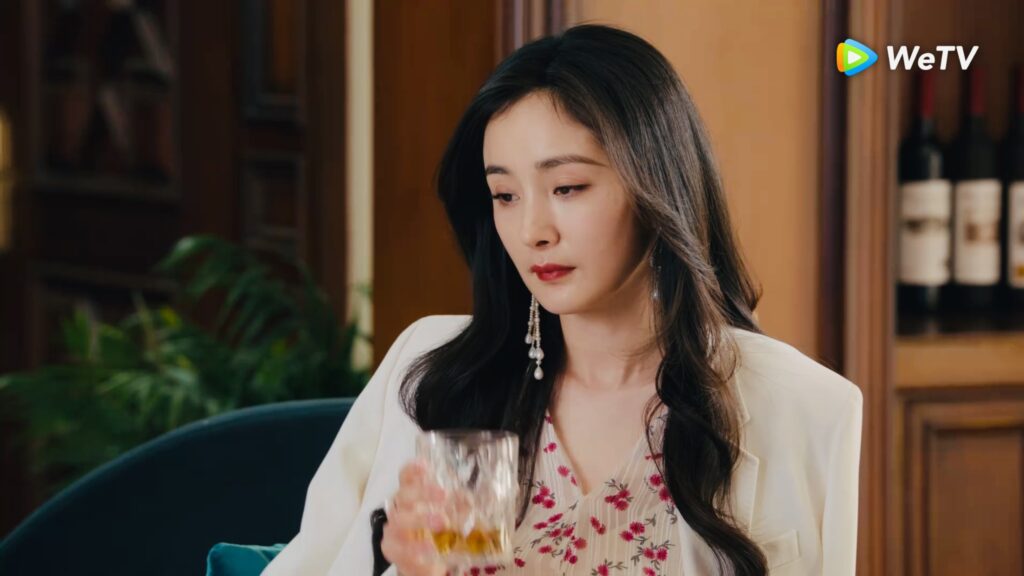 When others questioned Yang Hua and Qin Shi with a question that had a hidden meaning to mock them, Yang Hua and Qin Shi were able to shut them up with a simple sentence. They both think that intelligence made one looked sexier.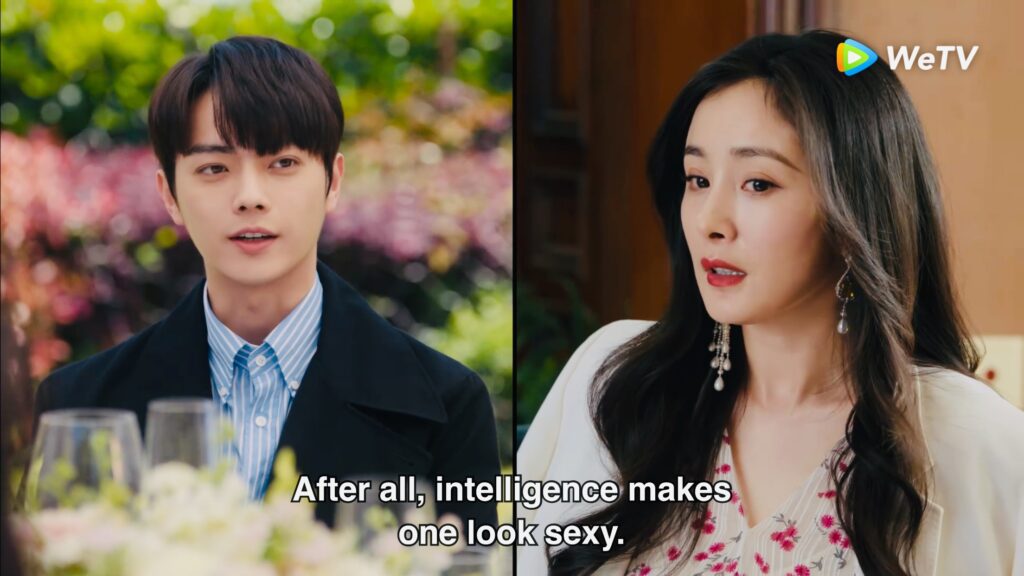 Lawyer Chen continued to attack Qin Shi with a question about career women. He had an opinion that a woman should stay at home to raise the children and take care of the husband. Since both men and women entered the working field, they prioritized career and money hence family came second. Resulting in a low fertility rate and employment issues.
Therefore, if all married women leave the working field and returned home, it would increase the fertility rate and solve the employment issue. Qin Shi of course did not agree with his opinion. She used her ability to bring down Lawyer Chen while maintaining a friendly expression. And she did it. Lawyer Chen was completely rendered speechless over her argument.
Even Jin Cheng was impressed by her ability to defeat Lawyer Chen. However, it was not over yet when Lawyer Ma asked her whether she would choose family over work. This time, Qin Shi's attack was too aggressive that it would offend many male lawyers. Lawyer Ma even told her that she was too biased toward men.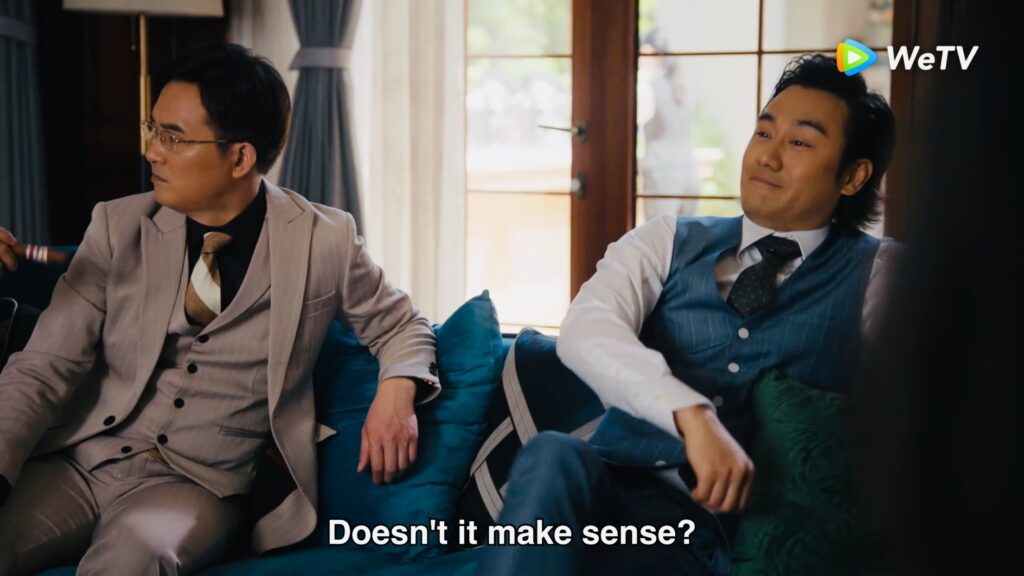 Qin Shi realized that she had been too aggressive and she had to rack her brain to fix the situation when help came. Yang Hua who accidentally heard the conversation answered the question for her. He told them his opinion that in society nowadays, men were urged to choose careers over family. Although not every man was an elite worker and not every woman was suitable for household chores.
Qin Shi's sense of accomplishment and honor in her work was far more than his, therefore if they had to choose, Yang Hua would choose family. His point of view was different than any other male lawyer in the room. Jin Cheng praised Yang Hua for having a great attitude. However, he doubted that Yang Hua would quit his job because of that.
But Yang Hua said that money was not that important. He almost spilled about his 4,500 yuan frugal life principles if Qin Shi did not stop him. Maybe Qin Shi also had the same thought as I did right now.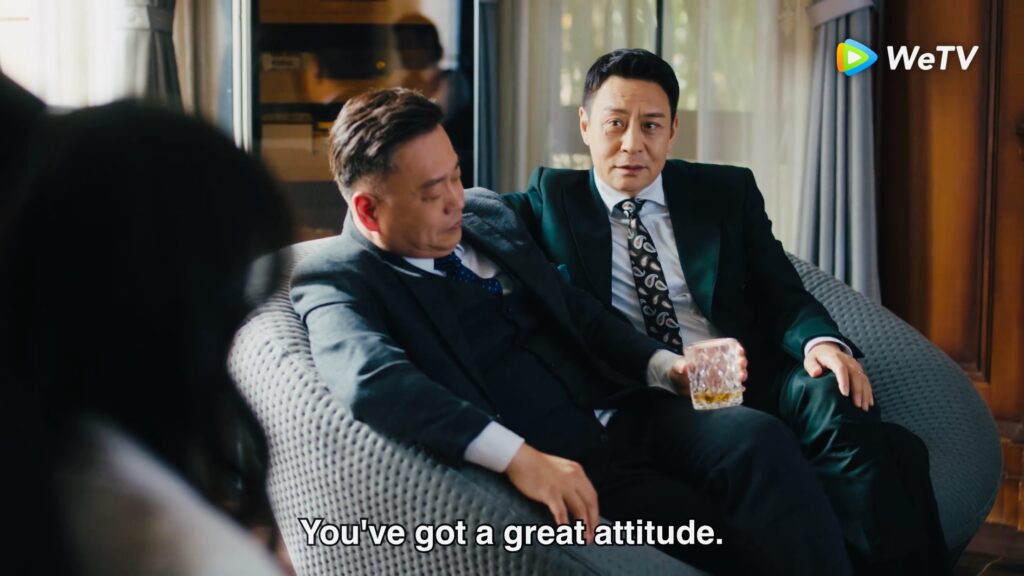 It would be embarrassing to talk about his 4,500 yuan life plan in front of people that enjoyed luxuries such as golf, cigars, and whiskey.😂
Before the lunch was served, suddenly Yang Hua's phone rang. It was Li Dai on the other line who asked directly why he hid his marriage and went on a blind date. Yang Hua remembered Li Dai as the lawyer that her mother introduced before he met Qin Shi. Li Dai took Yang Hua to a secluded place where he could interrogate him about his marriage with Qin Shi.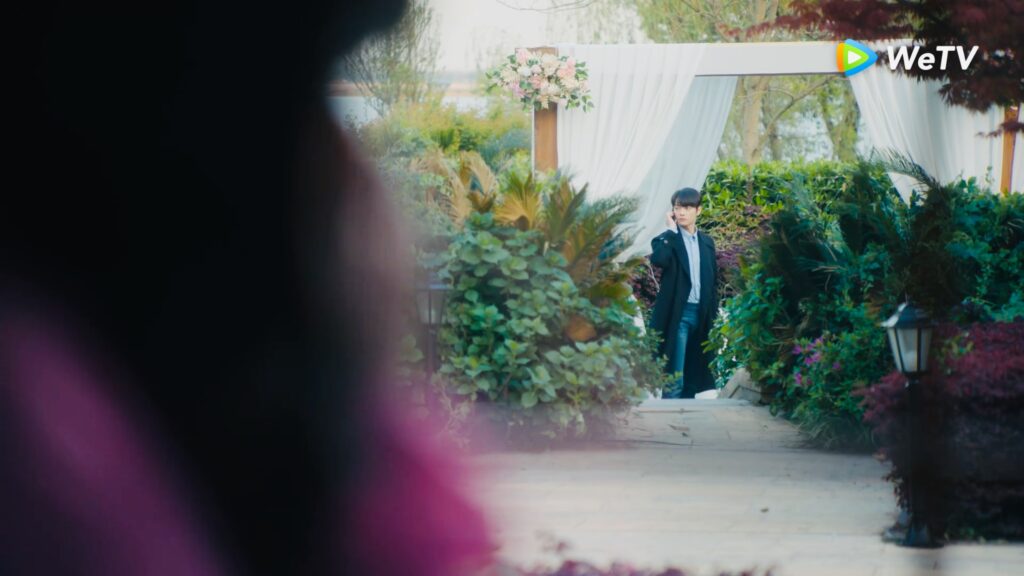 Meanwhile, at the lunch table Tang Yi Hui asked about the resignation that Yang Hua mentioned in the room. Qin Shi said that she also just heard about it. Tang Yi Hui told Qin Shi to take a good hold of her husband because he was a reliable person. When they talked about him, Qin Shi realized that Yang Hua was missing.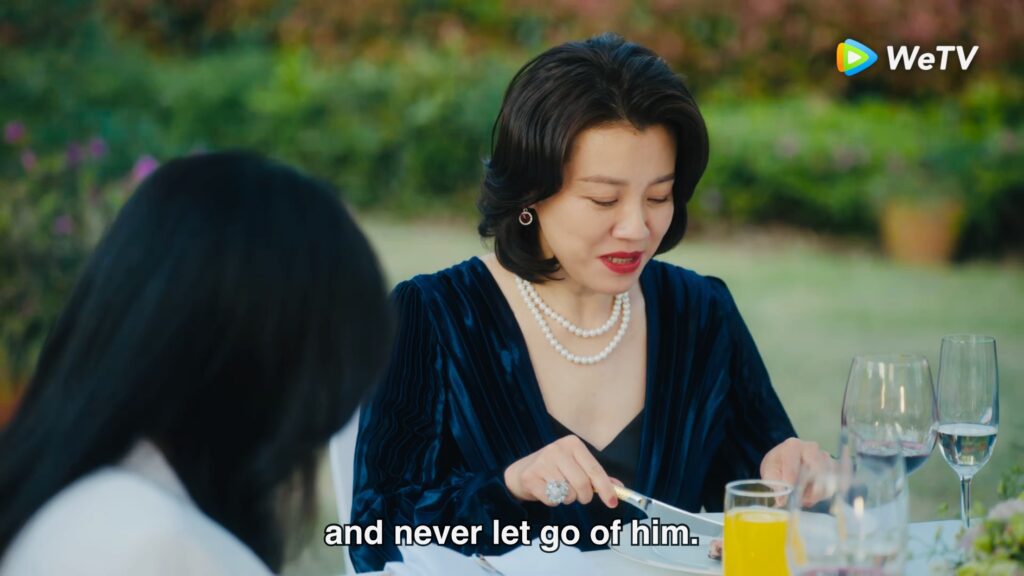 Li Dai questioned Yang Hua about his marriage. She still wanted to know the reason why Mother Yang did not know about his marriage. Li Dai persuaded Yang Hua to answer the question. She had turned on her phone and secretly record the conversation. Li Dai needed his answer to blow up Qin Shi's lies. Before the conversation continued, Qin Shi and Tang Yi Hui arrived.
Tang Yi Hui's expression changed a bit when Qin Shi reprimanded Li Dai for having a secret conversation with someone else's husband. Li Dai saw the changes and apologized to Yang Hua because she would reveal the truth. Li Dai told them about the meeting between them on the 20th anniversary of Jin Cheng and Tang Yi Hui. Back then, Yang Hua came to the party not because he wanted to surprise Qin Shi but because his mother told him to do a blind date.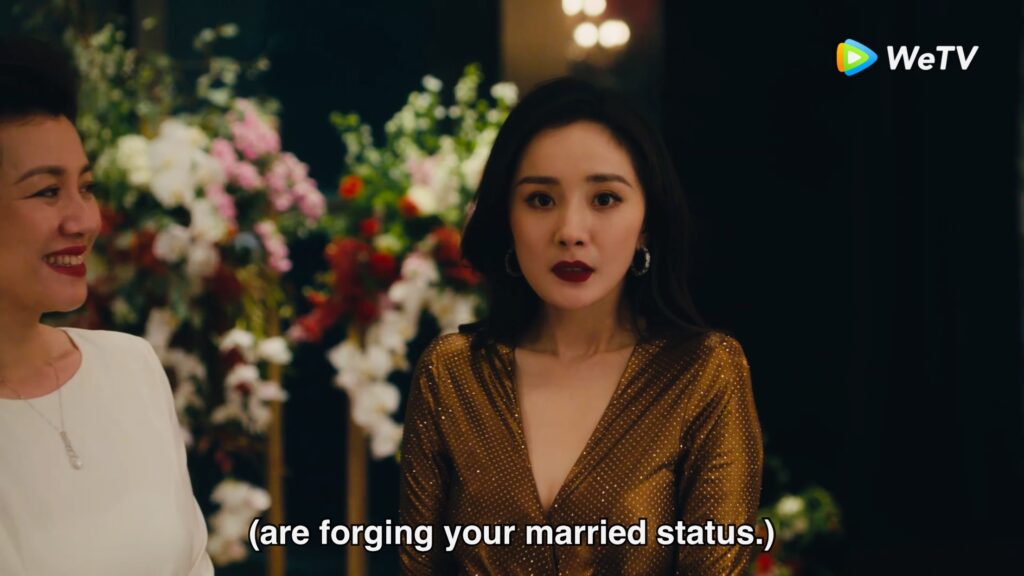 Li Dai analyzed what happened that night. Yang Hua just returned from abroad but the first person he met was not his wife. Also, although Yang Hua's mother did not like Qin Shi, she would not be foolish enough to register his son in a matchmaking agency. Yang Hua and Qin Shi also lived separately and only met several times a year. Therefore, they must have forged their marriage status. Yang Hua and Qin Shi just silently listened to her arguments.
Suddenly Yang Hua cut Li Dai's argument and told them that he lost his job a year ago. His statement shocked everybody including Qin Shi. Yang Hua said that he searched for a job but it was not easy to find a job with an annual wage like his. He did not tell Qin Shi about it because he did not want her to be worried and he was afraid that she would abandon him. Luckily he still got income but not as high as it used to be.
Qin Shi followed along with his drama. She put on a distressed face just like a wife should when her husband loses his job…😅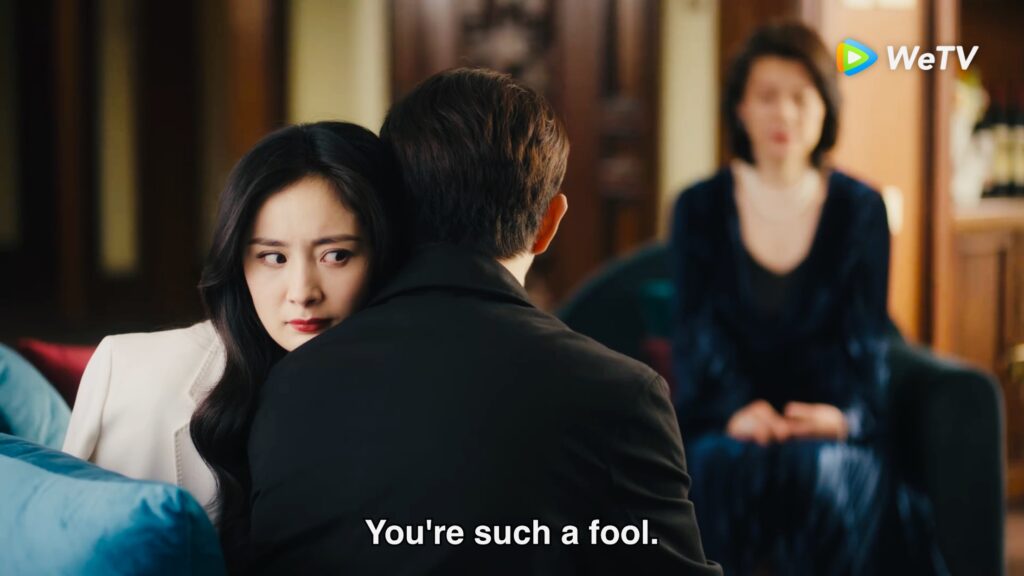 Their performance was enough to convince Tang Yi Hui that their marriage was real. All this time, Tang Yi Hui always thought that Qin Shi's marriage was too perfect. But now after she learned that Qin Shi also had a problem with her in-law and her husband, she was doubtless because that was what a married life should be.
Before they could continue, Jin Cheng came with shocking news. Rowe International had denied that Luowei Yulan was part of their company. They never opened a personal foundation in China, therefore they stated that they had nothing to do with Luowei Yulan. Everybody was shocked except Yang Hua.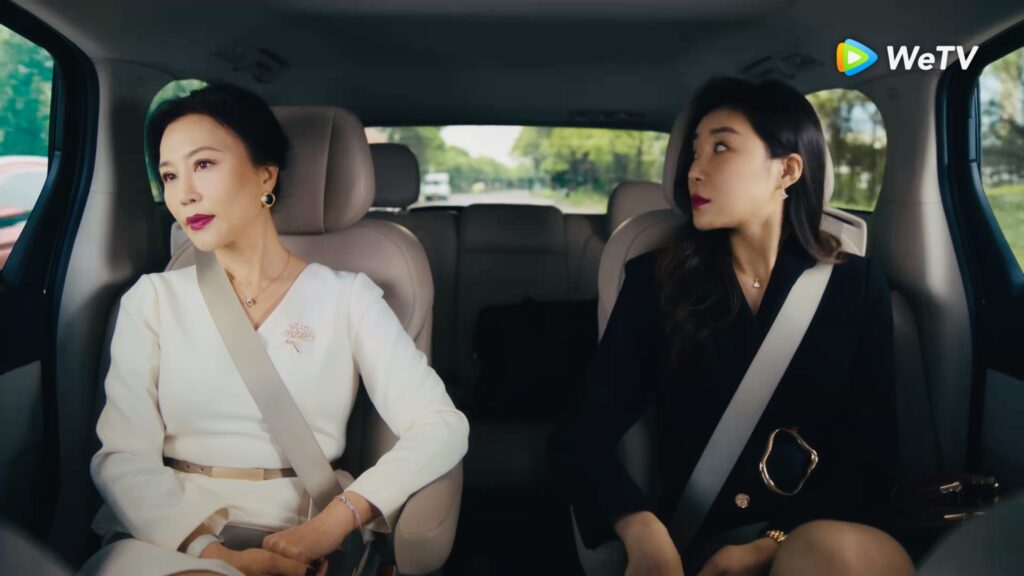 Meanwhile, Lan Xiao Ting and Zhao Dan Ping were on their way to the airport. Lan Xiao Ting would join her husband and children in San Fransisco. Both of them seemed to not be aware of what happened with Luowei Yulan. Behind their car, there was an insignificant black sedan following them. It was Tao Jun Hui and Gang Zi. They discussed how to stop Lan Xiao Ting's car and prevented her from boarding the plane. They used the most effective way to stop Lan Xiao Ting by crashing the sedan into Lan Xiao Ting's car.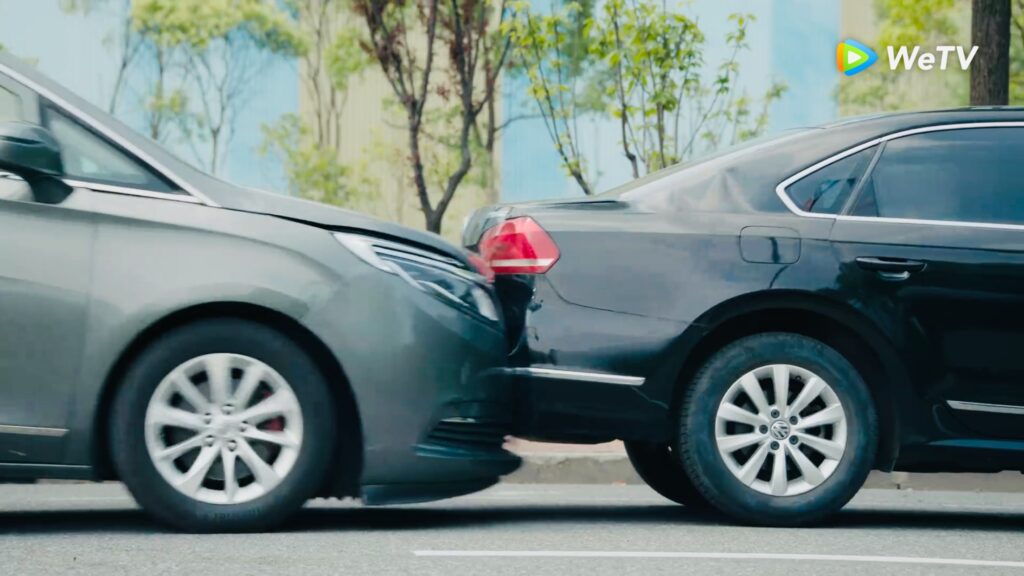 When Tao Jun Hui showed his face, Lan Xiao Ting was shocked. Moreover when he mentioned his client name, Mr. Jiang of Yunya Group. Mr. Jiang was one of the first clients who entrusted him to investigate Luowei Yulan because he had 15 million yuan worth of investment products in their hands. However, Mr. Jiang noticed that something was wrong with Luowei Yulan's operation.
He suspected that Luowei Yulan had committed illegal acts. Zhao Dan Ping still defended Luowei Yulan but Lan Xiao Ting clearly knew something about it. Tao Jun Hui asked Lan Xiao Ting why she was so eager to go abroad, he wondered who would take the blame for her regarding the case. Lan Xiao Ting nervously took Zhao Dan Ping's hand and exclaimed that nobody would take the blame for her.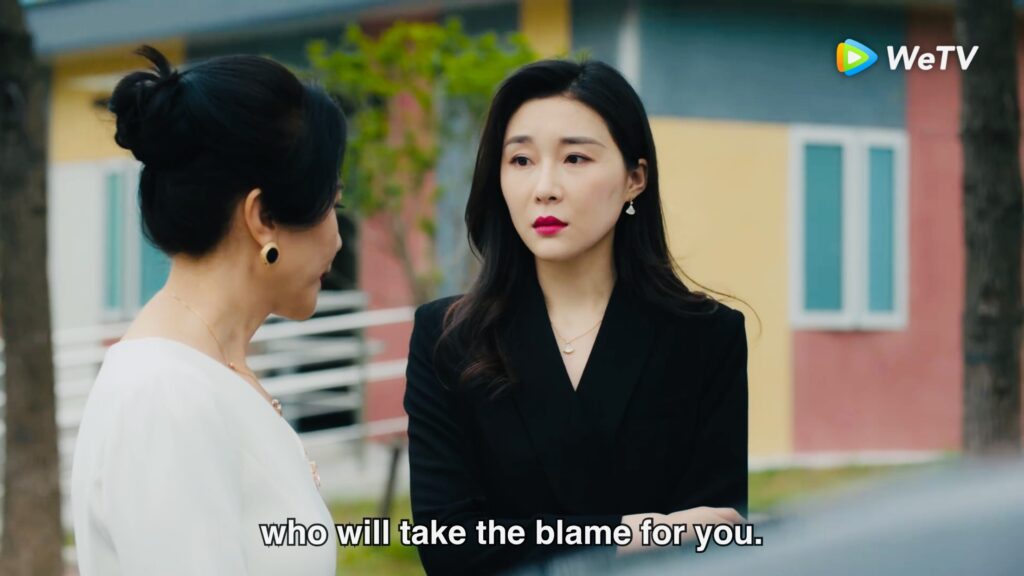 But Lan Xiao Ting never imagined that she would take the blame for her husband, Pang Ding Fang. Gang Zi told her that Rowe International had issued a statement about Luowei Yulan. Tao Jun Hui added that Lan Xiao Ting would never be able to go abroad because she was banned from flying. Pang Ding Fang had been a fugitive because he was suspected of fraud and illegal fundraising.
I think that Lan Xiao Ting already knew that something was wrong with Pang Ding Fang. Therefore she was eager to go to San Fransisco and left the company affair to Zhao Dan Ping. And in my opinion, Lan Xiao Ting would put the blame on Zhao Dan Ping, a niece of hers that always helped and took care of her. What a heartless person!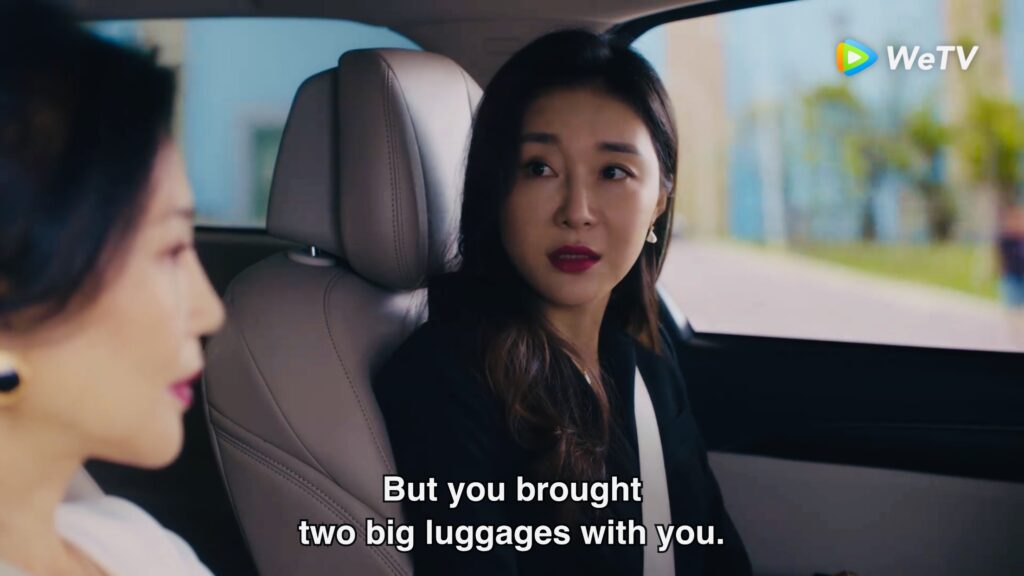 The news did not bother Qin Shi and Yang Hua's everyday life. They still dined with their own menu. Yang Hua with his vegetables and Qin Shi with a plate full of chicken thighs. Qin Shi told him that Cheng & Hui would not take any case about Luowei Yulan because it was a case that could never be won. Luowei Yulan could not afford to return the investor's money while the plaintiff only wanted their money back.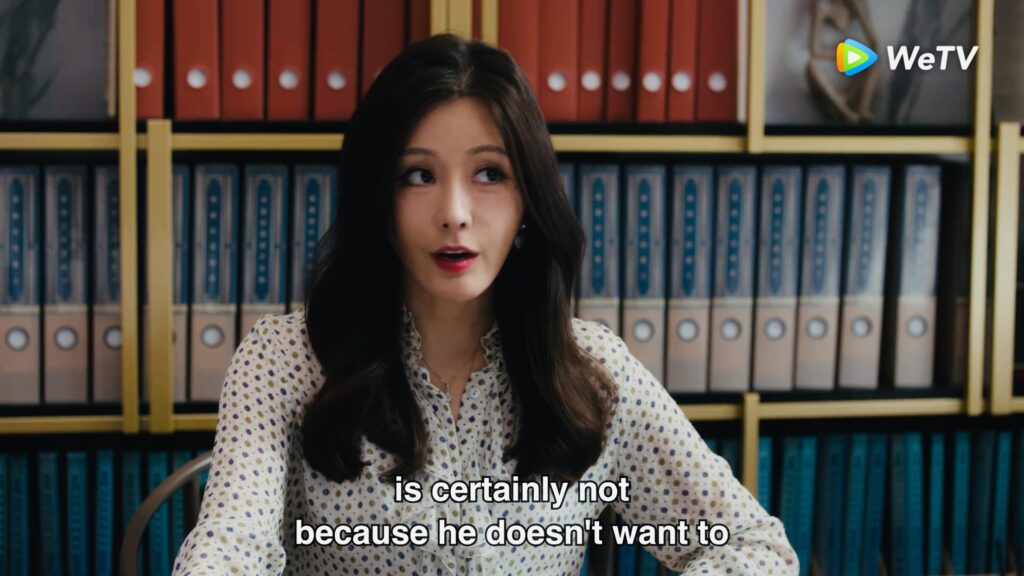 All of the decision was based on Jin Cheng's analysis. Qin Shi thought that the decision was based on the Cheng & Hui work ethic. But Yang Hua thought otherwise and his analysis surprisingly was the same as Li Dai's. Cheng & Hui refused to accept Luowei Yulan's case not because he did not want to take part in the event. But he was waiting for the right time and the right moment to join the fierce battle.
After what happened at Tang Yi Hui's house, things have been complicated but somehow still manageable for Qin Shi. Tang Yi Hui was eager to find a job for Yang Hua and Li Dai no longer kept an eye on her. However, they still had one problem left: their child.
Qin Shi reminded Yang Hua that their so-called son, who was 2,5 years old, now lived with Yang Hua's sister Helen (or something else because Qin Shi forget the name…😅). Helen was married to a foreigner and had 2 kids. After he listened to the explanation, Yang Hua decided that Qin Shi should be a novelist instead of a lawyer.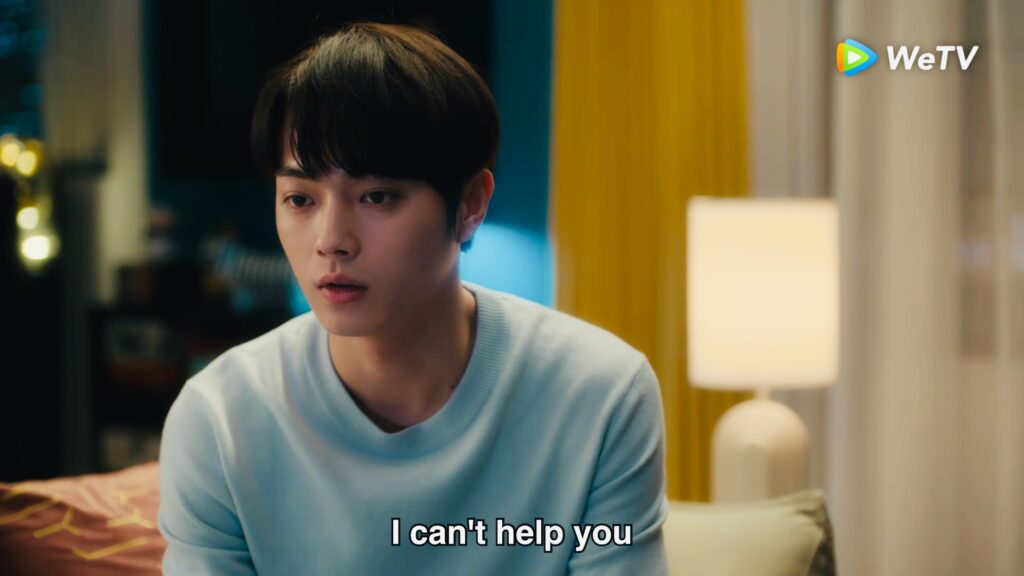 Qin Shi told him that she had used her manipulative ability to make Tang Yi Hui say that Qin Shi should wait a little longer to bring back her child. Since he would be a distraction for her and because the vote for the partner position would be held soon. That way, Tang Yi Hui would not mention anything about their child.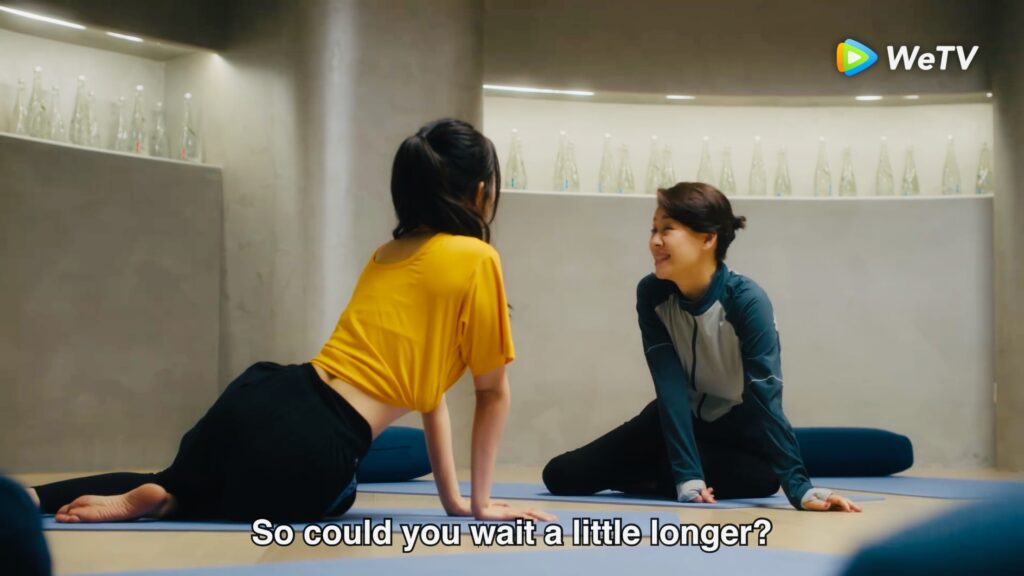 Qin Shi was happy with the outcome and cheerfully asked Yang Hua when he would return home to harvest the fruit of their victory. Yang Hua was stunned and could not say anything.
My Two Cents
Yang Hua was not wrong. Qin Shi could be a good novelist instead of a lawyer. But he forget that he could also be an actor instead of a finance genius…😂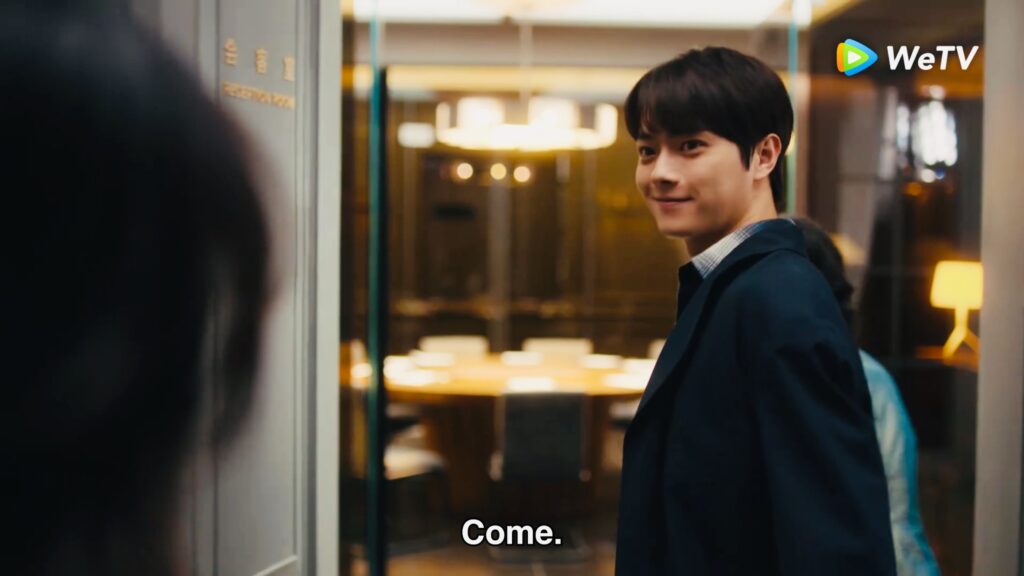 And last but not least, let's appreciate the stunning smirk of Xu Kai to brighten up your day…😁