Title: She and Her Perfect Husband
Also Known As: 爱的二八定律, The 80/20 Rule of Love, Qin Shi and Her Perfect Husband, The Two Eight Law of Love
Director: Lin Yan
Screenwriter: Zhu Li
Genres: Romance, Comedy, Law
Country: China
Episodes: 40
Year: 2022
Original Network: Tencent Video
Where to Watch: Viki, WeTV
List of Recap:
Hola readers… New She and Her Perfect Husband episode recap for you. In these episodes 3 and 4, we got to see Yang Hua dressed neatly in a tuxedo. Boy, he was gorgeous 😍. By the way, I also wrote She and Her Perfect Husband drama review. Okay let's start the recap. But first, new characters.
She and Her Perfect Husband Characters
Luowei Yulan Foundation
Pang Dingfang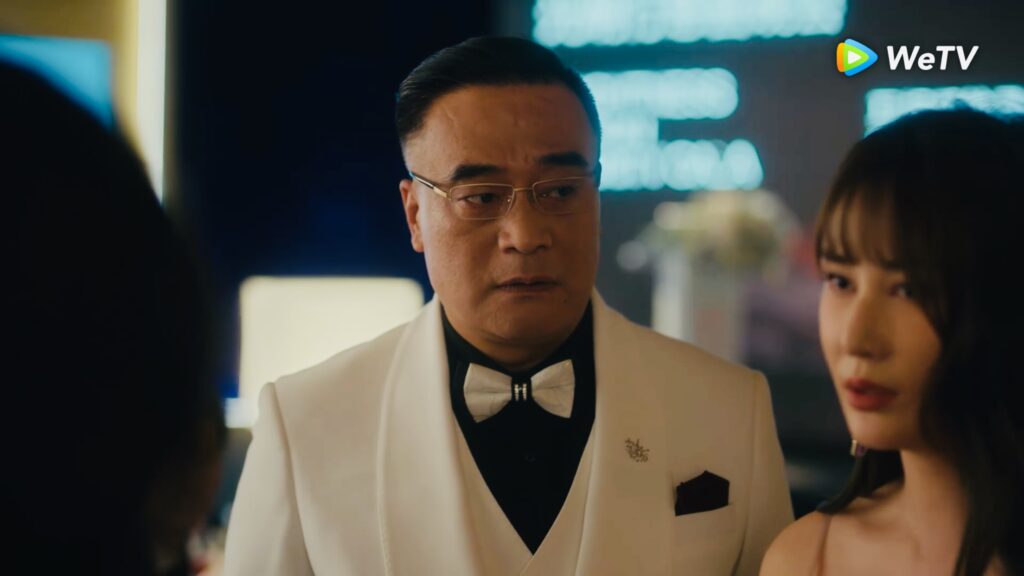 Pang Dingfang was Lan Xiao Ting's husband. He was the president of Luowei Yulan Foundation and the CEO of Yulan Group. He was famous as a successful businessman.
Gang Zi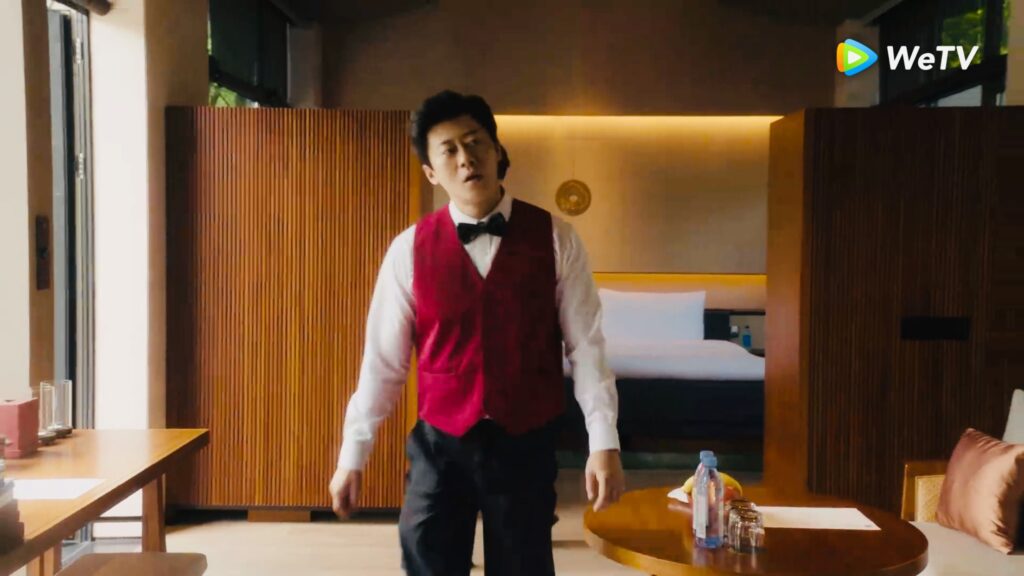 Gang Zi was Tao Jin Hui's right-hand man. He do the dirty works for him and very good at collecting information.
Episode Recap
Episode 3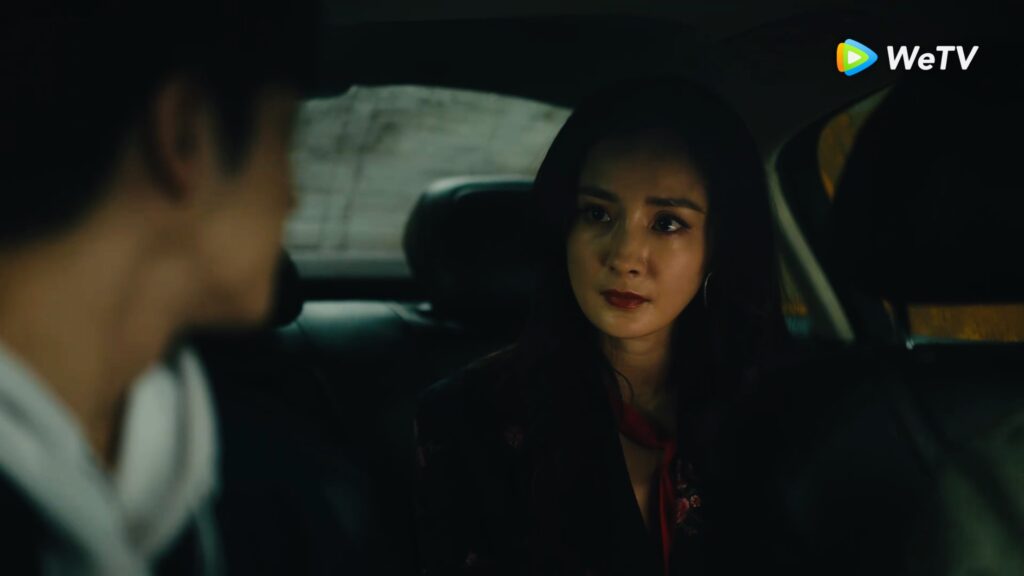 Qin Shi tried to persuade Yang Hua to talk in another place. But he rejected her and accused her as the kind of person who would do anything to achieve her goal and considered others' loss as her gain. All she cared about was her benefit. In another word, Qin Shi was a vile person. His words made Qin Shi angry because they rubbed salt into her wound. Even Cai Liang also felt that his words were too harsh.
Qin Shi opened the car door, but on second thoughts, she changed her mind and closed the door. She slowly spoke her words as if she was threatening someone. Even Cai Liang who wanted to speak was rebuked by her.
Qin Shi stated that she was a good lawyer. She did not only work to win the lawsuit but also to uphold justice. She did not only go against an individual, but a group of people, an institution, a system, or a society. For her, a failed justice was meaningless. Qin Shi knew her capability and refused to end her career solely because of an unreasonable personnel system.
If she did not join a good law firm or take any influential cases, she was the one on a loss. She did not deny the responsibility. But, for Qin Shi now was not the right time to give up. She apologized to Yang Hua if her lies hurt him. However, she had no choice.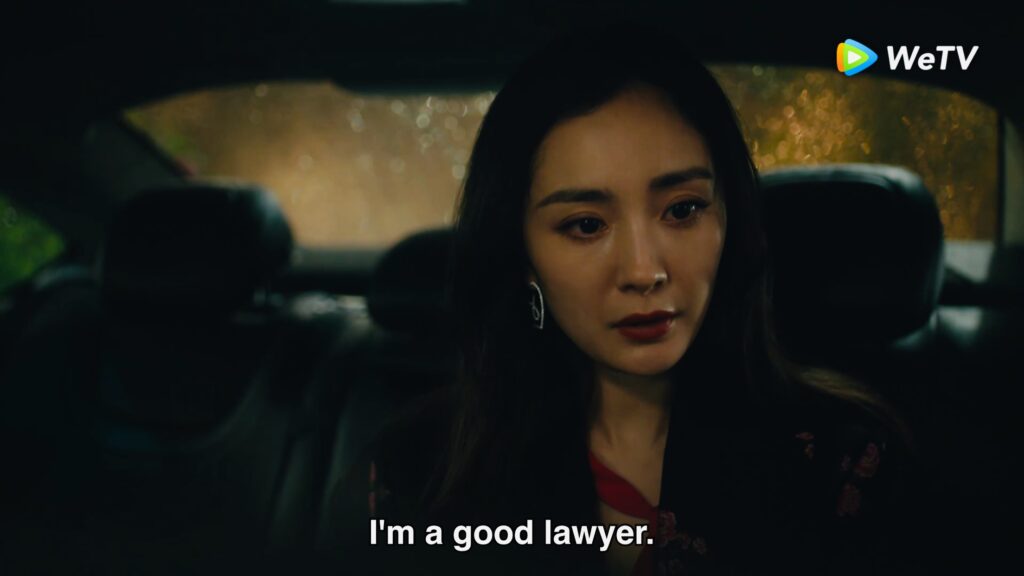 Qin Shi recited a quote that she memorized from Yang Hua's Weibo post. It is said "The trembling feeling of your soul is extremely satisfying. It's enjoyable, yet it put you in a risky situation. All good things must come to an end." Those sentences impressed her, and that was the reason why she chose him. But now, Qin Shi regretted it because it seemed that she had picked the wrong person. After that Qin Shi left the car.
TBH, I did not understand Yang Hua's words. However, the subtitle stated that, and sadly, I had to accept it…😔
The atmosphere inside the car was awkward. Cai Liang rebuked Yang Hua for dissing the only fans he had. He urged Yang Hua to chase after her, but Yang Hua was clueless about what he should say to Qin Shi. Cai Liang felt helpless. His friend needed more help than he thought. On their way to the hotel, Yang Hua told his friend that he needed to borrow a large amount of money. Yang Hua was broke because he could not access his stock account. After all, it was a joint account with his mother and she changed her password.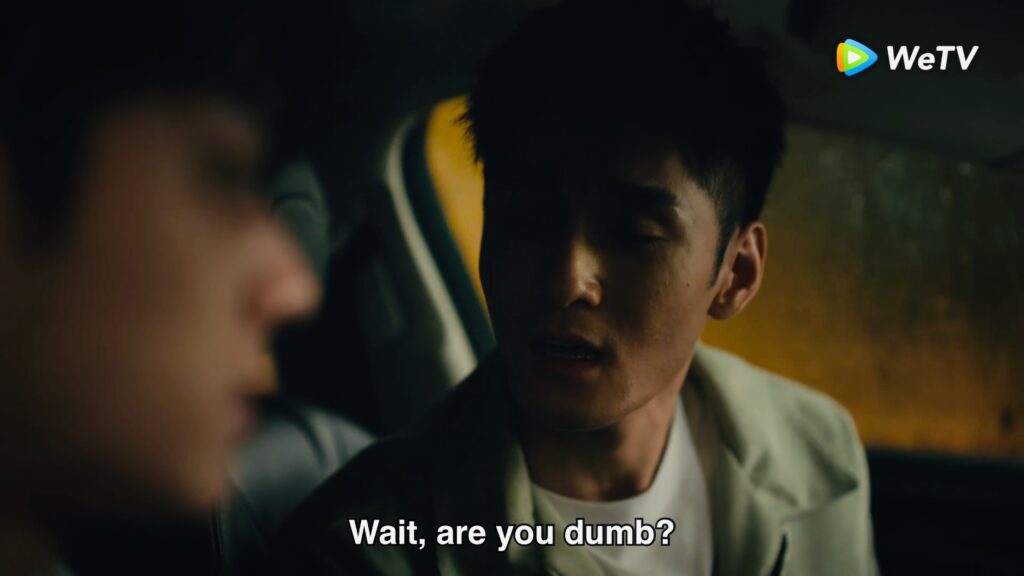 Meanwhile, in her apartment, Qin Shi picked up a call from Yang Hua. He apologized for his words back in the car and asked her for a meet-up. Qin Shi was shocked by his apology that she had to recheck the caller ID, just to make sure that she picked up a call from the same person that rebuked her back then.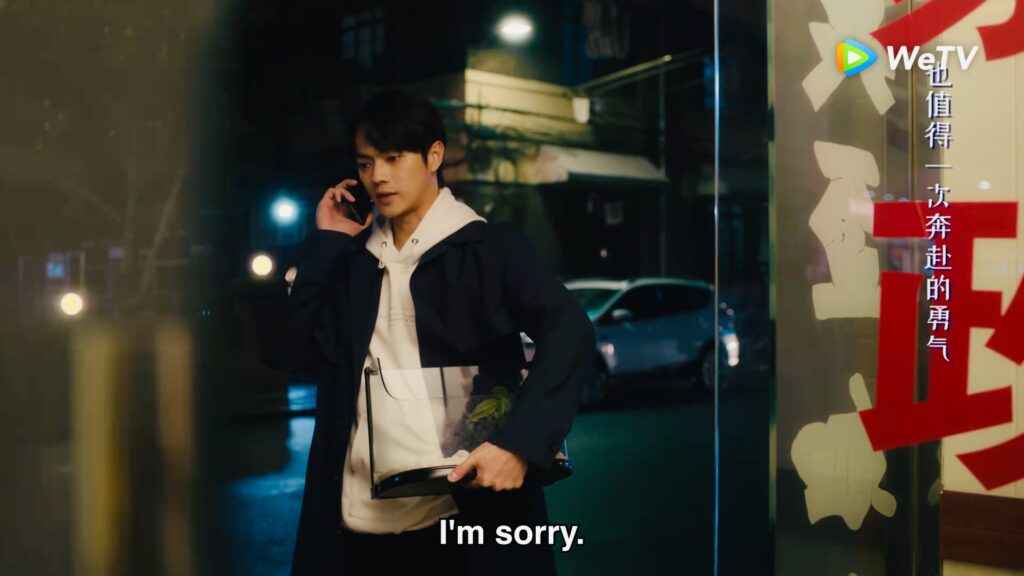 The next morning, they meet at a cafe. Yang Hua asked for her help because he needed a temporary fiancee to make his mother stop forcing him to marry. However, although Yang Hua offered to extend the grace period of their divorce to three months, Qin Shi rejected the offer.
She said that his proposal was not tempting at all since she knew that his condition was worse than hers and he was not in a position to negotiate. Yang Hua knew he would not win this negotiation, so he asked Qin Shi directly about what she wanted from him. Qin Shi's answer was simple. She needed a husband.
Yang Hua agreed to her request. She needed a husband, and he needed a fiancee. They reached a deal that morning, signed the cooperation agreement for 6 months. and quickly shifted into business mode. At noon, Qin Shi would come to Yang Hua's parents to explain their relationship, while in the afternoon, Yang Hua would accompany Qin Shi on a business trip to Pinghu.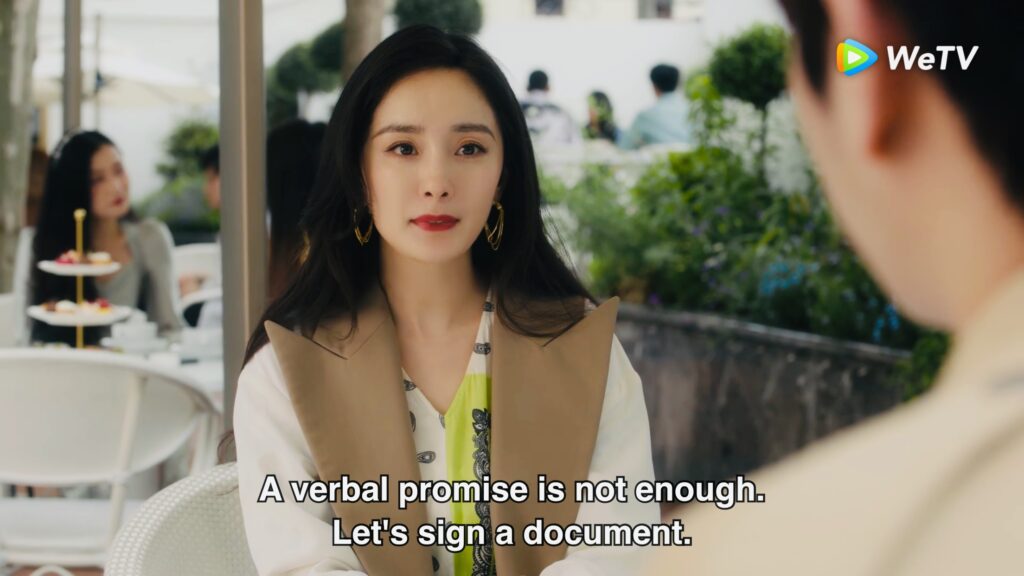 Before they meet Father and Mother Yang, Yang Hua had imagined that Father and Mother Yang would be panic-stricken when he said that he would marry Qin Shi. They would beg him to send her away, and retracted all their demands such as job and marriage.
He also imagined by threatening his parents with the house ownership, they would submit to him. But the silly Yang Hua did not understand how persistent her mother was. She was just like a female fox that could read through his mind.
Mother Yang was all smiles when Yang Hua told his parents about Qin Shi and their marriage plan. She did not object to his words and even supported them. She still smiled when Qin Shi said that she was 6 years older than Yang Hua. Mother Yang was the one who stated that the house owner would be Qin Shi and not her. While the one who was panicked was Father Yang.
Mother Yang go as far as suggesting that one year of date was too long for them and 3 months would be sufficient to hold a wedding. Qin Shi did not say anything at all, and only answered when she was asked. It seemed that she already knew the outcome of the meeting.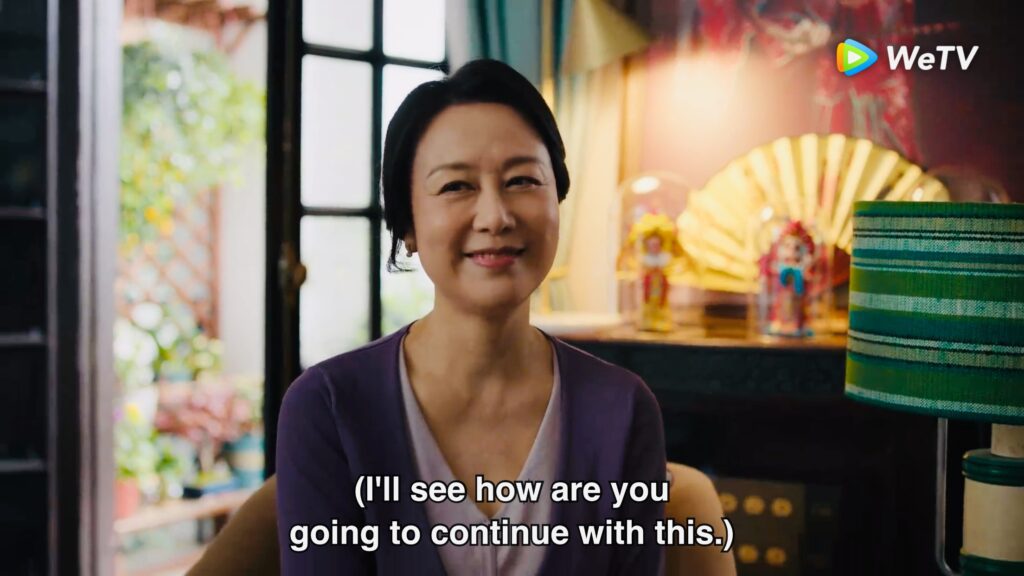 She only spoke after Yang Hua looked at her with a plea. She looked at him and said that 3 months date was a waste of time. Mother Yang looked at his son and Qin Shi with a winning smile. But, she did not know that Qin Shi was a better fox than her.
Mother Yang started to feel uneasy when she saw Qin Shi hold Yang Hua's hand and said that one year date was Yang Hua's idea since he was a traditional person. Qin Shi was not young anymore and wanted to get married as soon as possible. Mother Yang's smile started to crack after she heard Qin Shi's words…😂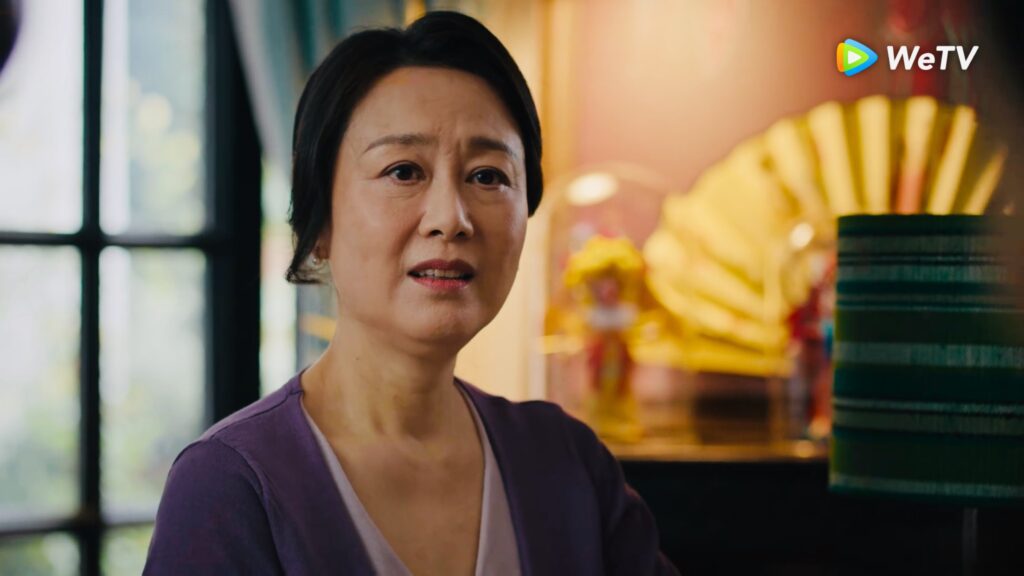 Qin Shi said that she owned a house, therefore Mother and Father Yang could continue to live in their house. She also said that Yang Hua did not have to worry about getting a job because her salary was enough for both of them. However, Qin Shi said that she was too busy in her job.
Therefore, Yang Hua would be the one who did the household chores for them. Mother Yang's uneasiness increased when she heard Qin Shi's words. She never thought that her son would be a matrilocal son-in-law. A matrilocal husband was a term for a man who had been married off to the wife's family.
Mother Cheng started to panic when Yang Hua only smiled and obeyed every word Qin Shi said. Yang Hua applaud Qin Shi in his mind. Qin Shi's strategy worked like a wonder. She openly challenged his mother's authority. Since Mother Yang has a control issue, this was the best strategy to deal with her.
When Mother Yang said that the parents should meet first, Qin Shi answered that the meeting would be unnecessary since she was the one in charge of her family. Mother Yang become more worried because Qin Shi said that her father had been married 3 times already.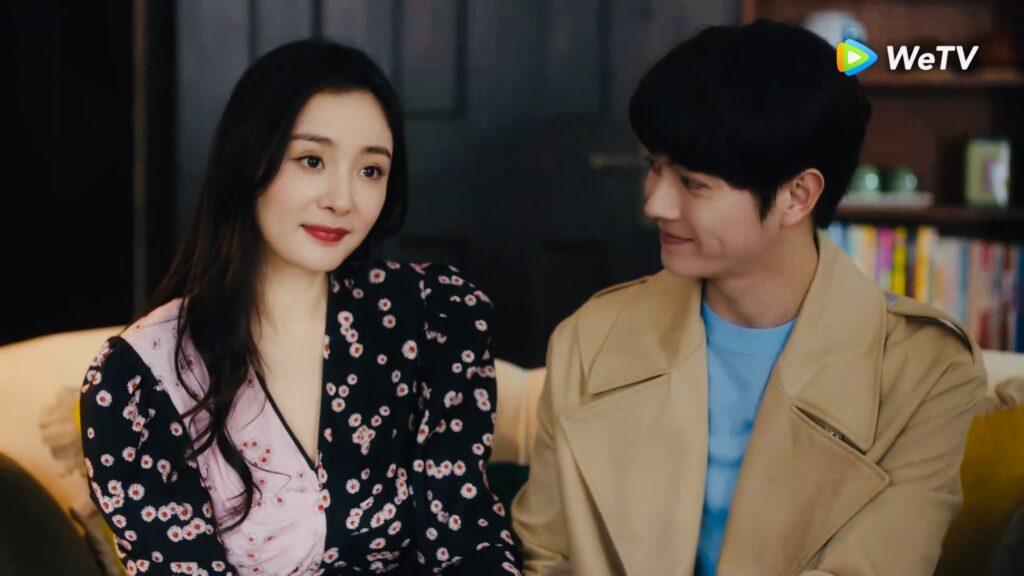 Yang Hua looked at Qin Shi with admiration. He also obeyed her when Qin Shi said that he should not answer his mother's call and turned off the phone. Back at home, Mother Yang vented her anger at Father Yang. Father Yang only said that everything happened because Mother Yang pushed Yang Hua too far.
Qin Shi gave Yang Hua written details about their marriage. It was stated that Yang Hua worked in the financial sector in Canada. He often went abroad and majored in International Business. They also had a 2.5-year-old son who currently stayed overseas.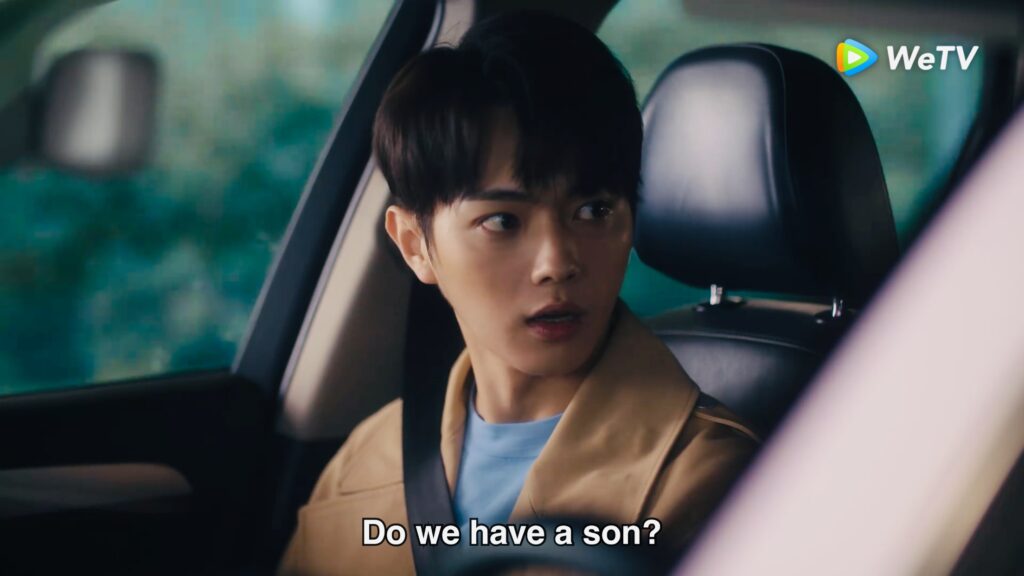 Li Dai called her to remind her that the matter of the candidate for the legal advisor of the Women Entrepreneur Association had been decided. Qin Shi could not change anything but only brought disgrace to herself and the law firm. Qin Shi ignored her reminder, and on the pretense of her husband wanting a romantic vacation, she gave her the reason why she went to Penghui and hung up the phone. Tang Yi Hui, who heard the conversation, said that Qin Shi knew when to stop and if she could change Mrs. Lan's decision, then she was THAT capable.
Meanwhile, at the hotel resort, a man in a grey suit named Tao Jun Hui entered the reception after Qin Shi and Yang Hua. Lan Xiao Ting personally took him to the dining hall.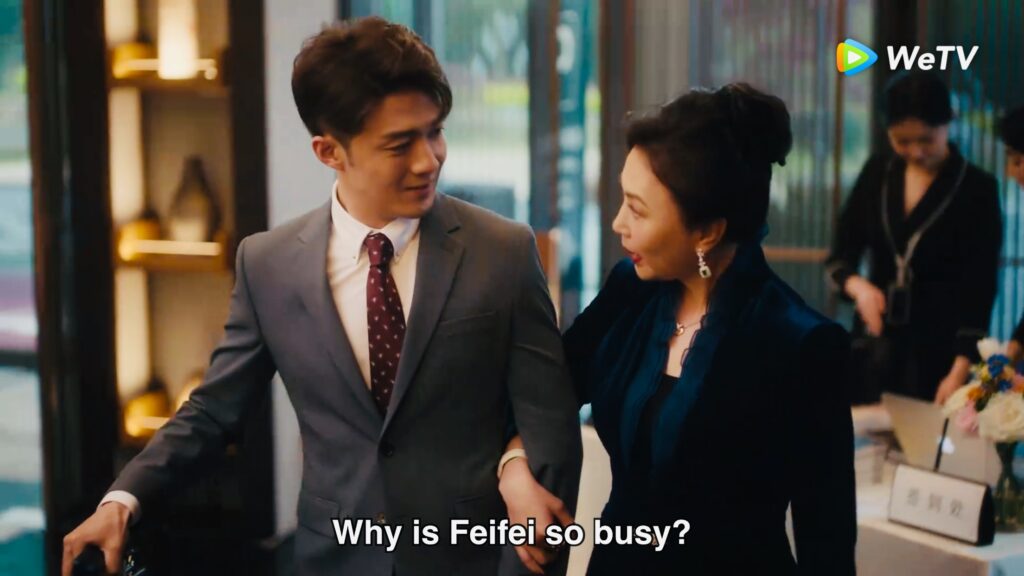 In their room, Qin Shi and Yang Hua immediately prepared for the gala dinner. While Qin Shi put on her makeup and dress, Yang Hua read the information about the people who attended the gala dinner. When Qin Shi came out of the bathroom, Yang Hua was mesmerized by her beauty that he stumbled when Qin Shi asked for his help to fasten her zipper. When Qin Shi saw his shabby appearance, she took him to a boutique and choose a formal suit for him.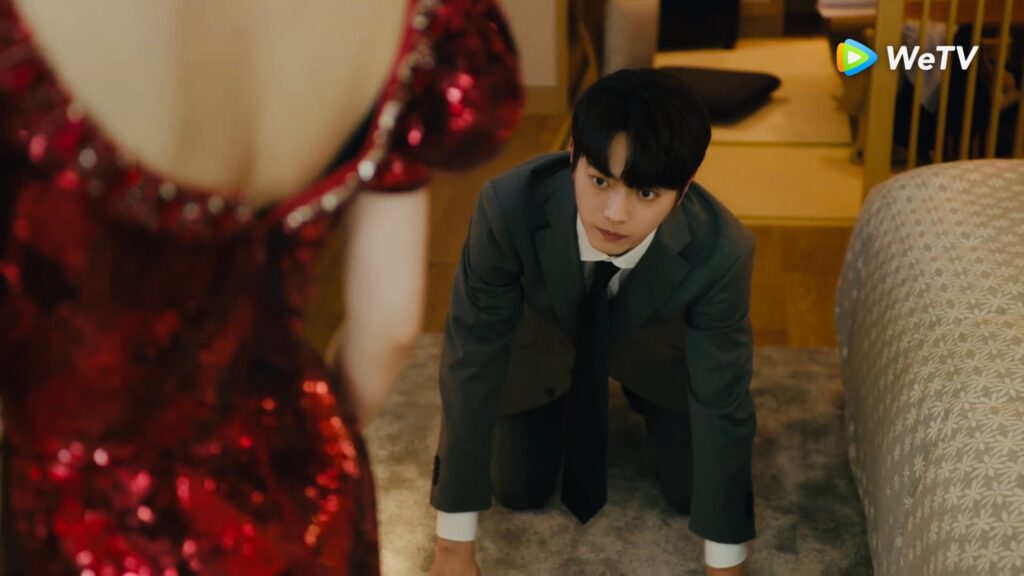 When they arrive at the dining hall, Yang Hua asked Qin Shi about her plan to catch the attention of Lan Xiao Ting. Qin Shi wanted to show off her ability and prove that she was better than Li Dai. However, Yang Hua analyzes that if he was in Lan Xiao Ting's shoes, he would also choose Li Dai because she was able to steal 12 million yuan from Zhao Danping.
That showed Li Dai's capability and determination to gain the most benefit for her client. According to Qin Shi, Li Dai's professional skills were equal to hers. However, Qin Shi has more determination than Li Dai.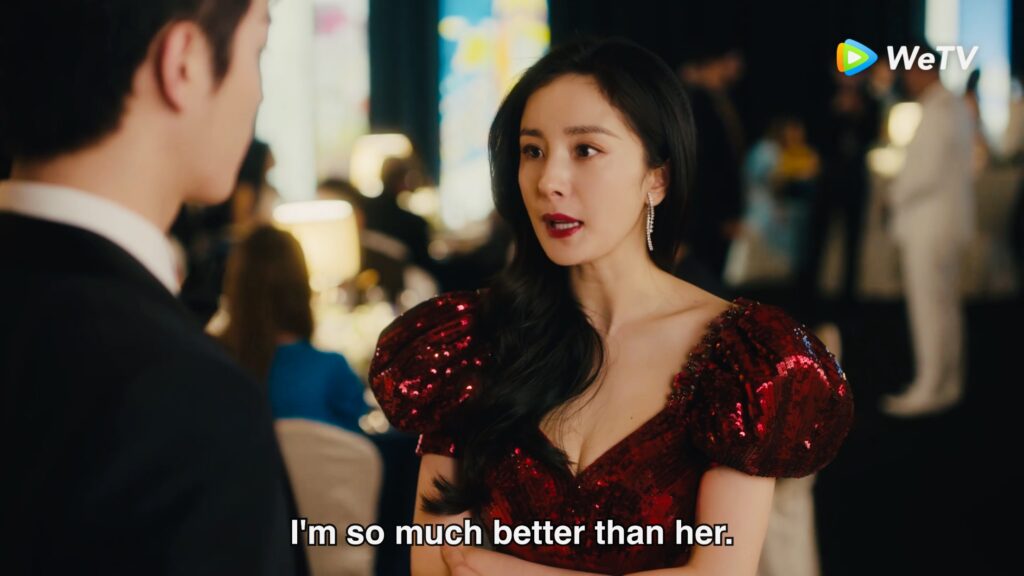 Yang Hua told her that if she wanted to convince them, she should go straight to Pang Dingfang, Luowei Yulan's president and the CEO of Yulan Group, who happened to be Lan Xiao Ting's husband. Yang Hua found his information from the book that he read back in the hotel room.
When they talked about the strategy to approach him, the chance showed itself. A young lady fell next to Pang Dingfang, she said that her foot was strained. Qin Shi immediately come and exposed her intention. Lan Xiao Ting saw the commotion from afar.
However, Pang Dingfang went after security and escorted the young lady out of the dining hall. Therefore, Yang Hua came to Pang Dingfang and talked about the economy and finance. His arguments were refuted by Tao Jun Hui. Qin Shi who observed Yang Hua from afar noticed Tao Jun Hui. Her smile faded when she saw him. Yang Hua noticed her change of attitude and guessed that Tao Jun Hui was Qin Shi's ex-boyfriend.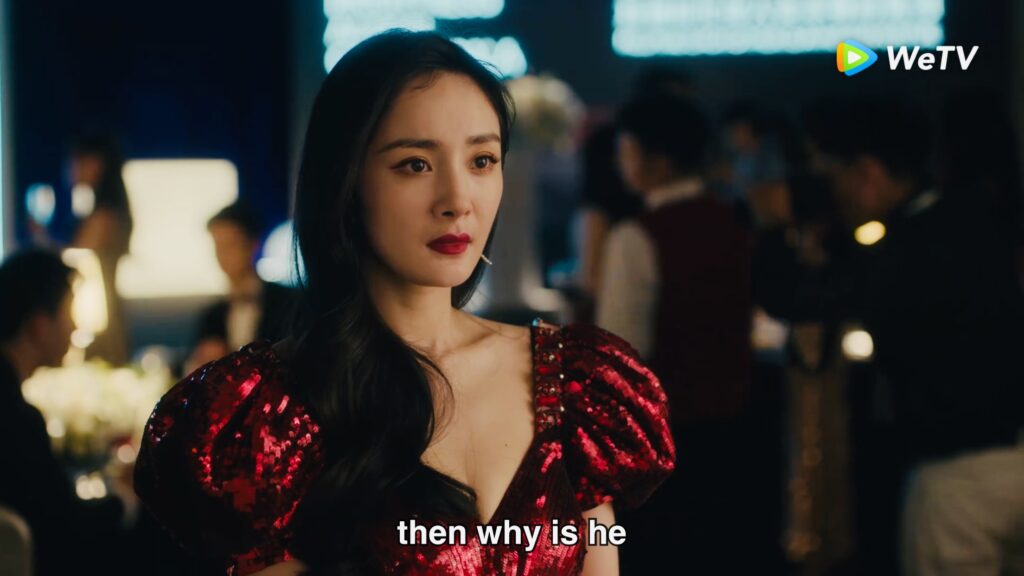 When Pang Dingfang asked about Yang Hua's identity and he hesitated to answer, Qin Shi stepped forward to take over the situation. She introduced him as her husband. Tao Jun Hui appeared restless when he saw Yang Hua comforting Qin Shi.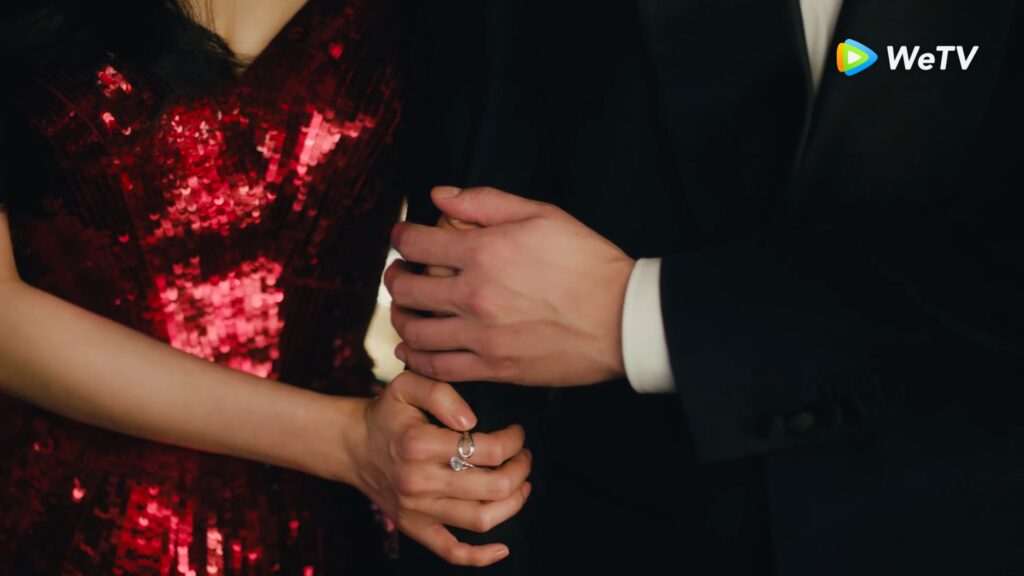 When Qin Shi wanted to explain her intention, Lan Xiao Ting reminded Pang Dingfang that he was needed on stage. Lan Xiao Ting wanted to introduce Qin Shi to Tao Jun Hui. However, he showed them that he knew her.
Tao Jun Hui told them that they attended the same college. When Tao Jun Hui offered Yang Hua a toast and asked him question about his job, Qin Shi ignored Tao Jun Hui and took Yang Hua away. She reminded the past when Tao Jun Hui's mother was against their intention to get married because of her background, albeit they had been in a relationship for 7 years.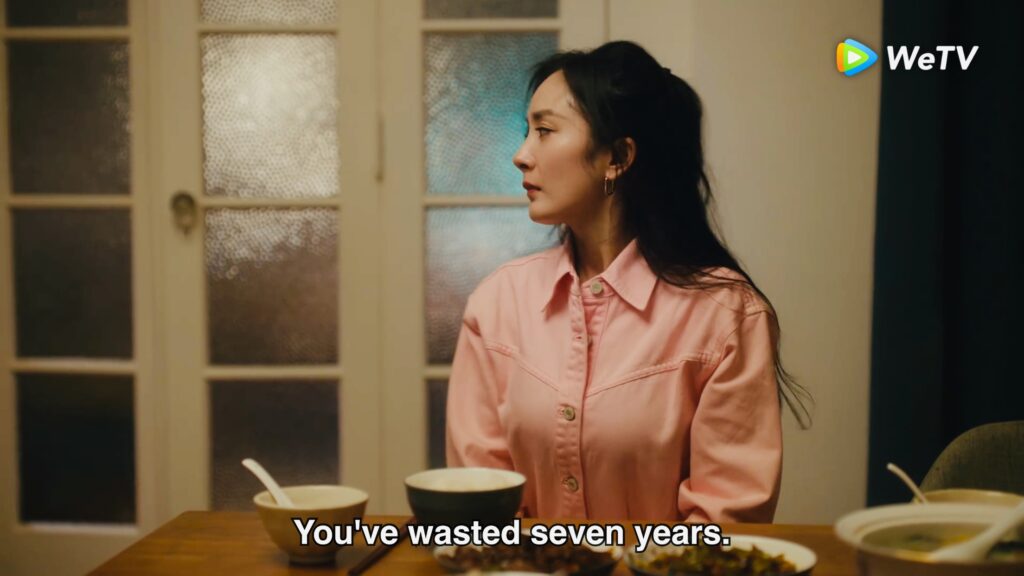 Episode 4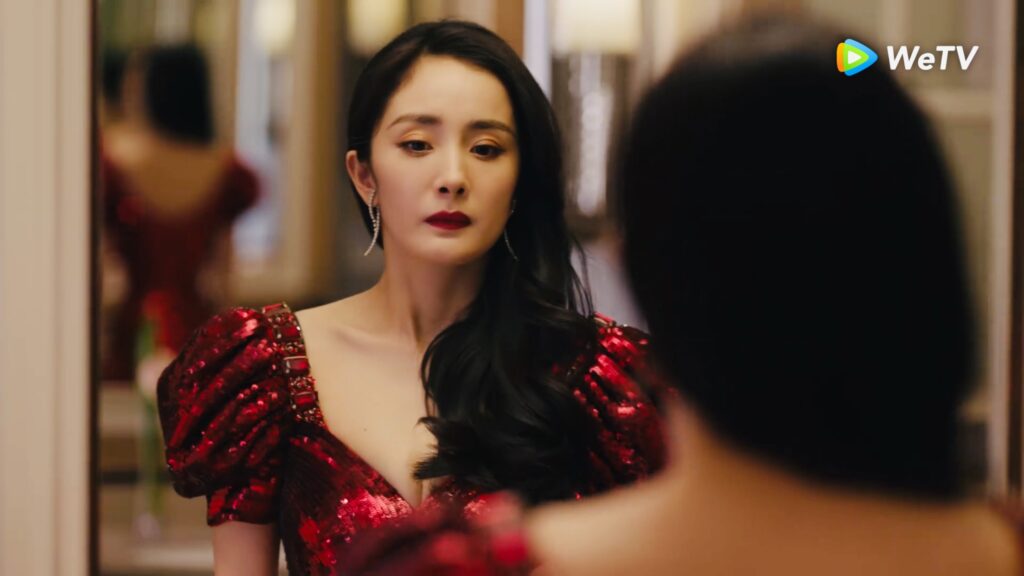 Qin Shi stared at her face in the mirror to pull herself together. When she walked out of the toilet, Tao Jun Hui pull her wrist and dragged her to the men's toilet. Inside the toilet, Tao Jun Hui pinned her to the wall. Qin Shi fought back, but Tao Jun Hui's was stronger than her, Qin Shi could only push him. Finally, Tao Jun Hui let her go after he asked her why she lied because he knew that Qin Shi did not have any connection with Ximei PR Company. Tao Jun Hui also questioned her intention toward Pang Dingfang and Lan Xiao Ting.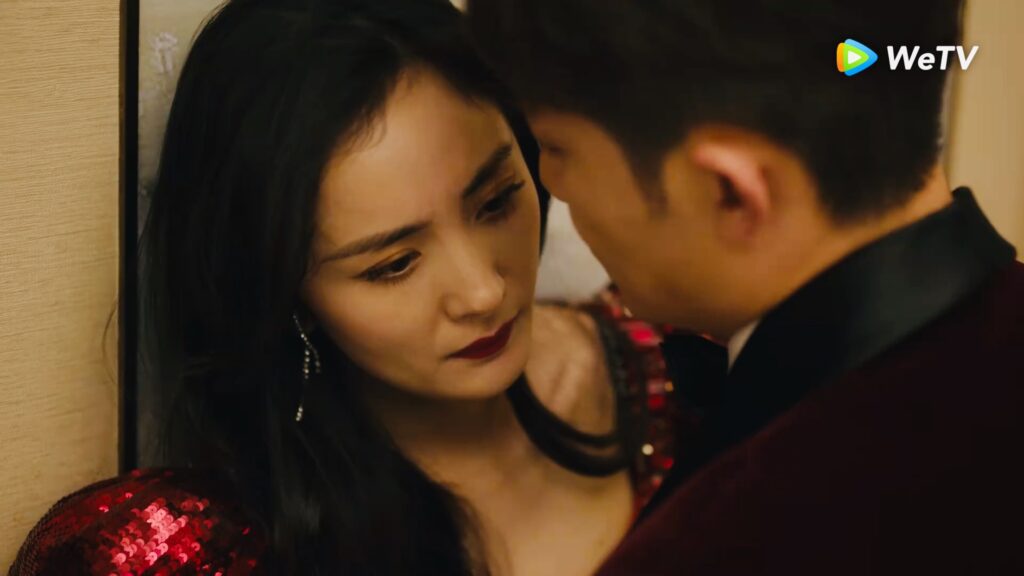 Qin Shi retorted back that he did not have a right to question her and talked to her in an accusing tone. She asked him whether he was there to compete for the Women Entrepreneur Association's legal advisor position. Tao Jun Hui sneered that she could take the job and mocked her for losing her ambition.
He thought after two years, Qin Shi would be a big name in the legal industry. He never thought that she would turn into a clown who competed for a job without any benefits. Tao Jun Hui reminded her that when Qin Shi fell and failed, he would be the first person who was glad to see that.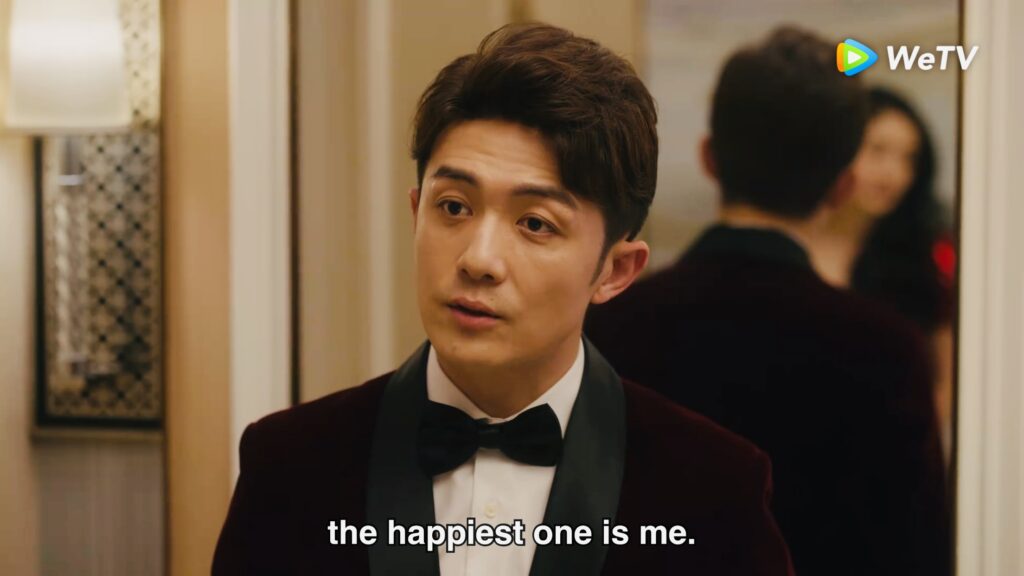 Suddenly Yang Hua opened the toilet door with a worried face. He asked Qin Shi whether she was alright and took her away, but did not forget to glare at Tao Jun Hui.
Back in Pujiang City, Ren Mei Mei just entered the house. Her husband Qin Wenyu was engrossed in his phone. They haven't talked to each other for days since what happened at the hotel. Qin Wenyu still blamed Ren Mei Mei for the incident. Because of what she did, his reputation was jeopardized. But when Ren Mei Mei apologized, he became suspicious. Qin Wenyu still pestered Ren Mei Mei about Vivian (the woman in the closet) who had been fired by Ren Mei Mei. His plea for Vivian made Ren Mei Mei's anger flared up again.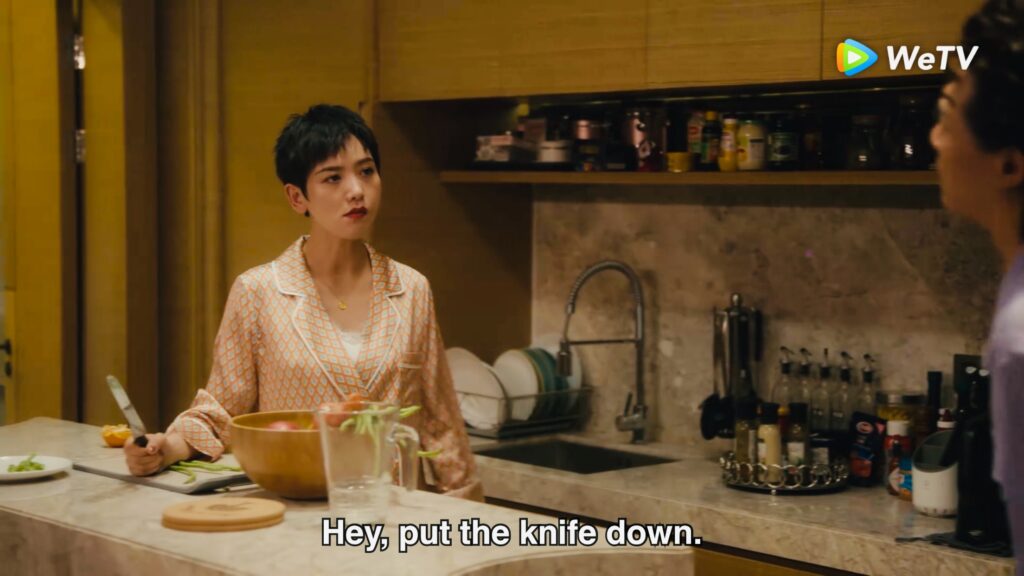 That night, Vivian called Qin Wenyu again. Meanwhile, Ren Mei Mei recalled the strategy that Qin Shi's told her to do. Which was to combine soft and hard ways to deal with her husband, Qin Wenyu. Ren Mei Mei decided to use the strategy and prepared a blanket for Qin Wenyu only to find him on the toilet, secretly answering a call from Vivian. The couple fought again, and this time the fight was quite severe. They pointed the finger at each other and spoke hurtful words. The fight was over when Qin Wenyu left the apartment to stay with Vivian.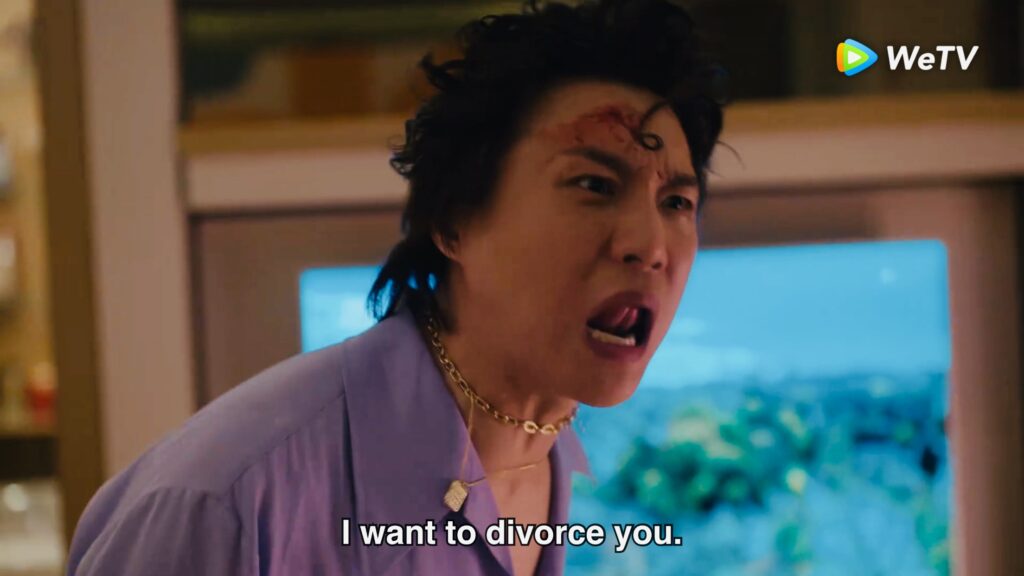 Yang Hua and Qin Shi returned to the dining hall. Yang Hua asked her whether she asked him to be her husband for the sake of professionalism or to get back at her ex-boyfriend. Qin Shi decided that she could not waste her time again. She immediately came to Lan Xiao Ting directly and voice her opinion about the legal advisor position.
However, to her surprise, Lan Xiao Ting did not seem to be happy to hear that. She told her that she had already handed over the legal-advisor matter to Zhao Danping. Therefore, there was nothing she could do about it. Lan Xiao Ting gave her advice that a woman should not be too ambitious. There were so many things that would not work out even if she put so much effort into it. It was better to be contented in life.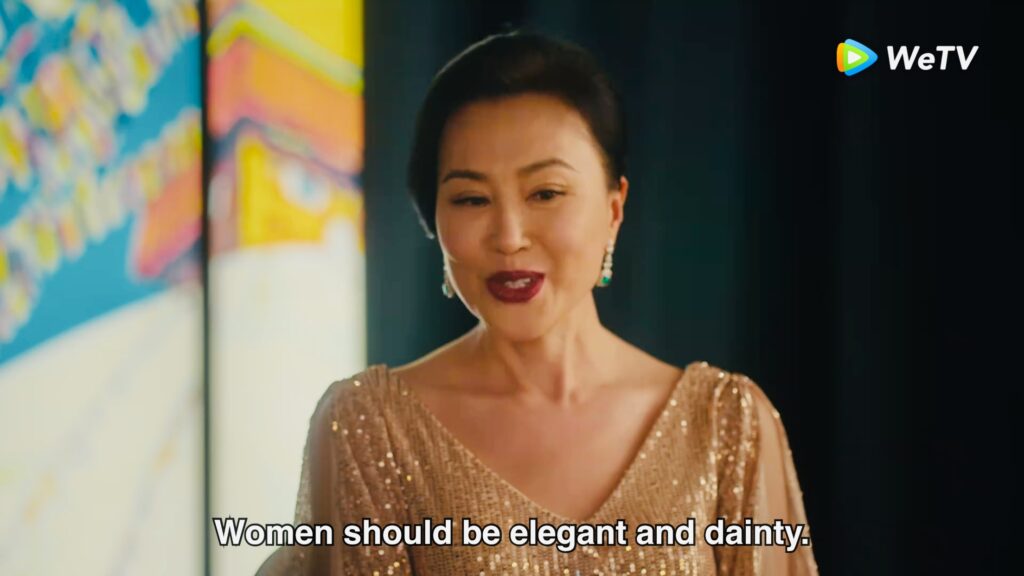 Tao Jun Hui came to mock Qin Shi because she failed to persuade Lan Xiao Ting only for the mere position of legal advisor. Qin Shi sneered back at him because he secretly overheard their conversation. Tao Jun Hui told her that was something he picked up from her. He also criticized her for being mean every time she talked.
Qin Shi did not have time to retort back when Yang Hua came with a plate of steak and apologized to him on behalf of his wife. He said that was being mean was one of Qin Shi's charms. Tao Jun Hui looked at the food and told Yang Hua that, as a husband, he did not know Qin Shi's food preference. Qin Shi ate a piece of steak and left the table.
Back in the hotel room, Qin Shi examined her inflamed skin because she was allergic to beef. Yang Hua told her that she failed because of 4 reasons. She did not want to hear his analysis but Yang Hua still mentioned them one by one. He said that it was crucial to review her action to avoid the same mistakes.
According to his analysis, Qin Shi failed because she did not study her target well; the ways she delivered her intention were lacking compared to Li Dai's; she used to use petty tricks, but these tricks did not work out on big names, therefore she should come up with another plan; and the last one was Qin Shi was too emotional after she saw her ex-boyfriend.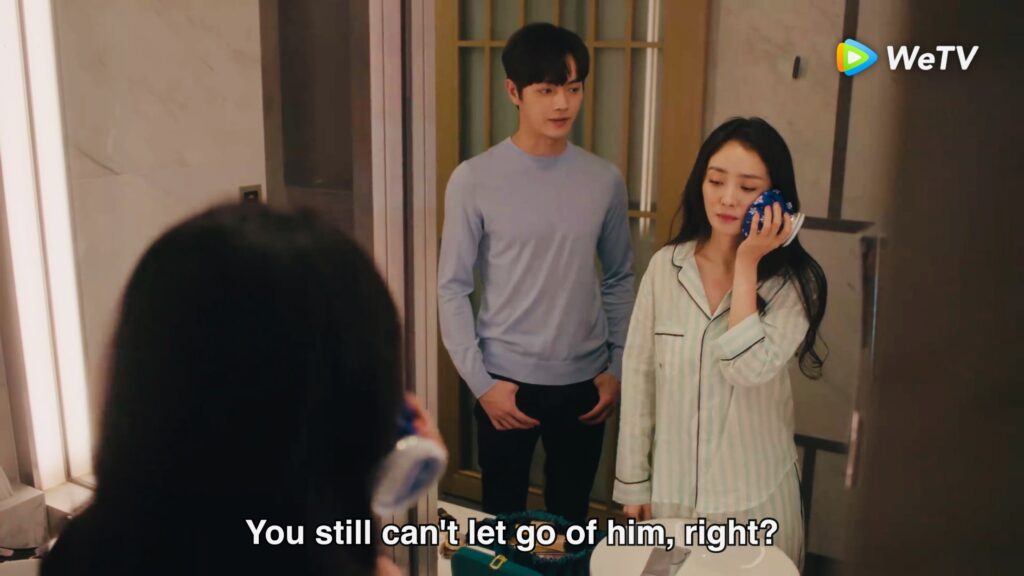 Qin Shi, who did not want to hear the analysis, probably because she felt discomfort in her body, sent Yang Hua to her car and searched for an anti-allergic medicine. But after he left, a hotel concierge came and delivered an anti-allergic medicine for her.
Meanwhile, Yang Hua who searched for medicine in a car full of stuff made a mental calculation about where the medicine could be. And our cute brother found it. But it was way past the expiration date in 2017. He immediately asked for the nearest pharmacy.
Tao Jun Hui recalled the time when Qin Shi introduced her husband, Yang Hua. His expression clearly showed dissatisfaction. He also remembered what happened after he and Qin Shi broke up. Qin Shi sent him a package and when he opened it, the package was full of his belongings and a short letter from her. It said that she had packed his belongings and that her brother would discuss the house ownership with him.
There were their engagement rings inside the letter. After they broke up, he went abroad to study. At the airport, Tao Jun Hui looked at a series of messages that he sent to Qin Shi but she never replied to any of them. He never thought that they would be broken up just like that, it seemed that those seven years of relationship meant nothing to her.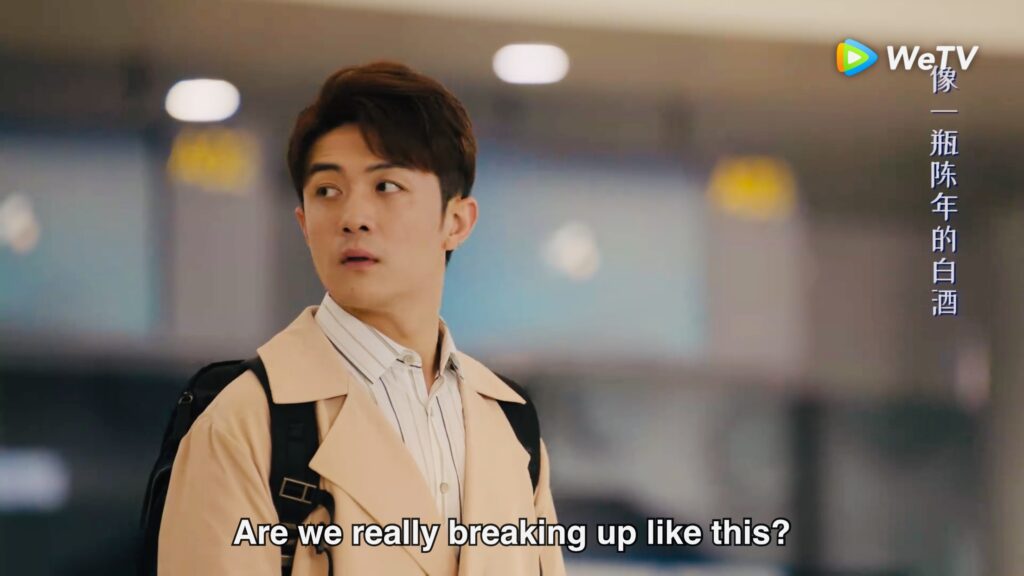 Tao Jun Hui saw Yang Hua pass by and called him for a drink. He asked him about his occupation but Yang Hua refused to answer. Tao Jun Hui could sense Yang Hua's hostility toward him. He presumed that Qin Shi had been bad-mouthing him, but Yang Hua said that he only learned about his presence that night.
Tao Jun Hui was suspicious of Qin Shi and Yang Hua's relationship because they had been married for two years but Yang Hua seemed unaware of Qin Shi's allergy. He said that people might change, even Qin Shi who used to refuse to marry eventually was married.
But body condition, especially allergy, would not change easily. Yang Hua who seemed very good at acting as a jealous husband said that Qin Shi must be the one who dumped him, and now Tao Jun Hui still dwelled on the past. She might have thought that Tao Jun Hui was insignificant because she never mentioned him. And Qin Shi might not think about marriage before, but she was different in his case.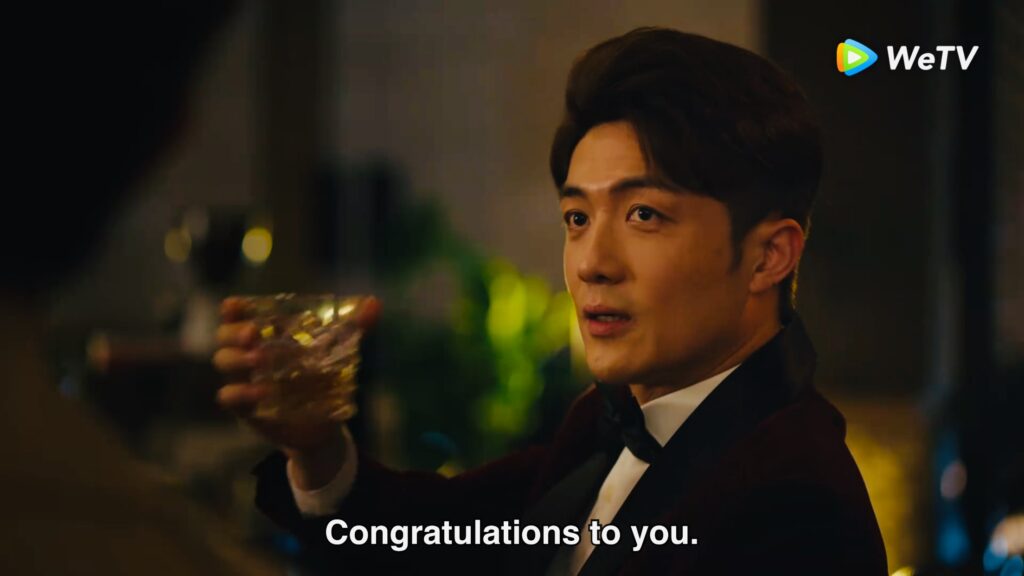 Tao Jun Hui threw another shade at Yang Hua. He confidently said that Yang Hua must be looking for an anti-allergic medicine for Qin Shi. He told him that he always bought her an anti-allergic medicine and put it in her medicine box. He prepared it for her, since Qin Shi, the one who suffered from allergy never bought one. Tao Jun Hui also replaced the medicine every two years. Yang Hua, still in jealous mode, told him that he already bought her new medicine. The last one had been thrown away because it was already expired…😂
Ahahahahah… thumbs up for Yang Hua. He was sooo eloquent in throwing shade at Tao Jun Hui. Yang Hua should be a lawyer too. He and Tao Jun Hui would be a good duo in the courtroom.
When Yang Hua arrived at the hotel room, Qin Shi already drank the medicine and slept. Yang Hua looked at her silly sleeping face and smiled. But he was confused when he saw the medicine on the side table. That night was a sleepless night for Yang Hua because Qin Shi snores. So he slept in the car.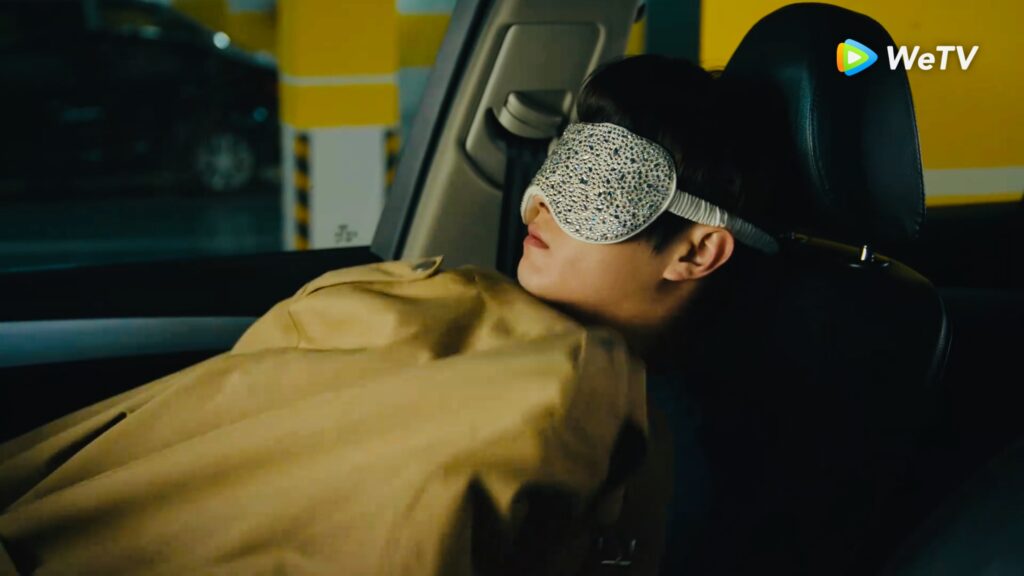 It seemed that the medicine was sent by Tao Jun Hui. I presumed that he got angry at Qin Shi in the toilet because he was jealous of Yang Hua. Well… this is going to be a rectangle love story since Tao Jun Hui was engaged to Wu Fei.😱
Meanwhile, Qin Wenyu was throwing a party at his club, surrounded by girls. He spent money by opening bottles of expensive wine. Ren Mei Mei got the notification message from the bank. Qin Wenyu had spent more than 25,000 RMB that night (around 3,500 USD, no wonder she was so upset…).
Qin Shi knocked on the car window and woke Yang Hua up. She said that the hotel room was spacious but he choose to sleep in the car. Qin Shi praised him for being a gentleman, but she did not forget to ask whether he snores when sleeping. She reassured him that she was a heavy sleeper and that even an earthquake would not wake her up. Her words made Yang Hua glare at her…😂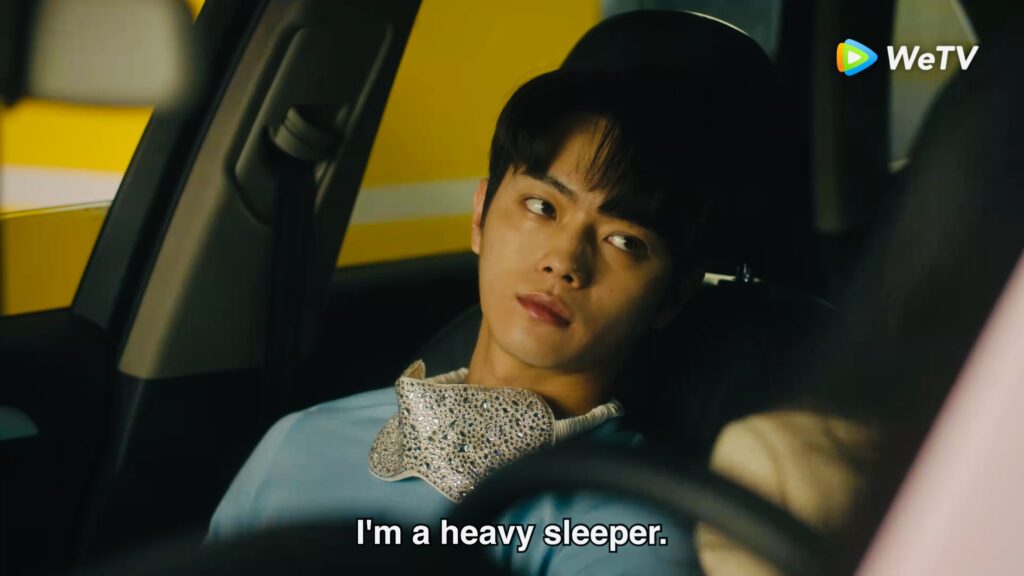 Qin Shi started the car, they were heading home. She stepped on the brake when Yang Hua mentioned that he met Tao Jun Hui last night. Qin Shi was afraid that Tao Jun Hui would suspect their relationship. Yang Hua told her that Tao Jun Hui cared about her marriage and was concerned about her. Qin Shi told him to not believed in his words and ignored him.
At the hotel, Tao Jun Hui and a man disguised as a hotel concierge knocked a hotel room. It was Pang Dingfang's hotel room. When they opened it, the room was empty. It appeared that nobody slept in it last night. Tao Jun Hui made a call but failed because the other party turn off his phone.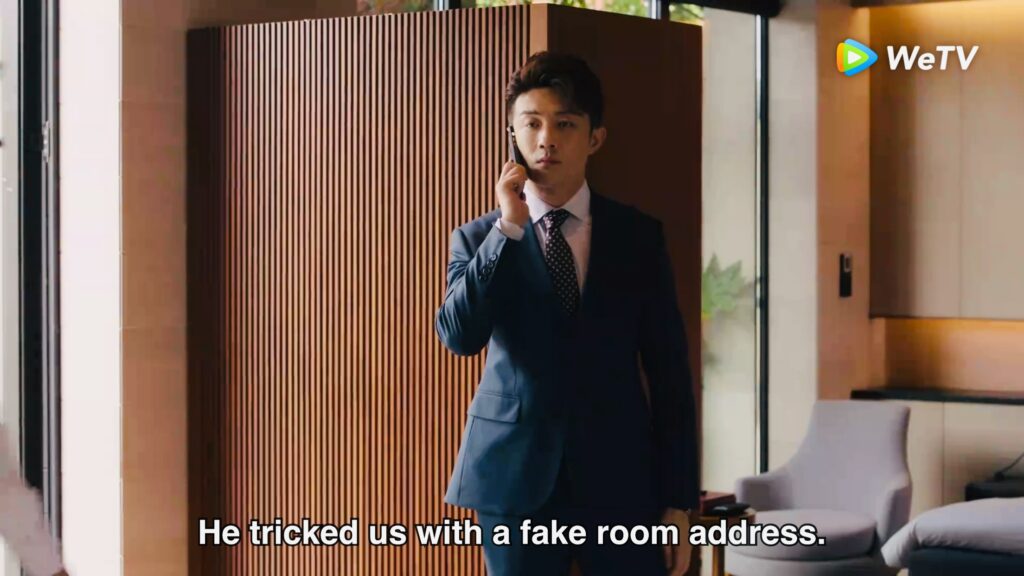 In the car, Yang Hua read a booklet because he doubted something about Luowei Yulan. Meanwhile, Qin Shi wondered why Tao Jun Hui attended the gala dinner since he hated socializing without any purpose. There must be someone or something that he cared about at the event. Ren Mei Mei called her and told Qin Shi that she was on the way to kill someone. Qin Shi stepped on the gas and made Yang Hua scream out loud. Thankfully they made it to Pujian city safely. While Yang Hua was a mess, Qin Shi looked energetic.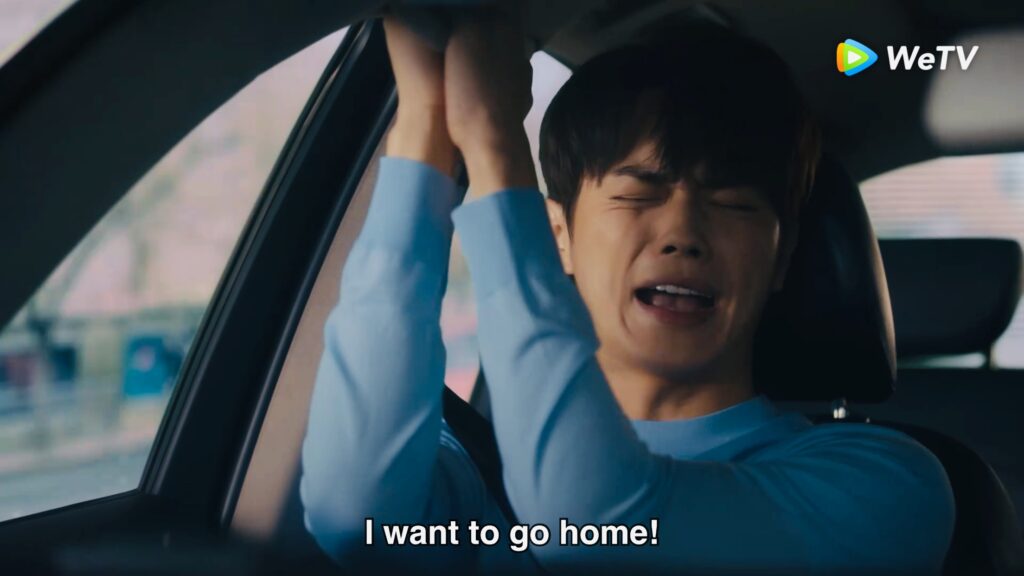 Ren Mei Mei arrived at the club to see Qin Wenyu sleeping soundly surrounded by girls. Hu Peng, the person in charge of the club coaxed her but he failed. Instead, Ren Mei Mei exposed that he had forged the wine and deceived the customer, including Qin Wenyu.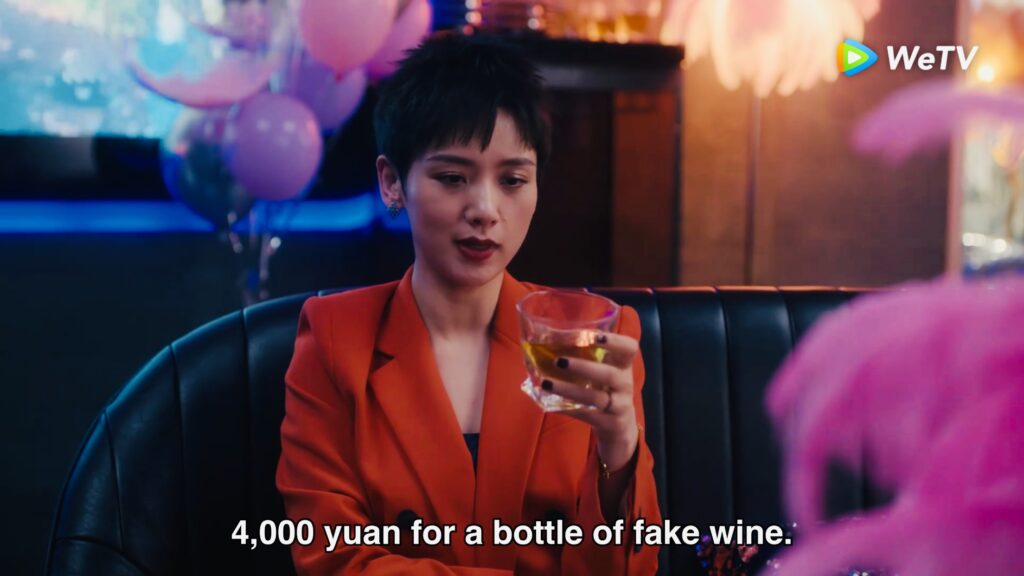 Hu Peng wanted to negotiate the forged wine with Ren Mei Mei but failed. Instead, he has to deal with Qin Shi and her sharp words. Hu Peng admitted that he forged the wine and promised to not let Qin Wenyu came to the club anymore. When Ren Mei Mei walked past shelves full of expensive wine, she did not hesitate to throw the bottle in her hand to the shelves and broke everything.
Meanwhile, Yang Hua contemplated Qin Shi's excessive ambition and impulsiveness. He decided to stay away from her. Yang Hua got voice messages from his parents. The one from his mother said that he should return home because she had something to talk about. The message made him elated.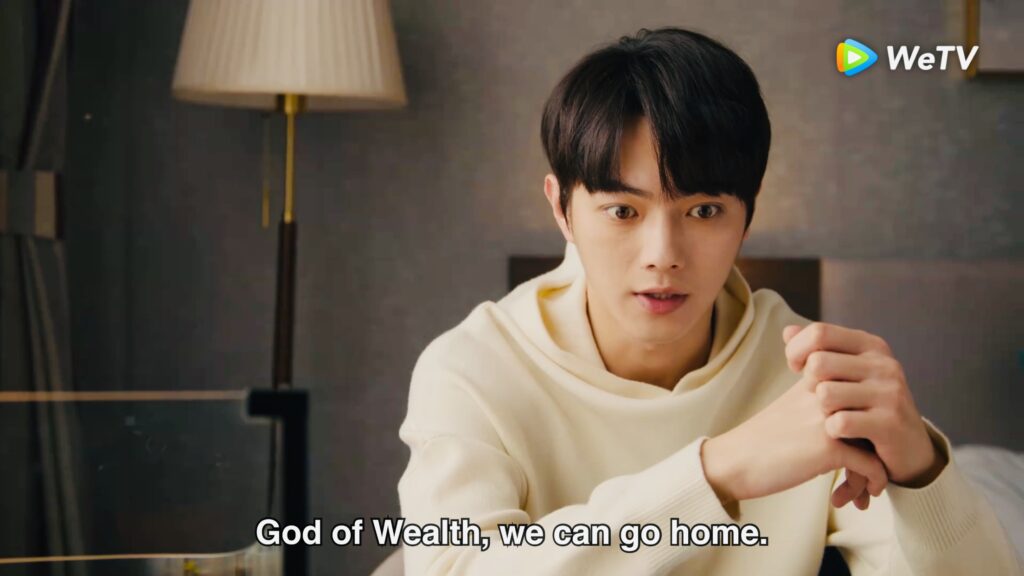 Qin Shi and Ren Mei Mei went into a restaurant because Qin Shi was starving. They discussed what should Ren Mei Mei do with her husband. Qin Shi advised her to train Qin Wenyu like a dog with reward and punishment training. Qin Wenyu was an immature adult, Qin Shi already had him by his throat to sign the divorce paper.
However, Ren Mei Mei did not want to end their relationship but every time she thought about him, she flared up. After such bad marriage experiences, Ren Mei Mei told Qin Shi that her choice not to be married was a wise decision. Qin Shi said nothing when she heard her words.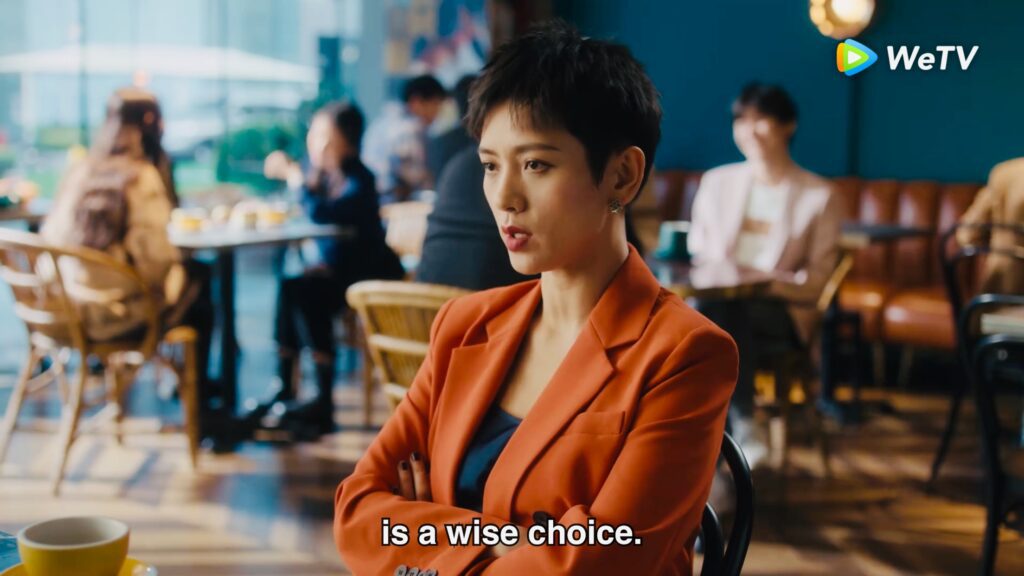 My Two Cents
Dear Tao Jun Hui…
"There's a fine line between love and hate, maybe you're confusing your emotions"
-Simon Elkeles, Perfect Chemistry-