Title: She and Her Perfect Husband
Also Known As: 爱的二八定律, The 80/20 Rule of Love, Qin Shi and Her Perfect Husband, The Two Eight Law of Love
Director: Lin Yan
Screenwriter: Zhu Li
Genres: Romance, Comedy, Law
Country: China
Episodes: 40
Year: 2022
Original Network: Tencent Video
Where to Watch: Viki, WeTV
List of Recap:
Hello Readers… How are you? The weather was a bit off in my place. One day it was so hot that I'm sweating a lot the whole day. And the next day it's raining cats and dogs☔️. I was so excited to write this She and Her Perfect Husband episode recap, because in these episodes 5 and 6, Qin Shi and Yang Hua started their days as a couple, although it was only in name.
Well, enough with the chit-chat, this is the recap episodes of She and Her Perfect Husband. But first, new characters for you…😉
She and Her Perfect Husband Characters
The Qins
Qin Wenbin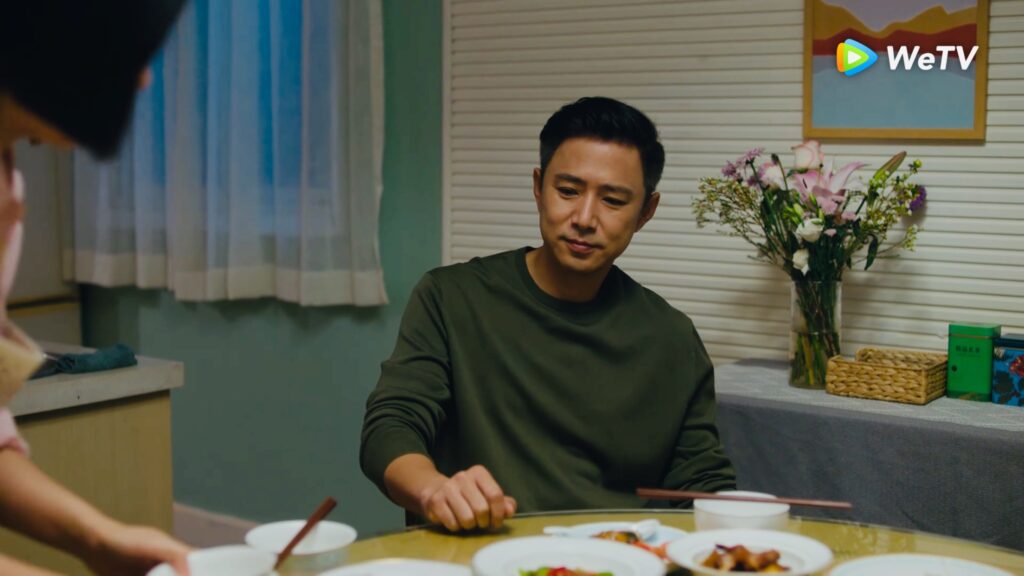 Qin Wenbin lived with his wife, Zhao Qing. He worked as a teacher at a university. He was a father figure for Qin Shi. When Qin Shi was a little girl, she always wanted to be his daughter, rather than his sister. Qin Wenbin was Qin Wenyu's full-brother and Qin Shi's half-brother. Although they have different mothers, but Qin Wenbin and Qin Shi's relationship was very good.
Zhao Qing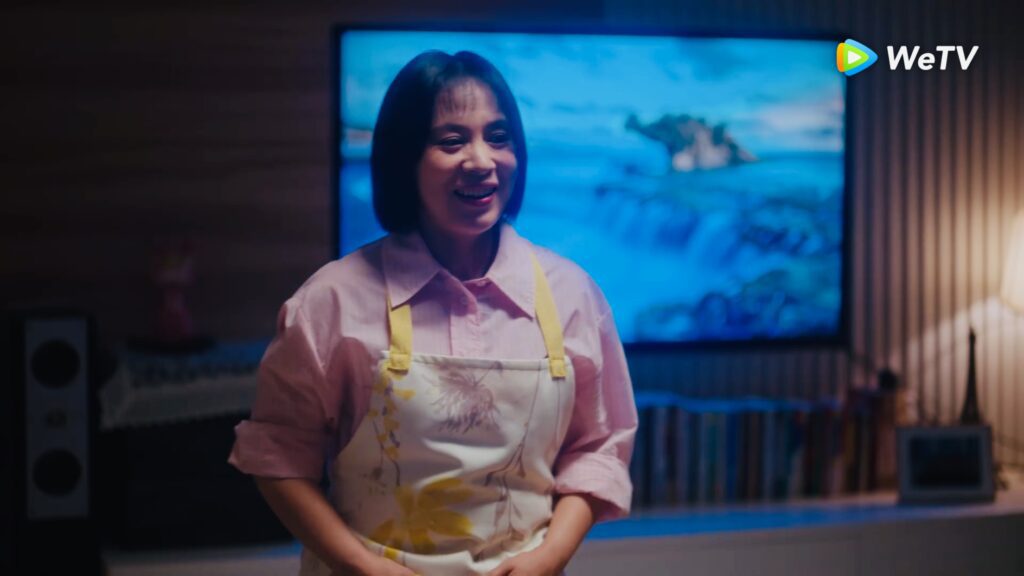 Zhao Qing was Qin Wenbin's wife or Qin Shi's sister-in-law. She was an ordinary housewife who was good at cooking and sincerely take care of Qin Wenbin's family members.
Cheng & Hui Law Firm
Qiao Si Ming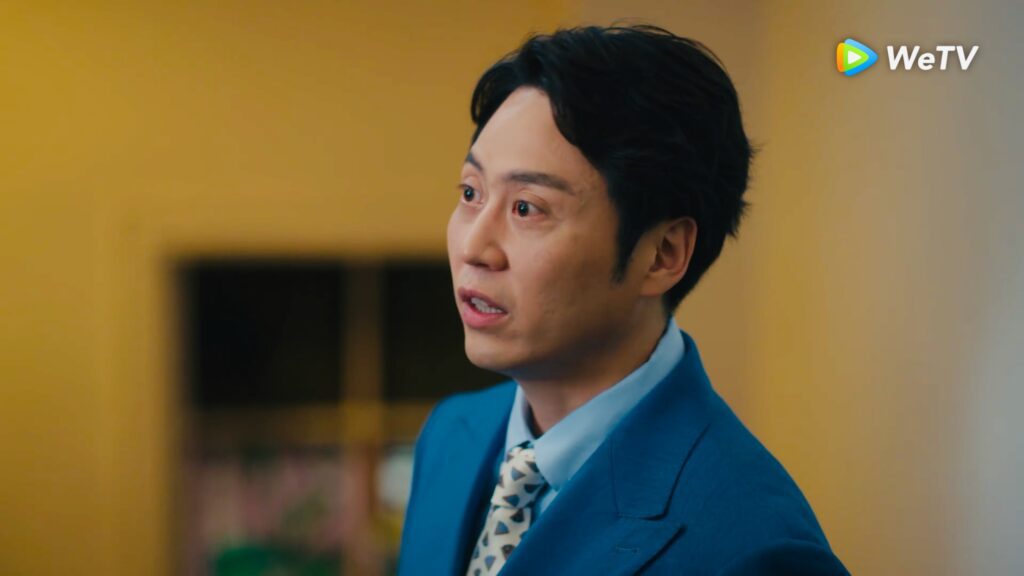 Qiao Si Ming was Qin Shi's colleague. He was good at reading people and always be the first one to know about a piece of news or gossip. You could find him gossiping with Li Dai at the stairs. A place that most people avoid since their office had an elevator.
Yang Hua's friends
Lao Zhou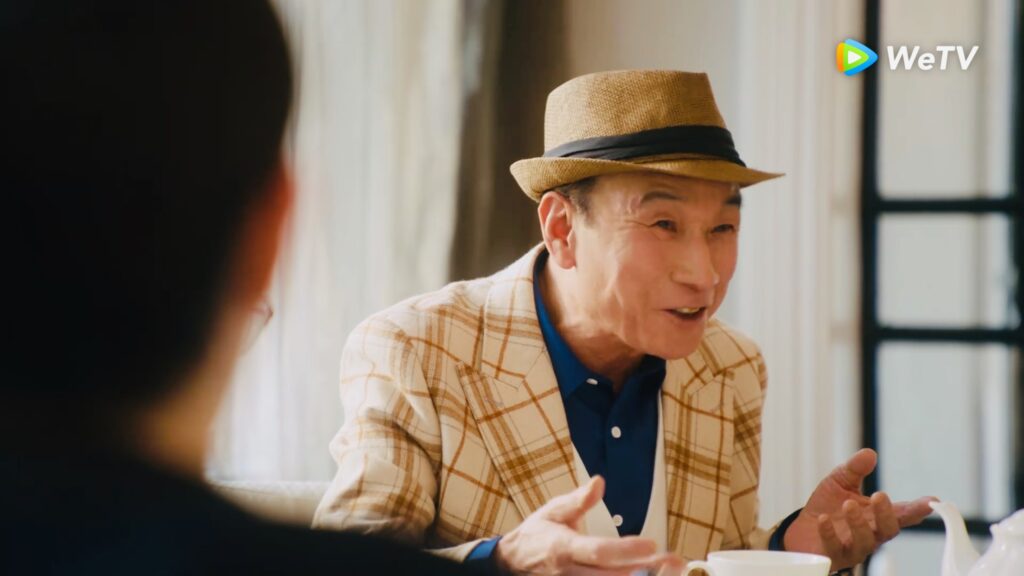 Lao Zhou was Yang Hua's fellow investor. He was a kind man who believed in Yang Hua's judgement. Their relationship was started as a colleague, but then it developed into friendship. Therefore, although the age gap was quite big between Lao Zhou and Yang Hua, I guess based on their interaction, we could categorized him as one of Yang Hua's friend. And I really hope the friend list would not stop right here for Yang Hua's sake…😆
Episode Recap
Episode 5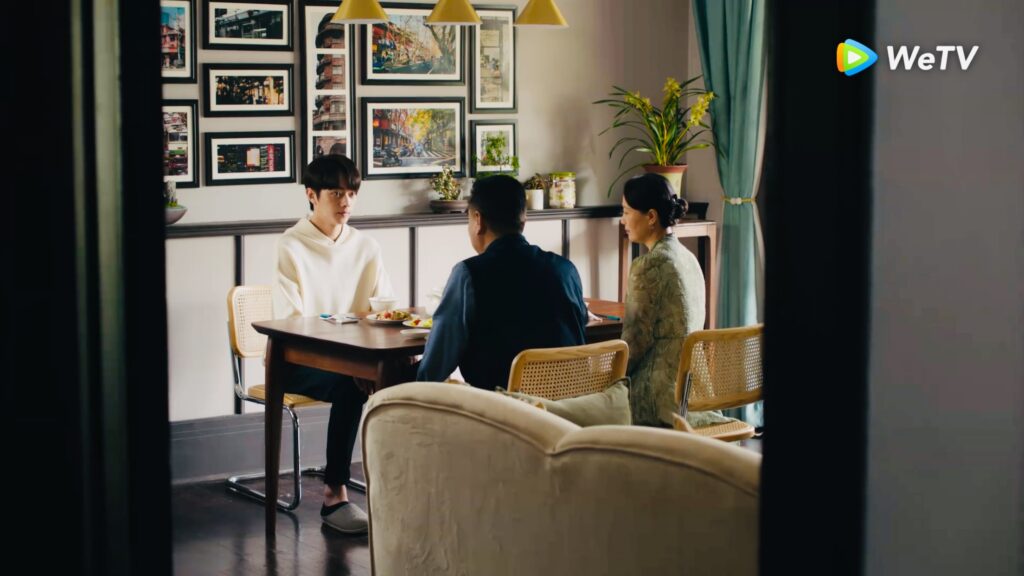 Yang Hua returned to his house where his parents have already waiting for him with a table full of his favorite foods. He was happy. Yang Hua thought that everything had been settled and his mother would not annoy him again with her demands.
But.. Oh Boy! He was wrong about it. His genius brain did not even give any warning when his mother told him that she agreed with Yang Hua and Qin Shi's plan to marry as soon as possible. Mother Yang even collected data from several hotels which were suitable to held a wedding reception for the next three months. Yang Hua was dumbfounded when he heard that.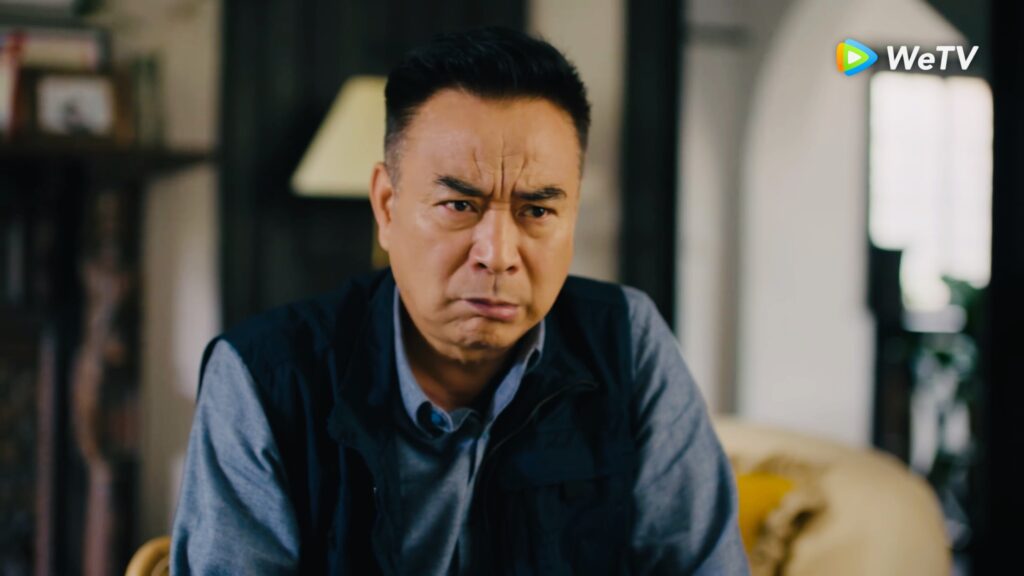 Father Yang who did not know anything looked awkward when his words were stopped by Mother Yang. He tried to give Yang Hua signs that he did not agree with his wife. Yang Hua asked his mother to make sure that she was willing to let him marry Qin Shi. Mother Yang answered that although Qin Shi was not perfect for their family, the marriage was about the two of them. She would let him make the decisions only with one condition: they should live together first.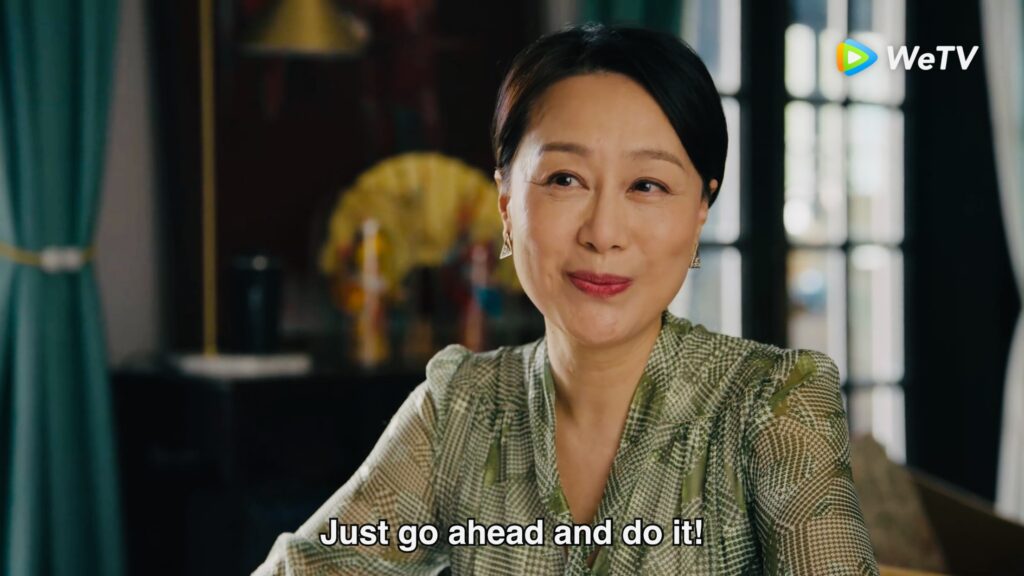 Yang Hua told Cai Liang about his mother's condition. Contrary to Yang Hua, Cai Liang was ecstatic. He teased Yang Hua because it turned out he like matured women, especially hot ones like Qin Shi. Yang Hua glared at his friend because of his words. Did he get jealous? 😆
Yang Hua decided to fake the living together matter. He wanted to rent a house, but he could not afford it because he was broke. That's why he asked Cai Liang to help him.
Meanwhile, Qin Shi wondered why Tao Jun Hui was at the charity gala and questioned her about her intention. Qin Shi thought that Tao Jun Hui was cautious about her but if he was there not for the position as the Association's legal advisor, then there must be a bigger case that he was after. However, Qin Shi was clueless about it. Her contemplation must stop when her elder brother, Qin Wenbin messaged her. He told her to come to his house because he missed her.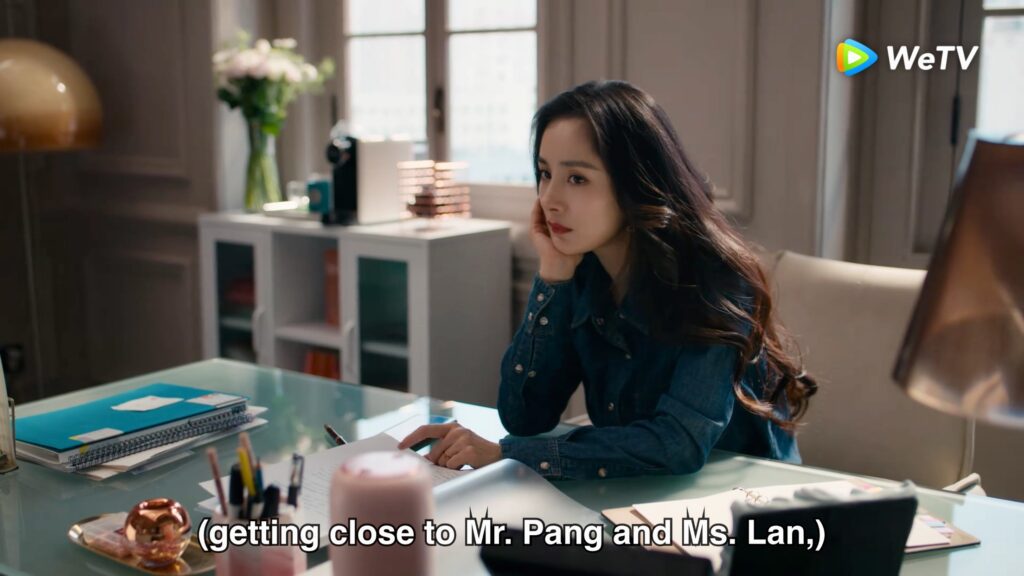 Yang Hua called Qin Shi and told her that he needed to take his luggage that was left in her car. Qin Shi saw the opportunity to ask him about Luowei Yulan since he had warned her about the company. Yang Hua told her that Luowei Yulan, on their website, implied that they were cooperating with Rowe International. But at the same time, the partnership was vague. Yang Hua's information confirmed her intuition that there was something wrong with this company.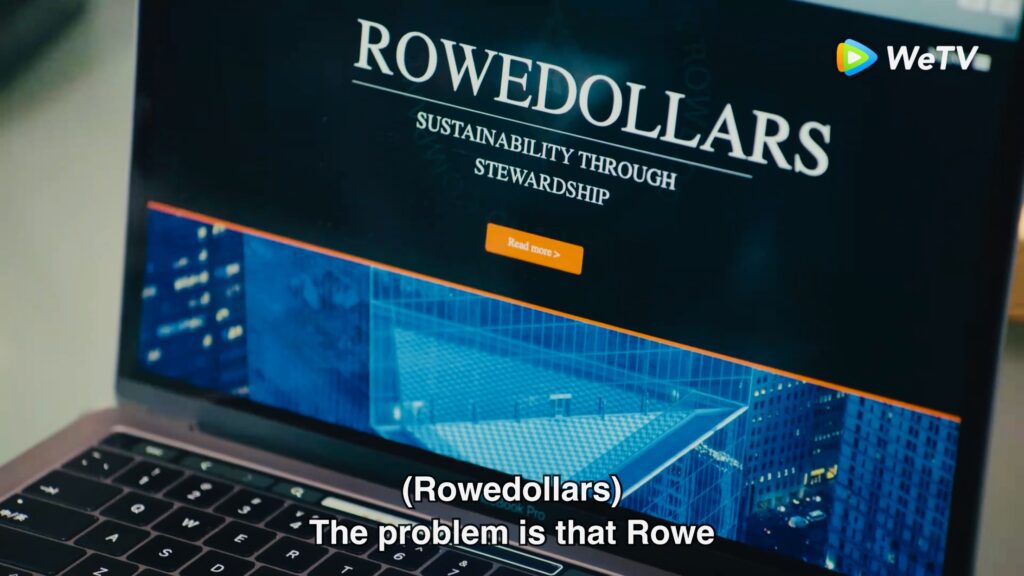 Impressed, Qin Shi asked Yang Hua what his previous job was, but he dodged the question. After the call, Qin Shi pondered and told Qiao Si Ming to postpone the contract between Cheng & Hui and The Woman Entrepreneur Association. Qiao Si Ming refused her request. But Qin Shi managed to convince him that she had a valid reason and only asked for a 24 hours delay. In the end, Qiao Si Ming agreed to her request but he made it only for a 3 hours delay. Qin Shi asked Wu Fei to help her investigate Luowei Yulan Foundation.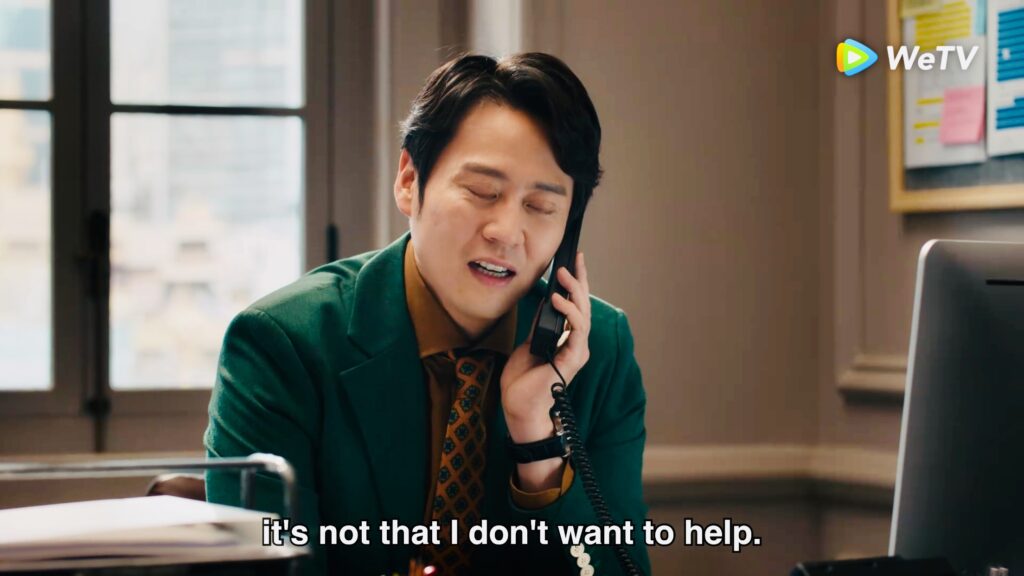 Meanwhile, Li Dai was fuming because she could not access the contract online. When she finally had it, Tang Yi Hui, who was supposed to sign it already left the office.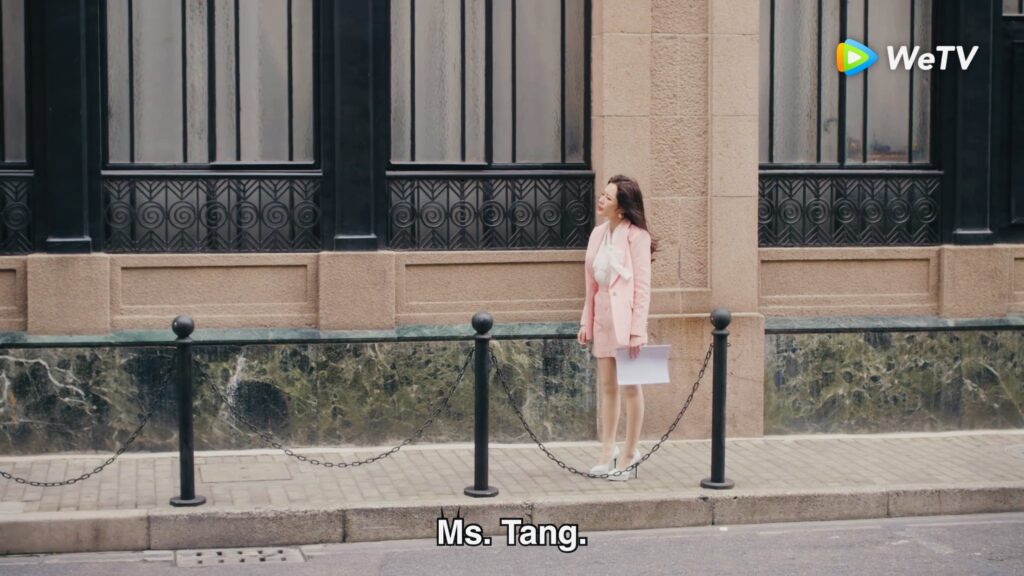 Tao Jun Hui called Wu Fei so he could pick her up from the office. But Wu Fei was really busy that day. In the end of the conversation, Tao Jun Hui wanted to say something to Wu Fei but he could not do it.
At 8 PM, Qin Shi still could not figure out what was the problem with Luowei Yulan and Rowe International. When she realized it was already late, she immediately went to Qin Wenbin's house and let Wu Fei clean her table.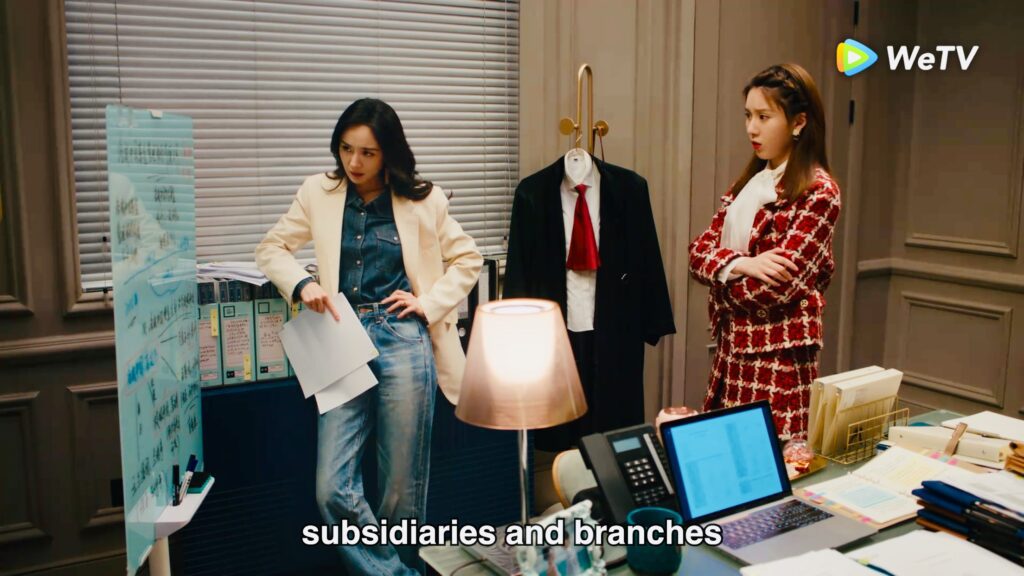 Zhao Qing opened the door and Qin Shi immediately sat at the dining table and started to gulp down the foods. Qin Wenyu also came late. When these two siblings met, there was a small-scale war in Qin Wenyu's home. Qin Shi and Qin Wenyu did not getting along pretty well. Especially after Qin Shi become Ren Mei Mei's attorney.
Qin Wenyu told his siblings that he wanted to divorce Ren Mei Mei, while Qin Shi told him not to do it because in the whole world, the only person who could stand Qin Wenyu's antics was Ren Mei Mei. Qin Wenbin tried to calm them down. He called Qin Wenyu and Qin Shi to come because he wanted to discuss their father's 70th birthday. He wanted them to come and behave well to respect their father.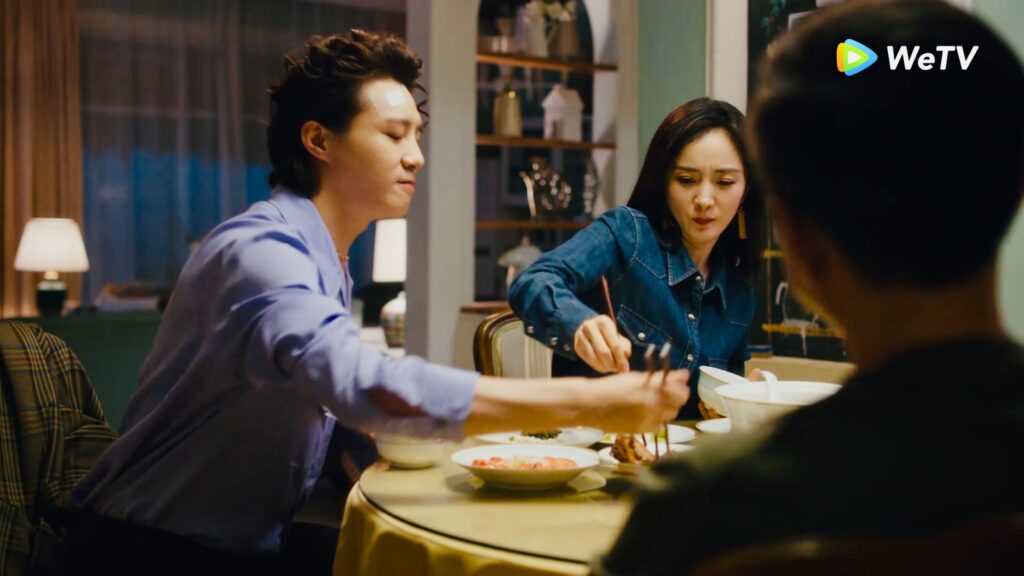 Tao Jun Hui picked up his girlfriend, Wu Fei, at the office. They ate sushi for dinner in the car. Wu Fei told him about her job at Cheng & Hui. She quite enjoyed it and was willing to work hard because Cheng & Hui was one of the best law firms in the city. Tao Jun Hui said that he had many juniors at the law firm. If she wanted to, he could put some good words about Wu Fei to them. Wu Fei enthusiastically asked him about Qin Shi.
Tao Jun Hui was stunned when he heard her name. He never thought that Wu Fei's superior that she always mentioned was his ex-fiancee. Tao Jun Hui dodged the question about Qin Shi. He told her that he was not too close to Qin Shi. Therefore, he knew nothing about her.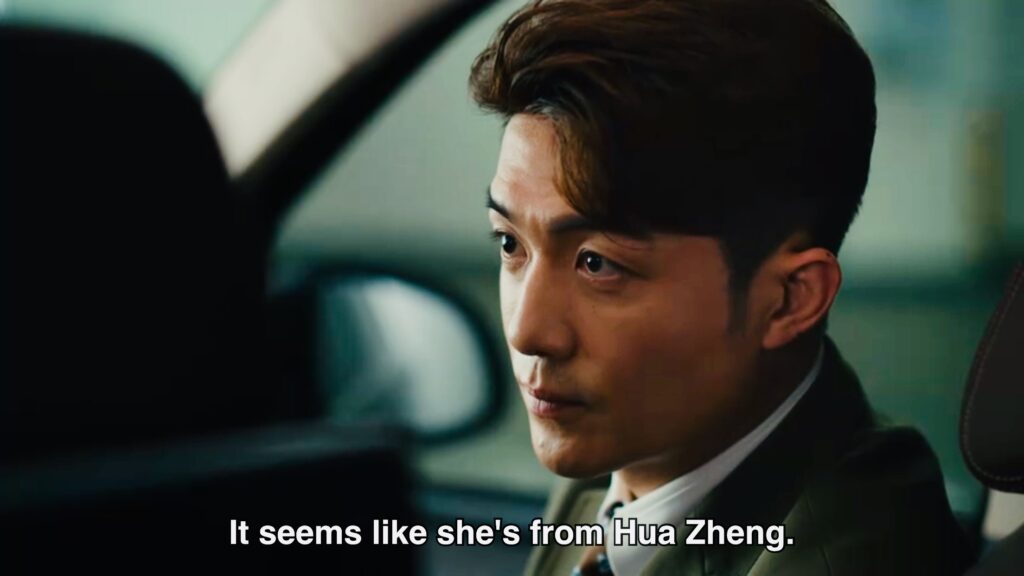 Tao Jun Hui recalled when he saw Qin Shi back in their university days. At that time she was the most stunning person in his eyes. Qin Shi was his junior by two years.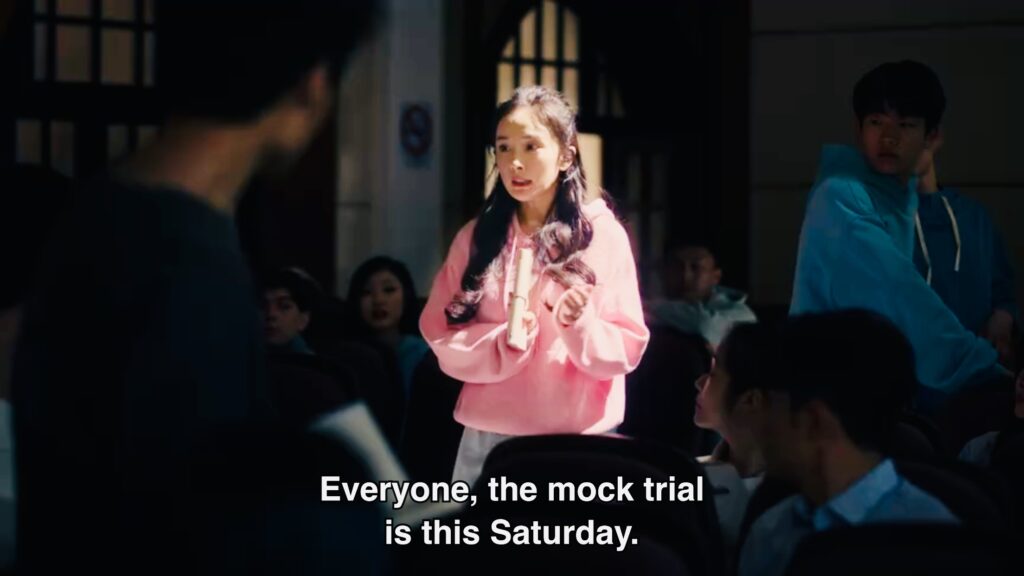 After she went home, Qin Shi was struggling to read the financial reports of Luowei Yulan. She had so many of them, but she could not understand any of them. Just when she started to work, Yang Hua call her again to asked about his luggage. Qin Shi was dumbfounded because she forgot that she had promised to deliver his luggage.
That day was a hectic day for her and she completely forgot Yang Hua. She told him to come over and took the luggage by himself. After a while, the awkward Yang Hua arrived. He appeared to have never went to a girl's house. He told her that it was late and he would not stay long and only wanted to take his luggage when Qin Shi's invite him to sit for a while because the luggage was in her car.
Yang Hua had to accept the invitation. Qin Shi's house was very different from her neat and exquisite appearance. It was badly disorganized. Shoes and clothes were strewn all over. A complete distraction for a neat freak like Yang Hua..😂.
Yang Hua saw she was working on Luowei Yulan's documents. When she saw him, an idea flashed in Qin Shi's mind. When she learned that Yang Hua used to study security in finance, she asked him to help her with the finance report.
Her intuition told her that something was wrong with Luowei Yulan, and the problem lie in a stack of financial documents that she could not understand. Wait for a second, did Qin Shi used to say that she had a master's degree in economics? Should she be able to read some of it?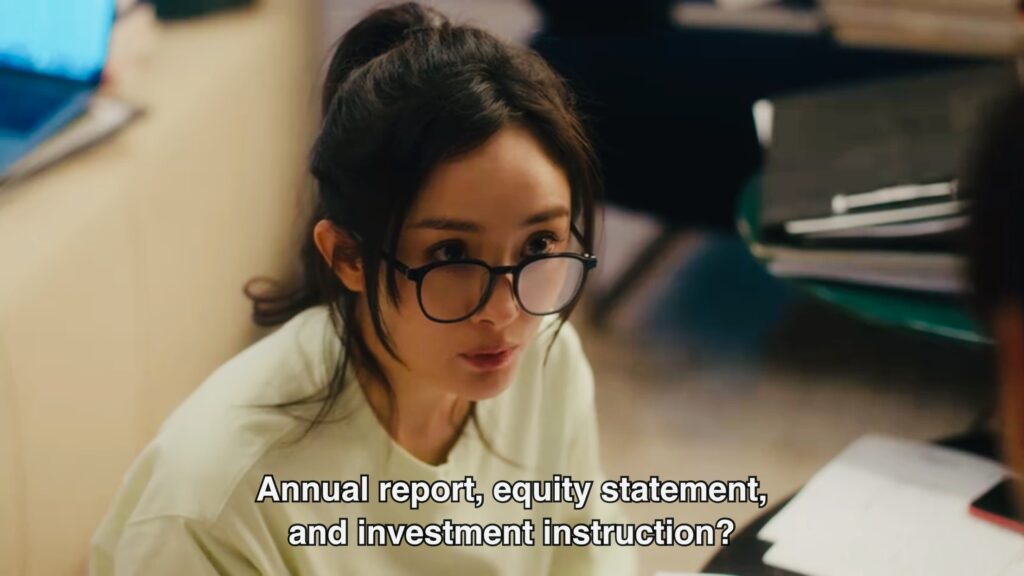 Qin Shi said that Cheng & Hui would sign a contract with the Women Entrepreneur Association. If there was something wrong with Luowei Yulan, then there must be something wrong with Lan Xiao Ting. However, she needed proof to prove her instinct. Yang Hua agreed to help her. According to her judgment of his personality, Qin Shi guessed that his willingness to help must come with some terms. But Yang Hua was not ready to tell her the terms yet.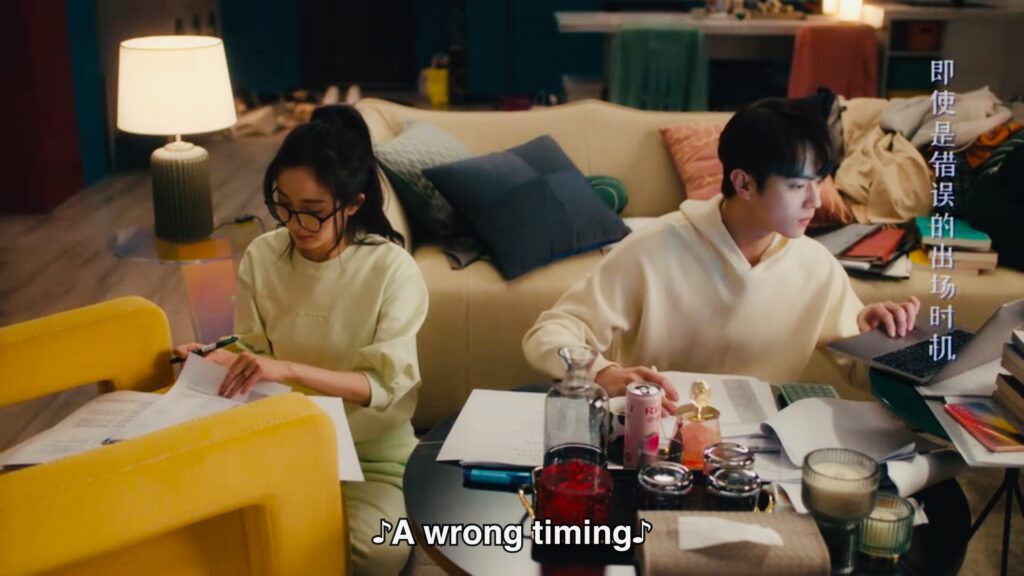 That night, the two of them worked together side by side. Sometimes they sneaked a glance secretly and admired the seriousness on each other faces. When Yang Hua saw the sleeping Qin Shi, he covered her with his jacket to keep her from cold.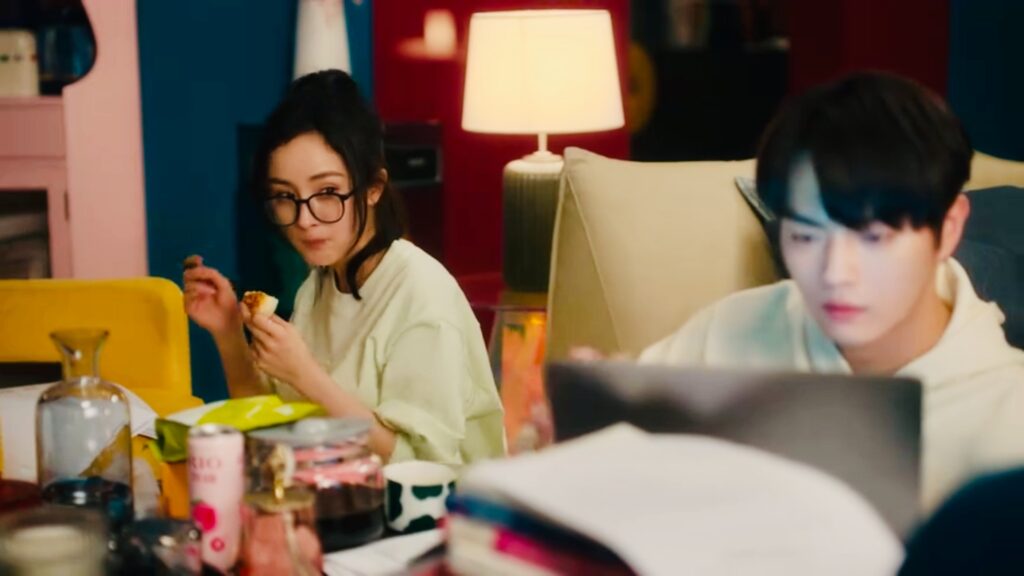 The next morning, Qin Shi slept soundly while Yang Hua spent his time tidying up her living room. When he saw Qin Shi, a wicked idea crept into his mind. Yang Hua thought that if he took a picture of the sleeping Qin Shi and send the photo to his mother, she would believe that they were already living together. Unfortunately, Qin Shi woke up and caught him red-handed. Yang Hua explained everything and Qin Shi could guess that the photo was the term that he refuse to tell her last night.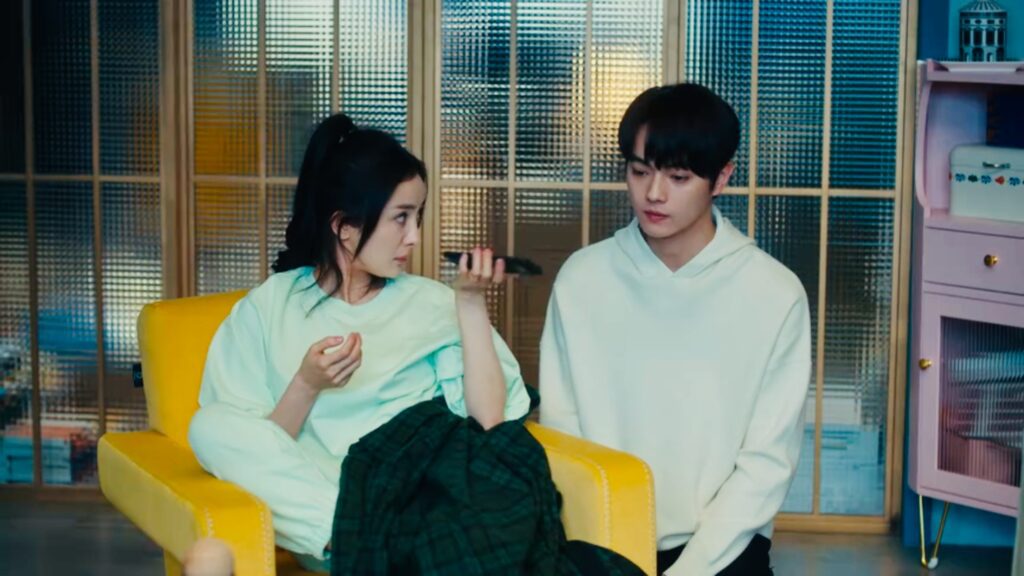 Since Yang Hua said that he did not intend to give up on defeating his mother, Qin Shi had another idea. She helped him by recording a video for Mother Yang. She told her that they agreed with her suggestions and asked for her blessing. Qin Shi even give him a peck on his cheek and asked for a kiss too. Her gesture was natural as if they had been in a relationship for a long time. On the contrary, Yang Hua was awkward. I don't think that he ever kissed a girl before. He was so stiff..😂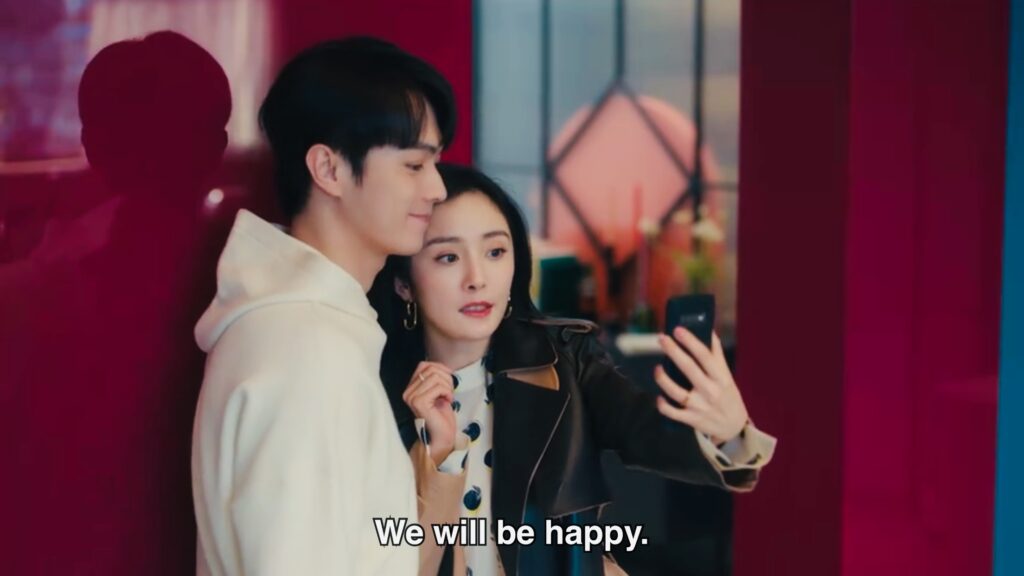 Qin Shi also told him to move to her house because a video would not be sufficient to defeat Mother Yang. However, Yang Hua only agreed after Qin Shi showed him her study room where Yang Hua could stay there. She also refused when Yang Hua said that he would pay the rent. Qin Shi estimated that he would not live there for more than 2 months.
Before she left, Yang Hua gave her the summary of Luowei Yulan's financial reports. Qin Shi was impressed that in a short period of time, Yang Hua could give her much information about the Luowei Yulan Foundation.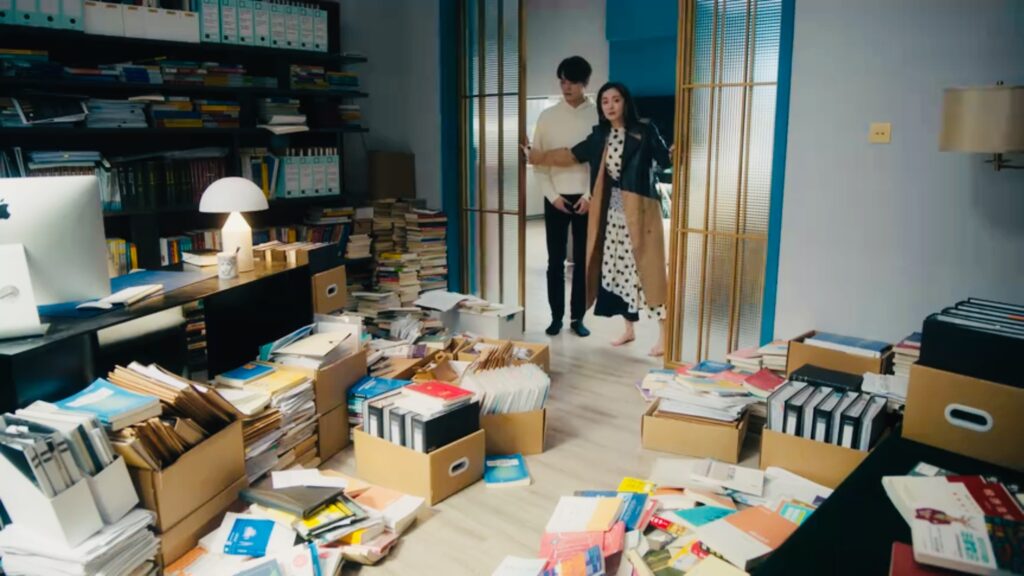 Yang Hua and Qin Shi's video ruined Mother Yang's morning. She was shocked that her son really lived together with Qin Shi. Meanwhile, Father Yang was happy to hear that and instantly smiled as if Yang Hua lived with Qin Shi was the best news that he had ever heard of.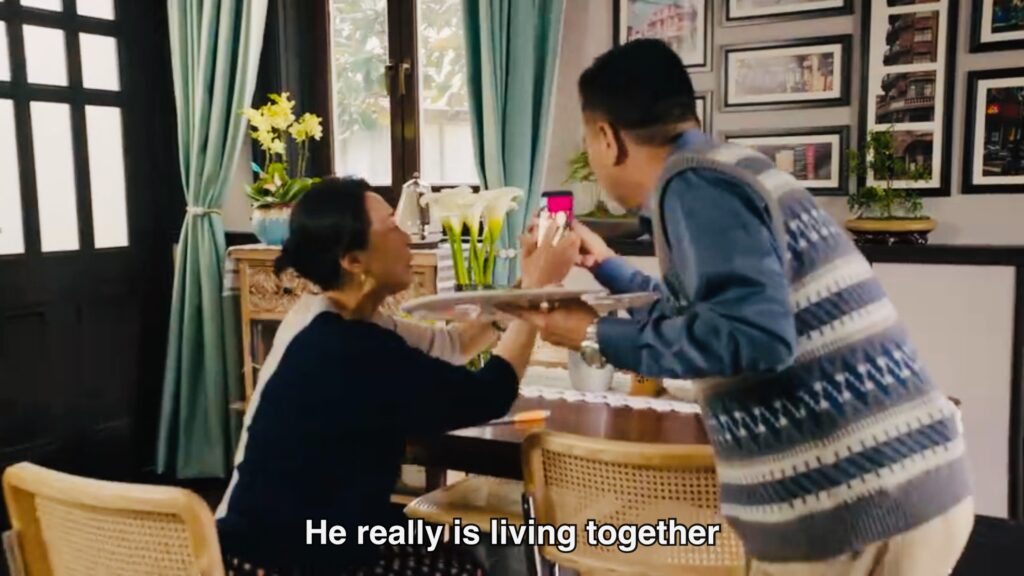 Yang Hua looked around the apartment and started to tidy up things. He started from the bathroom where Qin Shi's skincare bottles were all over the countertop.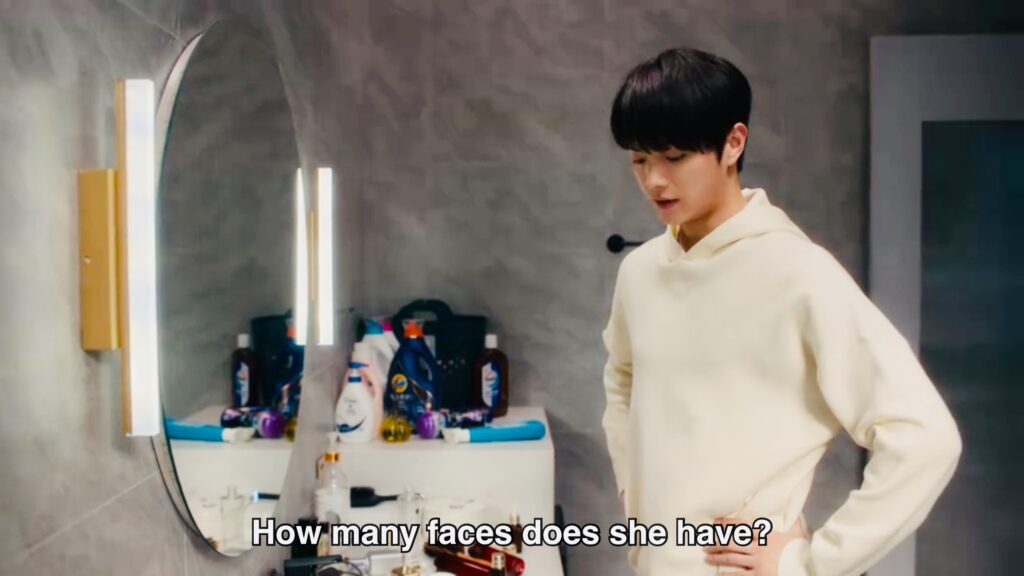 Next, he went to the kitchen and throw most of the food inside the refrigerator. It seemed that most of them were rotten or expired. He also put her shoes on the cabinet and fold some clothes that he found, including a nightgown…😆 Yang Hua did not forget to tidy up the study room. When he was finished cleaning the house, he told the God of Wealth that the air of freedom was sweet.
This was the beginning of their so-called married life…😉
Episode 6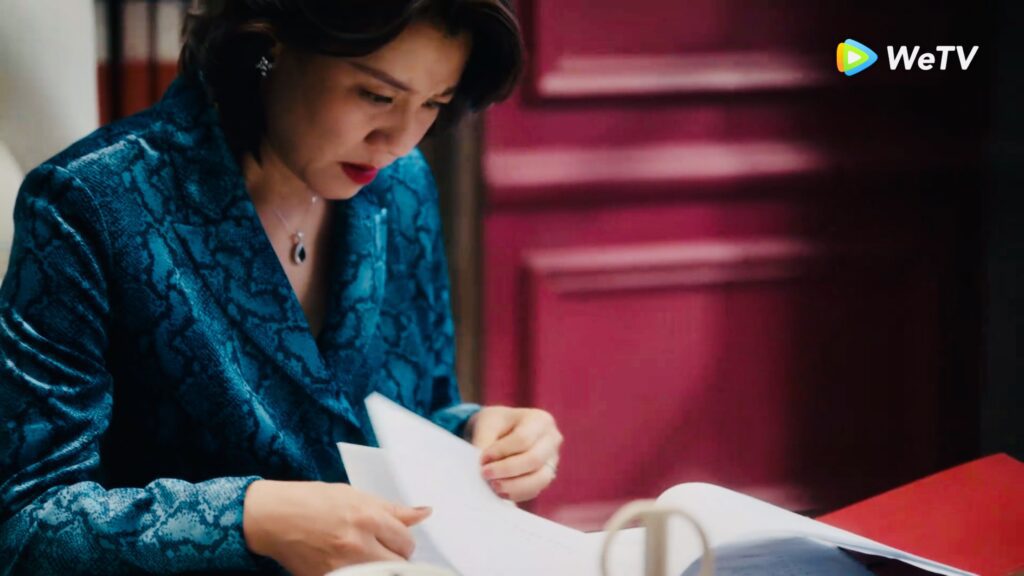 Qin Shi brought the assessment report to Tang Yi Hui. She was surprised to see the details. Yang Hua examined everything related to Luowei Yulan, including the details such as the company's phone number, which turned out belong to an Indian restaurant. According to Yang Hua's report, Luowei Yulan had distributed their funds to dubious companies and in the future, they would have a problem returning the money to the investors.
Qin Shi told her that Luowei Yulan had already faced the problem for a year. Tang Yi Hui thought that as long as Luowei Yulan could pay back the investor on time, there would not be a problem, and she was sure that Lan Xiao Ting would be responsible for it. However, Qin Shi dismissed the idea. When the problem was exposed, many investors would think like that too.
Therefore, she advised them to withhold their contract with The Women Entrepreneur Association for a while. However, Tang Yi Hui told her that it was too late. Cheng & Hui already sent the contract yesterday and the courier would have sent it to the association at the moment.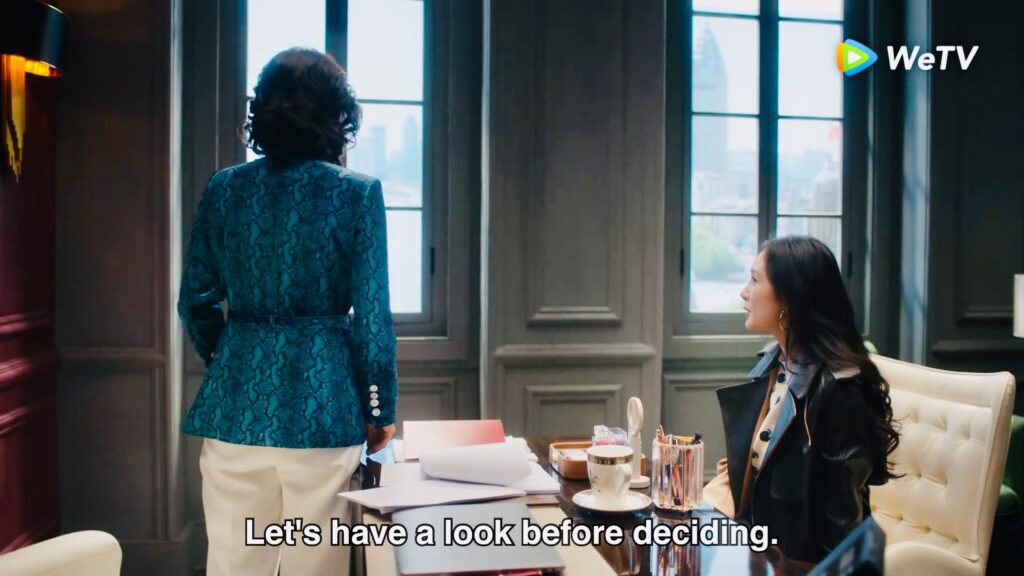 Qin Shi made a swift move and called Wu Fei to find a way to stop the courier. Wu Fei did not realize the urgency until Qin Shi scolded her. She called the other legal assistants to find a way to help her block the contract. Thanks to the cooperation, Wu Fei was able to retrieve the contract on time.
Tang Yi Hui asked Qin Shi whether the assessment report was credible and ready to shoulder the responsibility for all the data and the following problem. Qin Shi took a deep breath. She remembered asking the same question to Yang Hua, and his answer was firm. He has never been wrong regarding numbers and money. Qin Shi looked at Tang Yi Hui and stated that she believed wholeheartedly in the person who made the assessment report and she would take responsibility.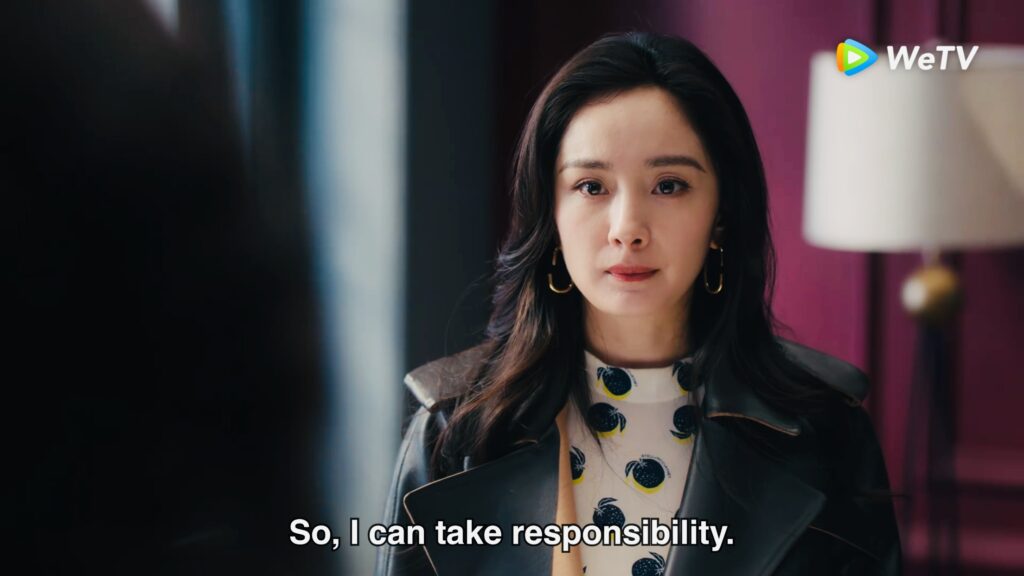 Li Dai barged into the room. She told Tang Yi Hui not to agree with Qin Shi's words. Li Dai was angry because she thought that Qin Shi had sabotaged her work. Li Dai said that she had made a deal with Zhao Danping, therefore, the contract must be delivered. Both of them were engaged in a war of words for a moment.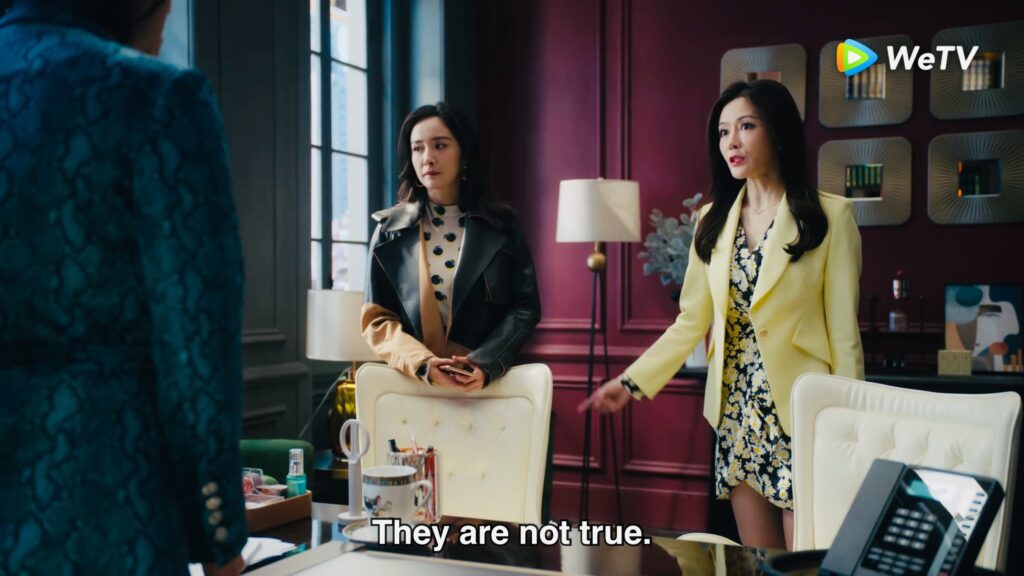 Meanwhile, Tang Yi Hui who checked the reports again seemed to be worn out. Qin Shi took the reports and handed them to Li Dai who also had the same shocked expression after she read the report. Jin Cheng called Tang Yi Hui on the way to the airport, he asked her whether she had put money in Luowei Yulan.
Tang Yi Hui hesitated to answer the question. She could not even say yes and only nodded her head. She told him that she had put 25 million yuan in Luowei Yulan. Everybody was shocked by the amount of money. Jin Cheng immediately returned to the office after he warned them that the news should not be leaked from the office.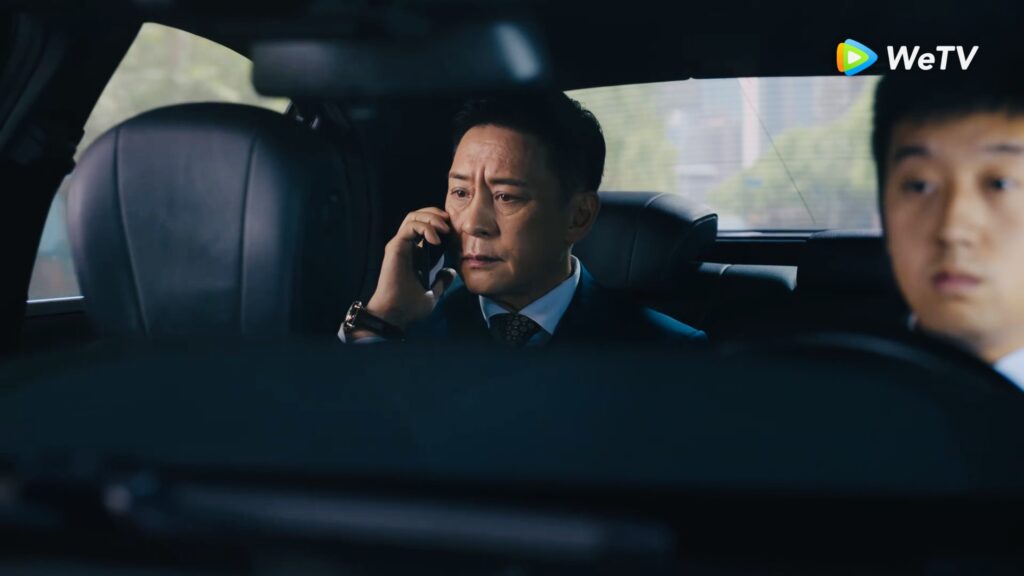 Today's 25 million yuan was around 3,5 million US dollars. 😱
Meanwhile, Yang Hua was having a meet-up with his fellow investors. One of them was Lao Zhou who told them that he had invested in a foreign funding company and the interest rate he earned every month was high. However, the investment product was not available to the public. He had to pull some strings to get the product. Yang Hua was able to guess that the foreign funding company was Luowei Yulan.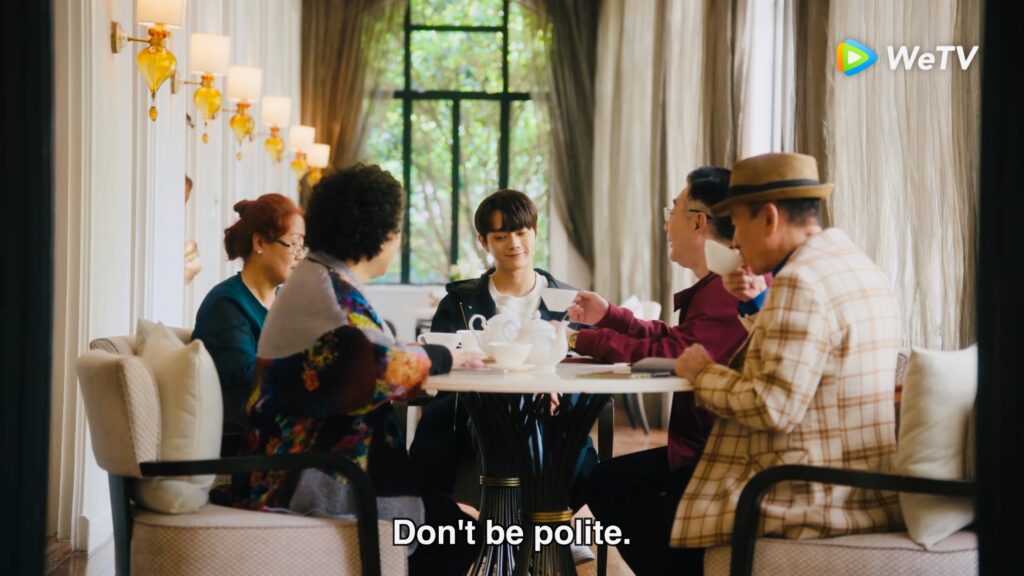 Qin Shi, Li Dai, and Jin Cheng checked Tang Yi Hui's investment contract. The contract seemed fine because there was a third-party company that used a plot of land as the mortgage. Everything seemed to be fine on the paper. And if they could not find solid evidence, they might have to pay huge compensation to retrieve the money. Qin Shi pondered that the listed companies seemed like empty shells.
The plot of land might not be worth any money or it has property rights issues. Jin Cheng agreed with Qin Shi. He has dispatched some people to check the land. And after some investigation, it was validated that the plot of land had been pledged many times and could not be used as a guarantee. The information confirmed that Tang Yi Hui had been scammed.
Jin Cheng asked Qin Shi to tell Yang Hua that he should keep the data a secret. However, Yang Hua already told the information to his fellow investor and it caused some uproar among them.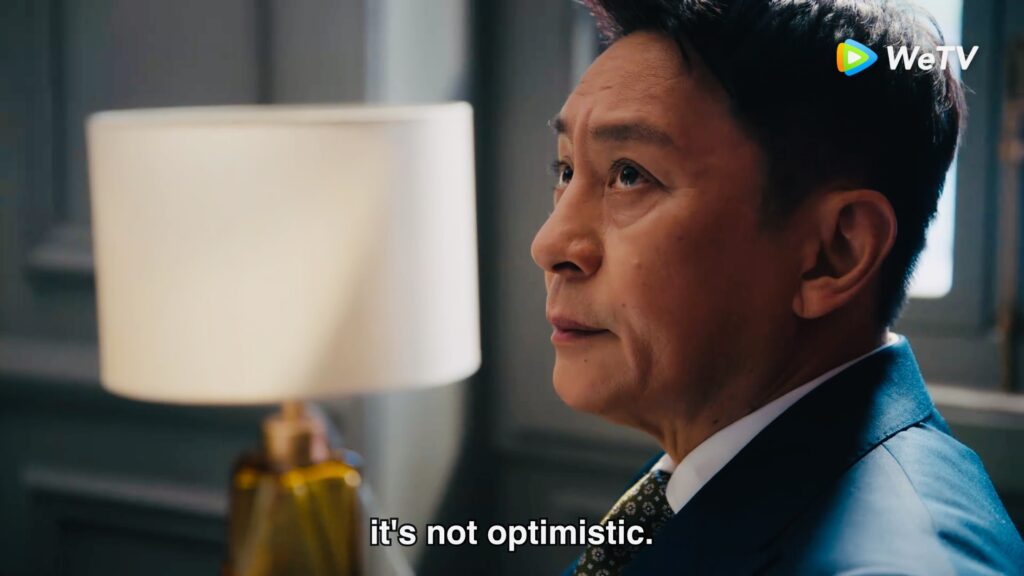 Tang Yi Hui used Jin Cheng as an excuse to withdraw the money. She said that Jin Cheng needed the money because he planned to open 10 offices. Lan Xiao Ting tried to pursue her not to withdraw the money but failed. In the end, she promised Tang Yi Hui's 25 million yuan investment would be returned after Pang Dingfang arrived in China, two days later.
Qin Shi returned to her office with relief. When she saw the band-aid on her toe, she smiled. Yang Hua must have treated her wounded toe when she was asleep last night.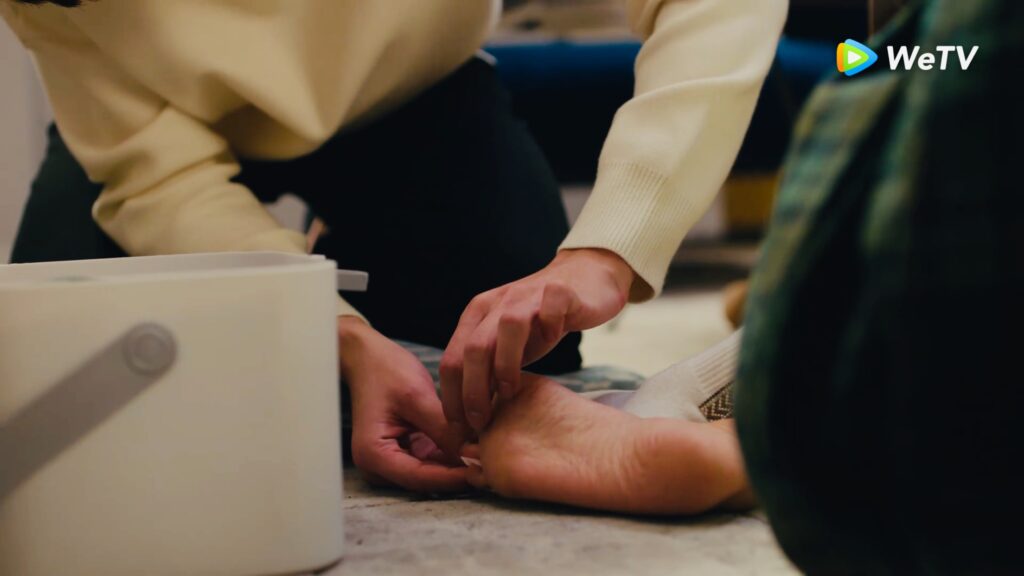 Li Dai looked hopeless after the meeting. She had been excited to be a legal advisor for the Women Entrepreneur Association. Nobody could guess that her dream job would end up in the gutter. Qiao Si Ming saw Li Dai and asked what has happened to her. Li Dai told him everything in their secret spot: the stairs. They always used this place to exchange information… ahem, gossip.
Qiao Si Ming was more shocked and panicked because he knew the money that Tang Yi Hui used was their law firm's liquidity. Li Dai's phone rang again it was another call from Zhao Danping. But Li Dai still did not pick up her call because she did not know what to say to her.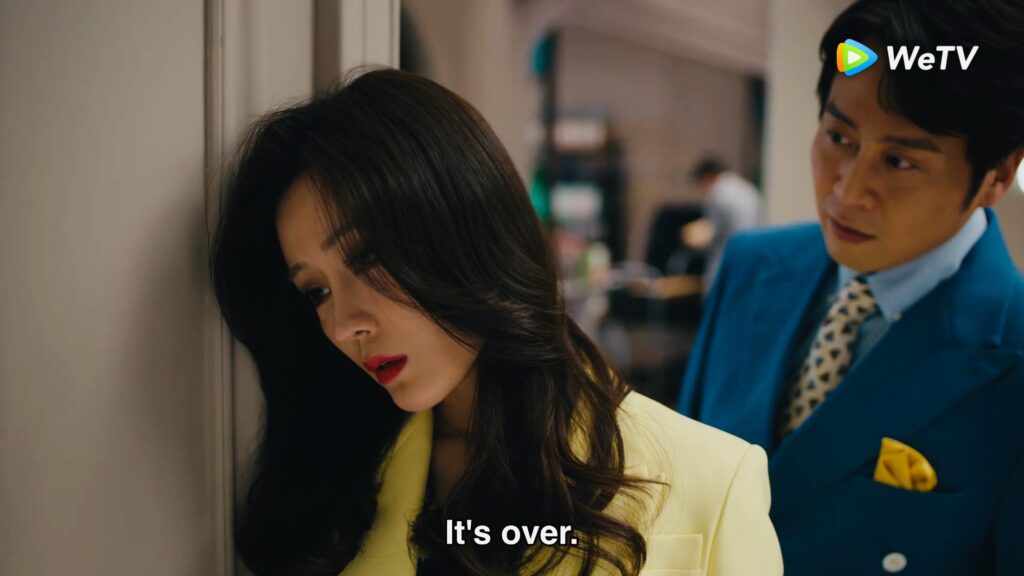 Qiao Si Ming told her that between Qin Shi and Li Dai, their ability was similar, but Qin Shi has more advantage because she was married. Qiao Si Ming reminded her that women would always have to work harder than men in terms of careers. But she should not sacrifice her youth and energy for other's company.
Li Dai returned to her office and meditate. Suddenly a call from a matchmaking agency interrupted her tranquility. The lady who owned the agency told her that the mother of the young man from the past blind dates asked for another chance to meet her. Back then they did not meet at all. The lady offered another blind date with him again and promised to send his picture to him.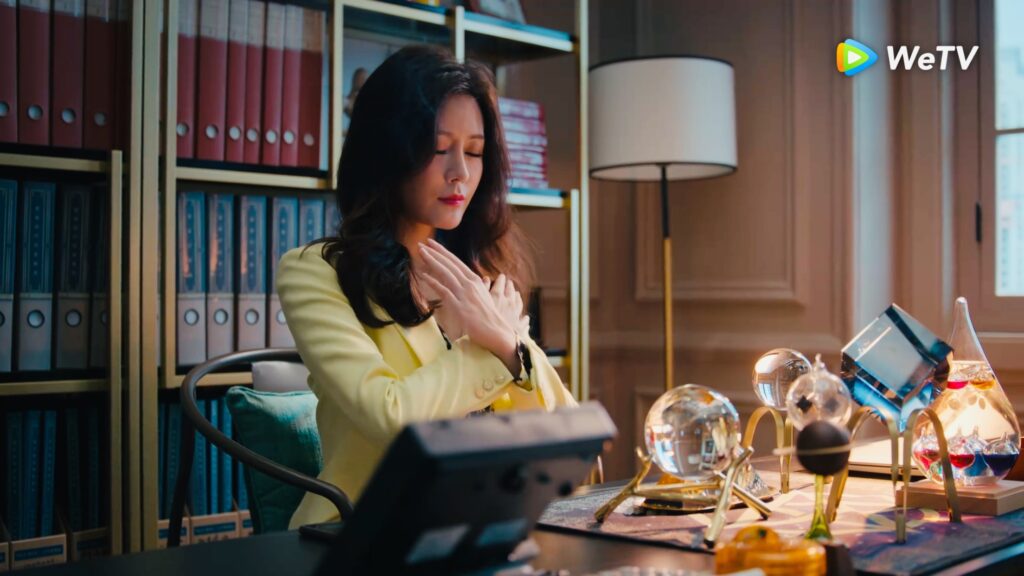 When she received the picture, it was Yang Hua's picture from weibo. The same picture that Qin Shi used to prove that she was married to him. Li Dai remembered that Qin Shi's husband's name was Yang Hua. She felt that it was a weird coincidence. Li Dai tried to probe the information from Qin Shi. And with some tricks, she managed to make Qin Shi tell her that Yang Hua's name was indeed the same character as the man from the matchmaking agency.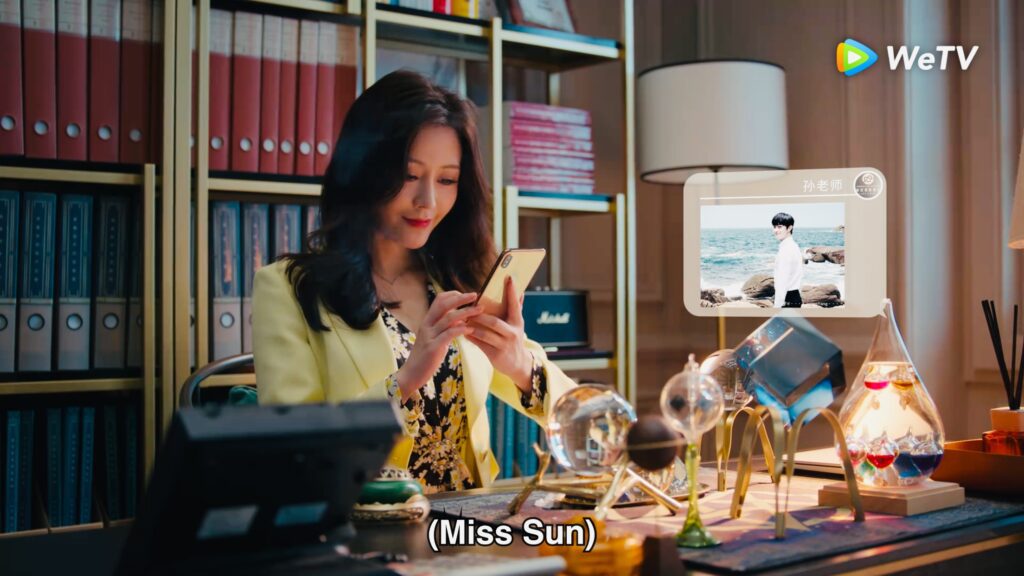 On the 11th floor, everything was in chaos. The landline rang non-stop and everybody was busy with their phone. Qin Shi and Li Dai walked as if they were in a different world.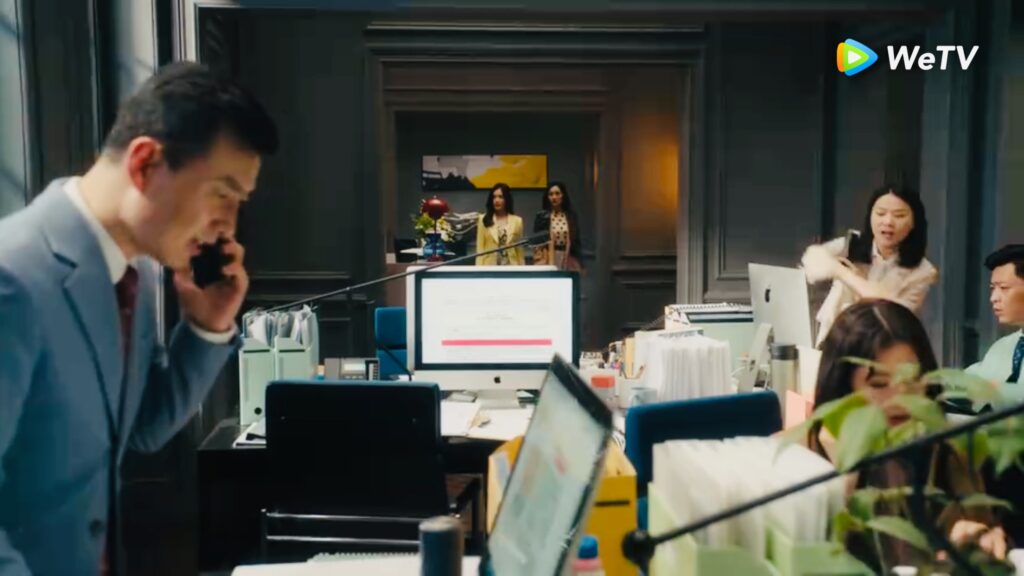 When they entered Jin Cheng's office, Tang Yi Hui was busy with her phone, and so did Jin Cheng. Both of them mentioned Luowei Yulan in their conversation. Tang Yi Hu asked them how the news spread. It was Li Dai who finally confessed that she had a brief chat with Qiao Si Ming but it was not about the money.
Qin Shi tried to comfort Tang Yi Hui who was fuming because of the problem. She said that since the news was spread, Luowei Yulan had to return the money. However, Cheng & Hui might have offended Lan Xiao Ting. Tang Yi Hui hoped that their speculation would come true, otherwise Cheng & Hui would be infamous for badmouthing another company.
Qin Shi told Li Dai, in a roundabout manner, that she should check things out with Qiao Si Ming since somebody who leaked the news must be from their law firm. She reminded Li Dai to investigate the matter before Tang Yi Hui and Jin Cheng realized and investigate the matter themselves. After Qin Shi left, Li Dai immediately called Qiao Si Ming because he had something to talk about.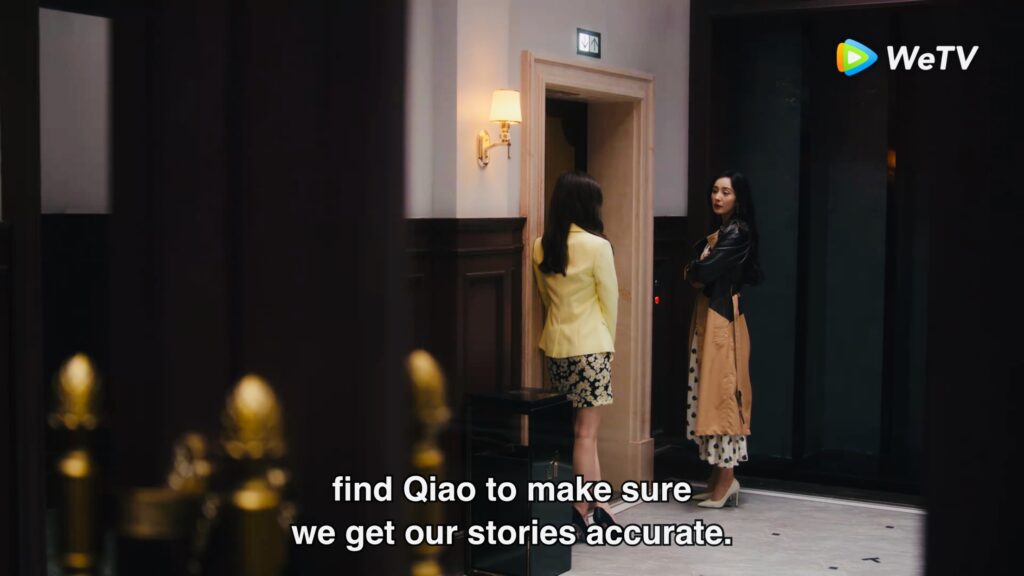 Mother Yang called Yang Hua and persuaded him to go on a blind date. Yang Hua refused her request and told her that he already had a girlfriend, it was morally wrong to go on a blind date anymore. Mother Yang tried to probe for information about Qing Shi's law firm. Thankfully Yang Hua was quite vigilant and did not tell her.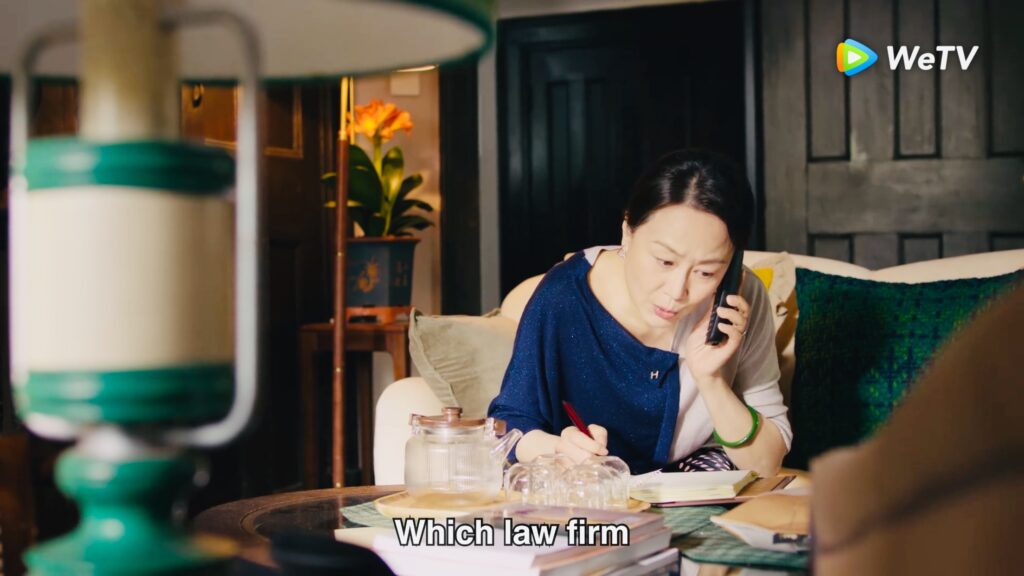 Wu Fei came to Qin Shi's office to deliver a case file and a package of Qin Shi's favorite egg yolk pastry. When Qin Shi asked Wu Fei about her relationship with Xi Mei PR Company and asked whether she know someone called Tao Jun Hui. Wu Fei was surprised but she covered it by saying that she heard the name and told Qin Shi that Tao Jun Hui was a lawyer and his girlfriend was the daughter of Xi Mei PR company owner.
Wu Fei asked her back how she knew about Tao Jun Hui and Qin Shi answered that they used to be on the same debate team. Qin Shi told Wu Fei to secretly investigate Tao Jun Hui and how he related to the Luowei Yulan case.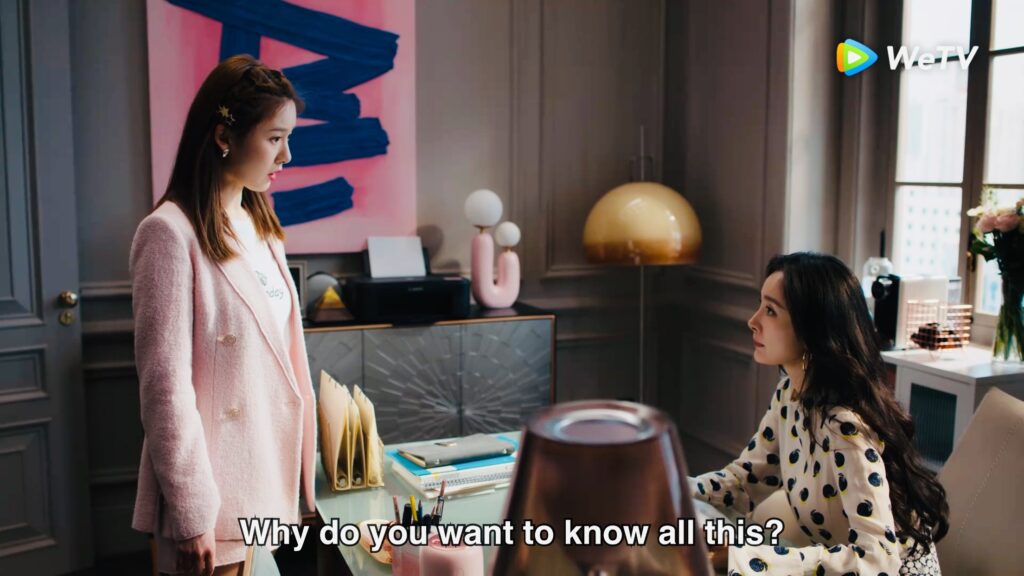 Ren Mei Mei called and asked Qin Shi for a drink night routine and would wait for her at Qin Shi's apartment. Qin Shi promised that she would get off work early that day. Ren Mei Mei drove to Qin Shi's apartment and met Yang Hua on the elevator. Secretly, she sent a message to Qin Shi to ask about the handsome neighbor.
The message made Qin Shi realize that the handsome neighbor must be Yang Hua. She immediately called Ren Mei Mei to cancel the drunk night. However, Qin Shi was late because Ren Mei Mei was already at her home and currently was staring at Yang Hua with a teasing attitude.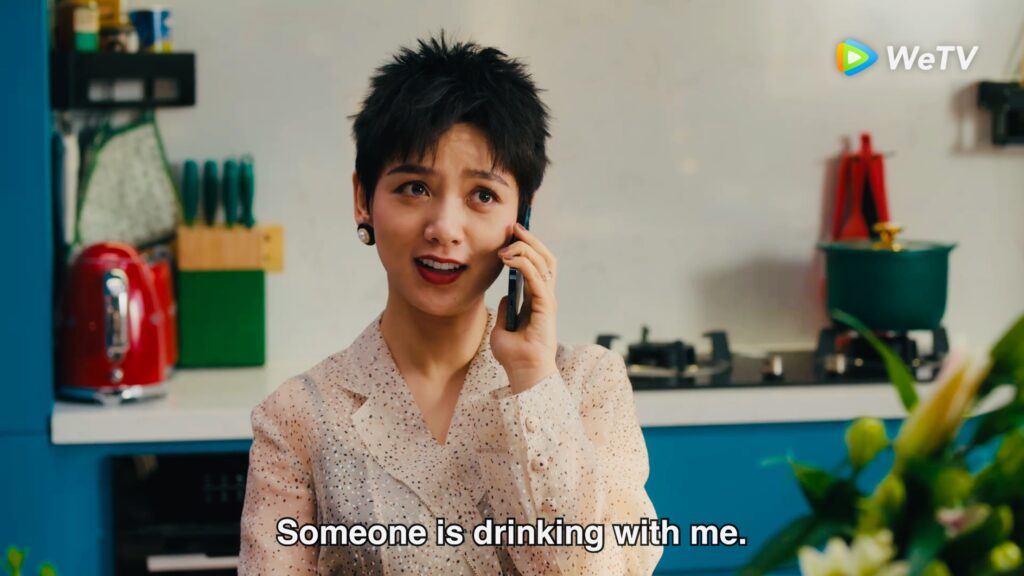 When Qin Shi called Yang Hua, Ren Mei Mei took his phone and spoke to Qin Shi. This time, Qin Shi was busted…😂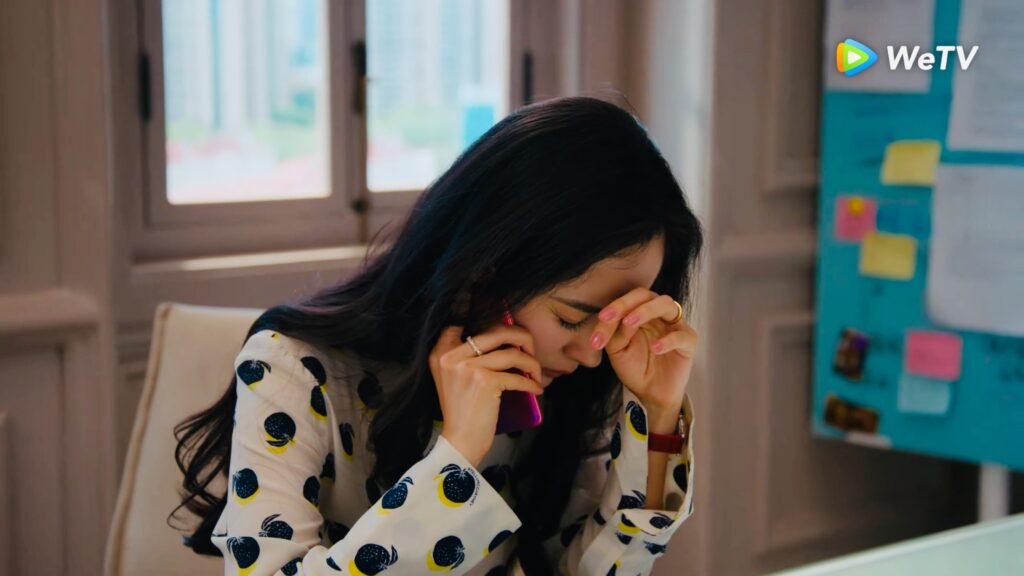 Li Dai showed Qiao Si Ming pictures of Yang Hua. She wanted him to recall Yang Hua's face when they come to the Jin Cheng and Tang Yi Hui anniversary party. Li Dai told Qiao Si Ming that she was curious because she wanted to find a husband that was similar to him. Qiao Si Ming mocked her but also told her that there was a photo of Qin Shi and Yang Hua at Qin Shi's office desk. Li Dai tried to pry and open the door to Qin Shi's office but it was locked and she got caught by Wu Fei.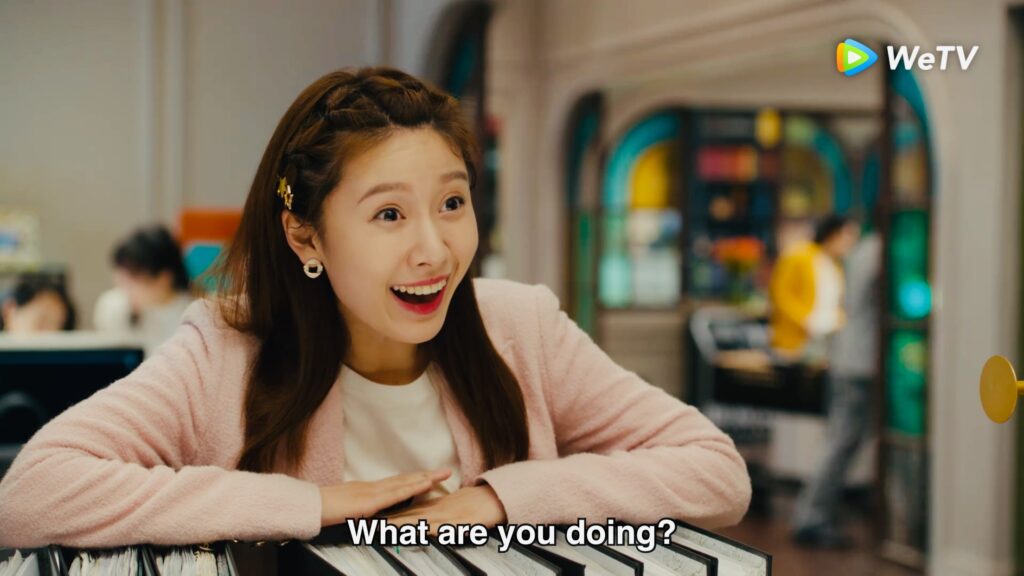 Qin Shi drove as fast as she can. She must prevent a disaster at her home…🤣
My Two Cents
Yang Hua seemed to be someone who fall in love in the first place. He was more sensitive than Qin Shi, who might have blocked all her emotional channels because of her failed relationship with Tao Jun Hui. This would be a rocky road for Yang Hua to form a relationship with a stubborn girl like Qin Shi. And I started to dislike Mother Yang because I found that her persistence was annoying…😡