Title: She and Her Perfect Husband
Also Known As: 爱的二八定律, The 80/20 Rule of Love, Qin Shi and Her Perfect Husband, The Two Eight Law of Love
Director: Lin Yan
Casts: Li Ze Feng, Tang Jing Mei, Wang Zi Xuan, Xu Kai, Yang Mi
Screenwriter: Zhu Li
Genres: Romance, Comedy, Law
Country: China
Episodes: 40
Year: 2022
Original Network: Tencent Video
Where to Watch: Viki, WeTV
List of Recap:
Dear readers… Here's a new recap episode of our favorite drama, She and Her Perfect Husband. In these episodes 25 and 26, Yang Hua must face his jealousy and insecurity. However, the cold war has already started between the lovers. How would they solve it? Let's find it out. Happy reading!
Before we start, here's the new character introduction!
New Characters Appearance
Mr. Jia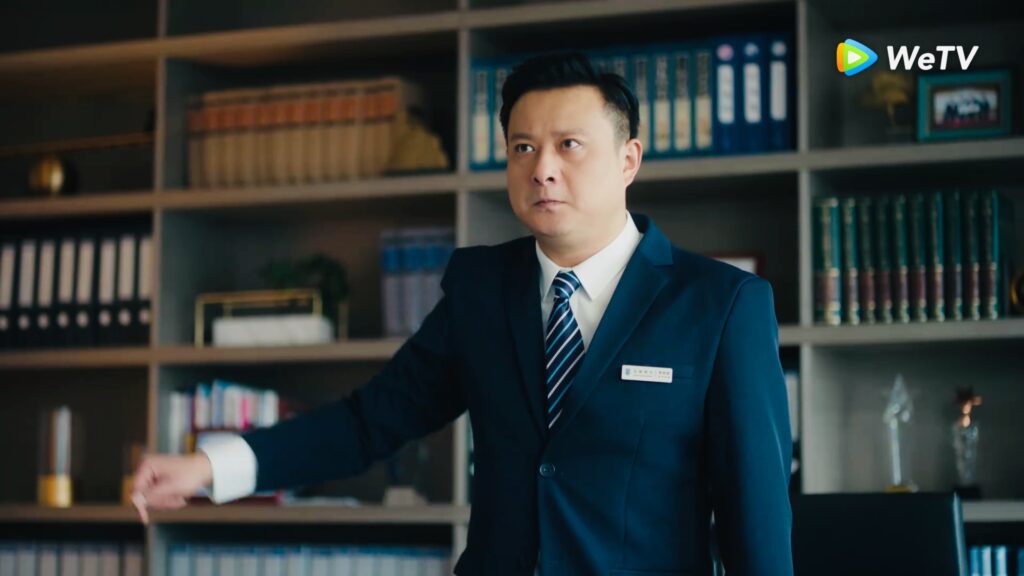 Mr. Jia was an arrogant, loud, and ambitious person. He held an important position as the bank manager at Yunshang Bank, where Yang Hua and Cai Liang worked.
Episode Recap
Episode 25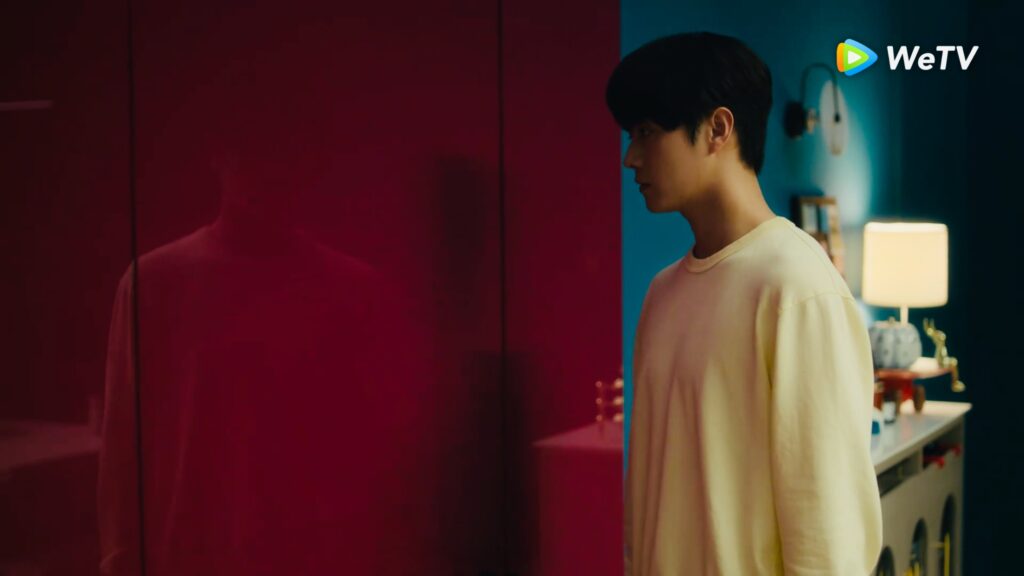 Yang Hua was determined to end the cold war. He blocked Qin Shi's door and admitted that he was wrong. Qin Shi did not want to give in and refused to accept his plea. Yang Hua told her that he wanted the people he cared about happy. Yet this time, he was the one who made Qin Shi unhappy. And the root of all evil was because he was jealous of Tao Jun Hui. Qin Shi was baffled to hear his confession.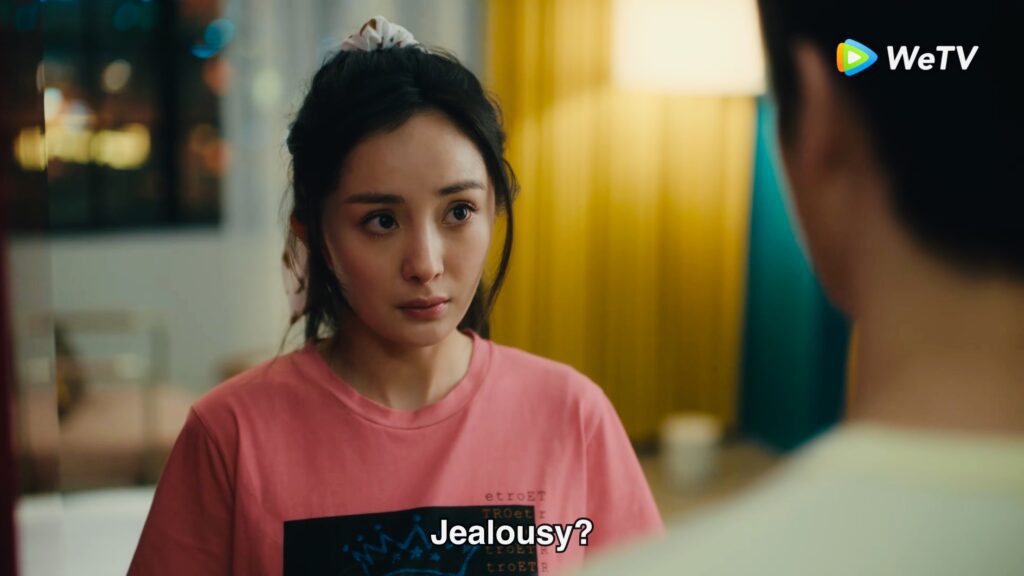 The proud Yang Hua admitted that he was jealous because Tao Jun Hui had been with Qin Shi for seven years and had given her many unforgettable memories. He was also jealous because Tao Jun Hui met Qin Shi earlier than him. However, Yang Hua felt that he was fortunate because right now, he was the one by her side. Qin Shi was touched by his sincere words. The couple ended their war in a sweet and warm hug.💕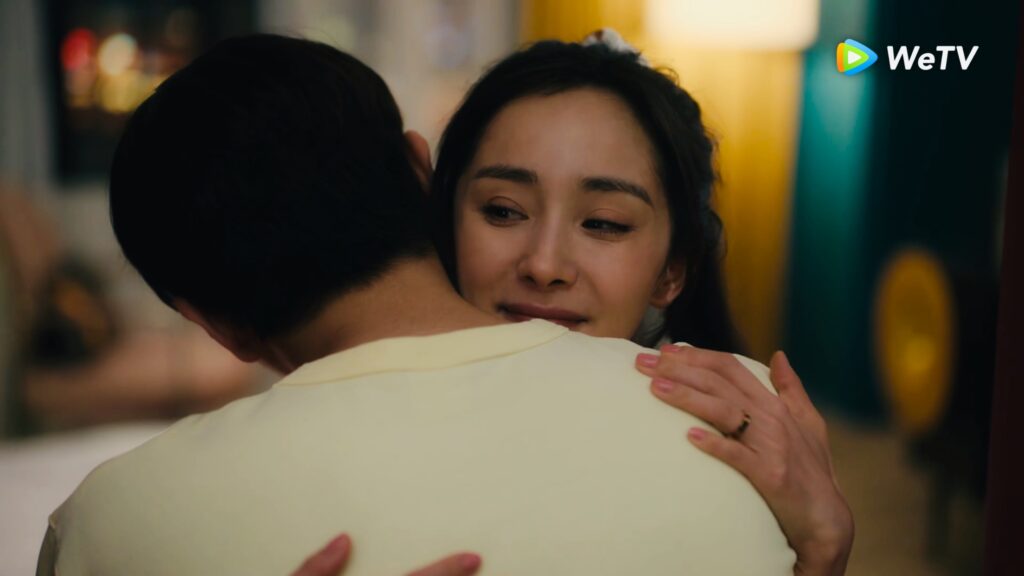 Tao Jun Hui and Wu Fei went to visit Ding Fang Fang. Tao Jun Hui was surprised because they also get to meet Cao Yiren that night. He admonished Wu Fei for not telling him beforehand. Wu Fei said she wanted to help him since she heard that they did not meet Cao Yiren in person at the meeting.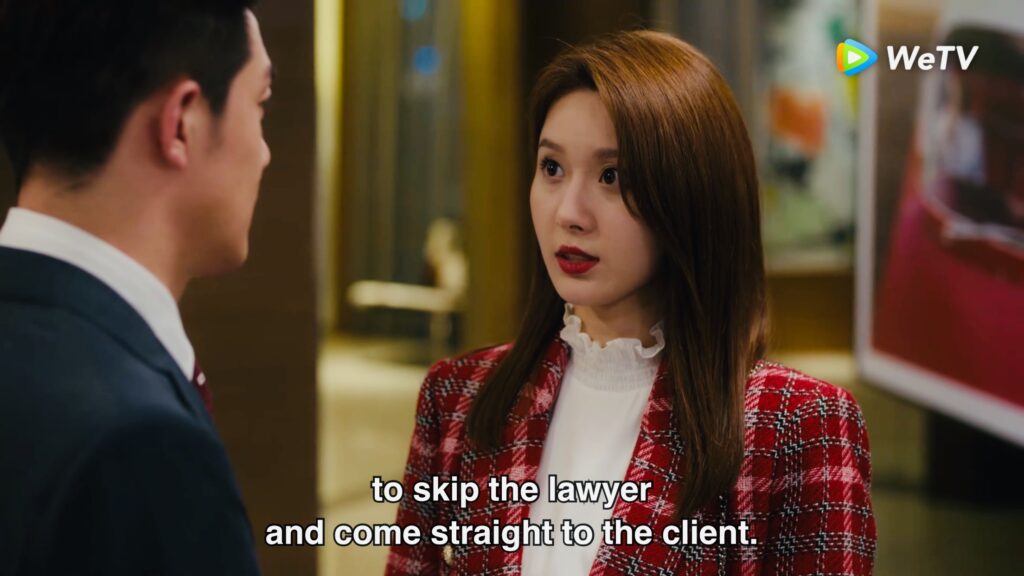 Meanwhile, Qin Shi asked about Yang Hua's analysis regarding Cao Yiren's property business. She was confused because the business' profit was not as high as she expected it to be. According to Yang Hua, Cao Yiren did not look for profit from the rented properties. He did not have to use his own money to run the business because he used a bank loan to renovate his properties. With some calculations, Cao Yiren was able to earn money from the interest rate margin.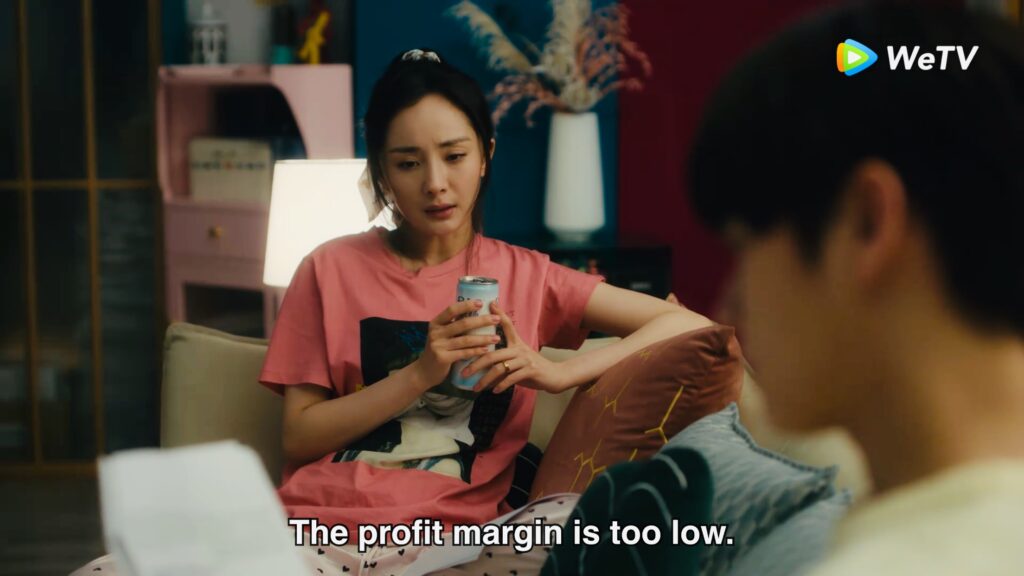 Please don't ask me to explain it further, dear readers… I had a hard time understanding Yang Hua's explanation about the interest rate…😭
While Wu Fei and Ding Fang Fang had a house tour, their fiancee had wine and conversation at the dining table. Tao Jun Hui told Cao Yiren that he was Mr. Ding's lawyer. Cao Yiren was stunned and said that the world was too small. Tao Jun Hui started to talk about the agreement. He said that the prenuptial agreement was fair for Cao Yiren and Ding Fang Fang.
Before he explained further, Cao Yiren cut his words. He said that Ding Fang Fang was not the kind of person who could harm him. Besides, he chose marriage because he wanted to share everything with his wife. He might not be as rich as Mr. Ding. But he also did not need Mr. Ding's help and support.
Tao Jun Hui stated that Mr. Ding only cared about his only daughter's well-being. And if Cao Yiren was determined not to sign it, he would put Ding Fang Fang in a difficult position. Cao Yiren retorted that he never said that he would not sign the agreement, if only Ding Fang Fang asked him to sign it, he would do it immediately. Tao Jun Hui frowned and told Cao Yiren that he pushed the burden onto Ding Fang Fang. It was unfair for her if she had to choose between her father and her fiancee.
Cao Yiren laughed. He said that there was no fairness in the world. According to 80/20 rules (Pareto Principle). Only 20 % of people in this world were categorized as important people and Cao Yiren wanted to be one of them. He refused to be a person who lost to those who never worked hard. Cao Yiren smiled and stared at Tao Jun Hui. He said that he knew they were the same sort of person.
However, Tao Jun Hui responded by reminding him that legally speaking, without Mr. Ding's consent Cao Yiren could not marry Ding Fang Fang. Cao Yiren snorted and said that marriage was not a big matter to men. Tao Jun Hui refused to acknowledge his opinion. He did not raise his wine glass to receive Cao Yiren's toast.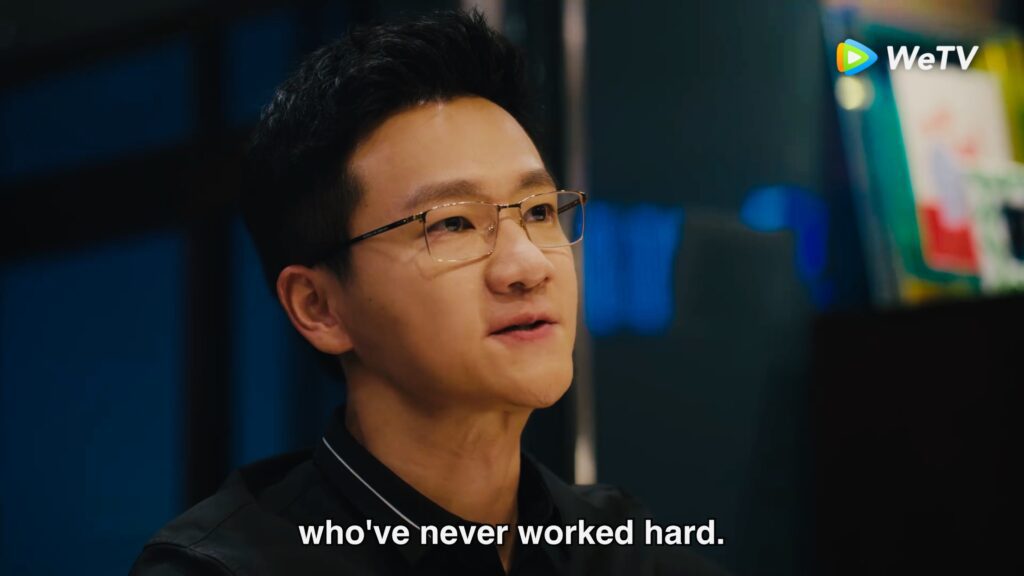 At this moment, I'm pretty sure that Tao Jun Hui realized that Cao Yiren was an ambitious man and Qin Shi's opinion about him was true. He should realize it earlier if he was not too offended by her opinion. 😤
At the same time in a different part of town, Yang Hua said that marriage mattered a lot for men. It was always the man who clings to marriage. The marriage system itself was a product of a patriarchal society. Qin Shi agreed with his opinion. According to her experience, it was always the man who refused to divorce, even though he was in the wrong.
And after divorce, men were inclined to remarry quickly while women chose to be independent. According to Yang Hua, men tended to dominate everything they desired, including wives. They wanted to quickly marry the woman they desired to ease their mind.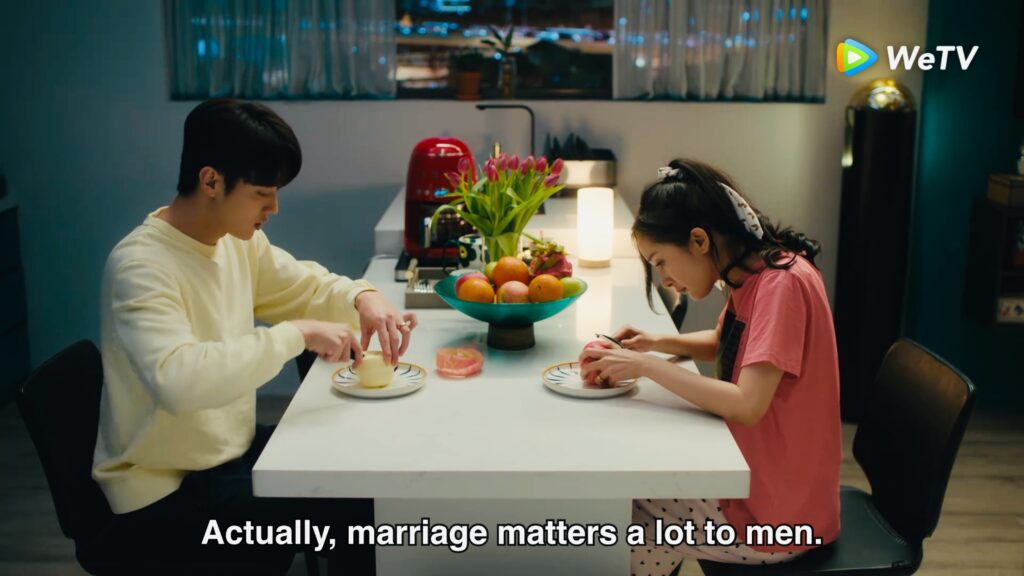 Yang Hua continued to talk about men's weakness while Qin Shi stared at him in awe. In her mind, she threw many love signs at him.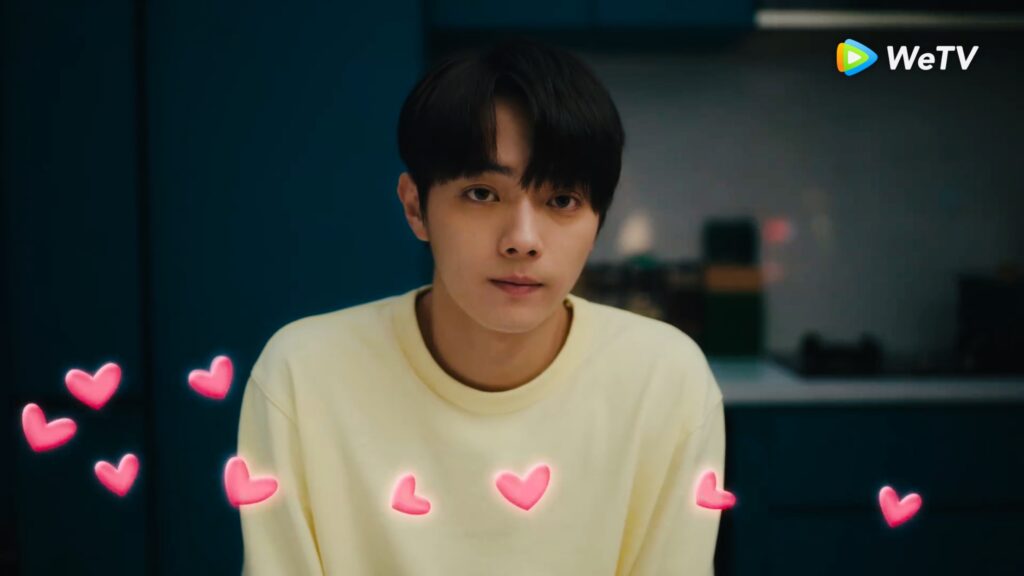 Qin Shi was amazed by his beautiful appearance as well as his interesting mind. And in her daze, she asked him to sleep together. Yang Hua was stunned and speechless. Qin Shi thought he did not agree with her suggestion. But when Yang Hua woke up from his daze and said yes, Qin Shi told him that he should answer that kind of question in three seconds. She left him at the table and went to her bedroom.
Wu Fei enthusiastically chattered about a wonderful place that Ding Fang Fang told her about. Tao Jun Hui was silent and only listened to her story. He just said that he was a little bit tired when Wu Fei noticed his silence. Wu Fei told him that they should let go of the case and she would persuade Mr. Ding so he could see how happy Ding Fang Fang was.
Tao Jun Hui refuted her words and said that the real reason behind the prenuptial agreement was not because Mr. Ding wanted to protect his properties, but because he did not trust Cao Yiren. Wu Fei was stunned by his words. There was a slight uneasiness in her voice when she told Tao Jun Hui that she trusted him.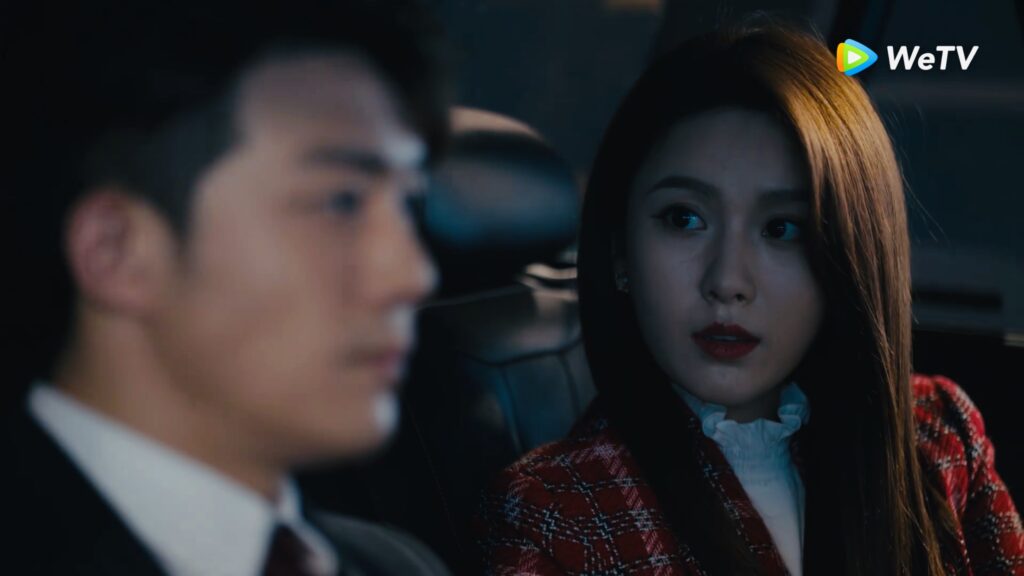 Yang Hua was busy at the moment. He wanted to change his clothes before he went to Qin Shi. And then Yang Hua saw Qin Shi's debate tournament trophy. He remembered Cai Liang's story about Tao Jun Hui and his junior girlfriend. He made up his mind and chose a white t-shirt and plaid pants. The same clothes that he used on their first night.
Qin Shi was busy with her work when Yang Hua entered her room. Yang Hua saw the scattered papers and decided to leave the room. Qin Shi saw that and immediately put away her papers and called him. Yang Hua awkwardly sat on the bed and Qin Shi had to pull him to lie on the bed. However, Yang Hua could not sleep because he had something on his mind and he had to ask Qin Shi about it.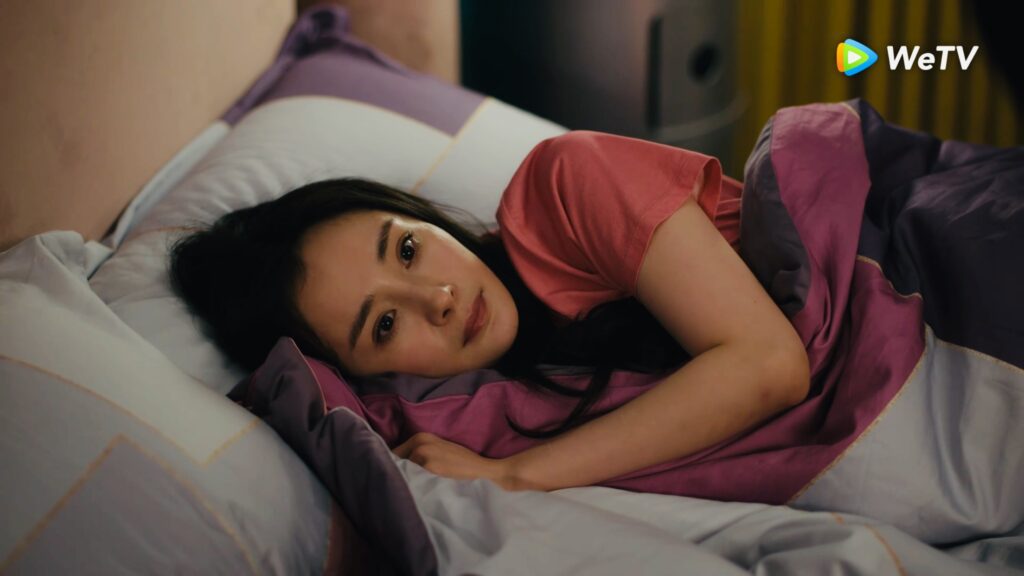 Tao Jun Hui drove Wu Fei off to her apartment. Before she entered the building, he told Wu Fei that if her father wanted him to sign a prenuptial agreement, she should give it to him. Wu Fei shrugged off his question. She said there was no agreement. And if there was, she would throw it away. Wu Fei immediately left him and entered the building. Tao Jun Hui received a message from Qin Shi, she told him to investigate Cao Yiren's company product and the funding conditions.
Qin Shi finally managed to drag Yang Hua to her bed, but then he was busy with his game. She tried to disrupt him several times but failed. And when Qin Shi could not take it anymore, she snatched his phone and pressed him on the bed. Qin Shi's attack and kisses startled Yang Hua. The kiss brought back memories that he shared with Qin Shi. Slowly he closed his eyes and returned the kiss.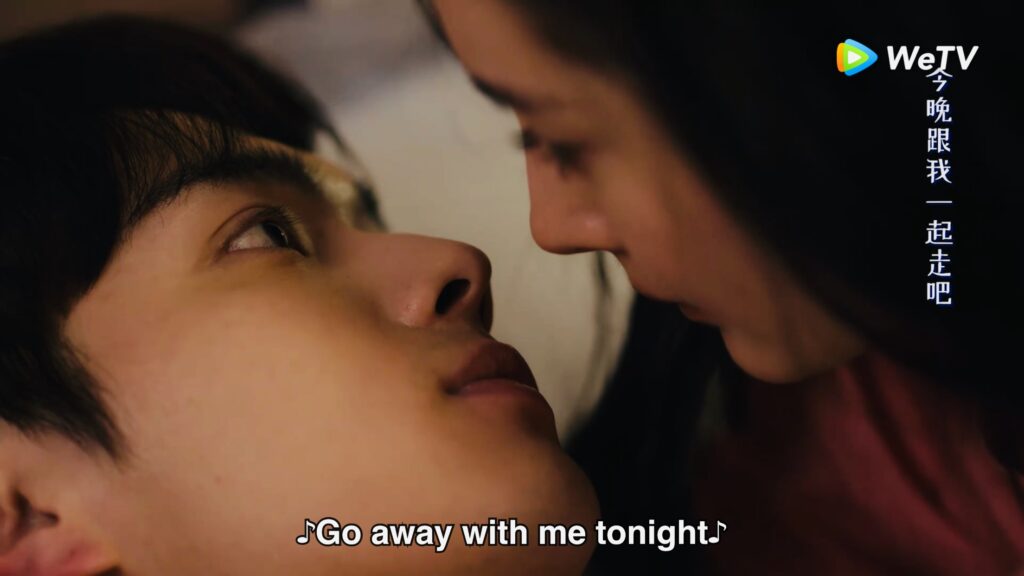 Yang Hua and Qin Shi spent the time talking to each other. Qin Shi mentioned about Yang Hua learning the law by himself. He explained that he wanted to help her to accomplish her plan as soon as possible. However there was a huge gap between their profession, therefore, he had to study law to understand her field. As for the reason why he did it, Yang Hua only said that was his job.
Yang Hua asked Qin Shi why she liked him. Qin Shi said that she liked what was in his brain and his heart. Yang Hua could understand that Qin Shi liked him because he was smart, but he did not understand why Qin Shi liked his heart. She said that Yang Hua's heart was pure, brave, and kind. Yang Hua was touched by her words. He kissed Qin Shi's hand and embraced her.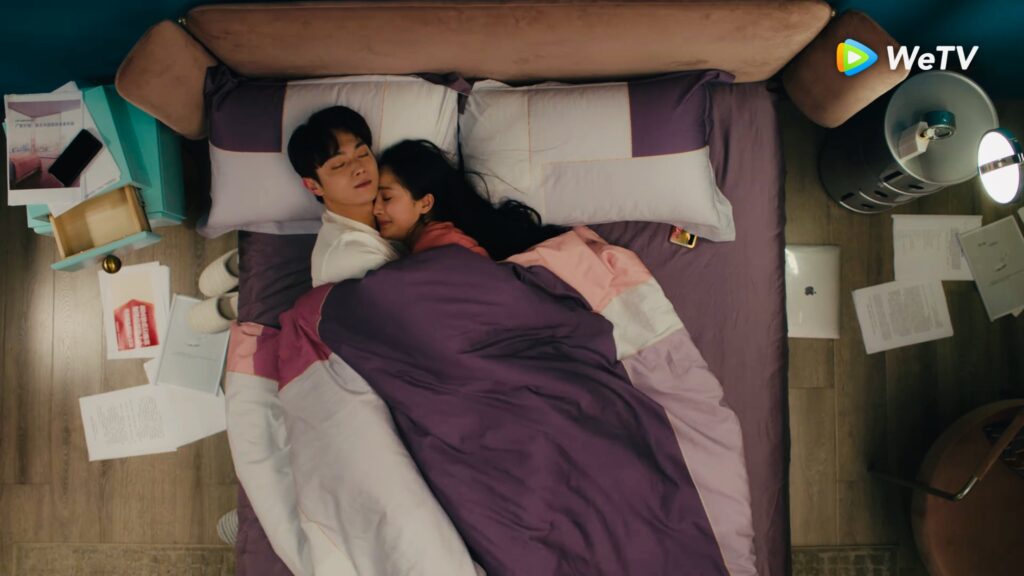 Early in the morning, Wu Wei Song interrupted Wu Fei's trial preparation. He asked whether Wu Fei knew Qin Shi and her relationship with Tao Jun Hui. Wu Fei told him that their relationship was over and Qin Shi was married. Wu Fei did not like the way her father bring up the matter. To calm her down, Wu Wei Song told Wu Fei that he always reckoned Tao Jun Hui as a good person.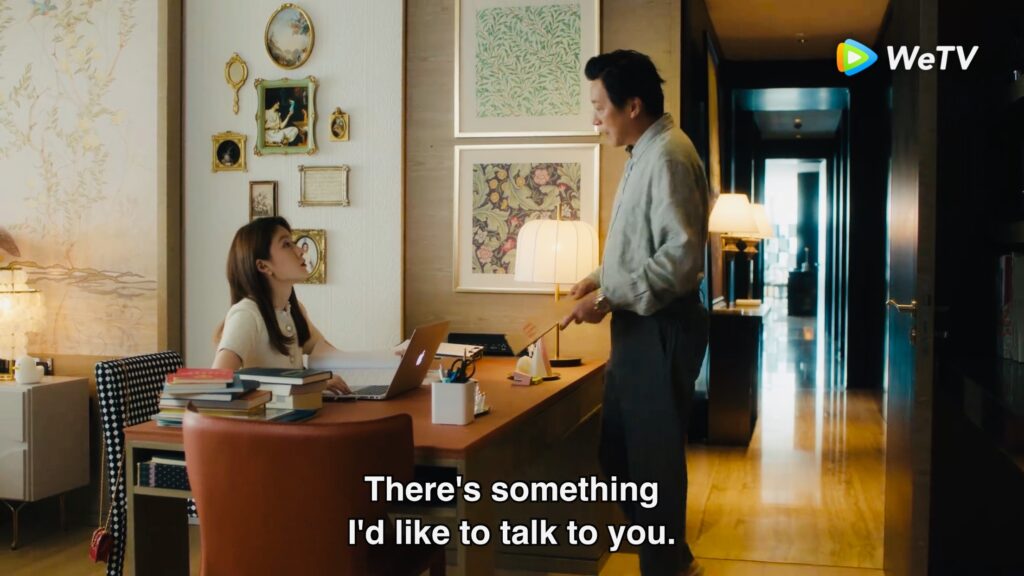 However, Wu Wei Song learned something about Tao Jun Hui from Lan Xiao Ting's case. Lan Xiao Ting was the one who introduced Wu Fei to Tao Jun Hui. She was also quite fond of the young lawyer. Yet, Tao Jun Hui showed no mercy when he stood as her opposition in the case. Mr. and Mrs. Wu thought that Tao Jun Hui could be a heartless person for the sake of his career, and they feared he would not treat their daughter well in the future.
Wu Fei told her father about Mr. Ding's case and that Tao Jun Hui was willing to sign the prenuptial agreement. However, she was the one who did not agree. Wu Fei now was angry with her father because he was too paranoid and did not trust them. As the last resort, Mr. Wu left the file on her desk and Wu Fei looked at it hesitantly.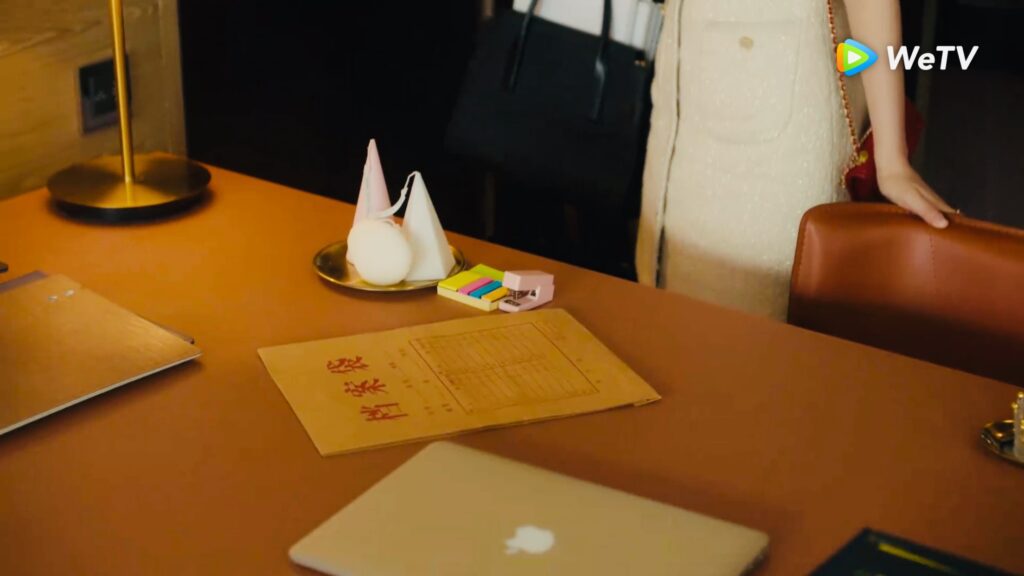 Meanwhile, love bloomed in Qin Shi and Yang Hua's apartment. Yang Hua left the messy bedroom in the morning and prepared breakfast. They teased each other before they left for work. That morning was full of kisses and hugs. 🥰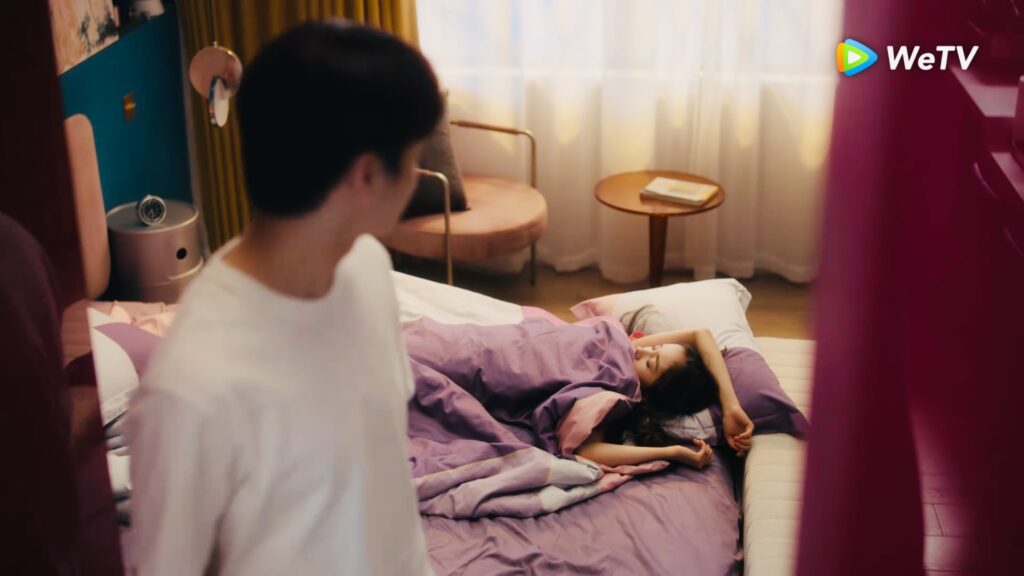 It was a busy morning in Yunshang Bank. Cai Liang read a report on Fenyu Finance's product that Yang Hua gave him. Yang Hua firmly said that they could not accept the project because there were problems with the project and the collateral. Cai Liang refused to acknowledge his explanation. He said that Yunshang Bank was only responsible to sell the product. Besides, Fengyu Finance and Qiu Jin Xiang had a good reputation in the finance industry.
Yang Hua's report put Cai Liang in a tight position. He could not find a way to tell Mr. Jia from the Credit Department or Qiu Jin Xiang that their product had problems. At the same time, Lao Zhou called Yang Hua and asked about the product because he wanted to buy them. Yang Hua warned him that the product was risky and advised him not to buy it.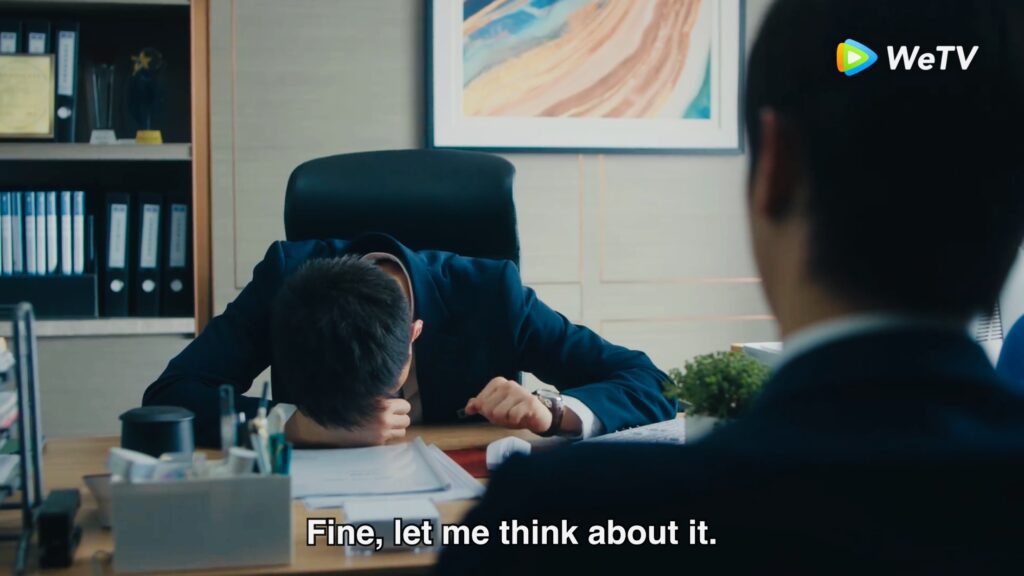 Wu Fei's mind was a mess. She could not concentrate at the trial. The judge had to call her twice and the client had to answer the judge's question for her because Wu Fei was spacing out. When she returned to her car, Wu Fei took the file and saw the photographs again. She did not want to believe the photos. Wu Fei's breath become ragged as her emotion surged up. She threw away the pictures of Tao Jun Hui tenderly covering the sleeping Qin Shi at his office.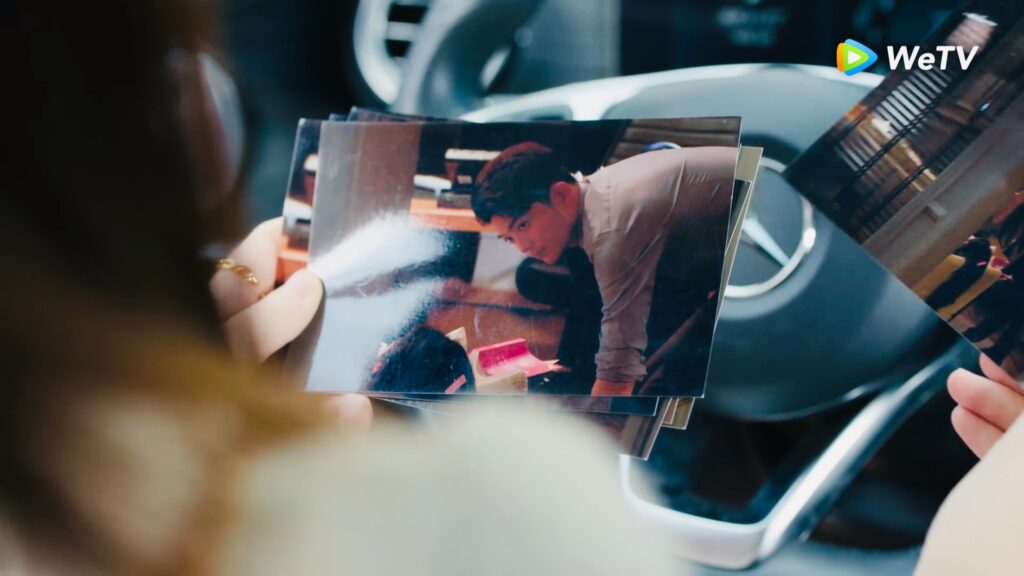 Early in the morning, Tao Jun Hui had waited for Cao Yiren at his office. He presented a file from the Environmental Monitoring report on Cao Yiren's commercial apartments. The report showed that his apartments contained a high level of formaldehyde. There were issues with the renovation time as well. Cao Yiren reassured him that he would verify the report and punish the person who was involved in it. But then Tao Jun Hui threw another stack of paper, thicker than before. This time, Cao Yiren could not keep his composure.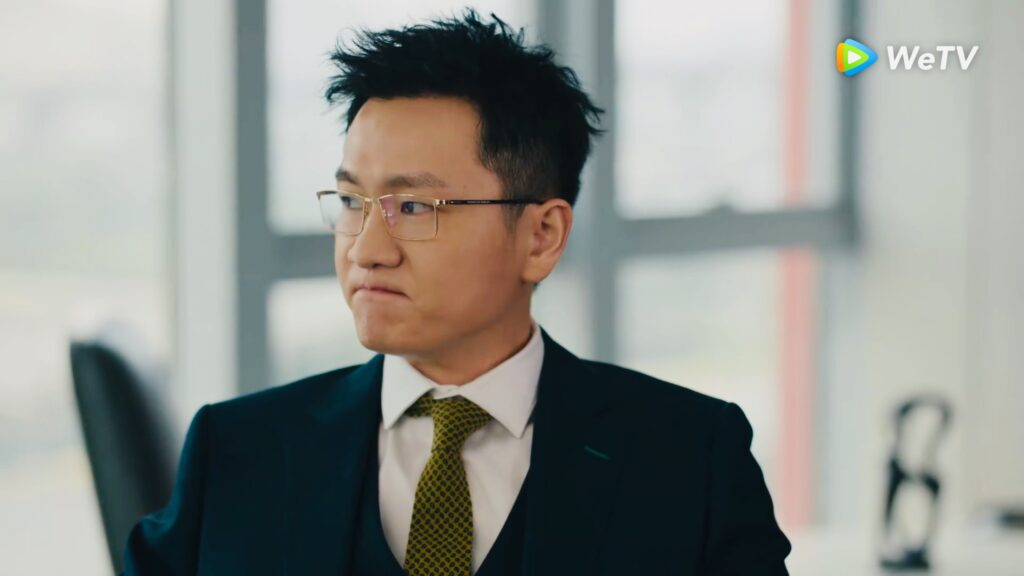 Episode 26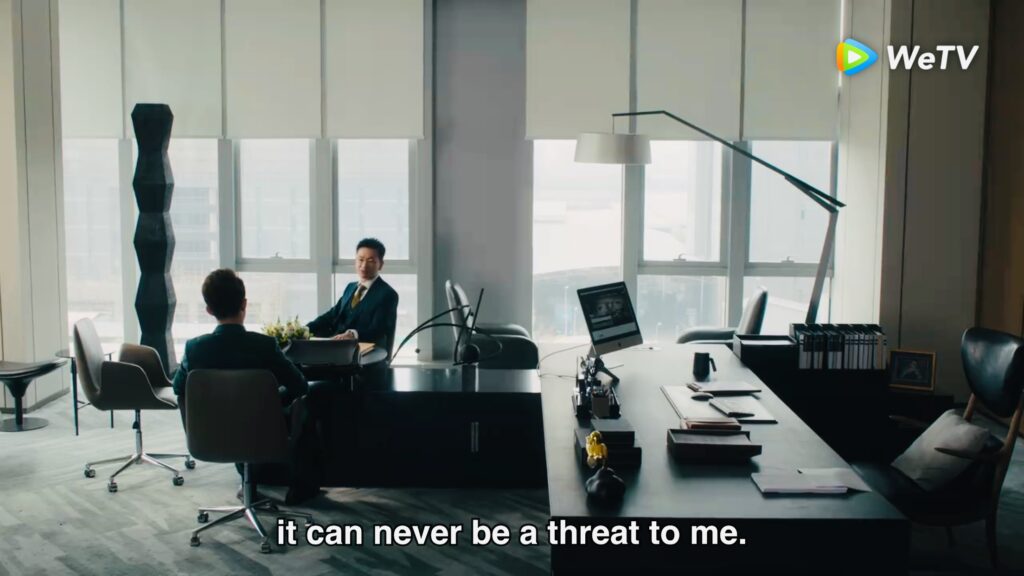 Cao Yiren could not refute the reports. However, he still claimed that he could handle all the problems well. Tao Jun Hui still has tricks up his sleeves. He asked Cao Yiren whether his partners and investors were aware of the matter. Tao Jun Hui stated that he knew Cao Yiren's leverage has reached a critical point.
Hence, Cao Yiren's marriage to Ding Fang Fang would solve the situation because by then, Mr. Ding's status in the finance industry as well as his funds were in the palm of Cao Yiren's hand. Cao Yiren snorted and told Tao Jun Hui that he used to think that they were the same sort of person. Tao Jun Hui laughed and responded that he would wait for Cao Yiren at the law firm to sign the prenuptial agreement.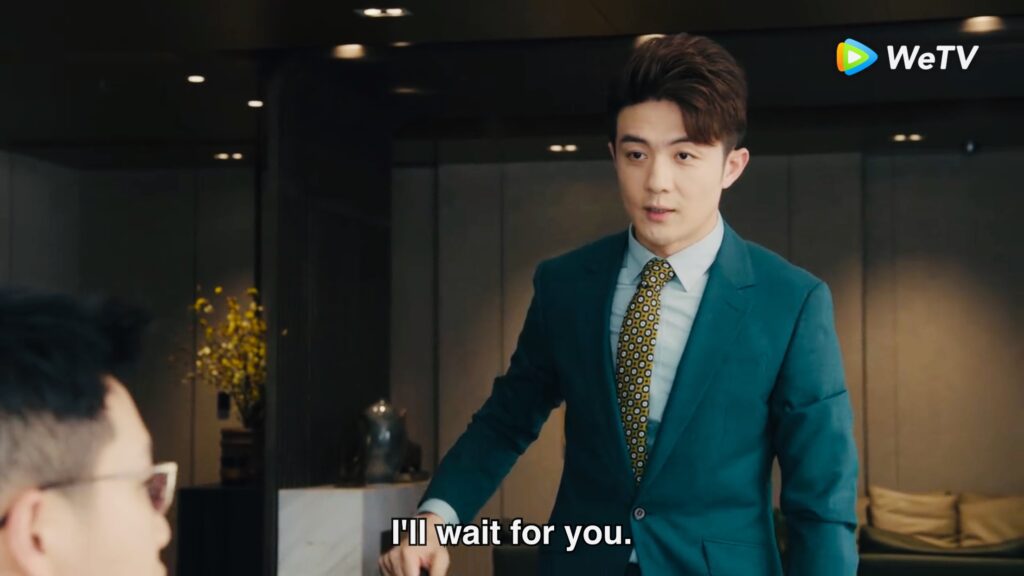 Qin Shi was amazed that Tao Jun Hui could make Cao Yiren surrender only with Environmental Monitoring reports. When they talked about the case, Wu Fei entered the office with a stormy expression. Qin Shi shamelessly teased them before she left the room.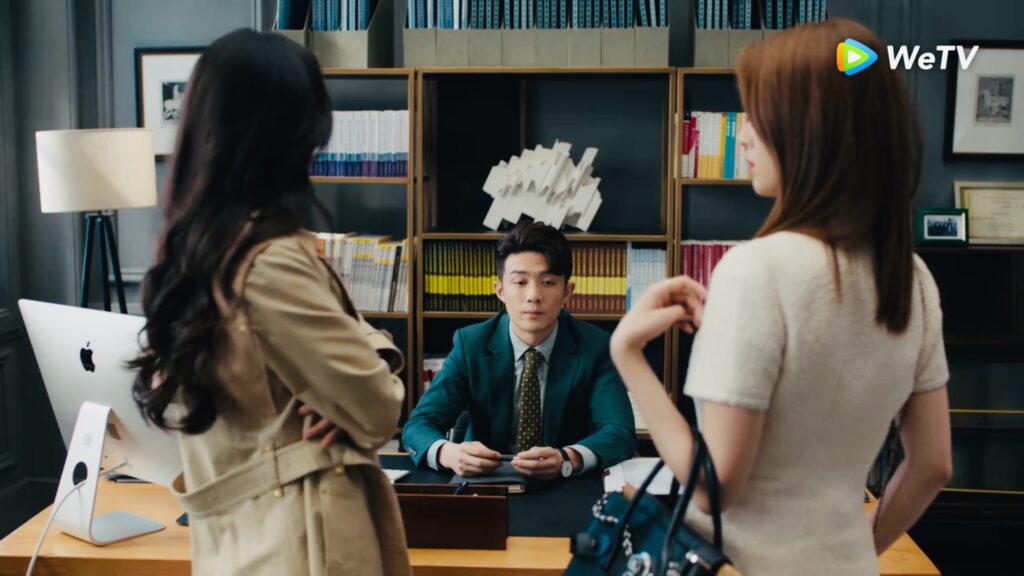 A few moments before the visit, Wu Fei's anger exploded at Tang Yi Hui's office. She was angry because Tang Yi Hui secretly worked for her father. Tang Yi Hui argued that she already granted her requests to accept Tao Jun Hui at the Corporate Department, promoted Wu Fei to be an attorney of the Family Department, and put Qin Shi in an embarrassing situation.
Tang Yi Hui said that Wu Fei's father cared for her and wanted to know Tao Jun Hui's character and behavior. It was a reasonable request from her father and the CCTV on the 11th floor was visible to everyone. Hence, Wu Fei could not blame her for sending the pictures to her father.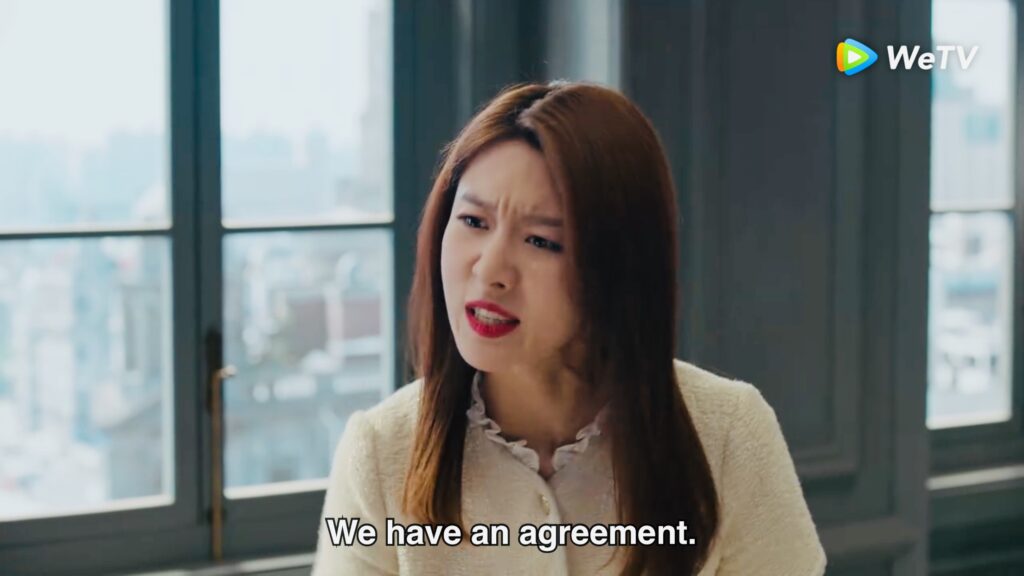 Tang Yi Hui told Wu Fei that the way Tao Jun Hui treated Qin Shi was normal and understandable. Tang Yi Hui knew that the main reason why Wu Fei was so angry was that she was jealous of Qin Shi. Wu Fei bitterly said that Qin Shi cheated on Tao Jun Hui. Yet, he still treated her nicely with some affection in his eyes. Tang Yi Hui reminded Wu Fei that she was Tao Jun Hui's fiancee.
She should never get jealous because when jealousy took over, she was lost. A confident and prideful person never got jealous. Besides, Tang Yi Hui never reckon Tao Jun Hui chose Wu Fei because of her father's money. Tang Yi Hui told Wu Fei that she had another way to prove whether Tao Jun Hui genuinely loved her or not. She gave her a prenuptial agreement and told Wu Fei if Tao Jun Hui was willing to sign it, then his love was true.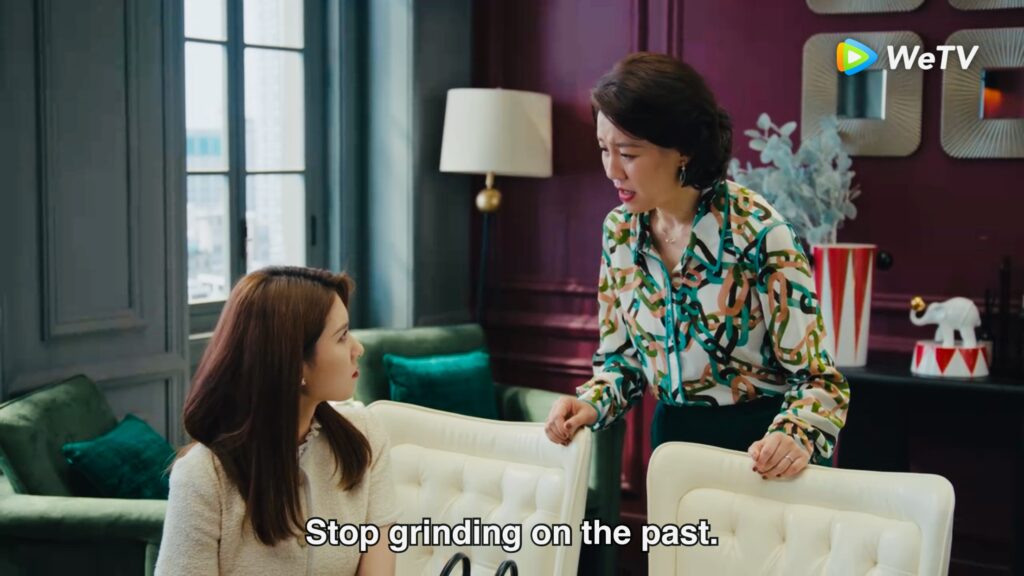 Wu Fei threw the prenuptial agreement to Tao Jun Hui's table. He took it and read the title. Without much consideration, Tao Jun Hui took his pen and was ready to sign the papers. But Wu Fei snatched it before he signed it. She said that the agreement was a problem, an insult to his love and their relationship.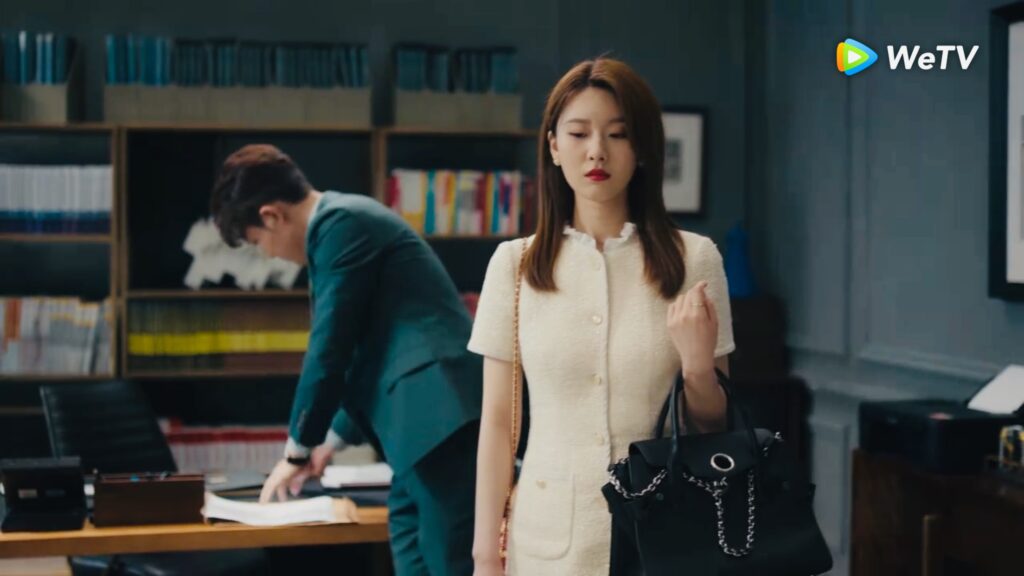 Wu Fei's emotions broke and she started to cry. She asked why Tao Jun Hui did not feel angry when somebody insulted or bullied him. He should have thrown the paper into the dustbin or ripped the prenuptial agreement. Tao Jun Hui calmed Wu Fei down. He reminded her that life was not as simple as she thought it would be.
Many things would go against their wishes and anger would not change anything. He did not care about others' opinions, only hers that matters. Between her sobs, Wu Fei asked him to get married as soon as possible.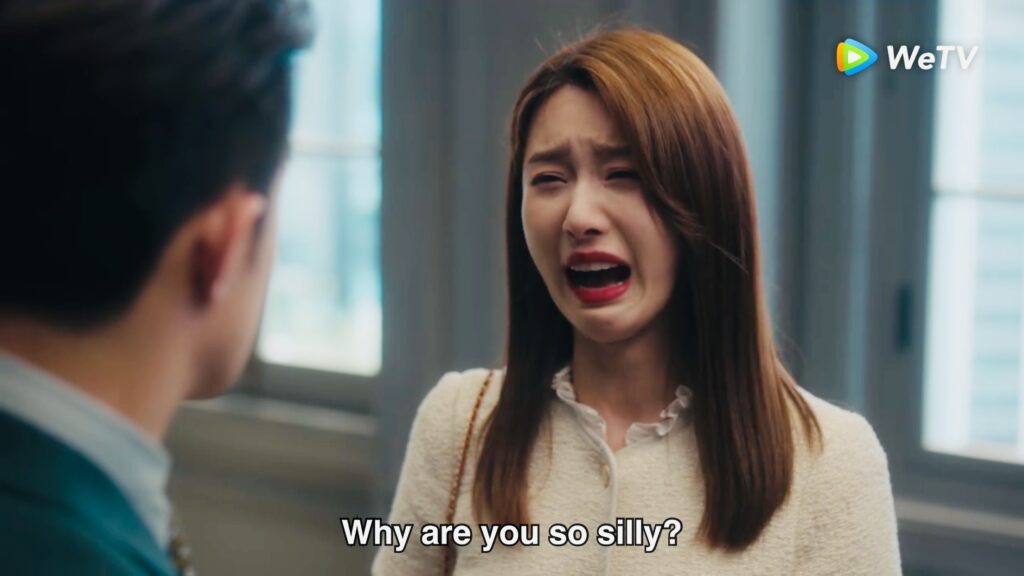 Qin Shi was in a hurry to go somewhere when she met Tao Jun Hui at her office door.
Meanwhile, Yang Hua was scolded by Mr. Jia, the bank manager, because he lost a very potential customer. Yang Hua repeated that Fengyu's product has problems. Mr. Jia reminded him that Qiu Jin Xiang was an important partner to their Yunshang Bank. Yet, Yang Hua still answered that he ought to protect the client from a defective trust product. Because of his stubbornness, Yang Hua lost his job.
When he returned to the apartment, Yang Hua noticed that something was amiss. There were voices inside the apartment as if someone had thrown things to the floor. He immediately took a weapon (an umbrella) to fight the intruder. But when he entered the house, he saw the kitchen was in disarray and Qin Shi was kneeling on the floor to clean up some mess.
Both of them were surprised to see each other at the house. The surprise had yet dissipated when somebody knocked at the door. Qin Shi ran to the door and opened it. It was a delivery man with a bag full of food. Qin Shi dismissed him and looked at Yang Hua, embarrassed was written all over her face. She was caught red-handed by him.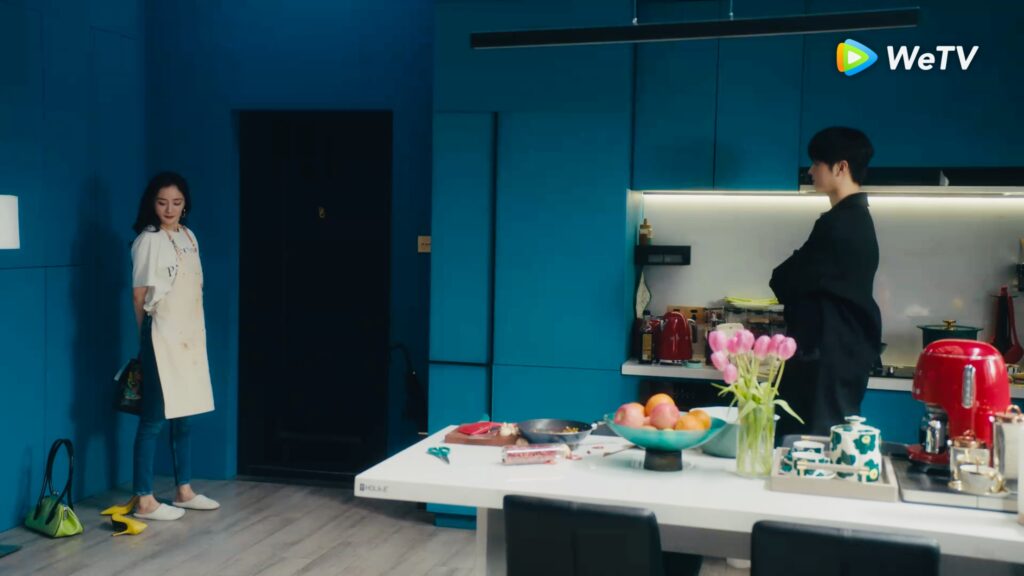 Qin Shi confessed that she was at home because she wanted to cook and send some food for Yang Hua. But she was not talented at cooking, hence she came up with a plan B: buy ready-made foods and send them to him. She did it because she wanted to do something for Yang Hua. All this time, Qin Shi was the one who had been taken care of by him. She intended to prove that she could take care of and protect Yang Hua as well.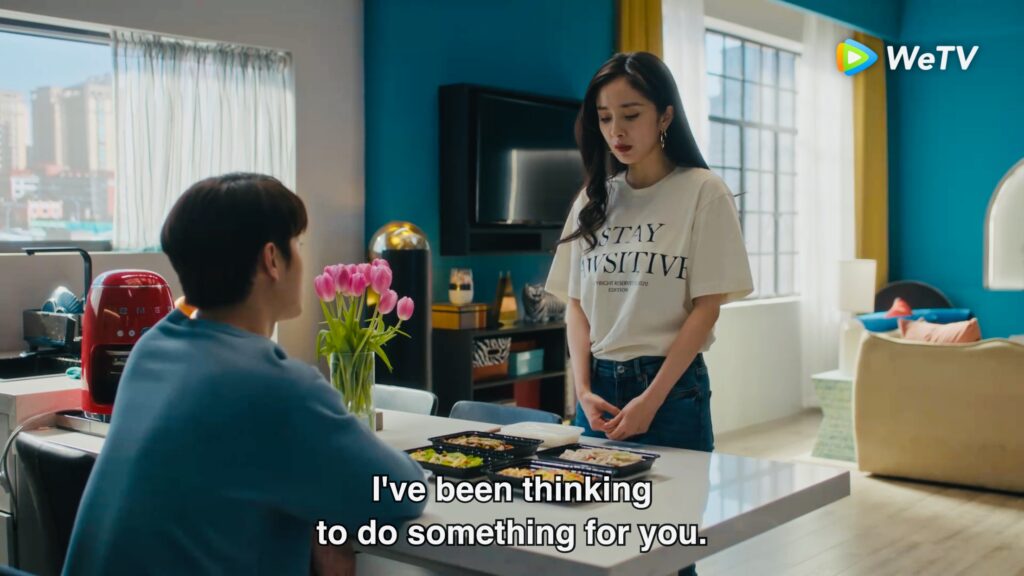 Qin Shi walked over to the table and hugged Yang Hua. She told Yang Hua that he had his own career and life. Even though he said that he would choose family over career, Qin Shi wanted him to know that the family was not a burden for him. She hoped that they could lead a better life, not because of one's sacrifice. Yang Hua gulped and asked what would happen if he lost his job.
Qin Shi firmly said that she would take care of him. However, Qin Shi believed that Yang Hua would do well in his work just like he did well in the household. She would support him in everything he did. Both of them were grateful for each other.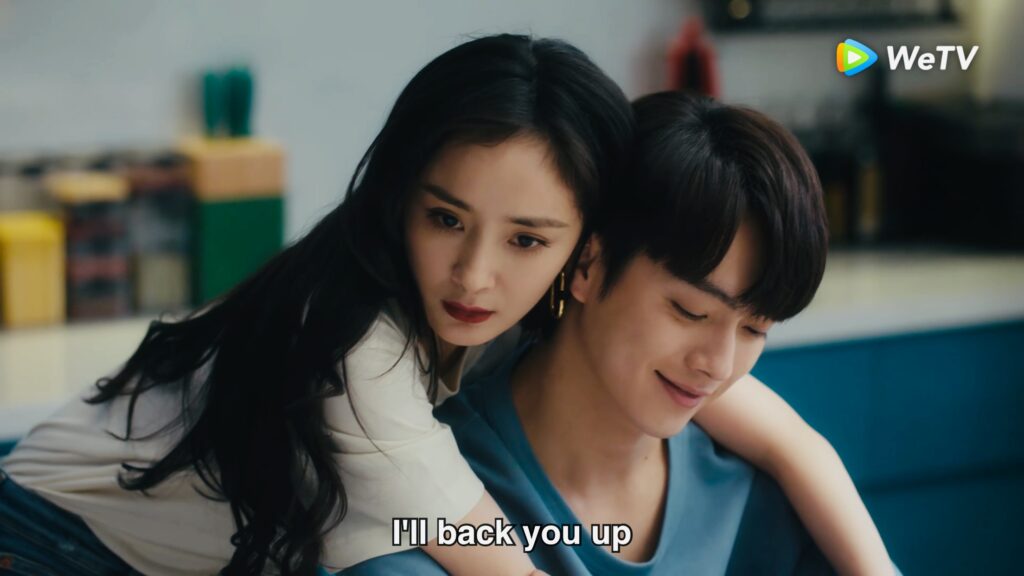 In the afternoon, Li Dai came again with a signed prenuptial agreement. Qin Shi consoled her because she was afraid Li Dai felt dejected after she was defeated again by her. Li Dai smiled and told Qin Shi that Cao Yiren had met someone before he signed the agreement. The person was Mr. Ding.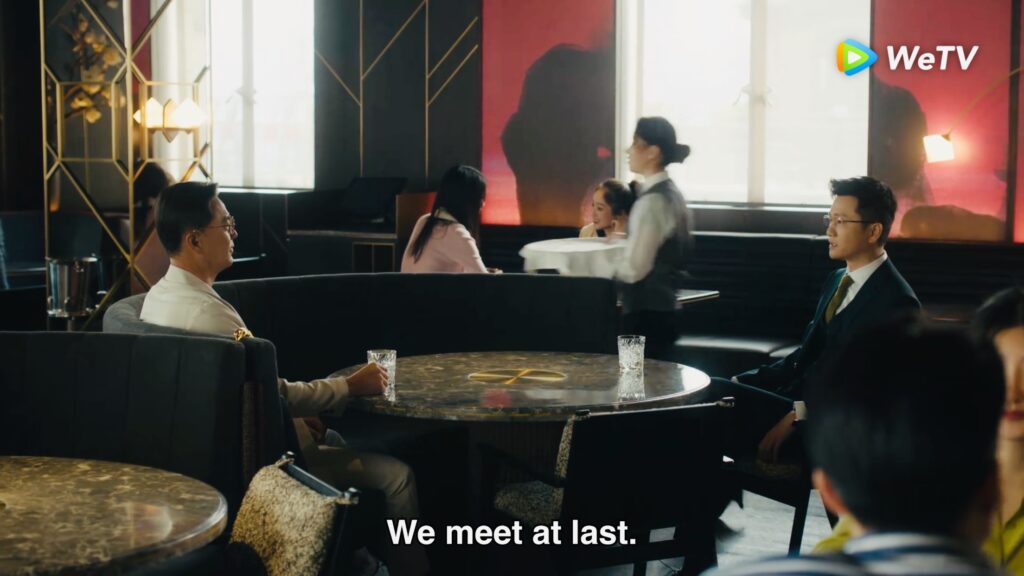 Qin Shi felt that she was fooled. Mr. Ding made a business transaction with Cao Yiren and also made him sign the agreement. She went to Tang Yi Hui to protest. She said that they were only paid for the prenuptial agreement, but in reality, they had done a background check about Cao Yiren. A sort of due diligence service about him. Tang Yi Hui did not say anything when she heard Qin Shi's protest. Qin Shi bluntly asked her whether she also had fooled her. Tang Yi Hui laughed it off and asked her back what kind of lessons she had through the setbacks.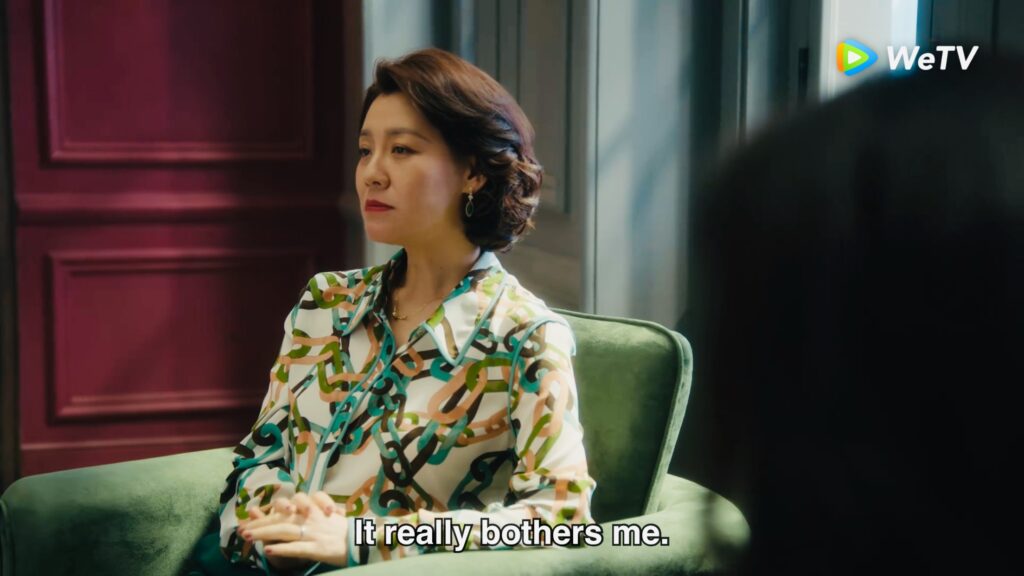 Qin Shi stated that after several weeks in the Corporate Department, she realized that compared to her, Tao Jun Hui was a suitable choice. He was resourceful and possessed good background. Qin Shi told Tang Yi Hui about her assumption. Qin Shi said that Tang Yi Hui had put her in an awkward position not because she wanted Qin Shi to keep an eye on Tao Jun Hui, but to punish and made her reflect on herself.
Tang Yi Hui did not refute her words. Instead, she told Qin Shi that her virtues were quick-witted, resourceful, and free from restriction. However, her greatest flaws were impulsive, uncontrollable, and overly ambitious. Qin Shi failed to realize that in the world there were people who were superior to her. Qin Shi apologized to Tang Yi Hui and begged for another chance.
The lady boss accepted her apology with several conditions and Qin Shi agreed to all of them. Qin Shi promised that if she was prohibited to do something, she would not make her own decision; she would never hide pieces of information regarding the company; and would never ignore the rules or played tricks when Tang Yi Hui gave her assignments.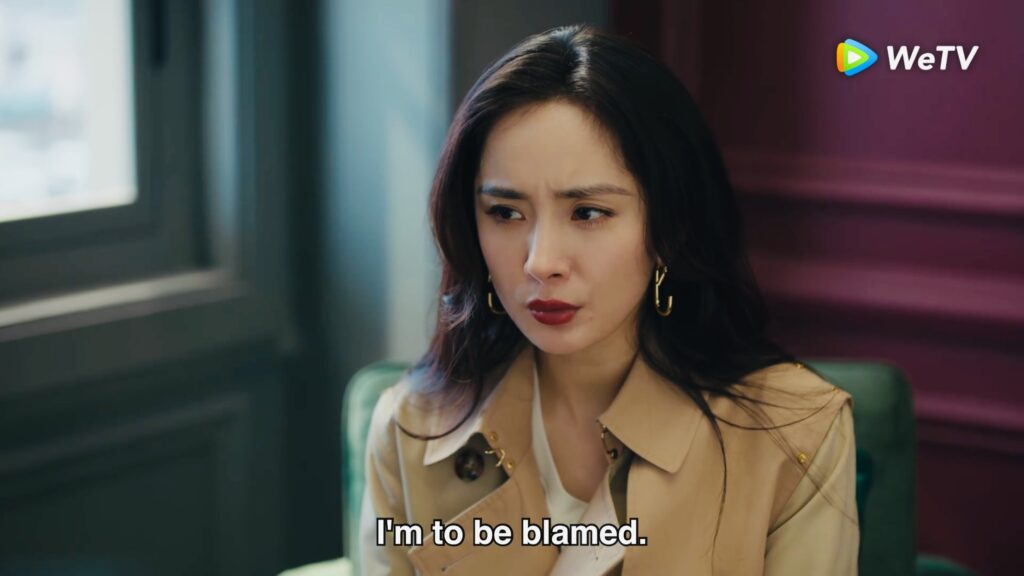 After a long conversation, Tang Yi Hui gave the first assignment. Qin Shi must do social services on behalf of Cheng & Hui Law Firm. She went there accompanied by Zhao Qian Qian and Hai Tao. Hai Tao plucked up the courage and asked Qin Shi to return to the Family Department. But Qin Shi refused. She said she had to step out of her comfort zone and gain more knowledge in the Corporate Department.
Qin Shi went to pick up Yang Hua, but he refused suspiciously. After a series of questions, Qin Shi found him at the park. Yang Hua did not want to admit openly that he was fired, but Qin Shi detected the real situation. She confirmed that Yang Hua found a problem with the product, helped a client, and protected them from a chance of losing their money. He also avoided a potential crisis for the bank. However, Yang Hua lost his job because of that. Qin Shi sighed and prepared for revenge.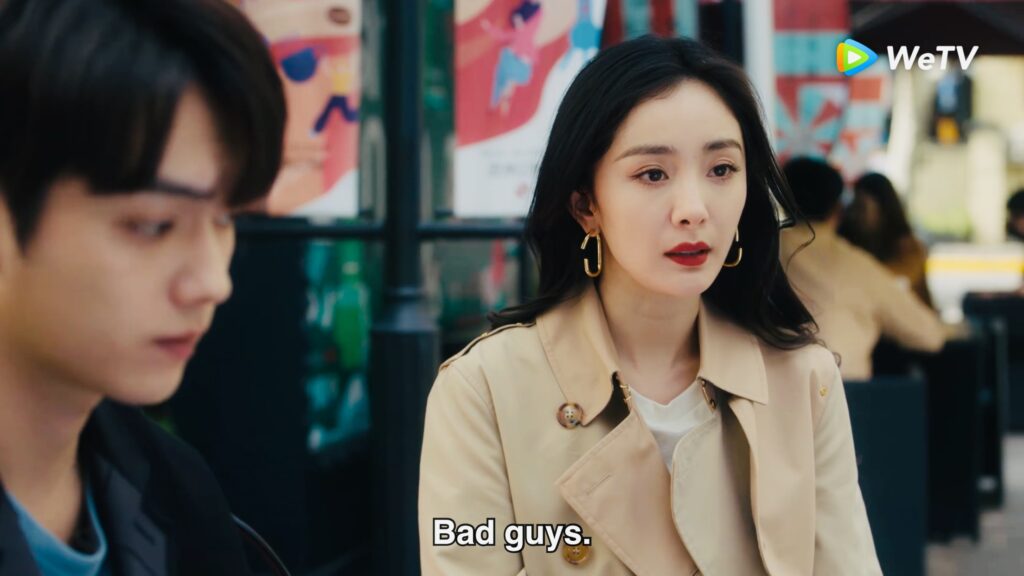 Mr. Jia, the bank manager stormed into Cai Liang's office to protest. He said Qiu Jin Xiang was dissatisfied because of the cancellation of the credit product. Cai Liang explained everything in a friendly manner, but Mr. Jia mentioned Yang Hua and it irked him. Although Yang Hua always made him lose his mind, Cai Liang was well aware of his friend's capabilities. And when Mr. Jia degraded Yang Hua, he got angry. In the middle of their heated arguments, a colleague knocked and told them that Yang Hua was waiting for them at Mr. Jia's office.
Cai Liang and Mr. Jia entered his office and found Yang Hua sitting in the chair accompanied by a lady. Cai Liang asked Yang Hua why he was there, but Yang Hua shook his head. While the angry Mr. Jia pointed his finger at Qin Shi and laughed when she told him that she was Yang Hua's wife. Mr. Jia thought Yang Hua brought his wife to stand up for him. Mr. Jia showed his authority by yelling and pointing at Yang Hua and told him to apologize for what he did earlier.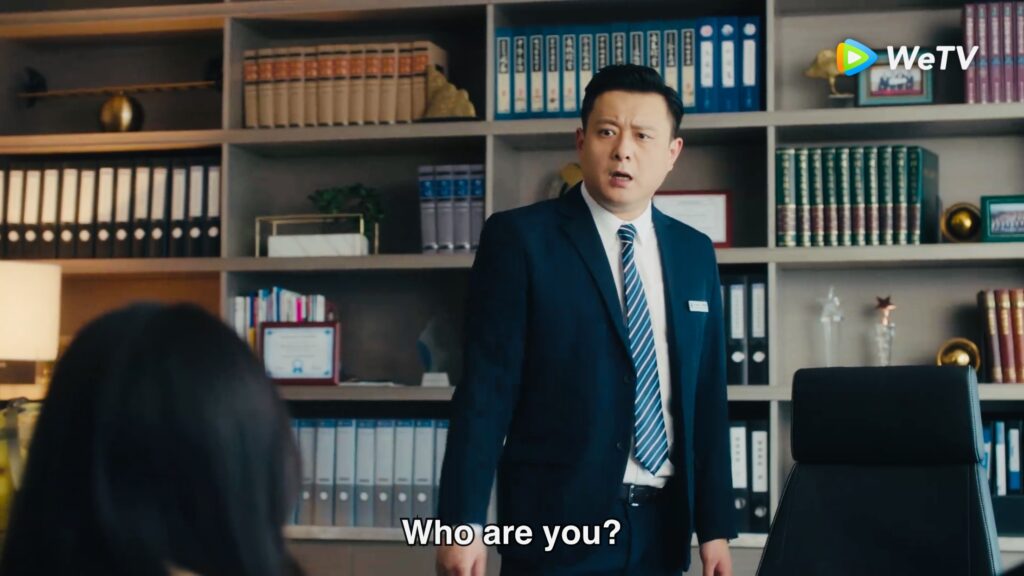 However, Qin Shi also showed her fangs. She recited a series of Labour Laws flawlessly that Mr. Jia could not refute. He also could not answer which laws Yang Hua had breached. While she spoke to Mr. Jia, Qin Shi exuded her invincible lawyer aura and rendered him speechless. Qin Shi warned Mr. Jia that if he wanted to bully her people, he had to ask her first. Yang Hua who sat next to Qin Shi stared at her unblinkingly. She might be a petite woman, but at the moment, Yang Hua saw her greatness. A wave of happiness swept over him when he realized that Qin Shi was there to take care of and protect him.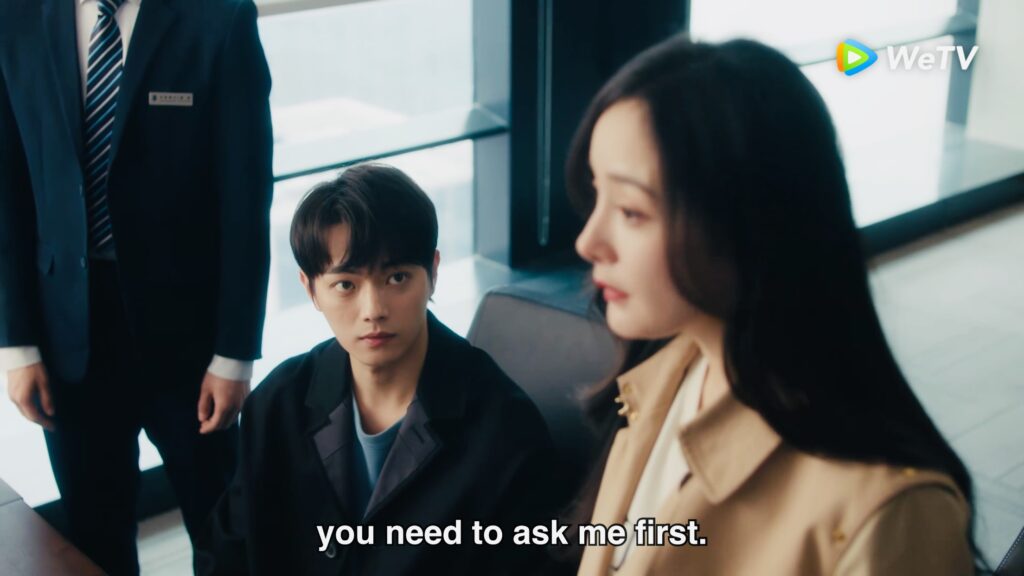 When they passed their working space, Yang Hua saw Qiu Jin Xiang. He stopped and looked at him with hostility. Qiu Jin Xiang greeted Yang Hua. He asked Yang Hua to work for his company rather than becoming an account manager. Yang Hua did not say anything, took Qin Shi's hand, and left.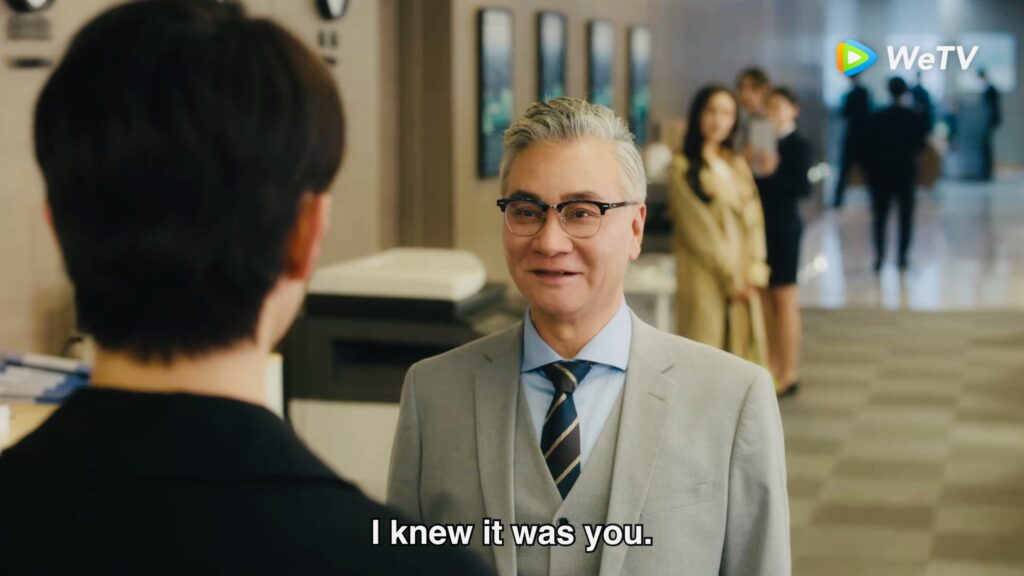 Yang Hua, Qin Shi, and Cai Liang went to a Japanese restaurant for dinner. Cai Liang enthusiastically narrated the history of Yang Hua and Qiu Jin Xiang's relationship. It started during their university years when Yang Hua and Cai Liang joined the University Investment Simulation Competition. Back then because of Cai Liang's decision, they only won second place.
After the competition ended, Qiu Jin Xiang called Yang Hua and recruited him to be one of his team members. After he graduated, Yang Hua went to Canada and learned from him for two years. He became a finance manager afterward. Yang Hua's expression turned grim when he recalled the next part of the story.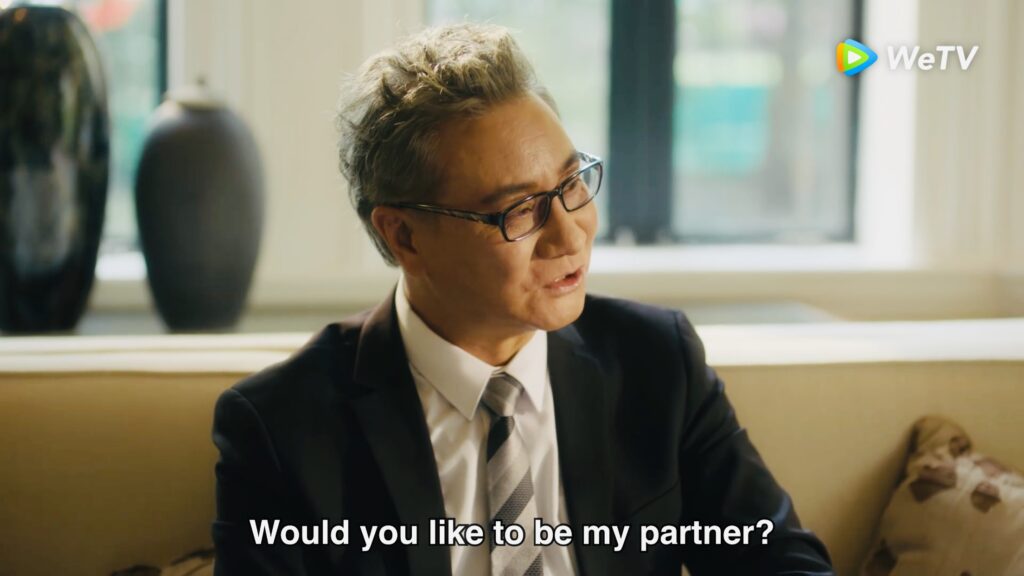 My Two Cent
I was amused by Yang Hua's expression when he realized that Qin Shi was the real deal when she spoke as a lawyer. 😆