Title: She and Her Perfect Husband
Also Known As: 爱的二八定律, The 80/20 Rule of Love, Qin Shi and Her Perfect Husband, The Two Eight Law of Love
Director: Lin Yan
Casts: Li Ze Feng, Tang Jing Mei, Wang Zi Xuan, Xu Kai, Yang Mi
Screenwriter: Zhu Li
Genres: Romance, Comedy, Law
Country: China
Episodes: 40
Year: 2022
Original Network: Tencent Video
Where to Watch: Viki, WeTV
List of Recap:
Hola readers… We are getting closer to the finale of She and Her Perfect Husband episode recap and the tension was getting high. Qin Shi's career was on the edge. Could Yang Hua help her? Let's find out in these episodes 33 and 34. Happy reading!
New Characters Appearance
Yin Zhi Qiang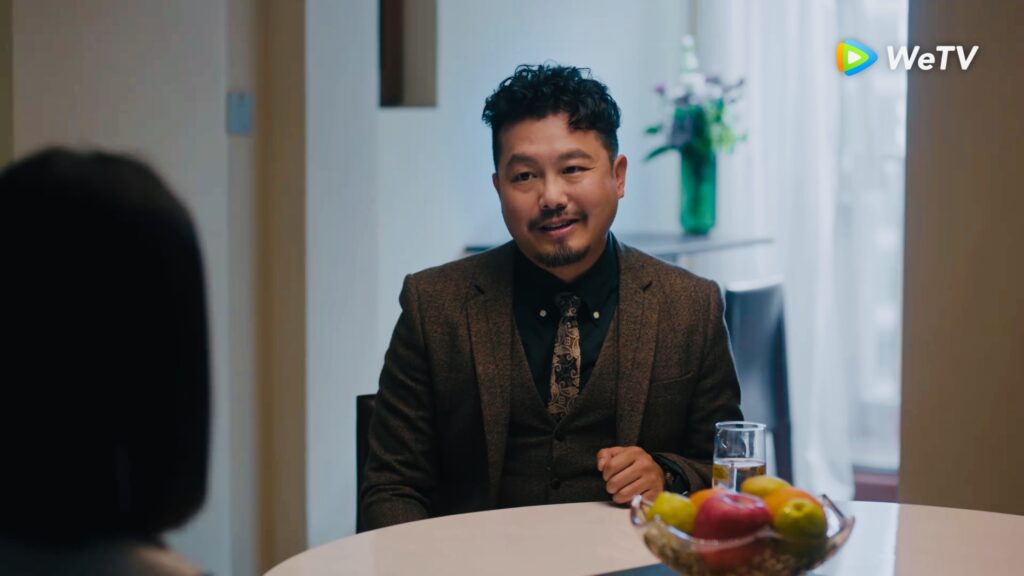 Yin Zhi Qiang worked at Tianhang Hotel. He was Yao Yao's superior. He was a cunning person and begrudged Yao Yao for personal reasons.
Mrs. Wu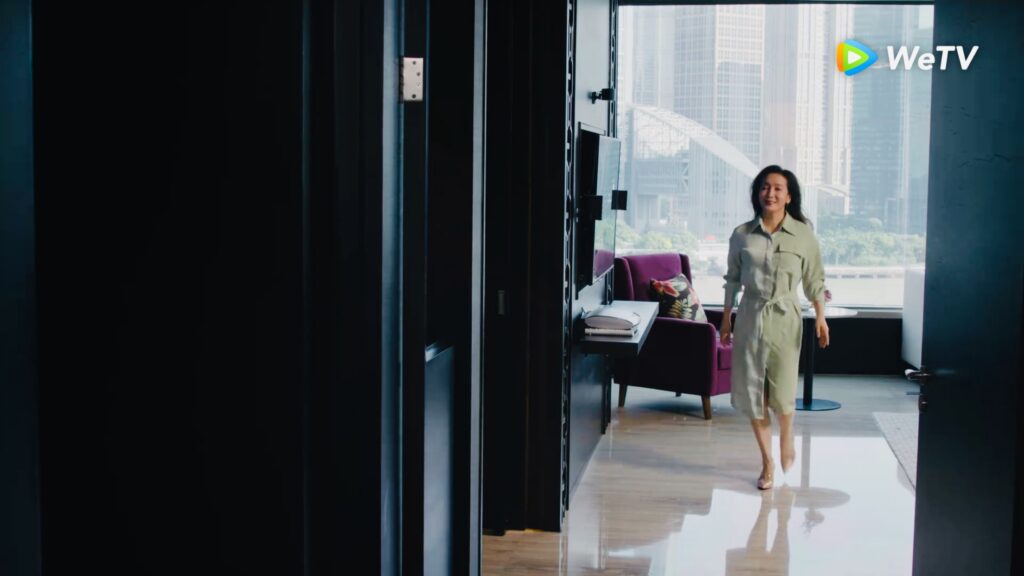 Mrs. Wu was Wu Fei's mother. She was a gentle person who loved her daughter so much. Contrary to her husband, Mrs. Wu did not doubt Tao Jun Hui. And she thought that he was the perfect person as Wu Fei's future husband.
Episode Recap
Episode 33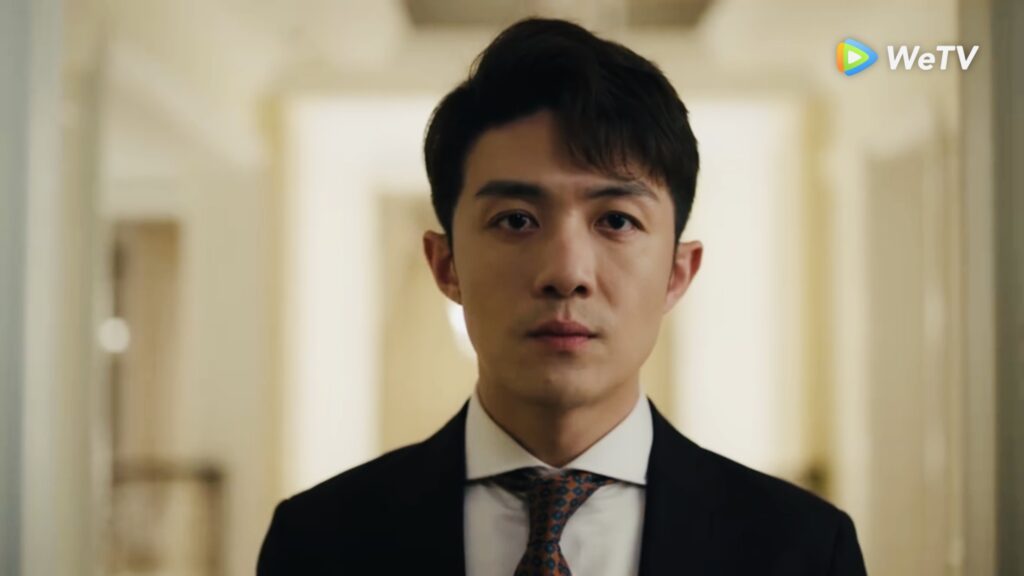 Tao Jun Hui stood rigidly in front of the door with a stick in his hand. When he was prepared to charge, a person suddenly appeared behind him. He turned his head and a sigh of relief was heard from him. The person was Qin Shi.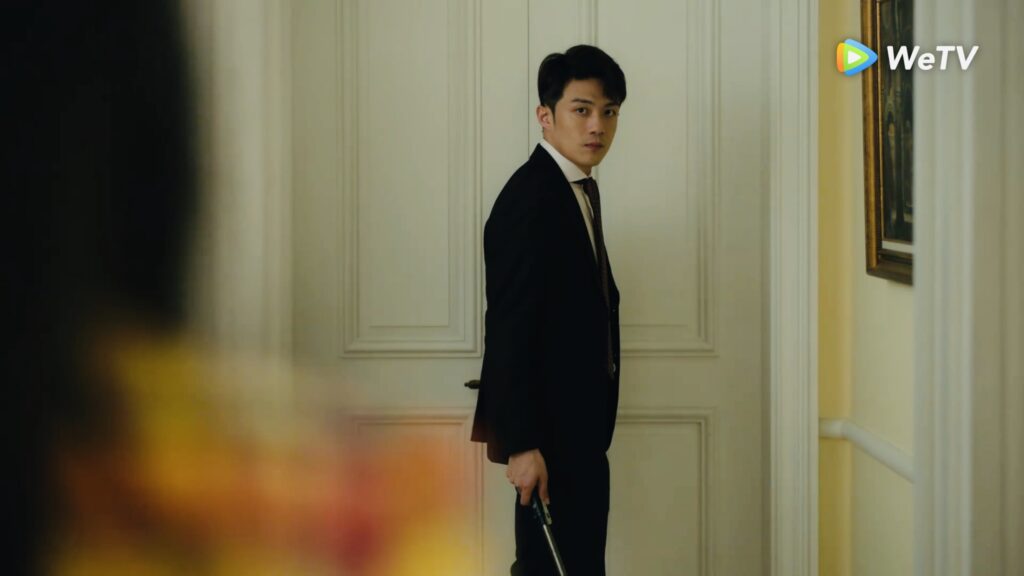 Meanwhile, inside the bedroom, He Dong Na's dress slipped from the shoulder and revealed her smooth skin. The lustful Wang Jie Sen whispered sweet talk in her ear as he still thought that the one in his arm was Qin Shi.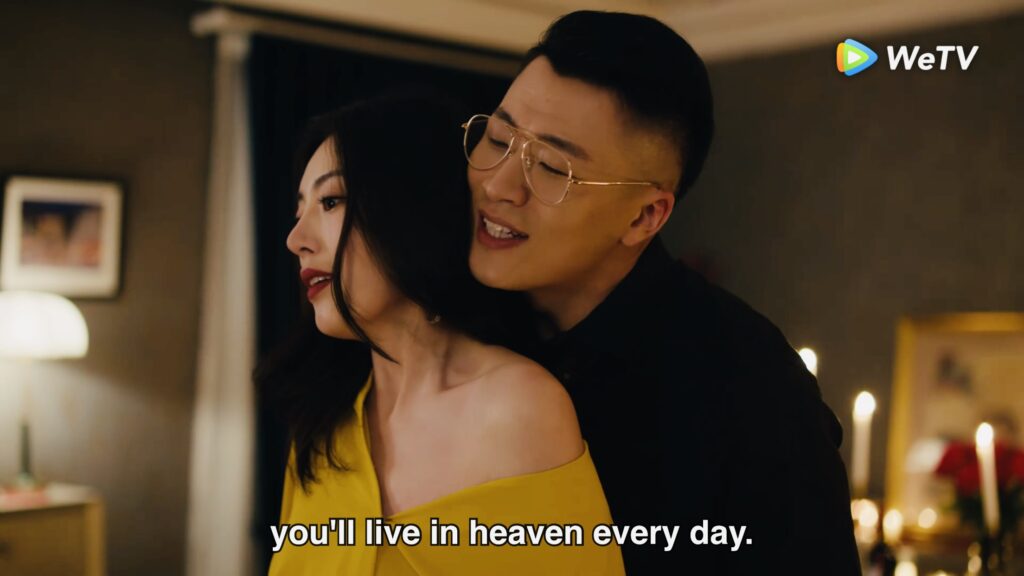 He Dong Na could not hold her temper and turned around. Wang Jie Sen was surprised to see her. He stammered and asked He Dong Na why she was there. The question angered He Dong Na and she slapped him as hard as she could. Wang Jie Sen panicked and tried to coax her. He Dong Na was histerical.
She said that she knew Wang Jie Sen had laid his eyes on Qin Shi since the first time he saw her. Wang Jie Sen tried to calm her down but He Dong Na was too livid. They were in the middle of push and pull when the door was opened.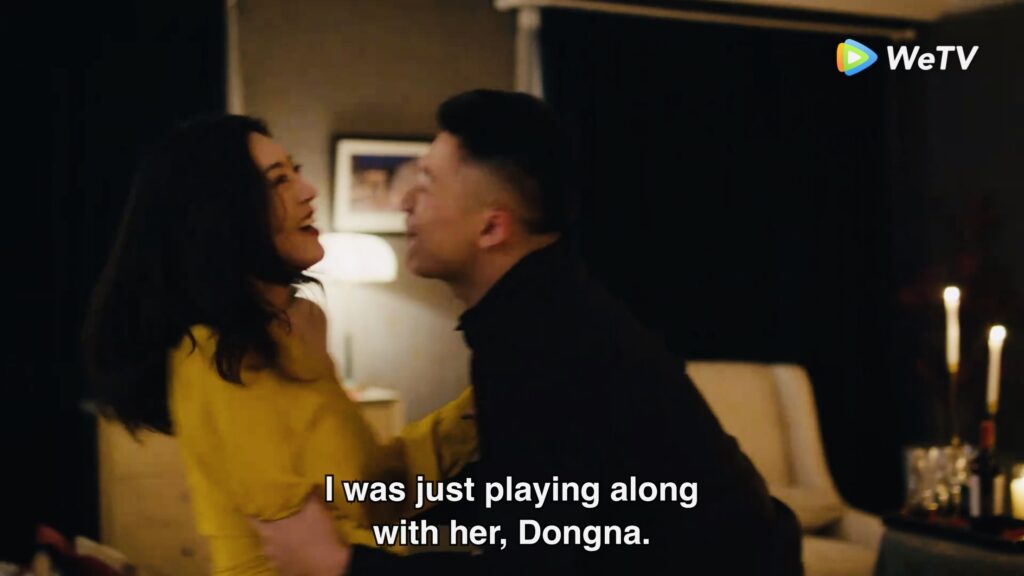 A tall man with a cold face appeared followed by a woman in a white blazer. The woman stood at the entrance and recorded everything with her phone. Wang Jie Sen saw his boss and quickly let go of He Dong Na. He pleaded that he was there with Qin Shi and not He Dong Na. Before Wang Jie Sen could complete his words, Hu Ping punched him in the face and sent him to the floor. He Dong Na stared at her husband in horror.
She tried to touch him with her hands but Hu Ping prevented her from touching him as if her hands was dirty. Hu Ping told He Dong Na that he would send the divorce agreement tomorrow to her office and stated that the child custody was his. As for the rest, his lawyer would take care of it. He let go of her hand and stared disdainfully at the miserable Wang Jie Sen and the shocked He Dong Na.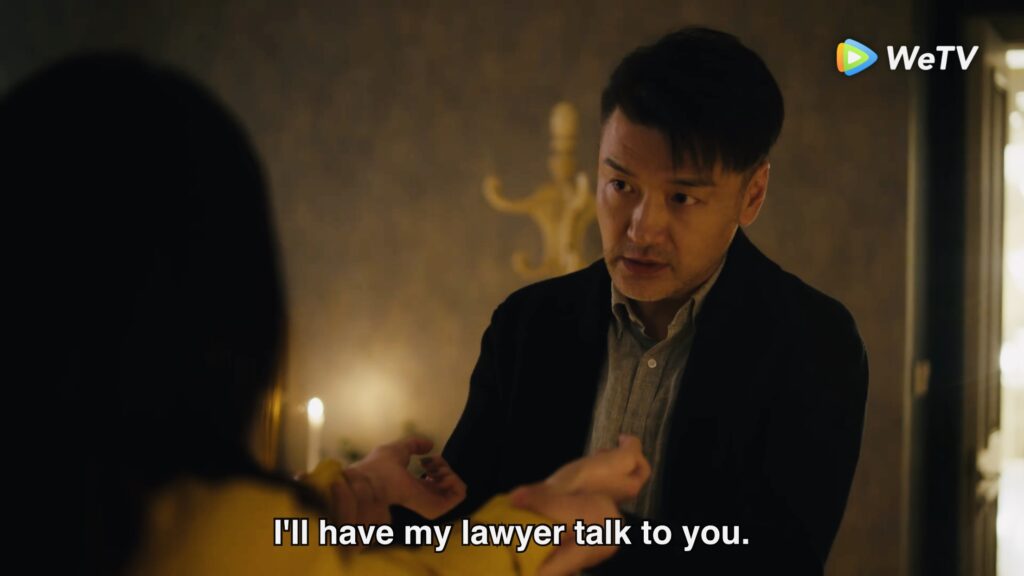 Tao Jun Hui and Gang Zi stood in front of the building. They were waiting for Qin Shi. Not long after, Qin Shi strode out with Mrs. Liang followed by Hu Ping. Mrs. Liang apologized that she had to go through that kind of situation. Qin Shi smiled and replied that it was her job. Jin Cheng and Tang Yi Hui had told her to cooperate and finished the report. Hu Ping said that he understood her boss's meaning and would talk to them tomorrow. He left with his lawyer while Qin Shi went home with Tao Jun Hui and Gang Zi.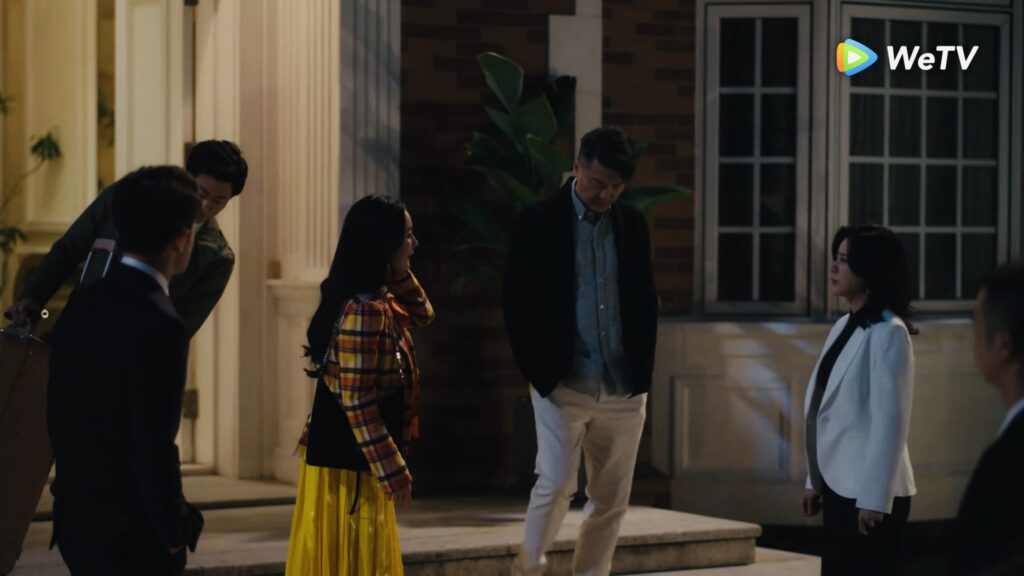 Qin Shi teased Tao Jun Hui and asked why he was there. He answered that he got too much spare time. Although his answer was cold, the relieved expression could not be hidden from his face. His disheveled appearance showed how worried he was. Tao Jun Hui asked whether Qin Shi realized how dangerous her situation was. Qin Shi playfully responded that he was just jealous that she got to experience a such unique adventure. She feared nothing since she was ignorant. Tao Jun Hui reminded her to always bring her brain when she left her home…🤣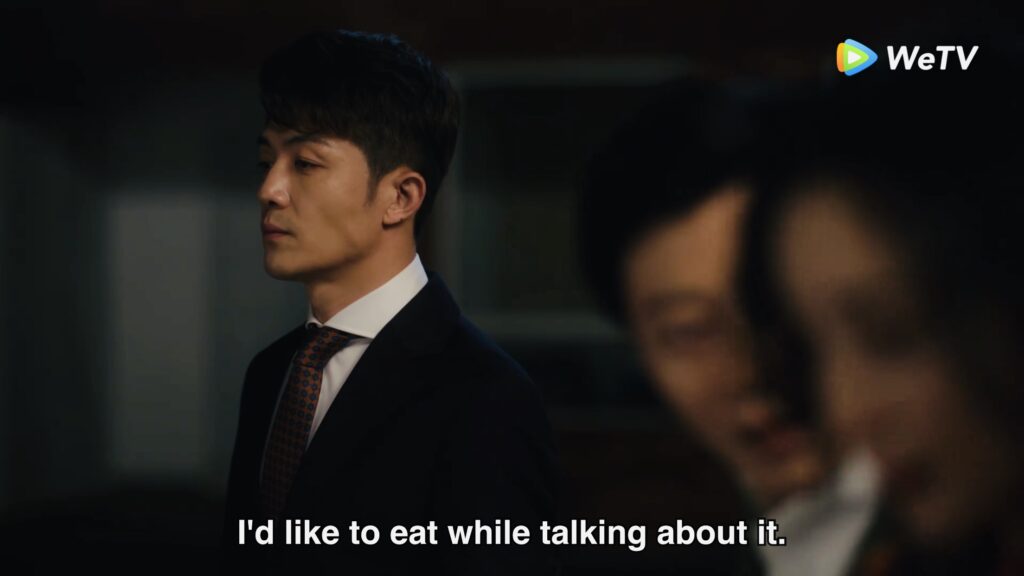 Qin Shi explained the situation to Tao Jun Hui and Gang Zi while they fill their stomach. Previously, after she spoke to Tao Jun Hui, Tang Yi Hui called Qin Shi to her office. When she got there, Tang Yi Hui, Jin Cheng, and Mrs. Liang were already there. Mrs. Liang gave them a stack of photos. While Qin Shi examined the photos, Mrs. Liang explained that the villa in the photos was He Dong Na's villa in Hangzhou. She bought it secretly and registered it under her mother's name.
Mrs. Liang told them that they only got the information about He Dong Na and Wang Jie Sen's affair recently since the pair was cautious. Hu Ping wanted to divorce He Dong Na but they never reached an agreement regarding the division of the assets. He Dong Na seemed to know everything about Hu Ping's businesses. Therefore, he suspected that He Dong Na colluded with one of his subordinates. He Dong Na and Hu Ping had a child. But since He Dong Na knew that their child was autistic, she abandoned the child but refused to give Hu Ping custody right.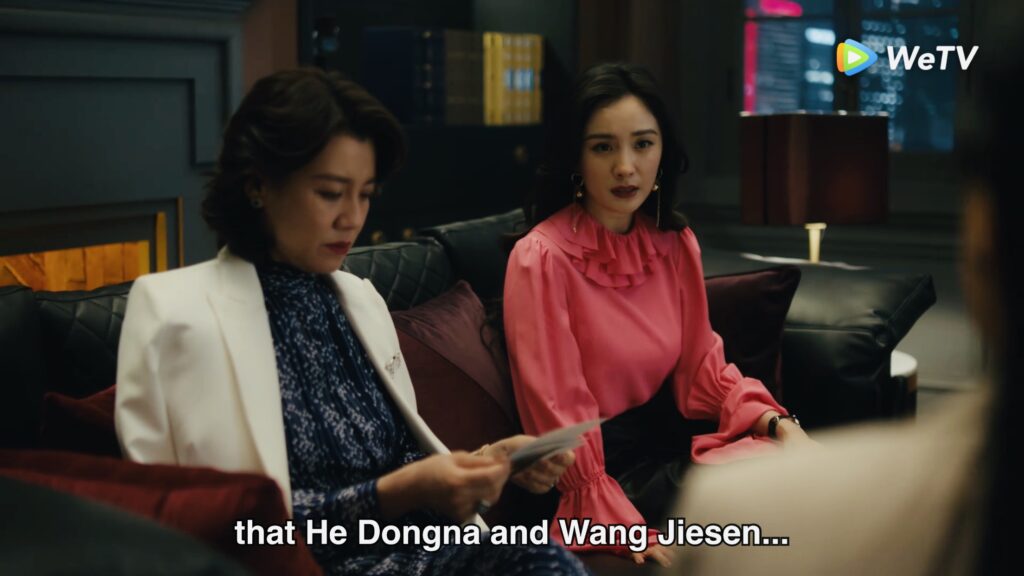 Mrs. Liang also mentioned that He Dong Na consumed anti-depressant pills. So, what happened in Tianhang Hotel was because of her condition. Mrs. Liang explained that Hu Ping did not want to solve the problem through litigation. He was afraid that some people would take advantage of the situation. And if it happened, his child's situation would be exposed. They made a plan to make Wang Jie Sen and He Dong Na be caught red-handed.
After they finished the meal, Tao Jun Hui ordered Gang Zi to take Qin Shi home while he took the taxi. Qin Shi turned to Tao Jun Hui and sincerely thanked him because he had spent the whole afternoon looking for her. She knew that he was worried about her and asked whether Tao Jun Hui really believed that she would give herself away for a job. Tao Jun Hui stared at her intently and took her into his arm. He hugged her tightly and whispered in her ear, telling her to think before she act. He let her go and hailed the taxi.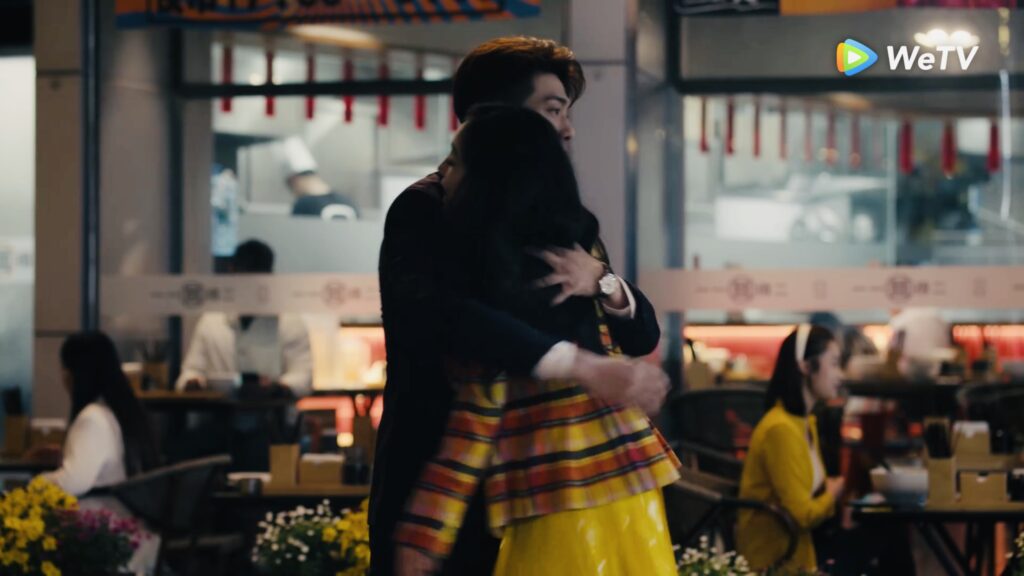 Inside the taxi, he answered a call from Wu Fei. She asked her fiancee whether he had arrived in Shaoxing. Wu Fei's face was stained with tears. She protested because Tao Jun Hui did not call her when he arrived. Tao Jun Hui lied that he has just arrived at Shaoxing and he forgot to call her because he was busy. Wu Fei told him that she missed him and Tao Jun Hui answered that he missed her as well. Wu Fei cried over his answer.
She stared at a picture of Tao Jun Hui walking out of the villa in Hangzhou with Qin Shi. She ordered Zhou Qian Qian to follow Qin Shi and took pictures of her as proof of her affair. But instead of finding adulterers in action, Wu Fei saw her fiancee was there with Qin Shi.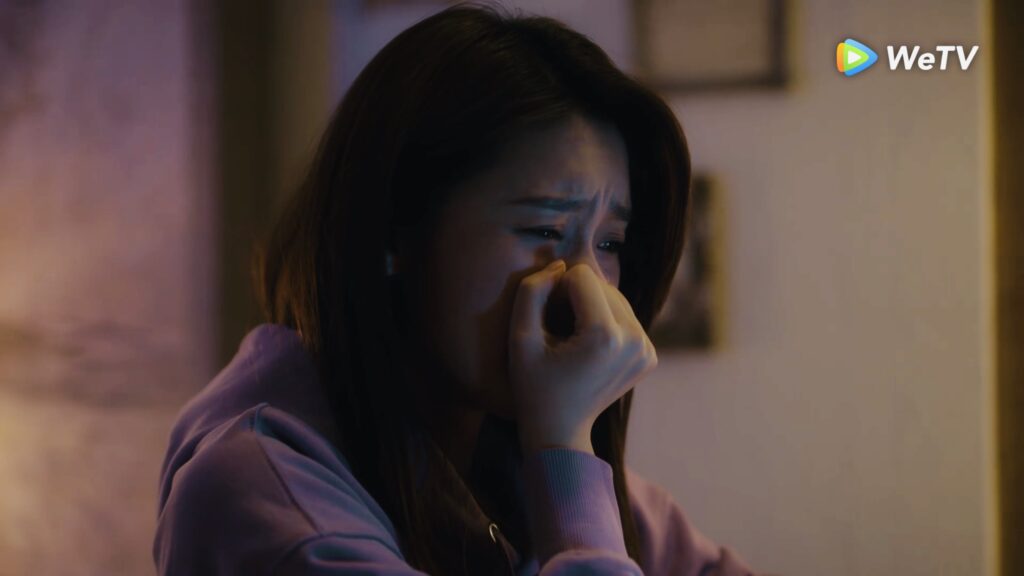 Meanwhile, inside the sedan, Qin Shi choked when she heard that Tao Jun Hui called Yang Hua. Gang Zi told her that Tao Jun Hui was anxious and worried for her safety, he called Yang Hua. However, Yang Hua did not worry at all about her safety. He acted like Qin Shi was not his wife but Tao Jun Hui's wife. He even asked them what should he do. Gang Zi reminded that Qin Shi and Tao Jun Hui's situation was not favorable for Tao Jun Hui. They should find a solution to it.
When she arrived at their apartment, Qin Shi saw a wound on Yang Hua's forehead. He said that he bumped himself earlier. Qin Shi told Yang Hua about what Gang Zi told her earlier. Yang Hua said that he believed that Qin Shi would not give herself away because she had her principal. In his eyes, Qin Shi was a warrior. Qin Shi held him and whimpered that she was not happy because Yang Hua did not seem to worry for her.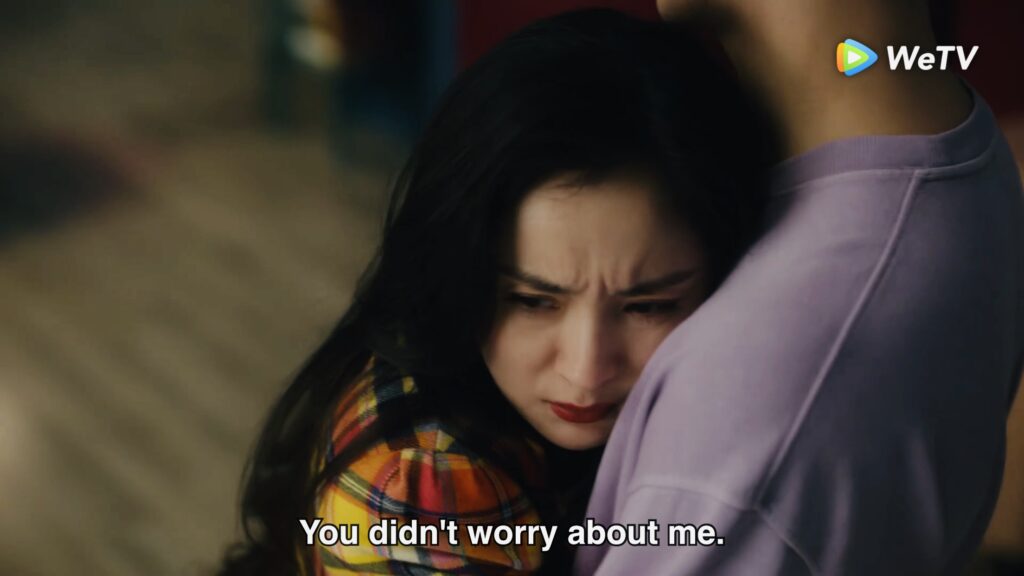 Yang Hua admitted that he was worried and nervous about her. But he chose to believe in her and that she would be fine and find a solution by herself. His answer made Qin Shi dissatisfied. She let go of him and flicked her hair. She said sternly that she was indeed a strong and independent woman who never failed at anything. She went to her room and slammed the door, leaving Yang Hua standing alone in the living room.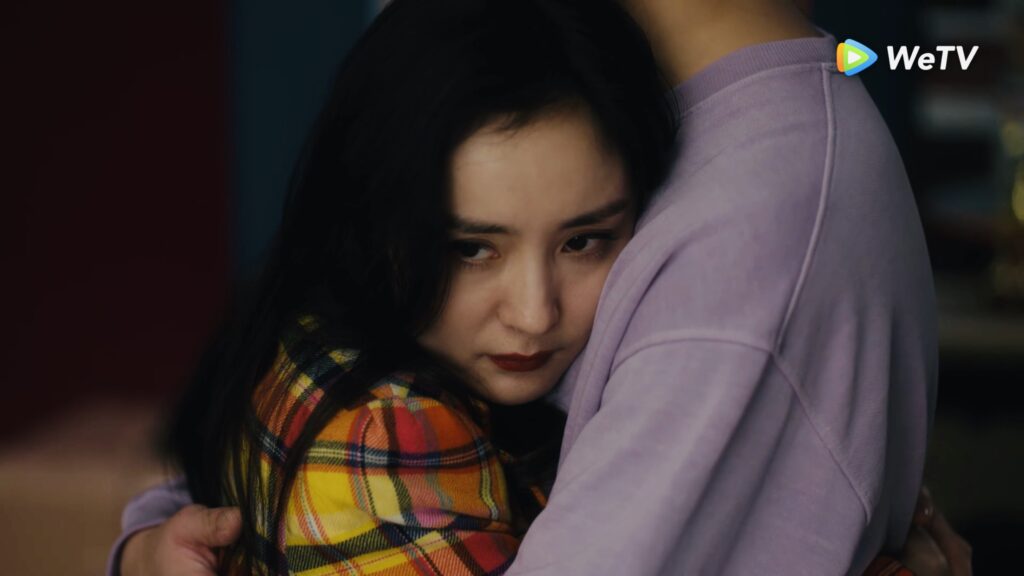 The next day, Yang Hua went to his parent's house. He told Father Yang about Qin Shi because he did not know what made her mad at him. Father Yang laughed at him. He said that no woman would want to hear that kind of praise since it would make them feel like a bodyguard.
Even if the woman was strong as an Amazon woman, they would always have a gentle heart. According to Father Yang, a strong and resolute woman would act unreasonably and lose her temper before a man only if she trusts him. Yang Hua felt that he was enlightened by his father. He decided to follow Father Yang's suggestion and bought a gift for Qin Shi.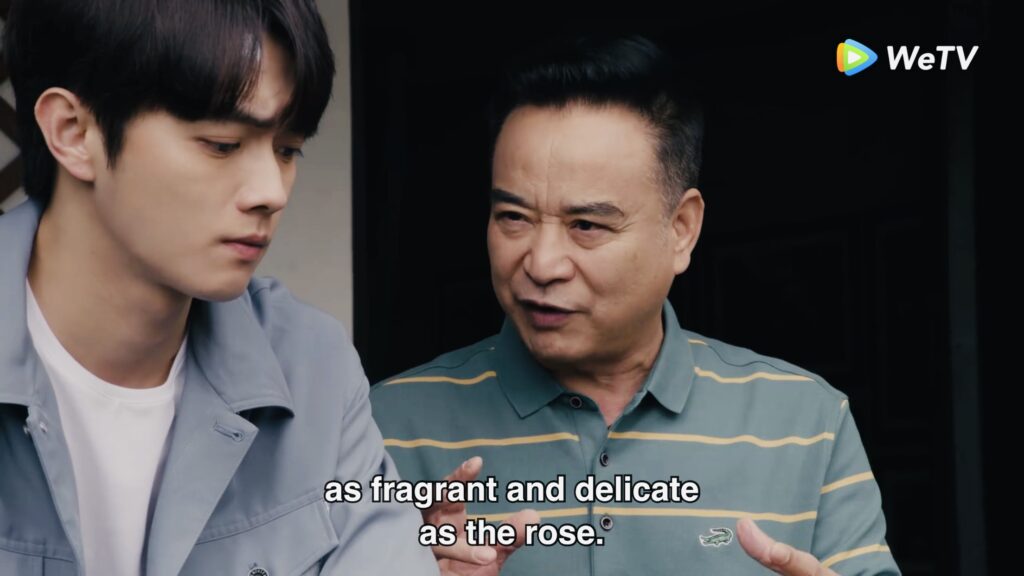 There were changes in He Dong Na's case because Yao Yao had done something amazing.
A day before, Yao Yao went to see Yin Zhi Qiang, her superior at Tianhang Hotel. He praised Yao Yao because she handled the suicidal streamer's problem well. The hotel decided to give her 100,000 RMB (around 14,400 USD) as a reward. They also would put pressure on He Dong Na's case so they could drop the charges. Yao Yao let out a bitter smile. She said that she wanted everybody responsible to make a public apology to her.
And it was Yin Zhi Qiang himself. She said that Yin Zhi Qiang has abused his authority. He forced his subordinates to make false testimony in court, hide the evidence, and distort the facts. He even colluded with the plaintiff, causing damage to the company's reputation.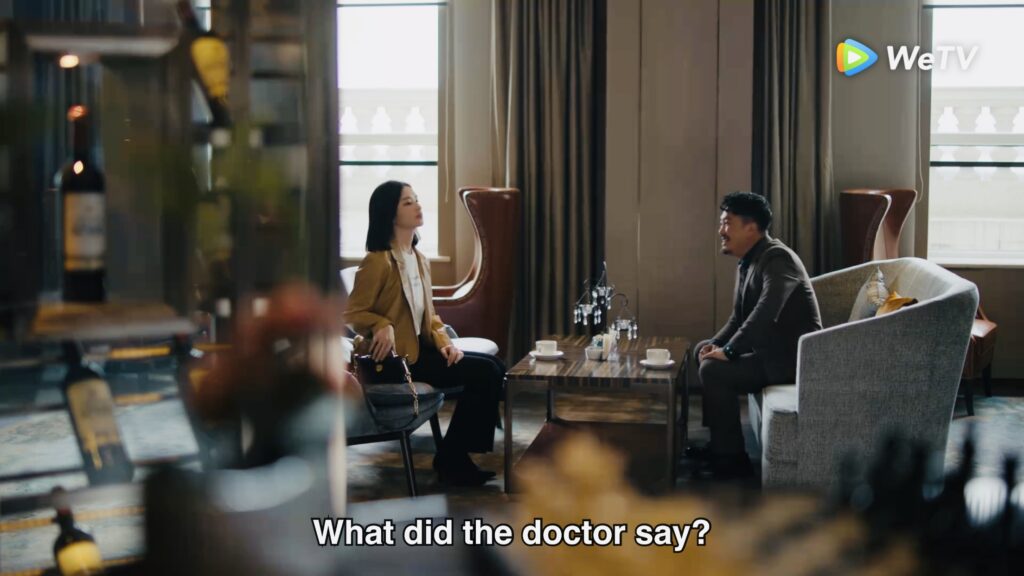 Yin Zhi Qiang got angry and accused Yao Yao of making a groundless accusation. Yao Yao replied that Yin Zhi Qiang allowed VIP customers to sexually harrassed the staff and suppressed the staff who made complaints. She asked him whether he dared to be responsible for his action. After that Yao Yao gave him a resignation letter and told him that she would not accept any reward from the company. Yao Yao left afterward.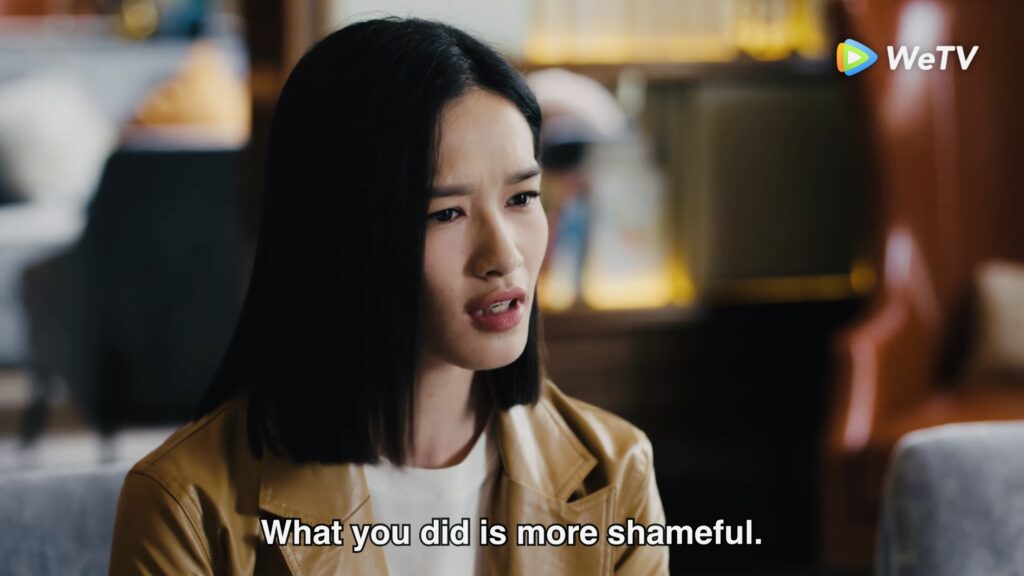 Qiao Si Ming delivered gifts from Tang Yi Hui to Qin Shi. They were a Ferrari key and a bank card with 100,000 RMB inside it. Qiao Si Ming said that those things were compensation for her and her husband from Tang Yi Hui. Qiao Si Ming recalled that Yang Hua had a car accident on the way to chase Qin Shi. He came to the law firm covered in blood and went to see Jin Cheng and Tang Yi Hui.
Yang Hua said that no matter what Wang Jie Sen wrote in the report, Hu Ping would not use it. Yang Hua also gave them evidence of Wang Jie Sen's involvement in the Yongli 21 stock case. Wang Jie Sen also threatened Qiu Jian Xiang to buy Haibo Biology. All the evidence would be given to Hu Ping the next day.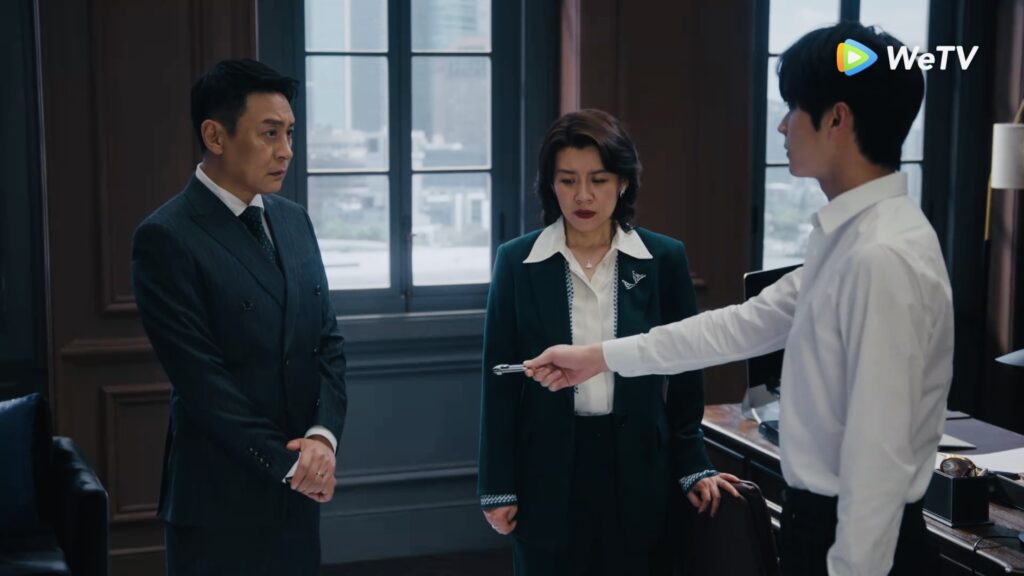 Tang Yi Hui was concerned about Yang Hua's injury. She told Yang Hua that Qin Shi was safe and offered to take him to the hospital. Yang Hua refused. Tang Yi Hui sighed and told her husband that Yang Hua and Qin Shi were a match made in heaven. Both of them made a ruckus for each other.She recalled what happened on the night when they made a plan with Mrs. Liang.
Qin Shi made a term and asked Mrs. Liang if she wanted Wang Jie Sen to be banned from the finance industry. Mrs. Liang asked her whether Qin Shi had a dispute with Wang Jie Sen. Qin Shi replied that she had a big beef with him. Mrs. Liang reassured her that Wang Jie Sen would never work in the finance industry for the rest of his life.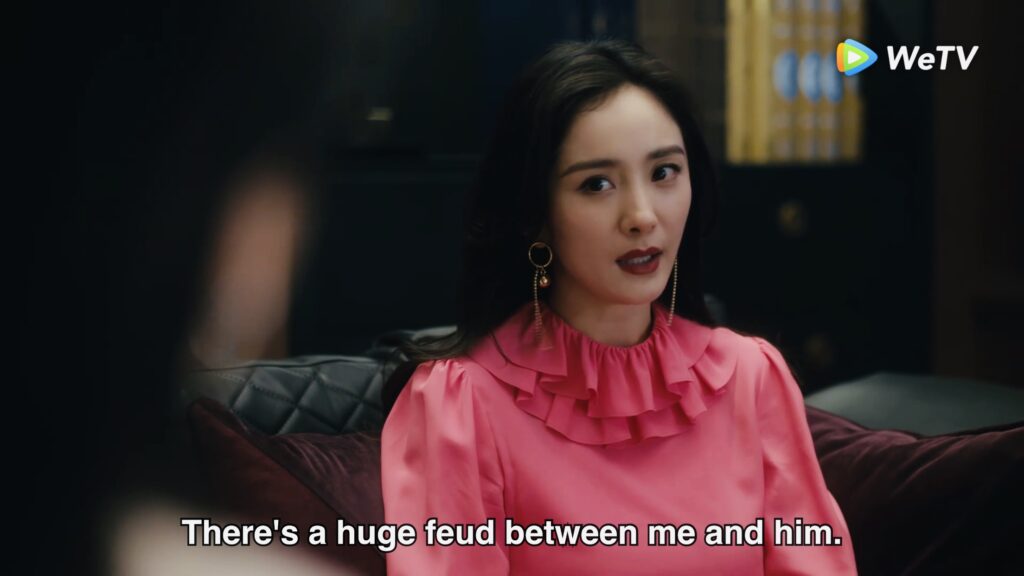 Qin Shi came to Yang Hua's office. She gave the bank card to Cai Liang. She said that the money was his. Qin Shi stared at Yang Hua and asked him why he did not tell her that he went to Hangzhou, was caught in an accident, and talked to Jin Cheng and Tang Yi Hui. Yang Hua only replied that it was something that he should do. Qin Shi stepped forward and kissed him. Yang Hua returned the kiss while Cai Liang gaped at the sight. Qin Shi told Yang Hua that she never failed because she had him.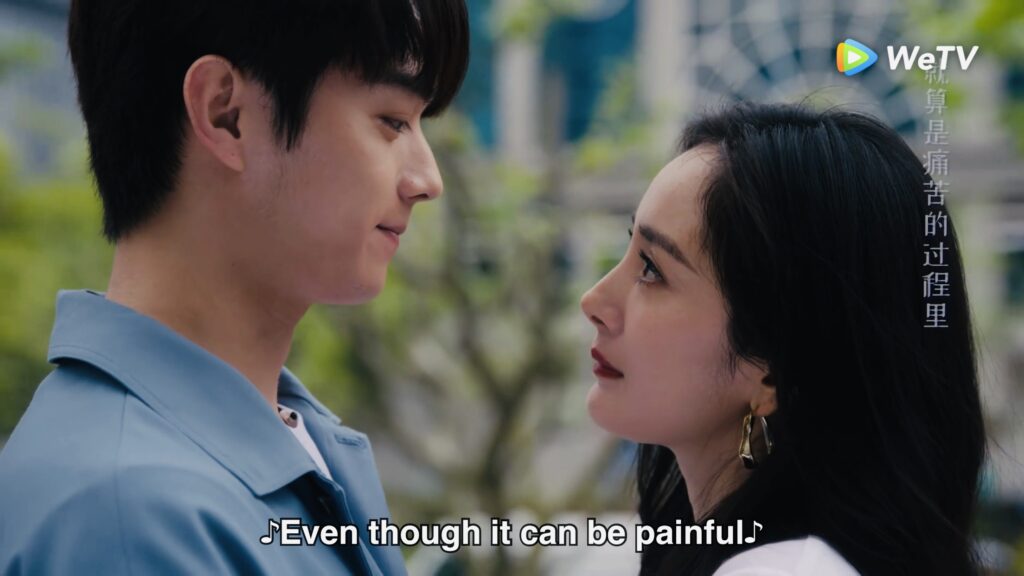 During their meal, Qin Shi told Yang Hua that she would be in charge of the Tianhang Hotel merger and acquisition case. She got to choose her team. Qin Shi was ecstatic and asked for a small request from Jin Cheng. If the case succeeded, she wanted a position of a partner.
Tao Jun Hui entered Wu Fei's office and found her in a dispirited state. Because she did not look good, Tao Jun Hui offered to take her home and helped her with her work. It took a while before Wu Fei nodded her head. But when they got ready to leave, Qin Shi called Tao Jun Hui and asked him to meet her at her office room in half an hour. She wanted him to be her co-counsel on Tianhang's merger case. Wu Fei listened to their conversation with a sullen face.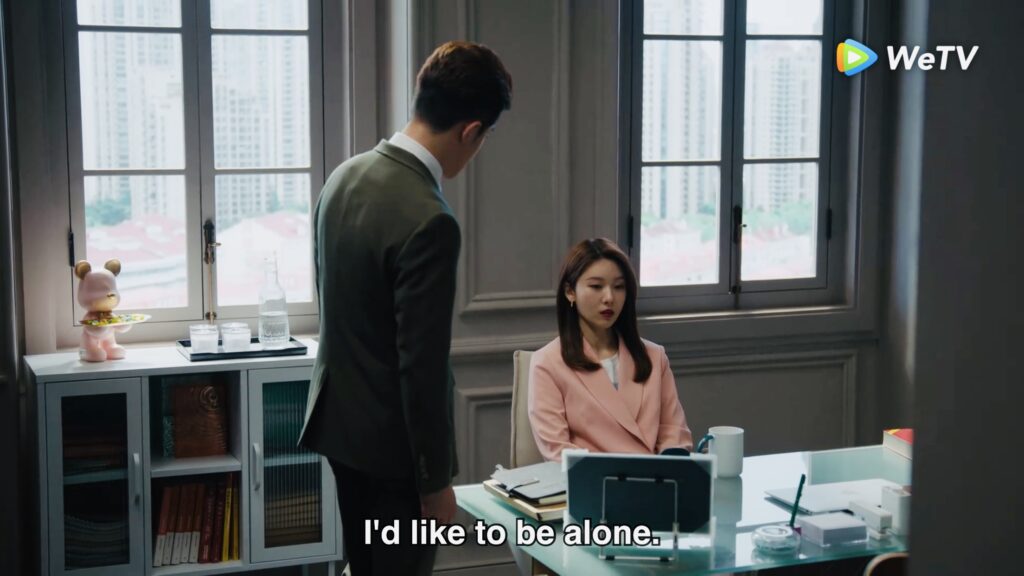 Wu Fei spoke sarcastically that Tao Jun Hui and Qin Shi were a good team because they helped each other. She asked him whether he went to Hangzhou to be a hero. Tao Jun Hui's eyes widened but he did not say anything. Wu Fei told him that she did not want to work at Cheng & Hui anymore. She gave him a chance to leave with her. He could start a business or work in her father's company, she promised that it would be better than working at Cheng & Hui. Because Tao Jun Hui was silent, Wu Fei left in anger.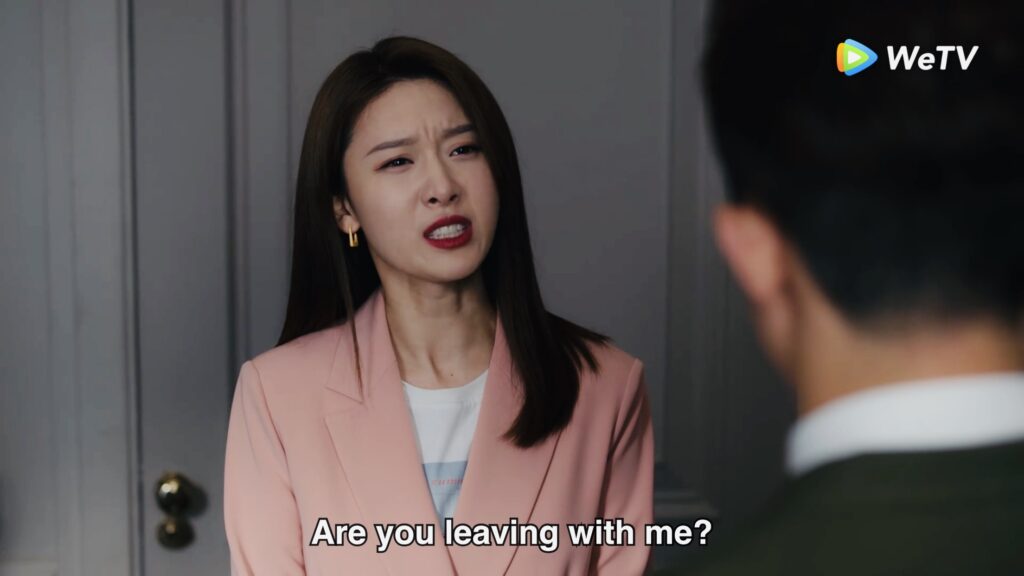 Tao Jun Hui went to Qin Shi's office to reject her offer. Qin Shi was surprised. She kicked his calf and told him that his fiancee lost because she targeted the person instead of the problem. He Dong Na's case made Tang Yi Hui dissatisfied with Wu Fei and it would drag him down as well. Qin Shi told him that he used to help her before, but this time she wanted to return the favor.
Qin Shi stated that she was the only female lawyer on the 11th floor. Yet, her foundation was not strong enough. Therefore, she needed the case to make her famous. In the end, she explained her goal to be a partner and changed the unwritten rules that disadvantage female lawyers in Cheng & Hui. Tao Jun Hui mulled over her goal. He finally gave up and accepted Qin Shi's offer.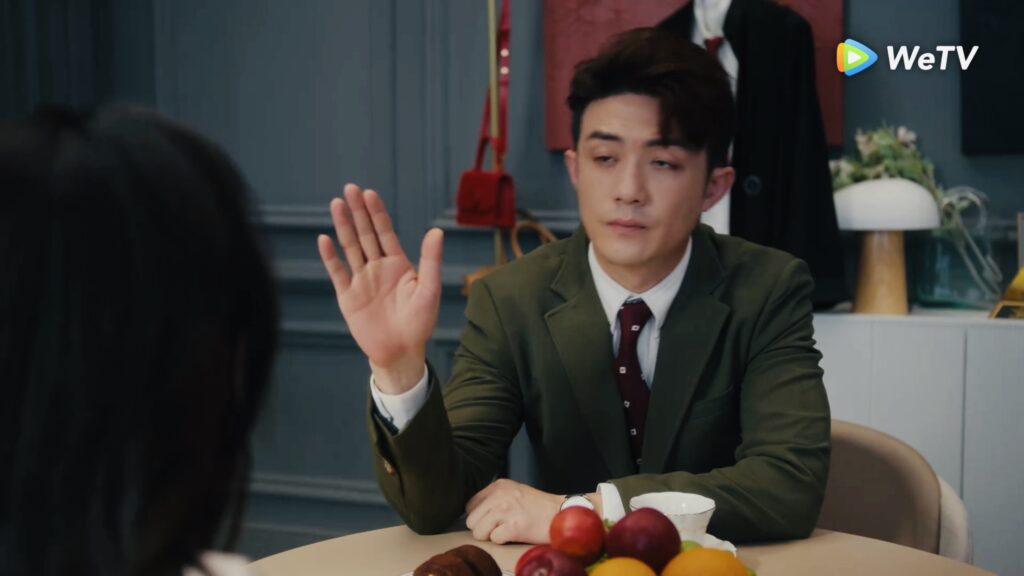 In the meeting room, Qin Shi explained the situation of the Tianhang Hotel merger and acquisition case. Tao Jun Hui concluded that Tianhang Hotel purposely lost in He Dong Na's case. They wanted to avoid paying Yao Yao's contract Termination money. And also to help their strategic partner so they could buy the share at a low price. Tang Yi Hui asked Qin Shi to let Yang Hua be their special consultant. But she refused. Tao Jun Hui interrupted and told Jin Cheng that they had another way to solve the case. He said that Yao Yao had helped the police to catch the plaintiff. It was a good chance and they could use it.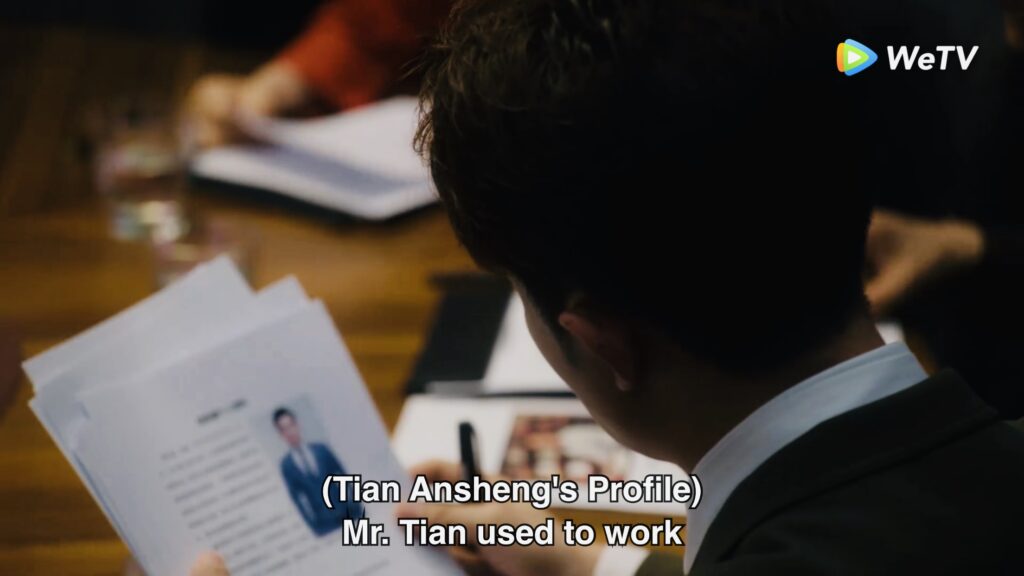 Yin Zhi Qiang and one of the hotel staff visited Yao Yao in her apartment. He came to apologize to her and gave her the reward money. Yin Zhi Qiang mentioned that their hotel would make the butler service their special service and he asked Yao Yao to be the trainer.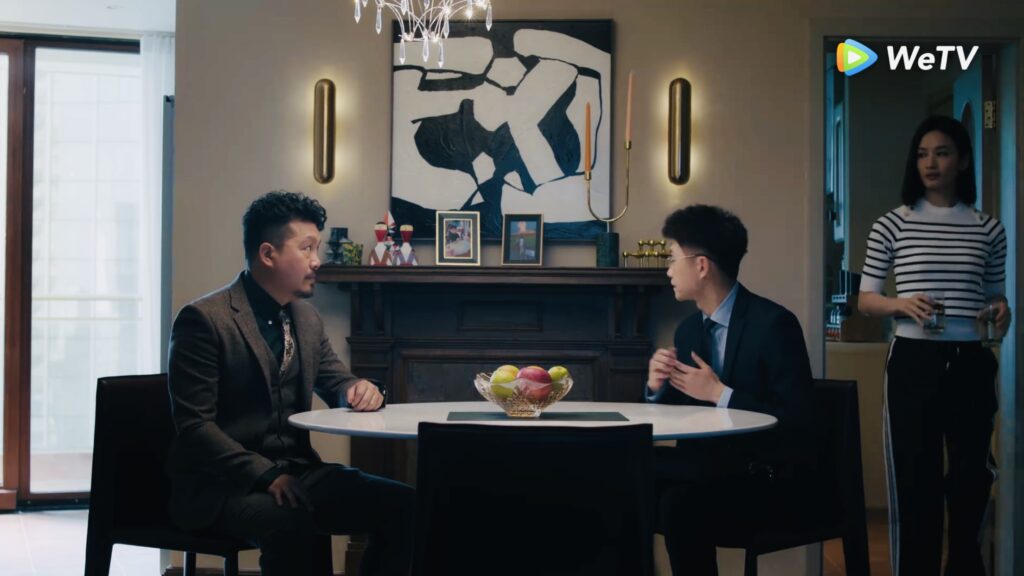 Episode 34
Yin Zhi Qing told Yao Yao that He Dong Na has dropped the charges. Yao Yao cut him and asked whether he would make a public apology to her. Yin Zhi Qiang was stunned before he said that he would apologize personally.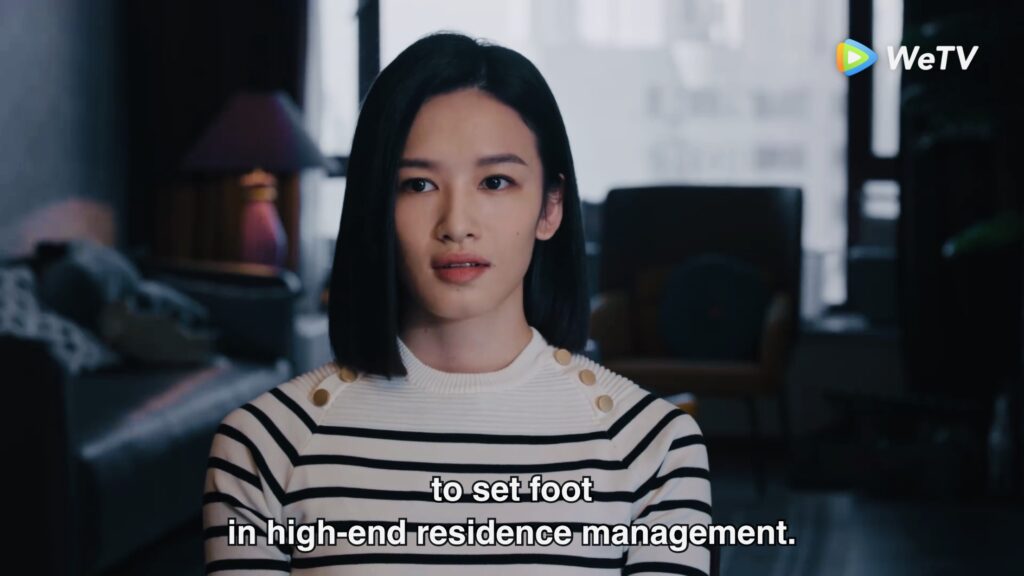 Yao Yao decided to settle the score with him right there. She said that if the stabbing accident did not happen, she would surely take the fall for the hotel. She was not stupid to believe her colleague would voluntarily commit perjury in court. Nor to believe the footage video which she gave to the lawyer would vanish. Yao Yao also stated that she never reconciled with someone who backstabbed and sold her out.
There was something that money could not buy, and trust was one of them. Yao Yao said she would stay at Tianhang Hotel only if he took the blame and resigned.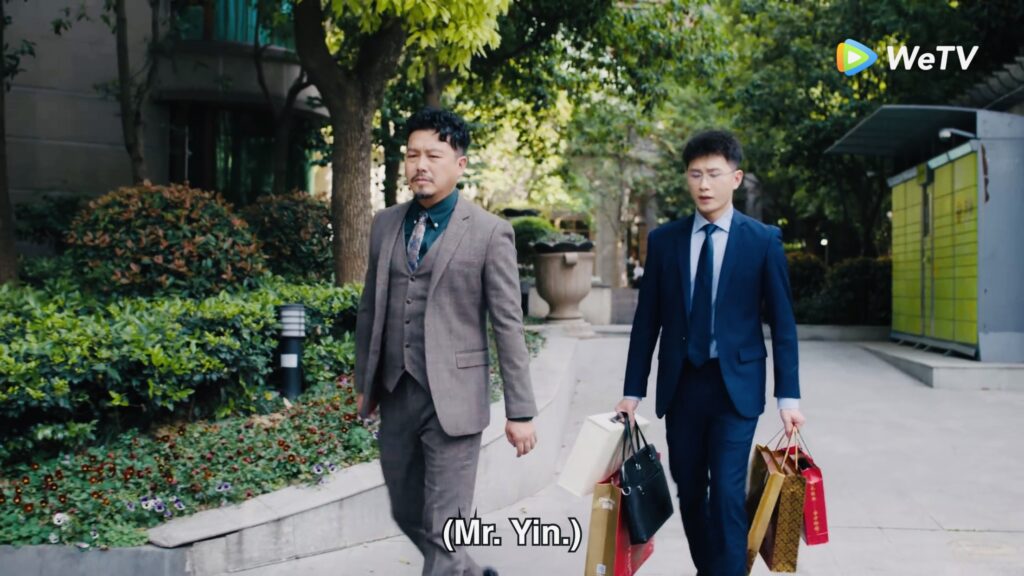 Wu Fei's mother tried to wake her up because Tao Jun Hui had called her. But she rejected the call. Wu Fei's mother sensed something was wrong between her daughter and her fiancee. She called Tao Jun Hui and told him that if Wu Fei made mistake, Tao Jun Hui must tell her and she would reprimand Wu Fei. Of course, as a gentleman, Tao Jun Hui would reply that his relationship was fine.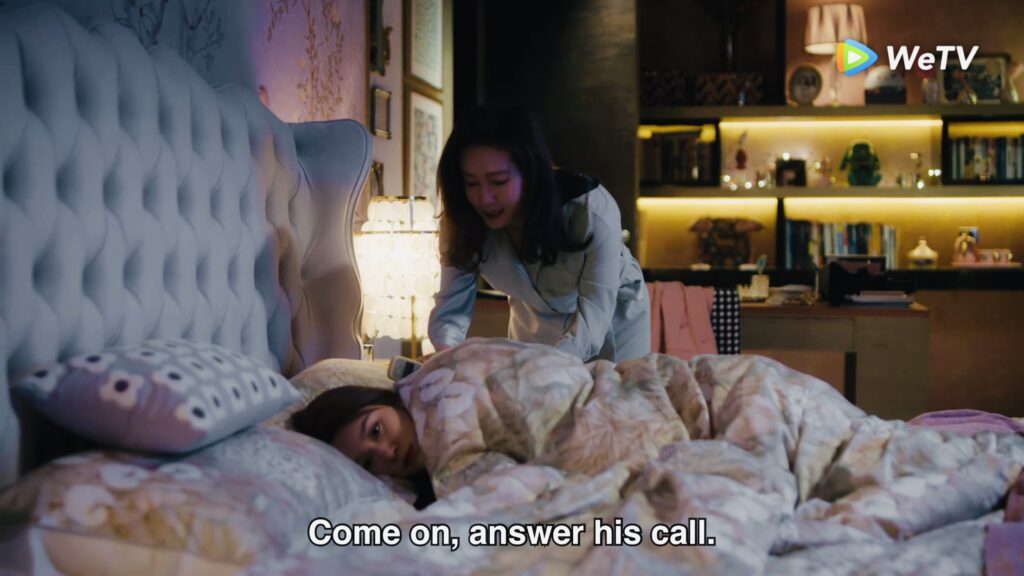 Tao Jun Hui told Qin Shi that their arrangement with Yao Yao has failed. They had to change their strategy. Qin Shi decided to see Yao Yao herself. Tao Jun Hui wanted to come with her, but Qin Shi snorted and told him that she would throw water at his face. Tao Jun Hui insisted to come along. He said that he knew Yao Yao well. She was a stubborn person who would never change.
Qin Shi went home and asked Yang Hua about Yao Yao. Yang Hua protested that Yao Yao has nothing to do with him. Qin Shi saw that Yang Hua was agitated and reassured him that it was normal if he dated Yao Yao before because she was gorgeous and all men like pretty girls. Yang Hua was startled and asked how she knew about it. Qin Shi used the chance to extort more information from him.
Yang Hua explained that he and Yao Yao grew up together. They dated when they were in college and the reason for their break up was because of him. Yang Hua saw that his confession satisfied Qin Shi. Qin Shi smiled at his remark. Yet, Yang Hua did not notice that her smile was off.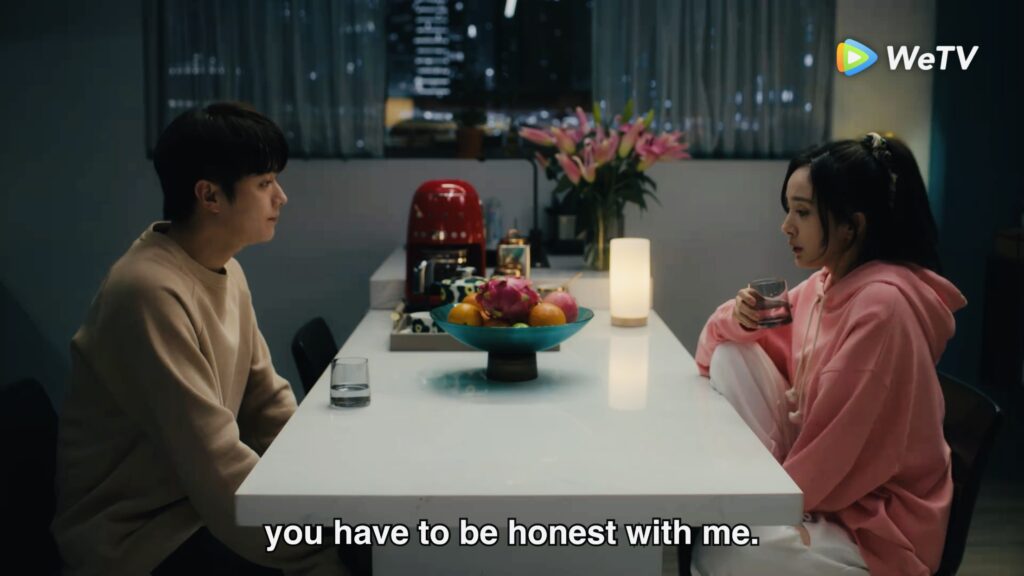 Qin Shi continued with the questions. She also asked about their first date and first kiss. Yang Hua thought that the questions were related to the case. So he answered honestly. Qin Shi was annoyed and sarcastically commented that Yang Hua was so romantic because he remembered it all. Poor Yang Hua did not realize that the lioness was ready to launch her attack.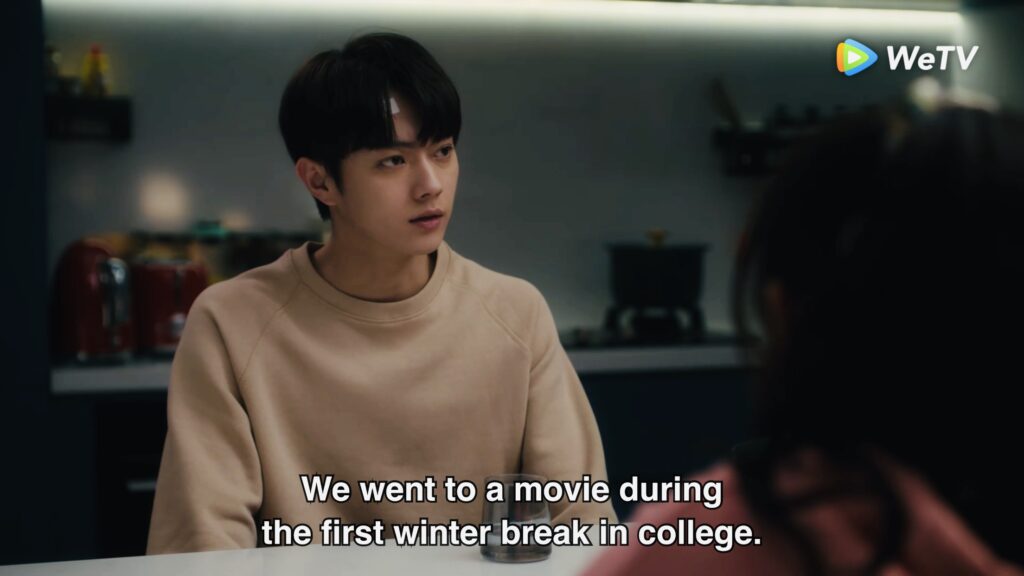 Qin Shi asked the last question, which was if Yang Hua was free to choose, would he take Yao Yao back? After roundabout answers, Yang Hua was still not answering the questions. It angered Qin Shi. She left the dining table and slammed the door.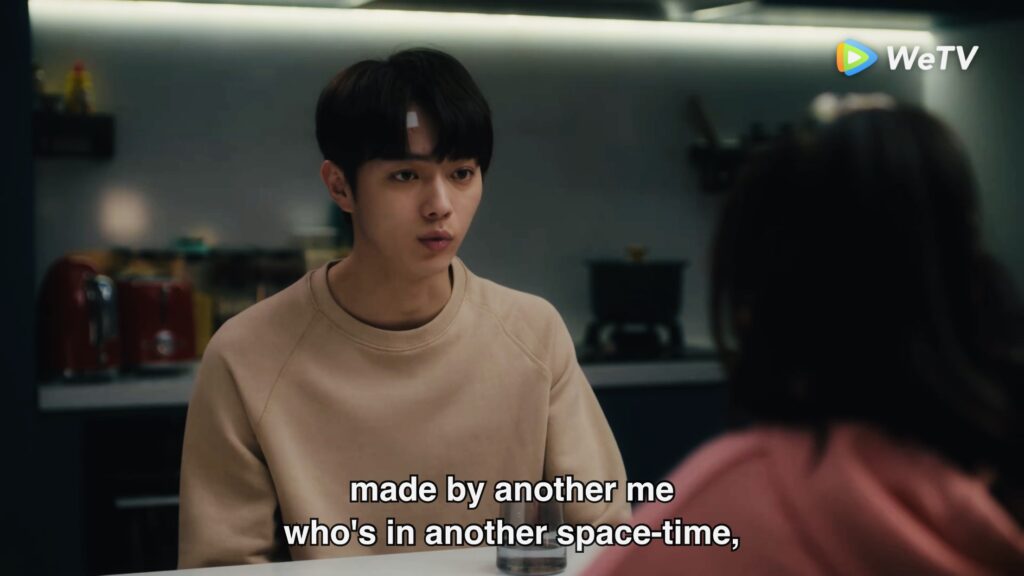 The next day, she told everything to Tang Yi Hui and made her laugh so hard. She said that Qin Shi and Yang Hua were cute like newlyweds. She told him to take Yang Hua to dinner, but she did not explain the occasion.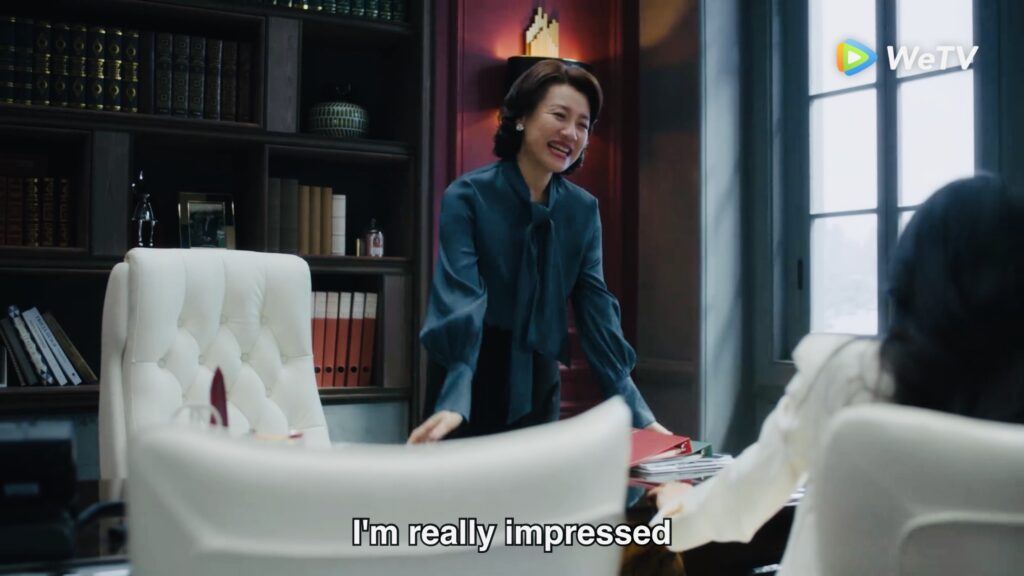 Tao Jun Hui asked Qin Shi whether she would attend their debate team reunion. Qin Shi said she would not come because she had another appointment.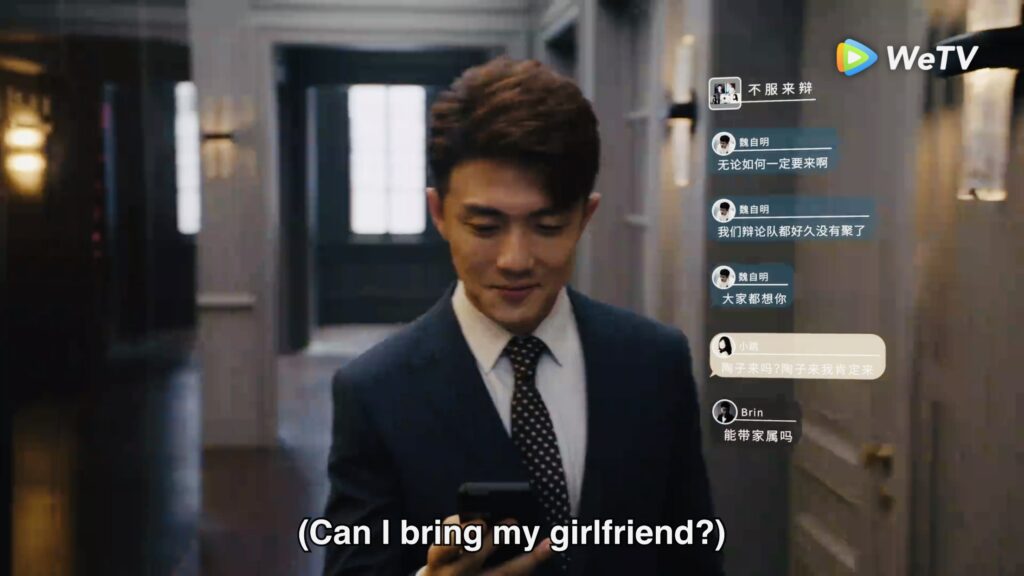 Tao Jun Hui said that he already made an appointment with Yao Yao regarding the case. When the three of them sat together, Yao Yao told them that she had resigned from Tianhang Hotel. She stated that she would never take sides with Tianhang ever again. Tao Jun Hui tried to persuade her but no to avail. Yao Yao refused the persuasion and told them that she had a bad habit. She was stubborn when it comes to the truth and she would never regret it.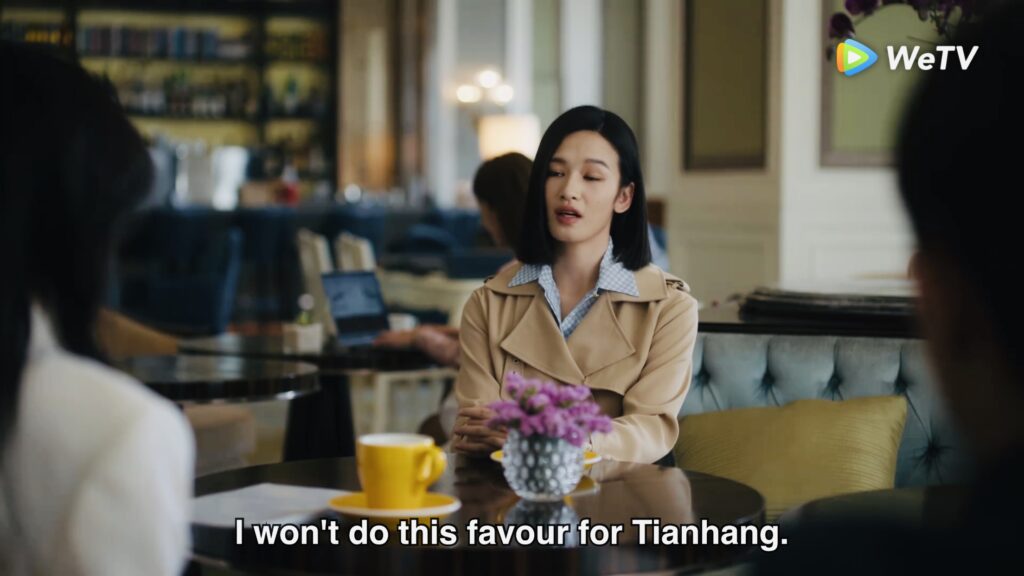 Earlier, Qin Shi and Tao Jun Hui had planned several strategies to persuade Yao Yao. Qin Shi knew that Yao Yao was the heroic type of girl. She was gallant and had a sense of righteousness. She was not easily swayed by money or rewards. But they could try to use righteousness as bait. However, Tao Jun Hui said that Yao Yao was a person who succeed because of her hard work. She would not get easily fooled by mere righteousness. Therefore, Yao Yao could not stand to be slighted and her dispute with Yin Zhi Qiang was irreconcilable.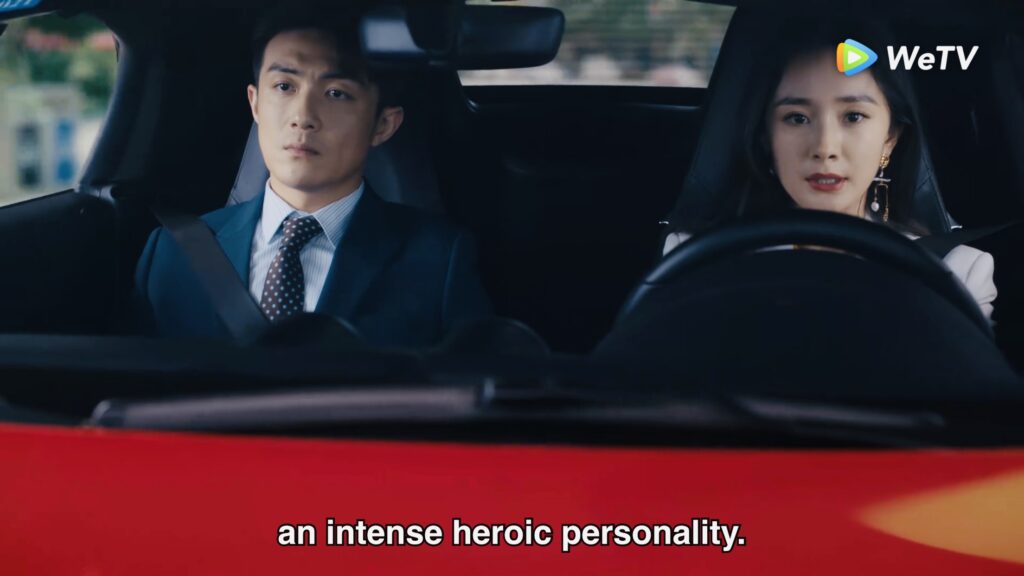 After several strategies and a roundabout conversation, Qin Shi and Tao Jun Hui were able to persuade Yao Yao. She agreed to stay with the company for a month until the merger finished. Qin Shi and Tao Jun Hui promised that they would speak to Tianhang Hotel higher-ups to give better compensation to the people who would get laid off.
After the meeting, Tao Jun Hui said that Qin Shi and Yao Yao bore the same resemblance. Both of them were strong and independent women. Qin Shi protested because the words strong and independent were not a compliment if they come from Tao Jun Hui's mouth. It was more like a tease for her. Tao Jun Hui replied that in his eyes, a woman should not be too strong and independent like Qin Shi.
She responded that she would treat life like it treated her. If life was harsh, then she would try as hard as she could to fight back. However, if she failed, she would lie down and rest before she prepared for the next battle. Tao Jun Hui praised her for her point of view.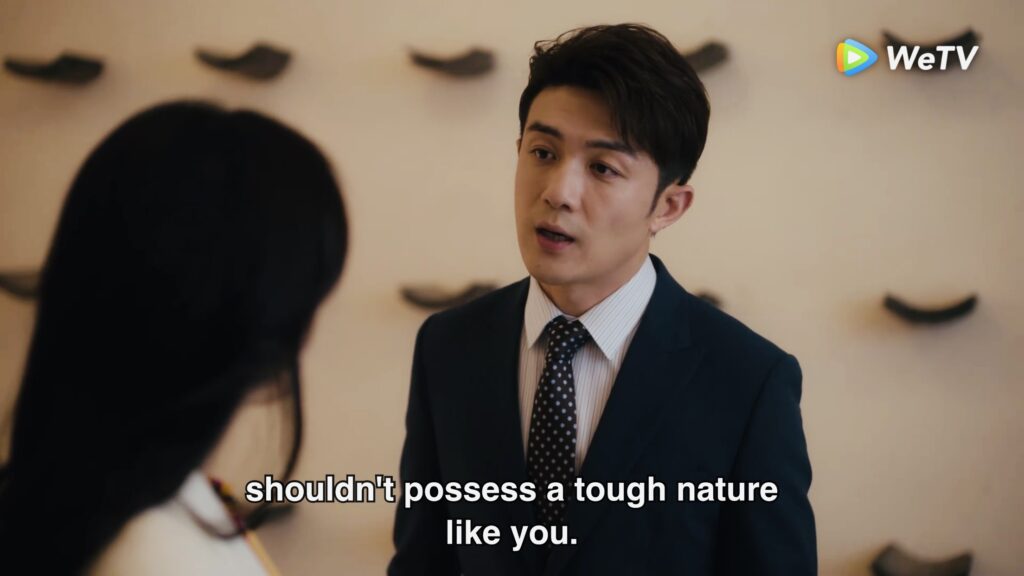 Qin Shi was curious about what made people fight for the property of the Tianhang Group. Tao Jun Hui explained that Tianhang Hotel was involved in the New Energy Smart City Project. It was a prototype of a future city that would produce the biggest new energy supply in the world.
The project was grand because it used the mass adoption of robots, augmented reality, and visual reality technology. Tianhang Group has four hotels located within the area. The future of Tianhang was promising, therefore in the future, the share price would be doubled. Many enterprises wanted to join the project, including Hu Ping.
Tang Yi Hui was waiting for Qin Shi and Yang Hua at her home. Meanwhile, Tao Jun Hui had a merry reunion with his debate team. He sent a message to Wu Fei and told her about the reunion. But he added that Wu Fei did not have to force herself to come if she felt unwell. Tao Jun Hui stared at the door again and again as if he was waiting for someone.
At the dinner party, Tang Yi Hui made several announcements. The first was Hu Ping had agreed to invest 300 million yuan in their law firm. Followed by Cheng & Hui was selected as one of the best law firms in China and Lawyer Ma and Lawyer Chen were listed in the top 100 national lawyers. And the third was Qin Shi had been appointed as the youngest partner in their law firm.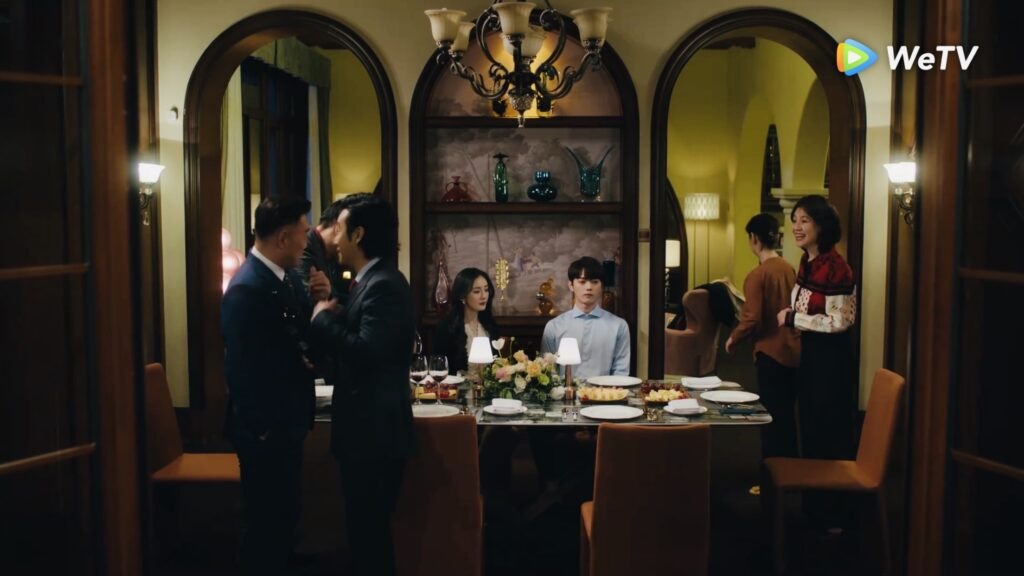 Qin Shi was elated because she finally accomplished her goal. Yang Hua stared at her proudly. Nobody noticed that Tang Yi Hui's smile was a little bit stiff. Jin Cheng raised his glass and proposed a toast for everybody.
Tao Jin Hui was alone when one of his friends came to tease him. He asked why Tao Jun Hui and Qin Shi broke up. Everybody was waiting for their wedding and even had prepared a red packet. He felt that Tao Jun Hui had let them down. When he teased that he would call Qin Shi, one of their friend saw a girl outside. He said that it was Qin Shi. Tao Jun Hui immediately went out to chase her.
But when he called her, the woman turned around and she was Wu Fei. Disappointment and anger were written on her face. Wu Fei yelled at Tao Jun Hui. She told him that she could not accept if Tao Jun Hui still loved Qin Shi. Tao Jun Hui told her that everything she said was nonsense and Qin Shi was married. Wu Fei snapped that Qin Shi's marriage was fake and they could divorce at any time.
Tao Jun Hui's face becomes serious. He asked when did she know that their marriage was fake. Wu Fei laughed at him. With a threatening voice, she wondered what Tang Yi Hui would say if she knew about the news. She ran towards the exit and left in her car. Tao Jun Hui chased after Wu Fei but he failed. After the argument, Wu Fei cried incessantly.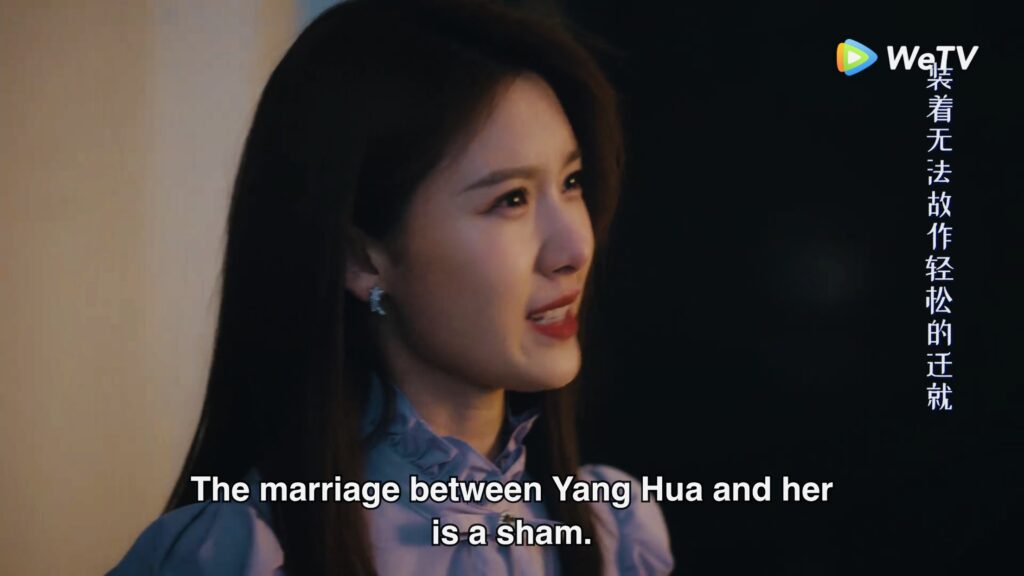 At the dinner party, Qin Shi told Yang Hua that she would confess the truth to Jin Cheng. She was sure about it but still hesitated. Yang Hua told her that she was at the perfect time to tell them the truth. Tang Yi Hui and Jin Cheng might be angry over her lies and deceits. However, they just acquired investment and they need more talent for the expansion.
If Tang Yi Hui and Jin Cheng considered the big picture, they would forgive her. Qin Shi saw Lawyer Ma and Lawyer Chen leave Tang Yi Hui's house when Tao Jun Hui called. He warned her not to admit her fake marriage even if they lay the evidence before her. Yang Hua felt something was amiss and asked Qin Shi to go home.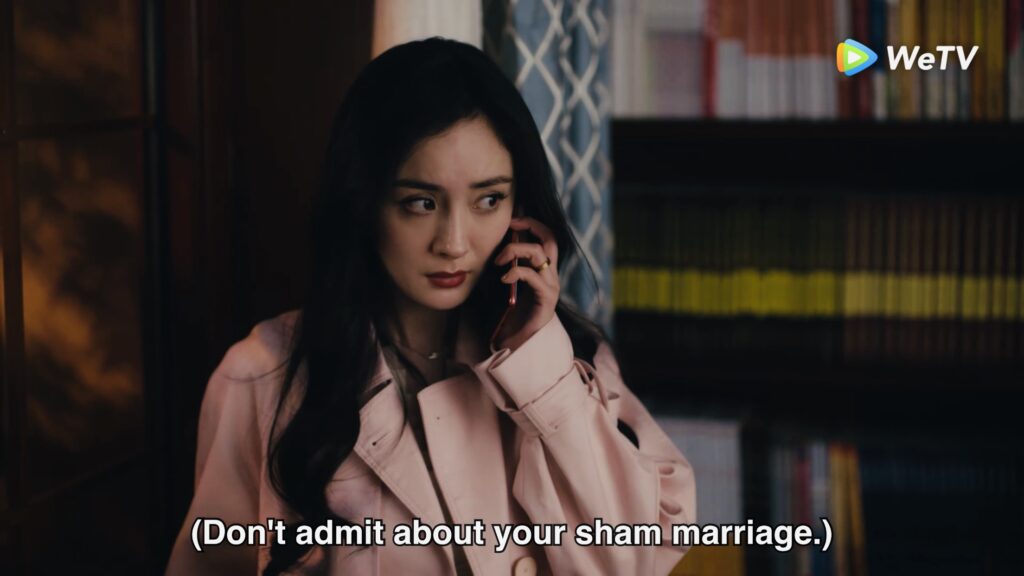 Before they could reach the door, Tang Yi Hui and Jin Cheng opened it. They seemed to have rushed to the room. When Yang Hua said that they were about to leave too, Tang Yi Hui replied that they could not leave because they had something to do. She told Qin Shi to follow Jin Cheng for the important matter and Yang Hua would converse with her. Before Yang Hua could say anything she already took his hand and left.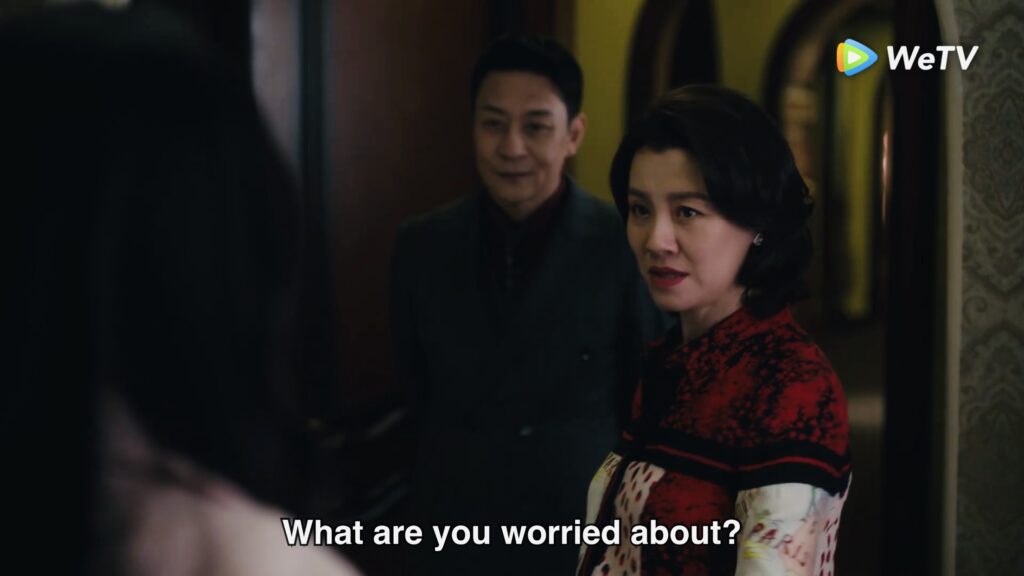 Jin Cheng took Qin Shi to a table. He gave her a partnership agreement that contained her right and obligations as a partner. He had highlighted several key points for her including property share, confidentiality agreement, fidelity agreement, and so on. Qin Shi had to hand in 500,000 yuan as a capital contribution within 7 days after the agreement was effective.
Tang Yi Hui took Yang Hua to the kitchen. She talked about one of her friends whom she always thought highly of. Tang Yi Hui said that she just found out that her friend was a liar. That friend did not cheat others for money, but she hid her condition from her. She lied about her background, and resume, including her marriage. Yang Hua felt that Tang Yi Hui hinted at something. She asked him whether she should continue her business with her friend or not.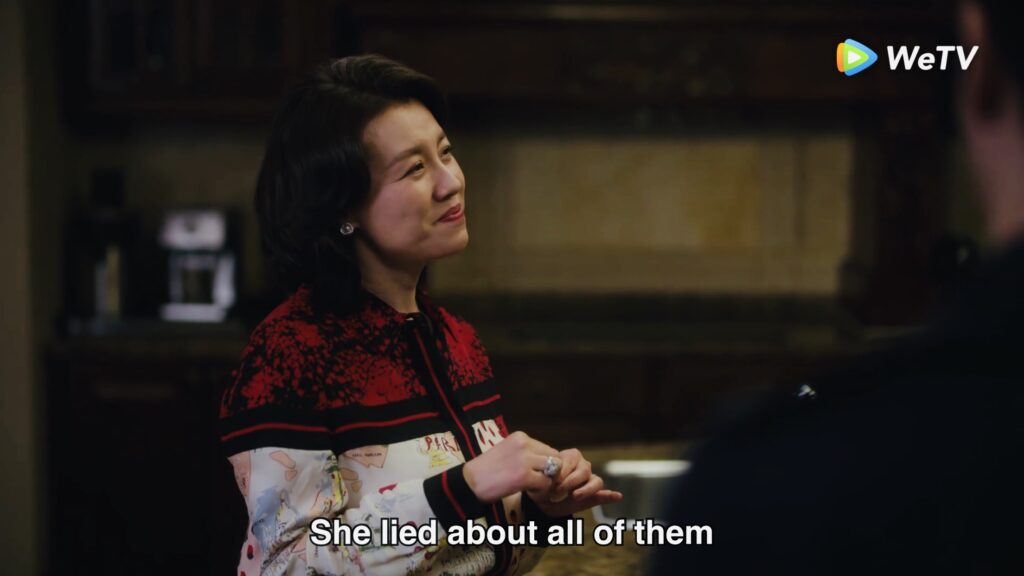 Meanwhile, Jin Cheng gave Qin Shi pointers about how she should make more effort than her male Partners. Jin Cheng told her about the difficulty that he and Tang Yi Hui had to face in their marriage. They struggled to have children and when they had, they had to struggle again because they almost divorced. When Tang Yi Hui was at work, she felt that she was a terrible mother.
And when she was with her children, she felt that she was a terrible lawyer. Jin Cheng said that when a woman had to choose between children and a career, only a few would choose the latter. Therefore, he asked Qin Shi to consider her choice and whether she was able to bear the consequences of her choice.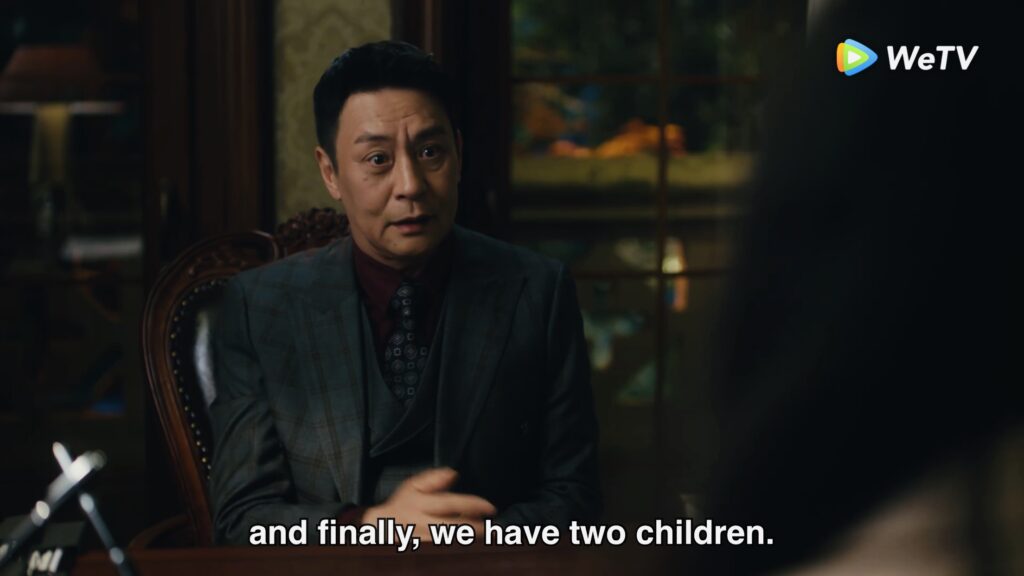 Yang Hua answered Tang Yi Hui's question carefully. He hinted that the answer depended on the reason why her friend lied to her. He said that if the lies helped her to strike a good deal, then the success was only an illusion. However, if the lies were to avoid the high cost of socialization and self-credibility but it did not benefit her career, then Tang Yi Hui could continue the business.
Tang Yi Hui told Yang Hua that they both had something in common. Both of them needed to be alert and it was not easy to give their trust in others. He needed data, while she needed concrete evidence. Yang Hua turned his head at Tang Yi Hui and slowly asked what kind of evidence she needed. Tang Yi Hui told her friend that she wanted to collaborate with her.
She wanted to invest in her company in some conditions. Tang Yi Hui wrote all her requirements and intentions in black and white. All the attributes written on the agreement were the attributes that her friend have been keeping from her. Yang Hua paled and asked again whether it was illegal or not. Tang Yi Hui smiled and said that according to what he said earlier, the lies did not affect her friend's business directly. But if she signed the agreement, then it would become a different story.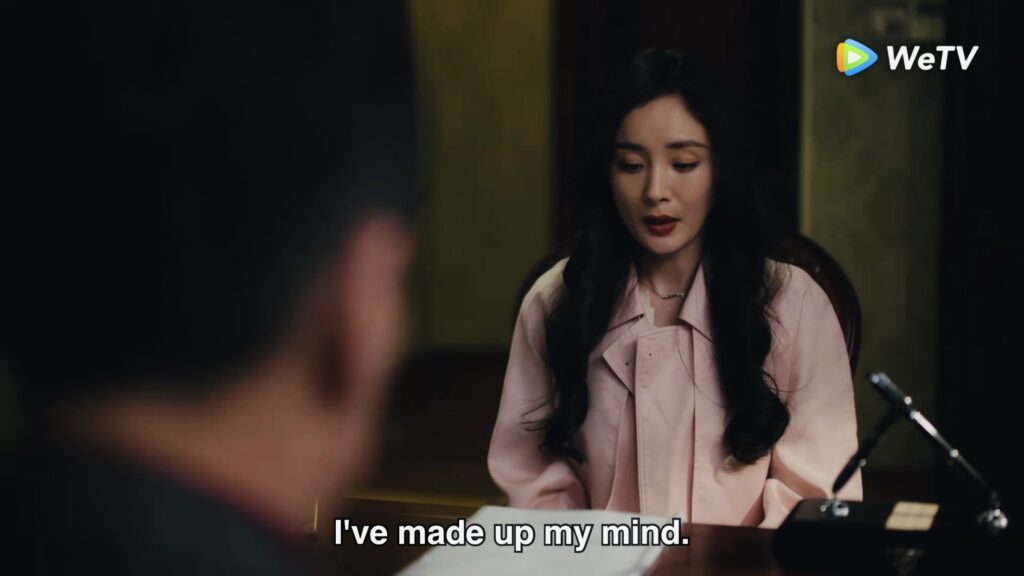 Inside the office, Qin Shi stared at the supplementary terms agreement that was solely made for her.
My Two Cents
Did you get annoyed like me every time Wu Fei cried over Tao Jun Hui?