Title: She and Her Perfect Husband
Also Known As: 爱的二八定律, The 80/20 Rule of Love, Qin Shi and Her Perfect Husband, The Two Eight Law of Love
Director: Lin Yan
Screenwriter: Zhu Li
Genres: Romance, Comedy, Law
Country: China
Episodes: 40
Year: 2022
Original Network: Tencent Video
Where to Watch: Viki, WeTV
List of Recap:
Hello readers! I was soooo excited. In this episodes 21 and 23, we finally could see the wedding between Yang Hua and Qin Shi. Although we all knew that the wedding was fake, we could guess their true feelings, aren't we? Will the wedding make them admit their feelings?
But, let's meet new characters!
New Characters Appearance
Mr. Ding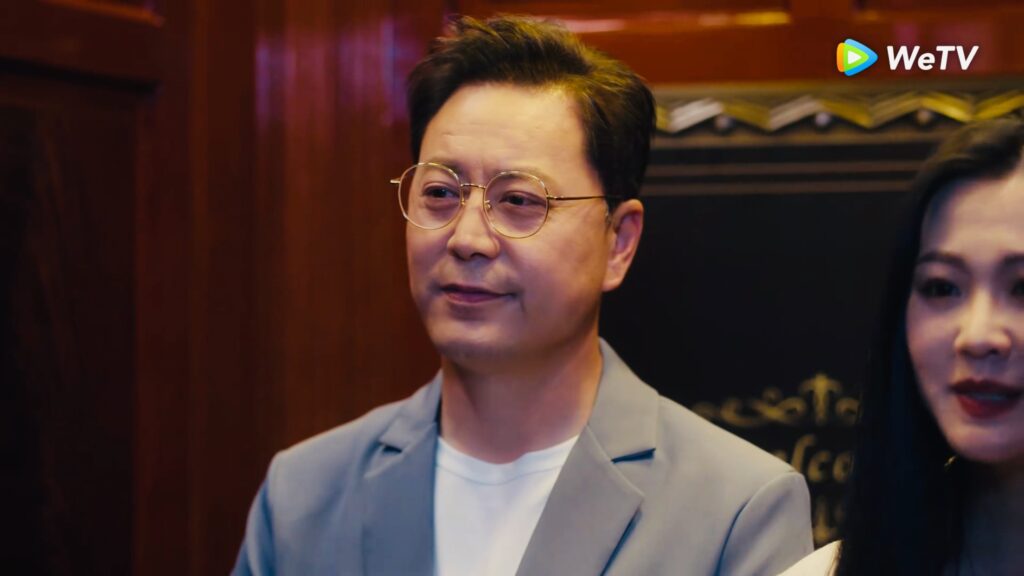 Mr. Ding was the new client of Cheng & Hui Law Firm. He specifically came for Tao Jun Hui. He was a very successful businessman with a flamboyant attitude. Mr. Ding married life was quite complicated since he had been through four divorces. And three of them were handled by Qin Shi. However, Mr. Ding only had one daughter and he loved her very much.
Ding Fang Fang
Ding Fang Fang was Mr. Ding's only daughter. She was a nice and smart girl. She was also good at making money. Ding Fang Fang had a relationship trauma because of her parent's marriage. She did not believe in love until she met her fiancee.
Cao Yi Ren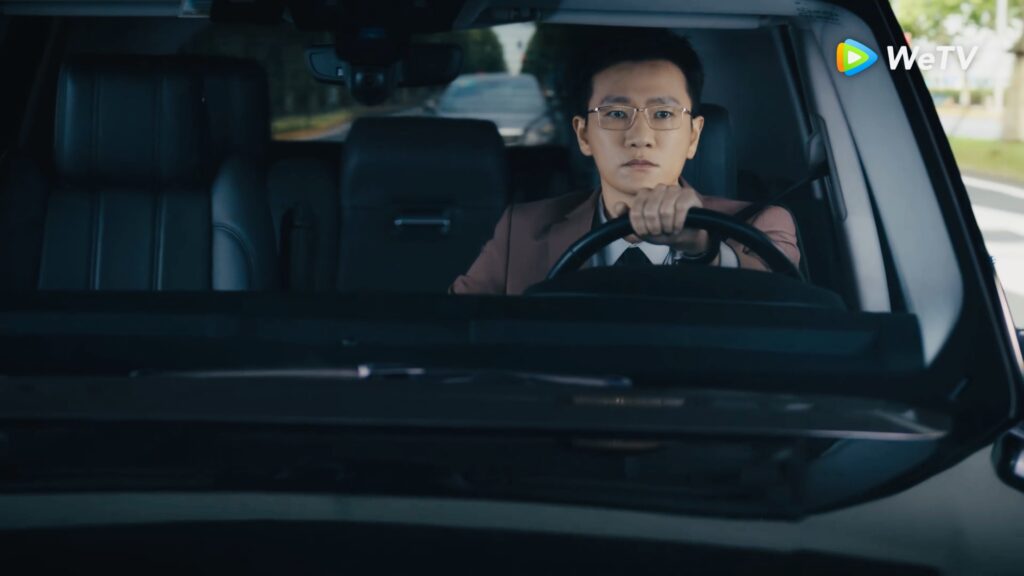 Cao Yi Ren was Ding Fang Fang's fiancee. He was a very successful property businessman. From the outside, he looks good. Nothing wrong could be found in him. He treats Ding Fang Fang well and could be considered a potential husband.
Episode Recap
Episode 21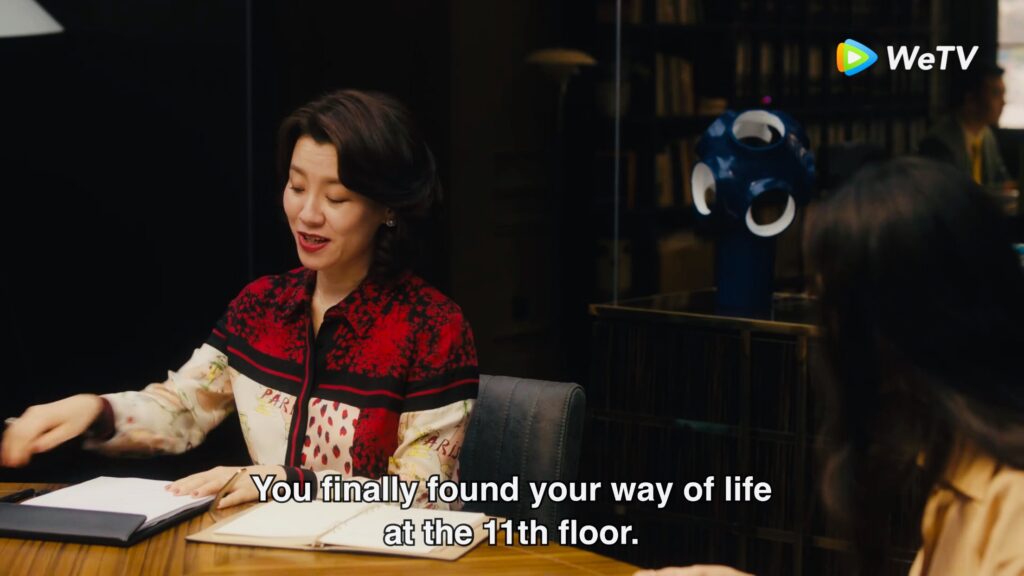 Tang Yi Hui praised Qin Shi that she had found her way of life on the 11th floor. She began to warm up to Qin Shi and invite her to an event, but Qin Shi rejected the invitation. Meanwhile, Qin Shi's demand for a very very very simple wedding frustrated Ren Mei Mei. Qin Shi would not listen to every suggestion, even the simplest ones such as using waterproof mascara on the wedding day. Yet, Qin Shi exclaimed that she would not cry on that day.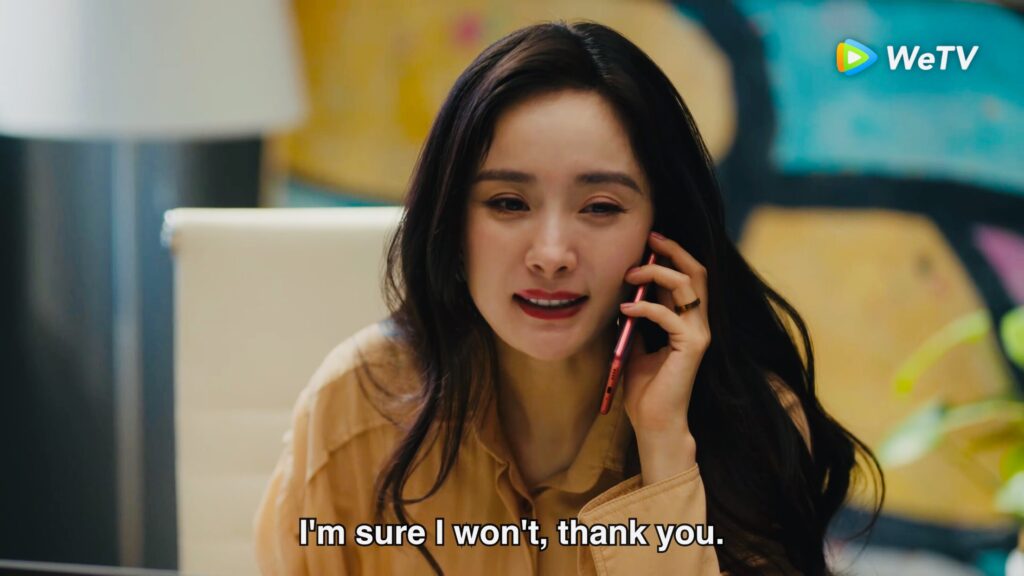 The wedding day finally arrived. Qin Shi entered the wedding hall with Father Qin. She looked dazzling in her white gown and red lipstick. However, she did not look happy. Instead, you could see nervousness written all over her face. In the middle of the aisle, she stopped. Inside her mind, Qin Shi reminded herself that there was no unbreakable promise in this world. And marriage was only one of them.
Many marriages started from a sincere promise but ended up as lies. And ironically, her wedding started from a lie that turned real. The thought weighed Qin Shi's mind and could not force herself to move forward.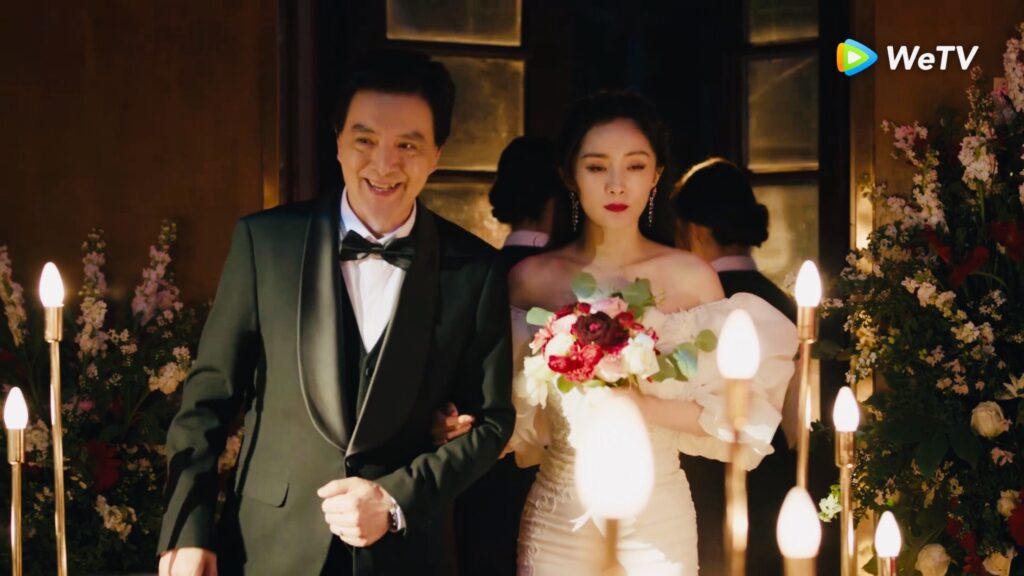 Mother Qin and Father Qin tried to encourage her to keep on walking. Yang Hua saw that Qin Shi was fighting her nervousness so he stepped forward and asked Father Qin to let him take over his job. Father Qin was reluctant to let Qin Shi walk down the aisle without him.
This was his only daughter and he wanted to do his job as a father. But, Lao Qin knew that he could not force Qin Shi. Yang Hua spoke to Qin Shi in a soft voice to calm her down. Then he led Qin Shi to walk down the aisle hand in hand. Yang Hua reassured her that he would be with her and that she had nothing to be afraid of.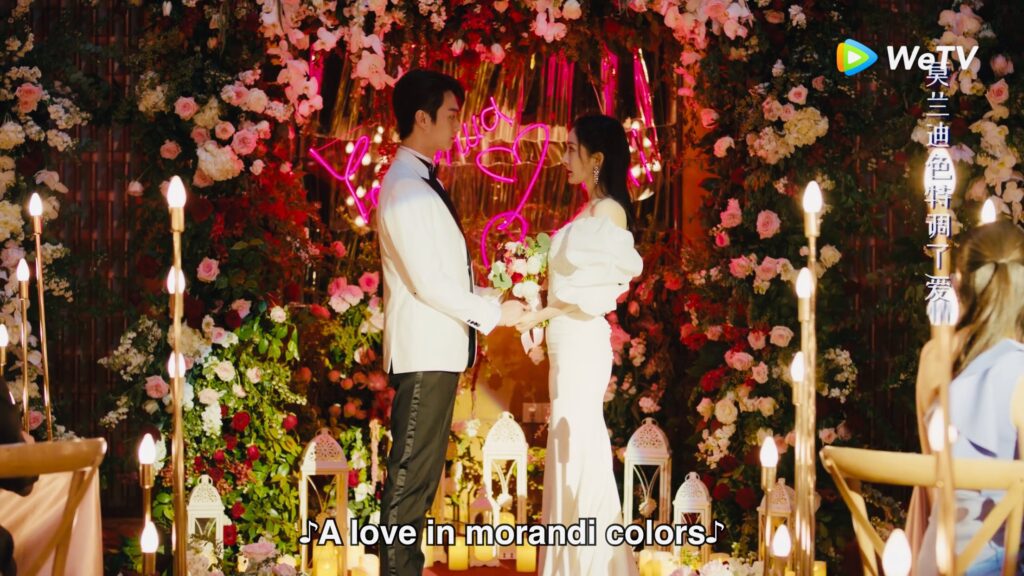 They finished the simple wedding ceremony with a kiss. Qin Shi closed her eyes when it was time for the bride and groom to kiss. Before the kiss, Yang Hua asked her if the kiss would not be considered a breach of contract. His question took Qin Shi back into the world. She opened her eyes and with determination, she kissed him.🥰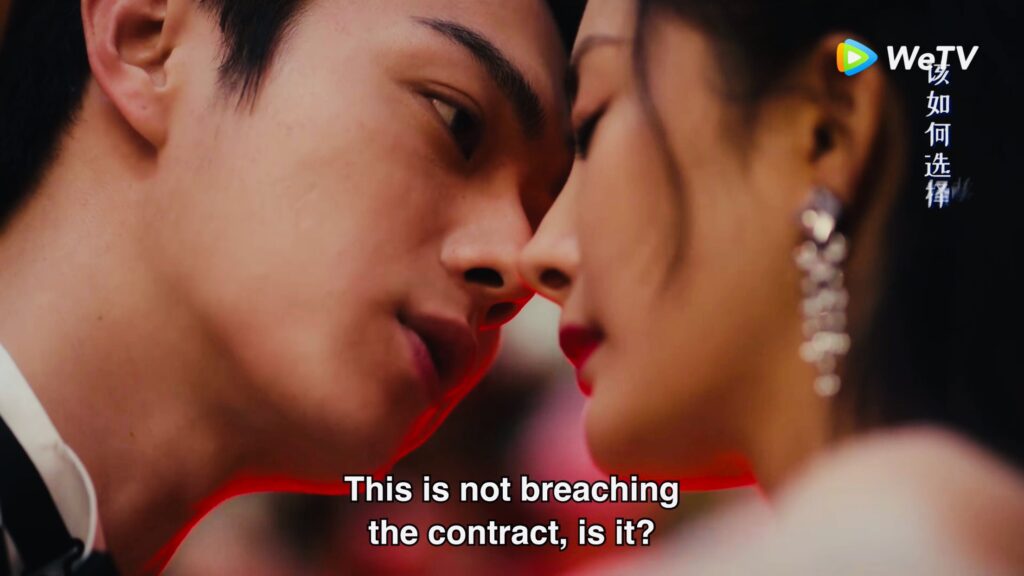 Yang Hua carried the drunk Qin Shi back to their apartment. Qin Shi was drunk enough to spout nonsense, but she still had some consciousness left. She said that their wedding was exciting and she did not cry at all. She told Yang Hua that she knew something more exciting to do on their wedding night. With a naughty look, she stared at Yang Hua.
The next second they sat on the bed and counted the red envelopes…😅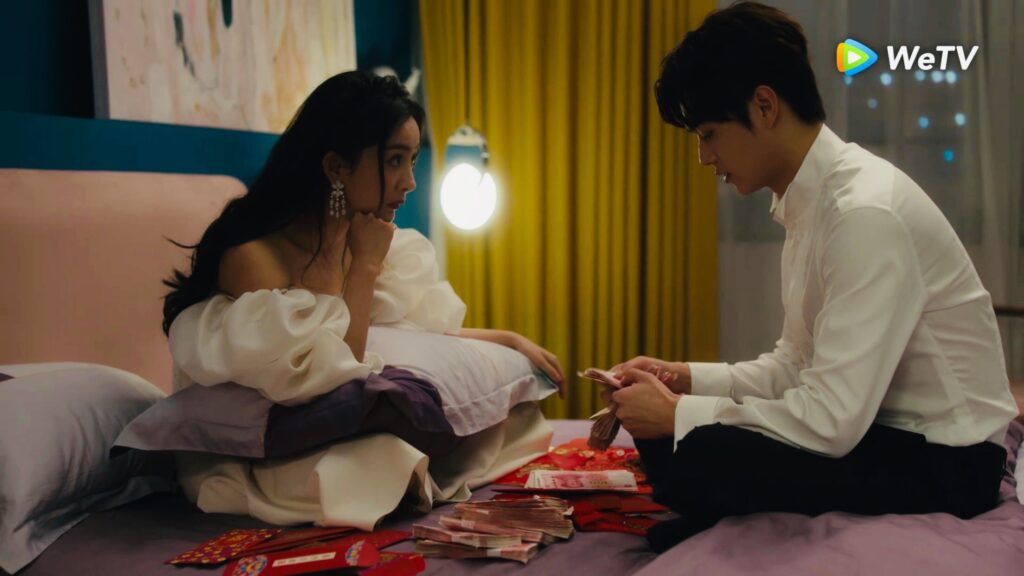 Aaarrgggghh… me and my naughty mind and asked for something waaaayyyy more exciting! 😂
After they settled the money matters, Qin Shi took Yang Hua to see the dowry that her mother prepared for her at the closet. When Qin Shi opened the door, a new bedding set sprang out of it. Qin Shi was bewildered when she saw a red blanket. In Chinese wedding tradition, the color red means love, happiness, prosperity, and fertility.
By giving them the new bedding and the red blanket, Qin Shi's mother hoped that they would have a good marriage and be blessed with children. Qin Shi and Yang Hua were blushing when they saw the dowry. To avoid the awkward situation, Yang Hua rushed to the bathroom. Qin Shi tried to put the bedding back into the Closet and found a letter from Mother Qin.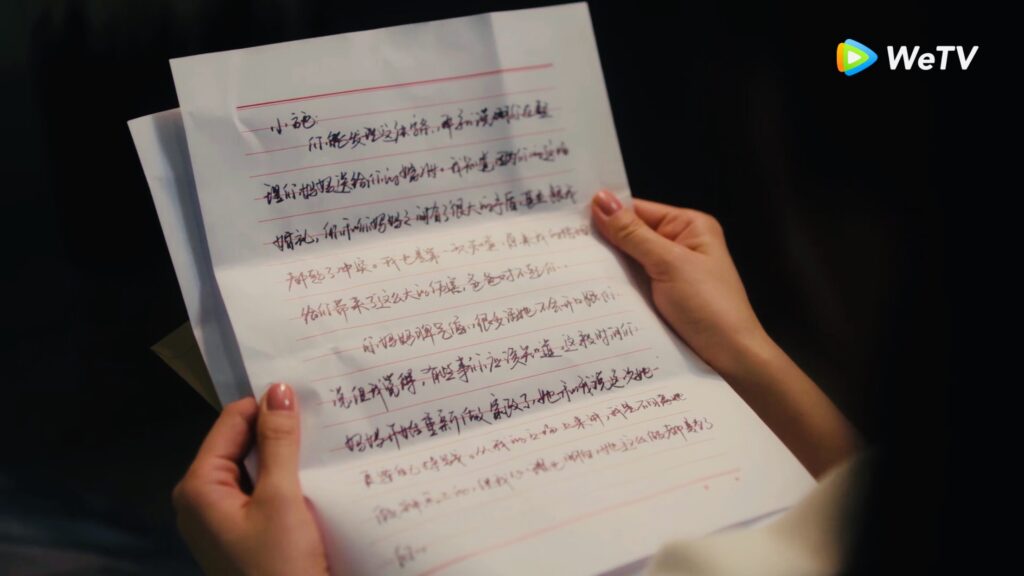 In the letter, Mother Qin expressed her love for Qin Shi. Mother Qin told Qin Shi that she was the luckiest person in the world because she had her. She also mentioned that she realized that her marriage brought many wounds to Qin Shi. She apologized that she and Father Qin did not protect her and only made her suffer. Mother Qin told her that now she worked part-time as a house cleaner to collect some money. She wanted Qin Shi to stop worrying about her.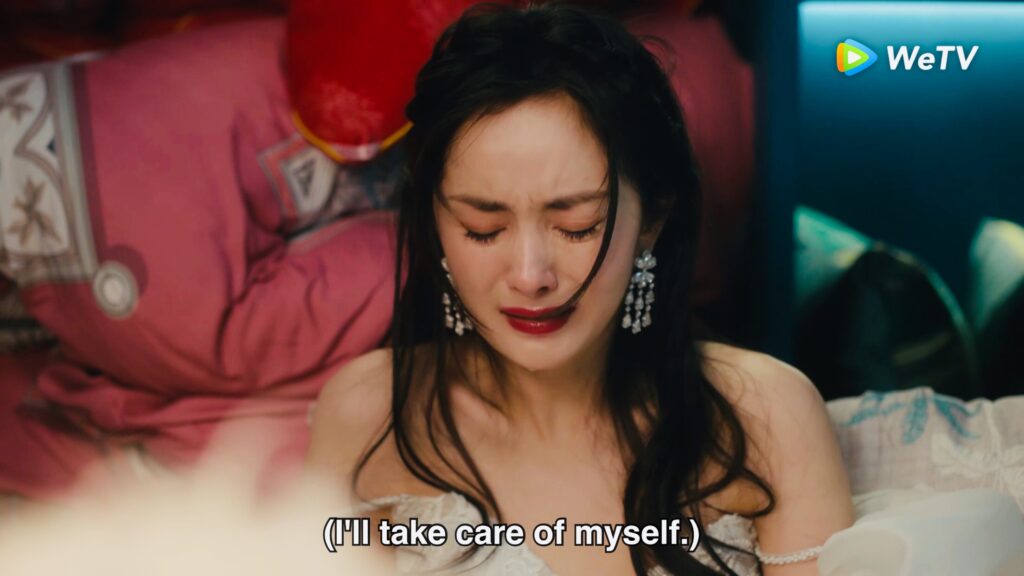 Qin Shi cried over her mother's letter. Her cries startled Yang Hua. He immediately entered her bedroom and found Qin Shi crying on the floor. When Yang Hua read it and understood the problem. He immediately comforted her.
If Ren Mei Mei saw the situation, she would laugh at her because Qin Shi said that she would never cry at her wedding.🤣
The next morning, in a disorganized bedroom. Clothes and red envelopes were strewn everywhere. Under a red blanket, two people slept soundly in each other arms. When a slight of consciousness came, the man moved his body, instinctively kissed the girl, and tightened up his embrace.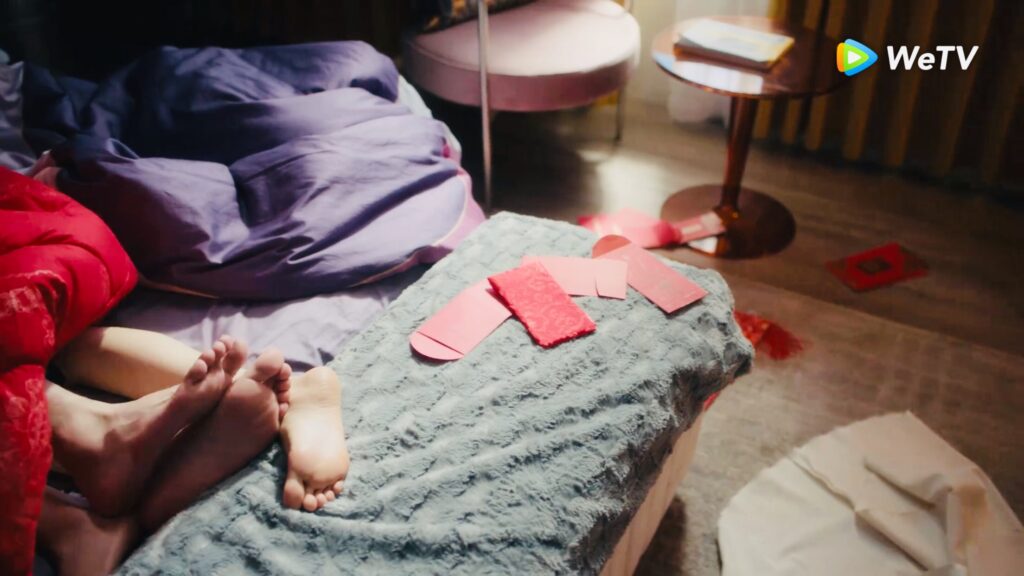 A few seconds later, Yang Hua opened his eyes. A shocked expression was written on his face when he realized Qin Shi was in his arms. The same thing happened to Qin Shi. They stared at each other in a daze. When they realized what had happened, they scooted away from each other.
Yang Hua awkwardly found a reason to run away from the bedroom. Qin Shi stared at the closed door before checking up on her body and covering her face in shame. Yang Hua stood at the door and tried to calm down his heartbeat. He smiled when he found that Qin Shi's makeup left a mark on his white t-shirt.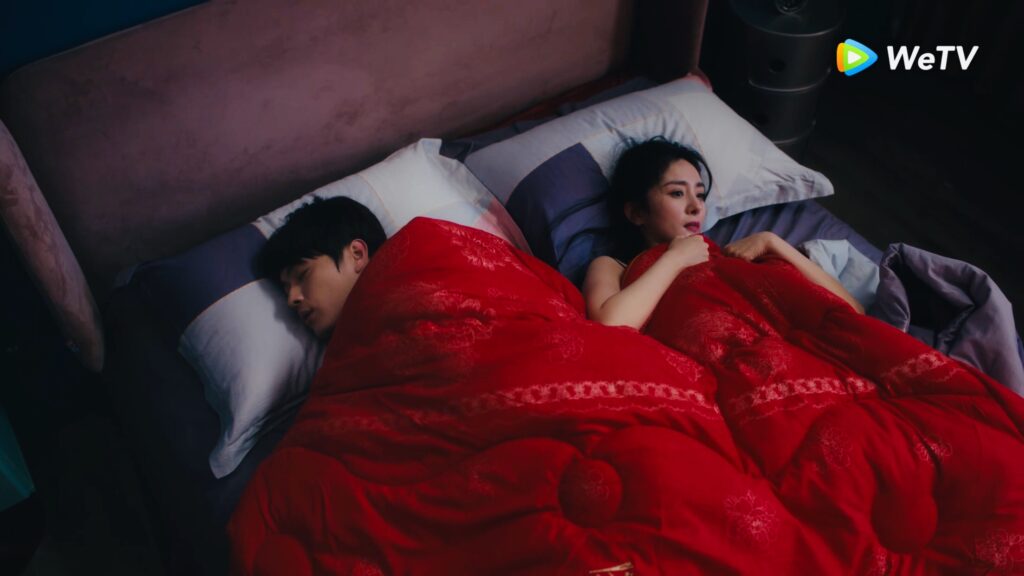 Meanwhile, Father and Mother Qin fought early in the morning. Mother Qin wanted to sell their apartment and moved somewhere else away from Liu Yan but Father Qin did not agree. Father Qin also wanted to stop her from working, but Mother Qin was adamant. Before she left, Mother Qin told Father Qin that she would wait for him at the house agency office. and if he did not show up, she would divorce him.
Qin Shi sipped her morning coffee quietly and watched Yang Hua prepare breakfast. She cleared her throat and tried to talk about last night. Yet, Yang Hua cut her words and said that he would be responsible for everything that happened. He said it in one go but did not forget to steal a glance at her. Qin Shi asked again to confirm that something really did happen between them last night.
Yang Hua stiffened and responded that something did happen last night. He said that he did not know what it meant for Qin Shi, but for him, last night was an important moment. And as a man, he must be honest about his feelings. Then, Yang Hua confessed that he liked Qin Shi and wanted to be her boyfriend. To prove that he was serious, he kissed her.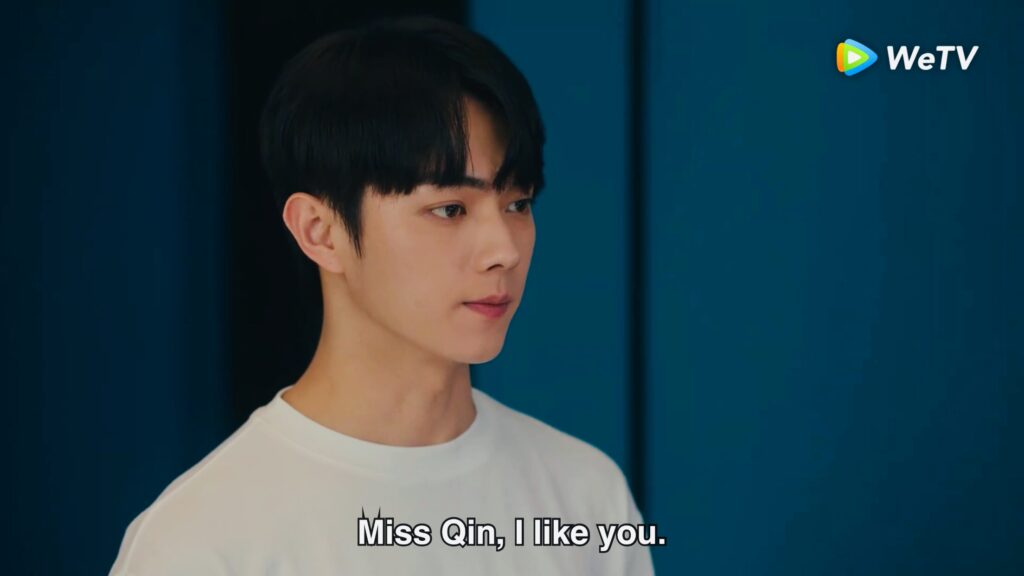 Qin Shi was stunned but she managed to say that she still need to confirm it. Yang Hua smiled. He lifted Qin Shi and sat her down on the countertop to continue their hot kissing scene. The kiss stopped only when their phone rang at the same time. it was Mother Yang and Father Qin who called them.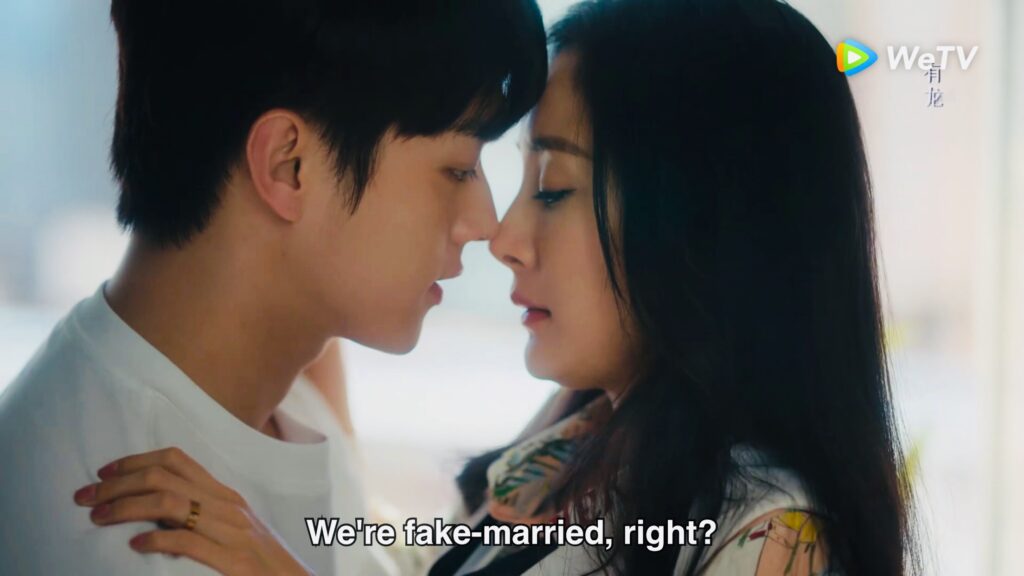 Mother and Father Yang had prepared a table full of nutritious food for him. They also anxiously asked about Yang Hua and Qin Shi's plans for children. Yang Hua answered that they already had an arrangement for it. Qin Shi wanted to have kids as soon as possible because she was not young anymore. They also started consuming supplements to tone up their body.
His answer made Mother and Father Yang happy and relieved. However, they did not know that the answer was premeditated by Qin Shi and Yang Hua. Qin Shi had thought through all the possible questions and prepared all the answers.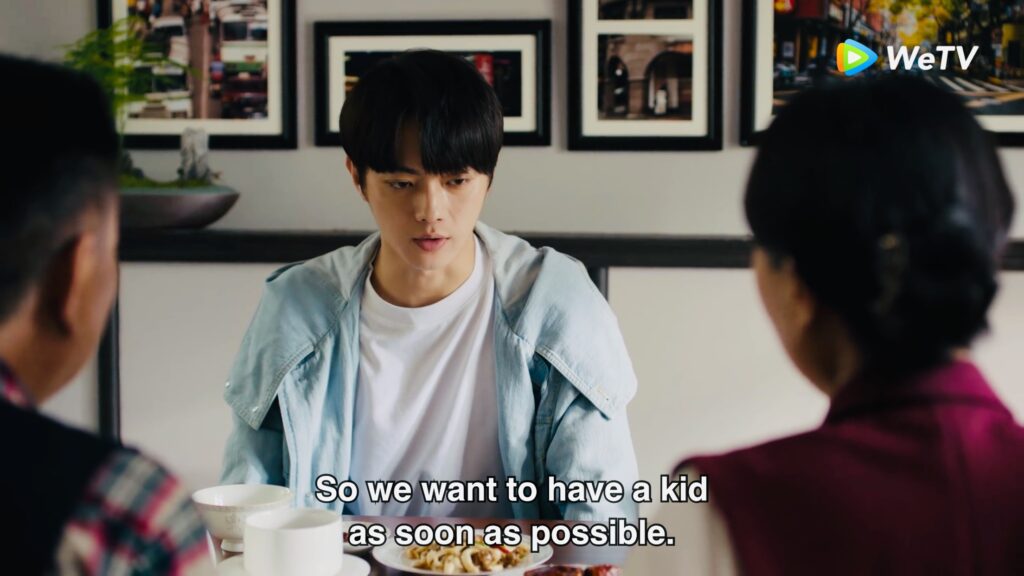 Meanwhile, Qin Shi had a different situation right now. Father Qin told Qin Shi that he could not sell their apartment because the apartment belonged to Liu Yan. Back then when Lao Qin and Liu Yan divorced, Lao Qin could not find a place to stay. As an ex-wife, Liu Yan could not bear to let him be homeless and let Lao Qin stay at the apartment.
During his stay, Lao Qin managed to save some money to buy a house. But a friend of Lao Qin borrowed the money because he wanted to open a business. Therefore, Lao Qin became an investor. But then his friend ran away with the money and also left a huge debt in a bank. Lao Qin had to pay the debt.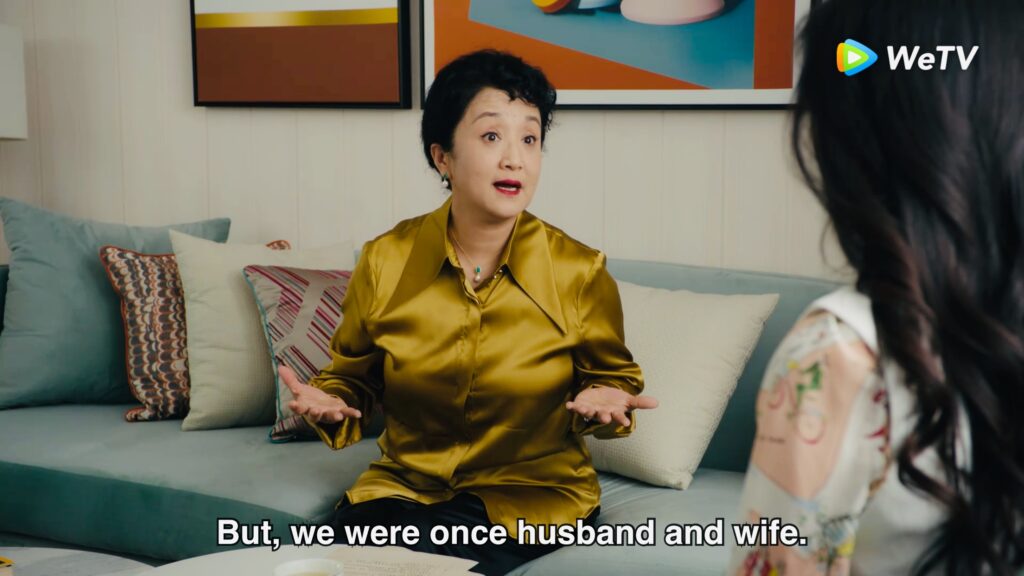 Thankfully, the debt was paid off when Qin Shi was in high school. But the story did not end. Lao Qin still could not buy a house because the bank refused to give him a housing loan. When Qin Shi broke up with Tao Jun Hui, Lao Qin used his saving and borrowed money to pay for her apartment. And the money was also borrowed from Liu Yan. And when Qin Wenbin's daughter desperately wanted to go abroad, he also borrowed money from Liu Yan. After years of painstaking efforts to pay off the debt, Lao Qin still has some debt to pay.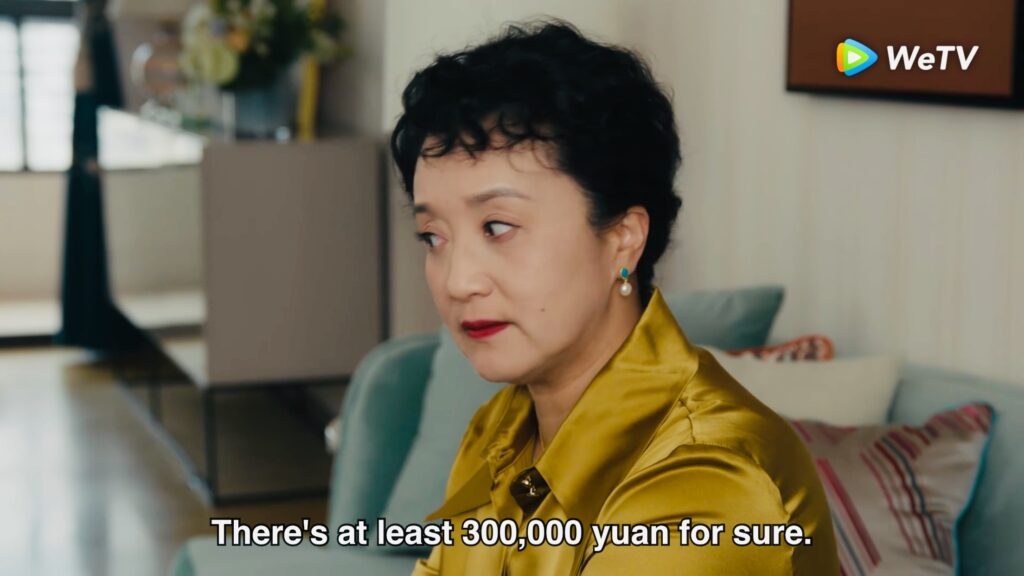 Qin Shi persuaded her father to tell Mother Qin about the situation. Father Qin was reluctant because he was afraid Mother Qin would be worried. But in the end, Mother Qin learned the truth. She was shocked but she was not angry with him. Mother Qin even had a way out for them. All this time she managed to save some money. She gave it to Qin Shi to pay the debt, although the money was still not enough. Qin Shi promised that she would add the money so they could pay off the debt.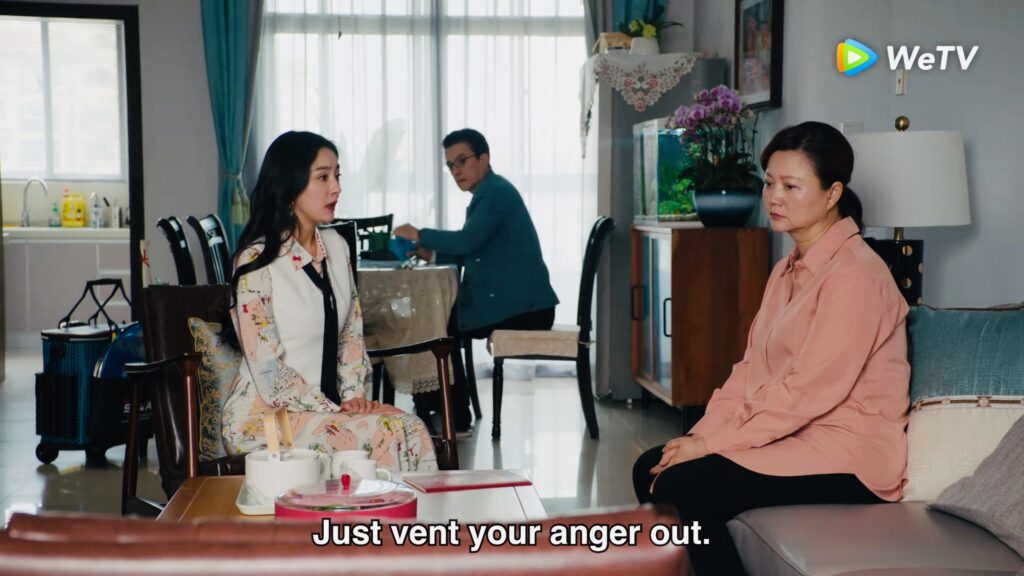 Mother Qin explained that she could not be angry at Father Qin because he borrowed the money for the sake of their family. She also knew that the reason why he did not tell her about the debt was that he was worried about her. Back then, Lao Qin promised Qin Shi's grandfather that he would treat Hu Xiao Mei well.
However, even though the debt matter was settled, Mother Qin Still wanted to move from the apartment. Mother Qin refused to stay at the apartment because now she knew that they lived in Liu Yan's apartment. When Yang Hua called Qin Shi, he could hear Father and Mother Qin fighting about the house.
Somewhere out there, another couple was house hunting for their marital home. Wu Fei wanted a big house of 258 square meters (around 2700 square ft). The house had a good design and good location. However, Tao Jun Hui disagreed with her choice because they could not afford the house. Although Wu Fei's father was willing to pay for the house, Tao Jun Hui wanted to rely on himself.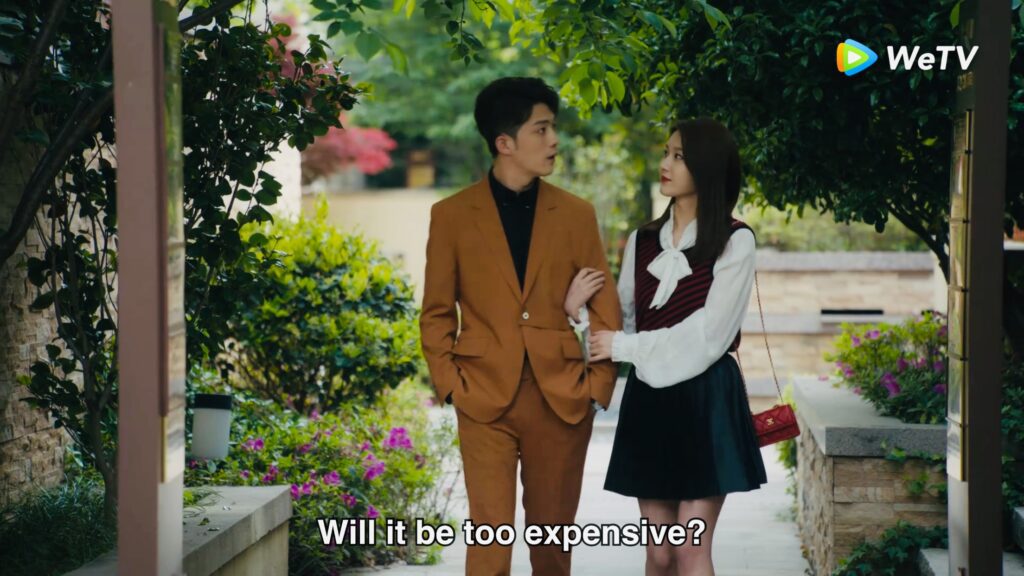 Qin Shi was distraught on their way home. She lamented about how her family could not act like any other normal family. They had to have a big fight over a trivial matter. Yang Hua asked for her solution. Qin Shi answered that she would take her mother's side over this matter.
She would give her apartment to her parents and rent another house for her. If she worked hard for two years, she would earn enough money for a downpayment. Yet, Mother Qin did not agree with her solution. Yang Hua thought about it and told Qin Shi to postpone her plan because now he wanted to find a job.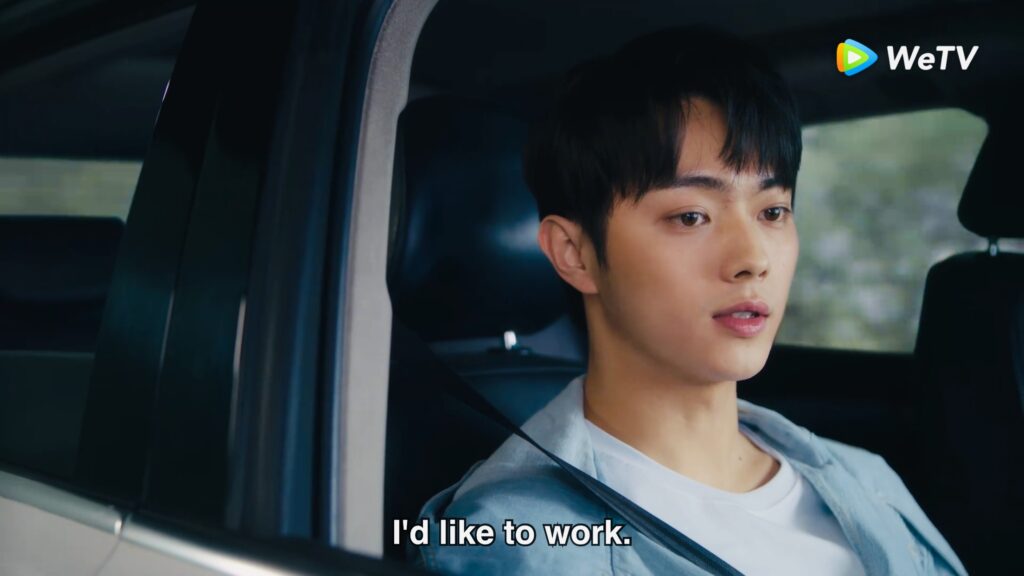 Qin Shi questioned his words because Yang Hua used to refuse to work a normal job. Yang Hua answered that a jobless man could not apply for a housing loan. He wanted to buy a house for both of them, so Qin Shi could give her apartment to Mother Qin. In less than a year he could do it, so they did not have to rent a house.
Qin Shi explained that the house matter was her family's problem. Yang Hua did not have to worry about that. Much less changed his principle for her. Yang Hua said that his principle was to make his loved one happy, and he would never change his principle. Those words touched Qin Shi's heart. She thought that it was the most romantic word that she ever heard.
Wu Fei told Tao Jun Hui that her father would introduce a big client to him. If he could take care of him, he would be a long term client and might become his gold mine. The next morning, a man named Ding came to the 11th Floor to find Tao Jun Hui. It turned out Mr. Ding used to be Qin Shi's client when she worked in another law firm.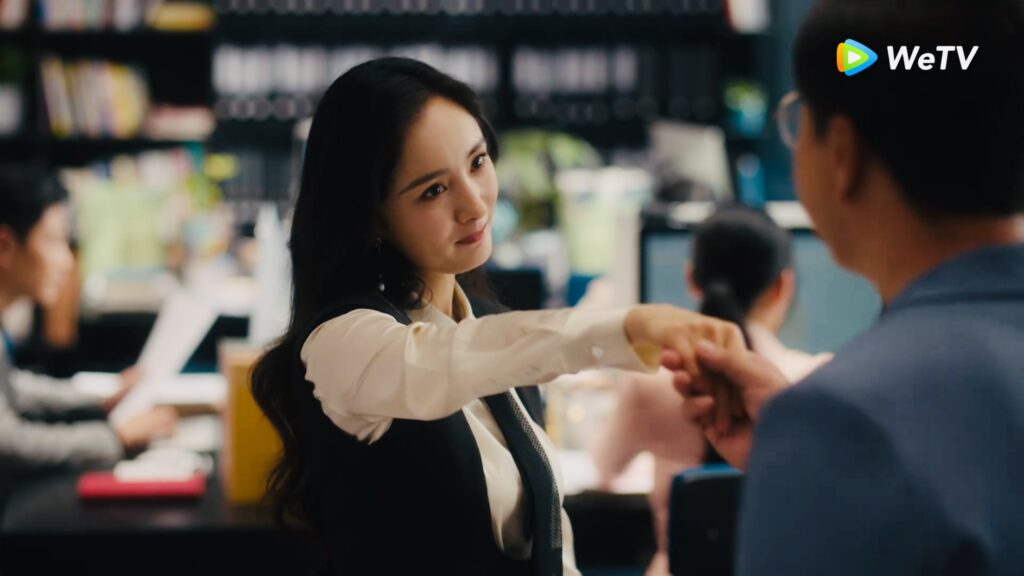 Qin Shi joined Tao Jun Hui to meet Mr. Ding. She teased him about whether he would have another divorce. Mr. Ding blamed Qin Shi for his situation. He said that if she did not refuse to marry him, he would not have four divorces. Qin Shi laugh it off while Tao Jun Hui saw them teasing each other with an unease feeling.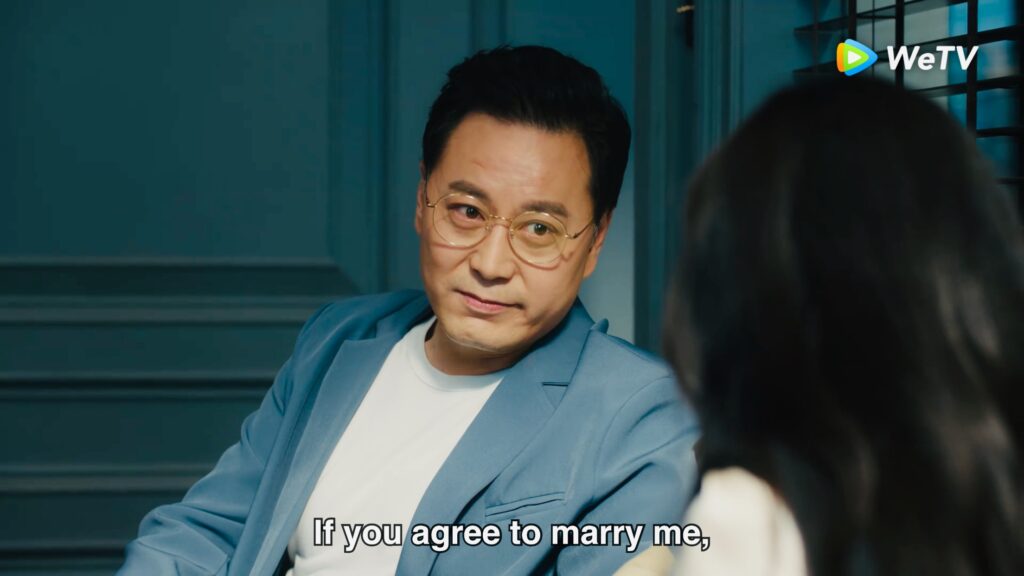 Episode 22
Qin Shi joined Tao Jun Hui and Mr. Ding in Tao Jun Hui's office. She was there because she knew when that it was a good opportunity for her. Tao Jun Hui also needed her help because Mr. Ding's case was a family case. And Qin Shi had the experience.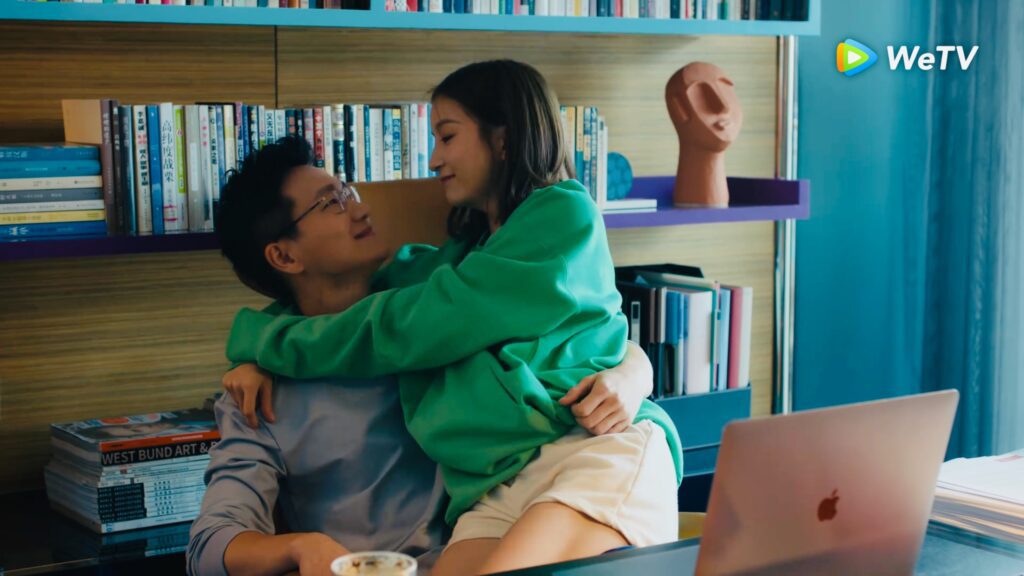 Mr. Ding wanted Tao Jun Hui to write a prenuptial agreement for his daughter Ding Fang Fang. In two weeks, Ding Fang Fang would be married to a man named Cao Yi Ren. As a good father with plenty of experience regarding marriage, Mr. Ding wanted Cao Yi Ren to sign the agreement before they got married. However, both his daughter and fiancee refused the idea. Mr. Ding asked Tao Jun Hui and Qin Shi to help him with that.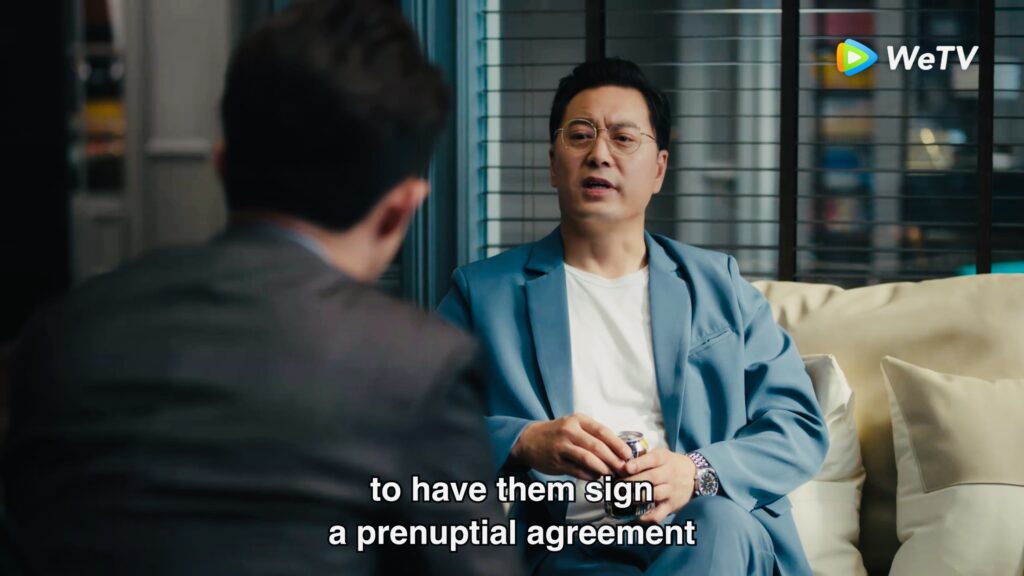 Tao Jun Hui agreed to let Qin Shi join him and handle the case. However, Wu Fei disagreed. After all, it was her father who brought Mr. Ding to Tao Jun Hui. She wanted Tao Jun Hui to exclude Qin Shi from the case. Yet, Tao Jun Hui had a good reason to keep Qin Shi on the team. First of all, Qin Shi knew Mr. Ding and his daughter better than him. She also handled three of the four divorces of Mr. Ding. Therefore, Mr. Ding and Ding Fang Fang trusted her. Wu Fei forced Tao Jun Hui to accept that she would also join the team.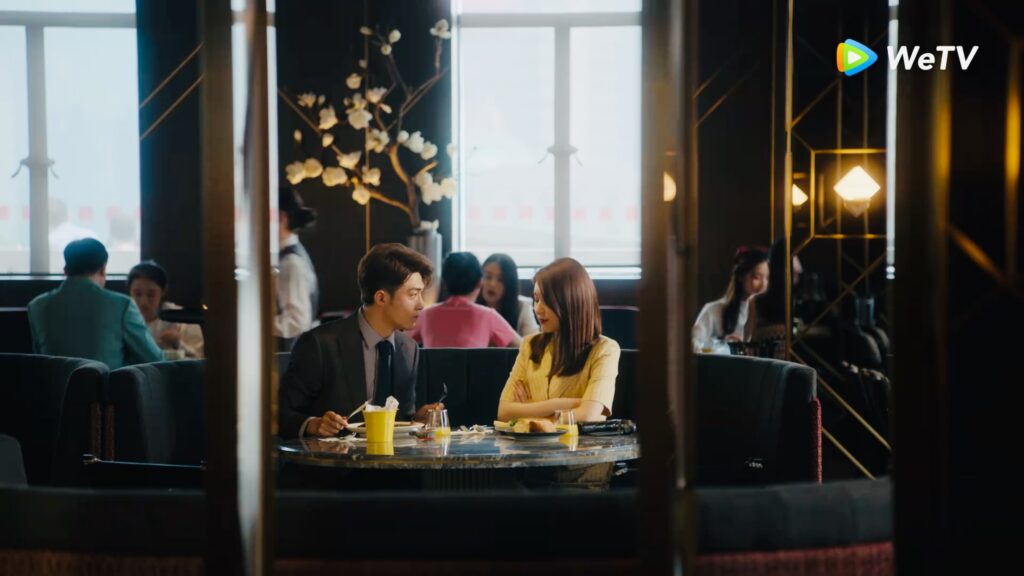 It was an awkward situation in the meeting room. Tao Jun Hui sat in the middle while his fiancee was on his left and his ex-fiancee on his right. But Tao Jun Hui did not seem to be bothered by it. Qin Shi also acts indifferently. The only one who fumed with anger was Wu Fei. Qin Shi questioned whether Tang Yi Hui would mind if three lawyers joined in a single case of a prenuptial agreement.
With a mocking smile, Wu Fei said that Tang Yi Hui would never mind because she was the one who brought the client. However, Tao Jun Hui said that Qin Shi was in a dire need of a case, hence Wu Fei did not mind if Qin Shi joined the team. When Qin Shi decided on an arrangement, Wu Fei disagreed because just like she said, Tao Jun Hui was the leader of the case. Yet she was the one who made the arrangement.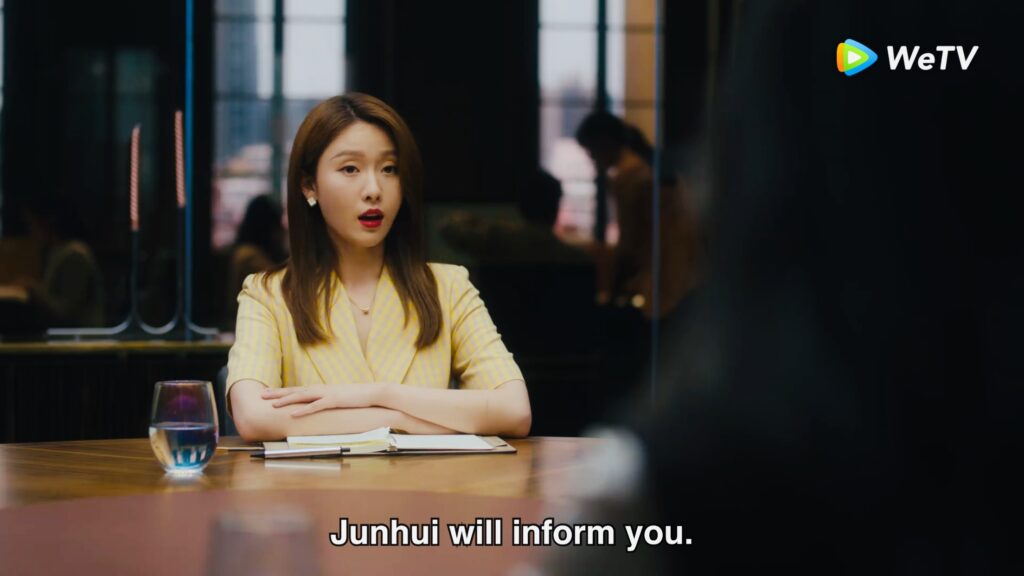 Arrogantly, Wu Fei announced that she and Tao Jun Hui would have a dinner appointment with Ding Fang Fang and her fiancee, so Qin Shi should be a bystander in this case. Qin Shi put an indifferent expression and accepted the arrangement before she left the room. But after she returned to her office, she called Ding Fang Fang. And with a little threat (Ding Fang Fang used to ask her to accompany her to a concert behind her father's back), Qin Shi managed to secure a coffee date with Ding Fang Fang.
Meanwhile, Yang Hua went to Cloud Commercial Bank for an interview. The interview did not run smoothly because he said to the interviewer that he did not like to socialize with others. Cai Liang scolded Yang Hua harshly for being too frank in the interview. Yang Hua pretended to be resigned, but he knew that although Cai Liang scolded him, he would eventually help him to get the job.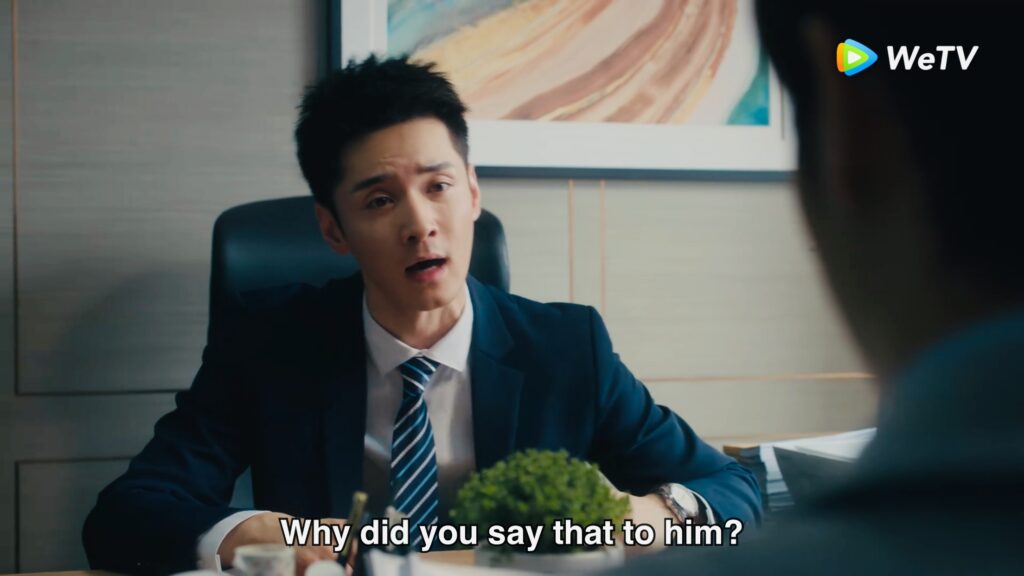 Oh boy!!.. This guy was cunning. Just look at how Yang Hua side-eyed Cai Liang. And that sly smile on his lips!!! Yang Hua, you are naughty!😂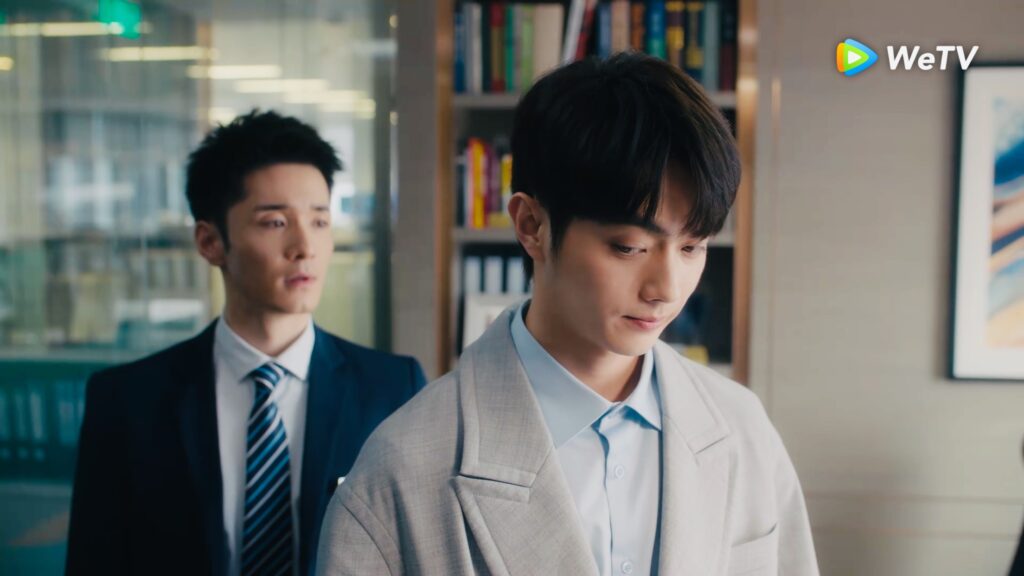 And he was right. Cai Liang had a vacant position for him as a financial advisor, a position under his sales department. Cai Liang believed in Yang Hua's capability. He only had one condition for him: to keep his temper checked. Yang Hua should not be harsh to clients or challenge their intelligence. Yang Hua agreed to the condition. Therefore, he started to work in his cubicle. Yang Hua called several people that day. One of them was Mr. Xu Kai. 🤣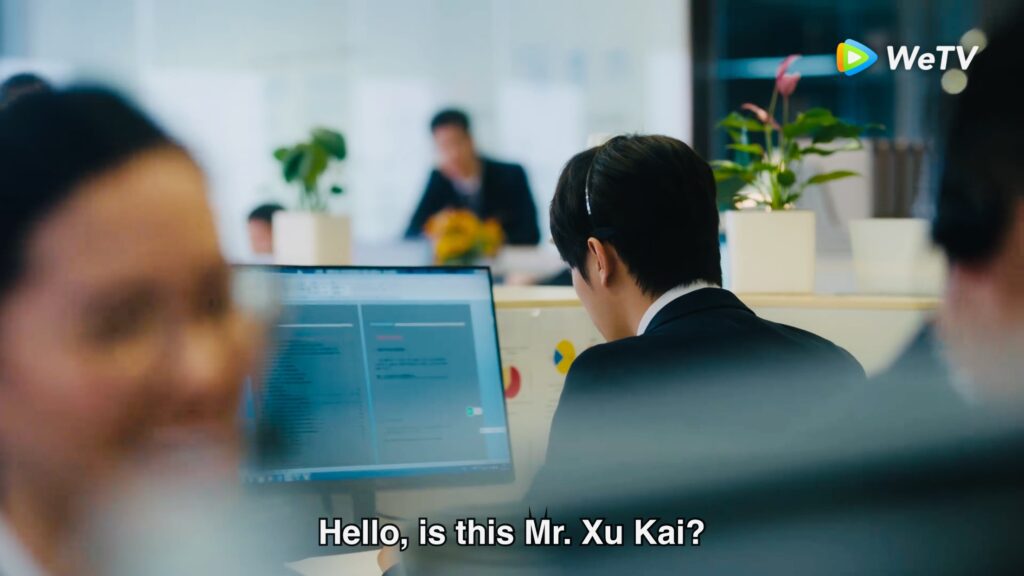 Cai Liang was proud of his friend and to share his happiness, he took a picture of Yang Hua working and sent it to The Yangs. Mother and Father Yang were elated. They were amazed because Qin Shi was able to change their son only after two months. Yang Hua was willing to find a job and even wanted to buy a house. Before he met Qin Shi, Yang Hua said to his mother that he wanted to live in that house forever and even died there.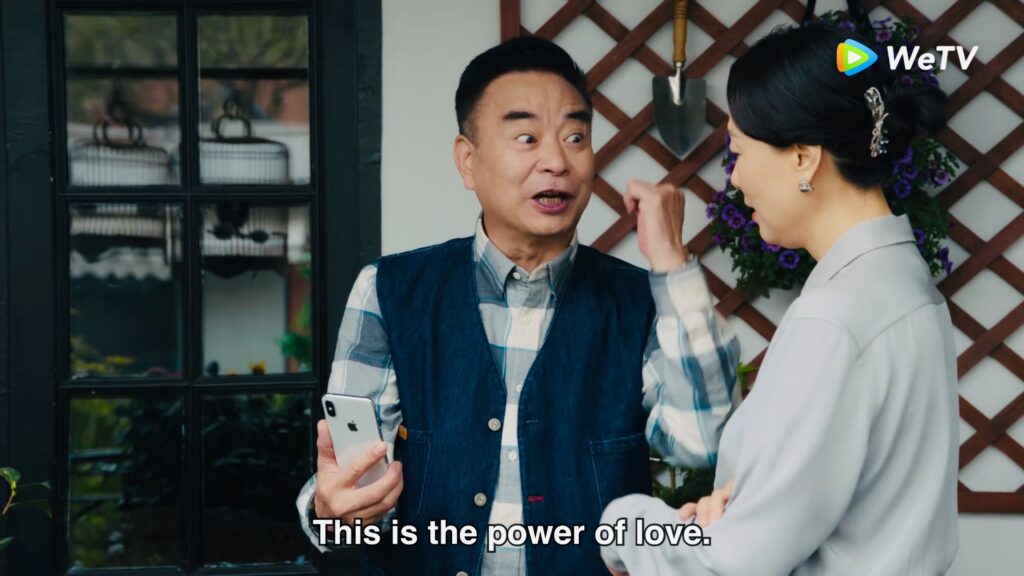 Gang Zi went to Cheng & Hui's office after he gathered information about Cao Yi Ren and Ding Fang Fang. Cao Yi Ren was older by ten years than Ding Fang Fang. He was an elite who graduated from a prestigious university in Canada and used to work on Wall Street. Wu Fei's eyes widened when she read that Cao Yi Ren was a divorcee.
Qin Shi and Ding Fang Fang sat at a coffee shop. She listened to Ding Fang Fang's explanation about her fiancee, Cao Yi Ren. He was a divorcee with a daughter. According to Ding Fang Fang, Cao Yi Ren used to work very hard and in the end, he neglected his family. When he realized and regretted the situation, his wife already had another man.
However, because of it, Cao Yi Ren becomes more attentive toward Ding Fang Fang. And in her eyes, it was a good point. Yet, Ding Fang Fang said that in her father's eyes, every man who approached her was eyeing her money. In reality, Ding Fang Fang did not have much confidence in herself. She said that there was nothing on her that worth to be loved except her money.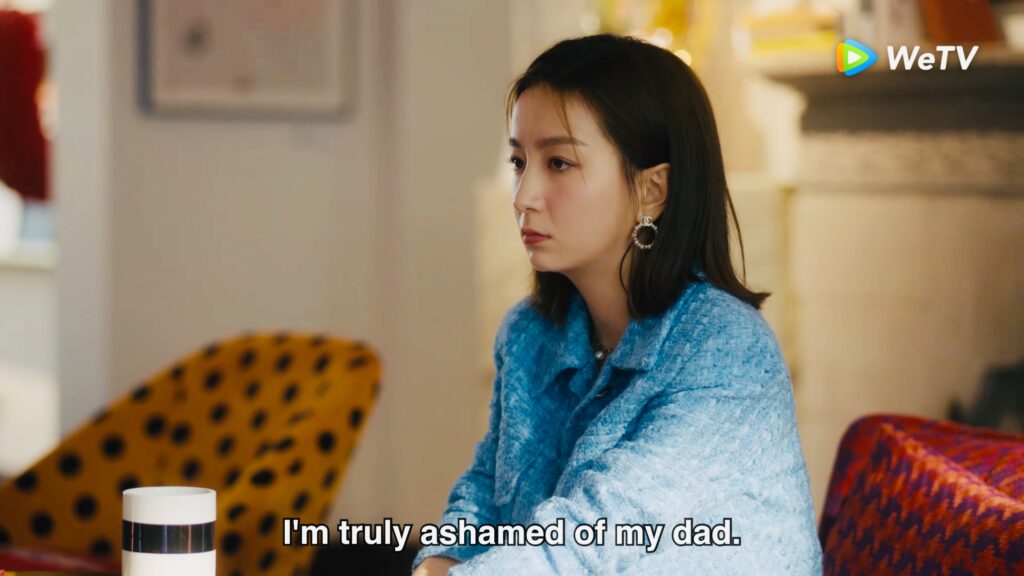 Gang Zi recounted his information about Cao Yi Ren. After he divorced his wife, Cao Yi Ren gave all their assets to his wife and also gave up a highly paid job and worked as a property agent. Six months later, he developed an online property business. Right now, his business was growing and Cao Yi Ren did not need Ding's family money.
Ding Fang Fang was angry with her father because she thought that her father treated Cao Yi Ren unfairly. Qin Shi calmed her down and told Ding Fang Fang about her analysis. According to Qin Shi, Ding Fang Fang and her father lacked communication. She also explained that Mr. Ding suffered mental trauma from women who only chased after his money. Yet, Ding Fang Fang said that her father was the wrong one. He betrayed her mother and had many affairs.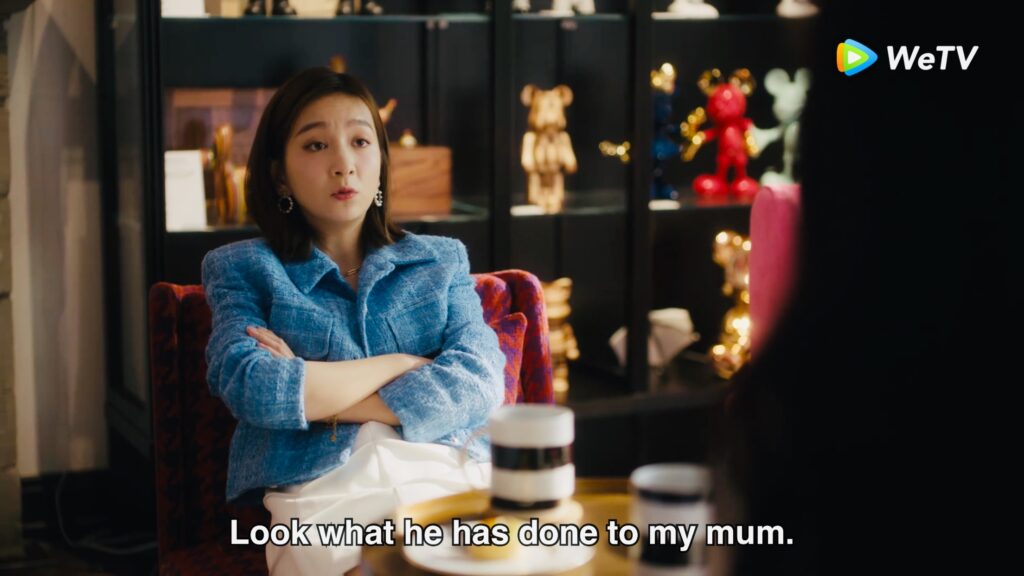 Luckily her mother came to her senses and divorced him. Ding Fang Fang witnessed her parents' marriage destroyed, hence, she did not have any expectations toward marriage. She did not have any interest in men because of it. Those conditions made Ding Fang Fang questioned herself and even almost made an appointment with an expert. It happened that she met Cao Yi Ren. He was not like any other man and treated her kindly. Ding Fang Fang felt lucky because Cao Yi Ren chose her.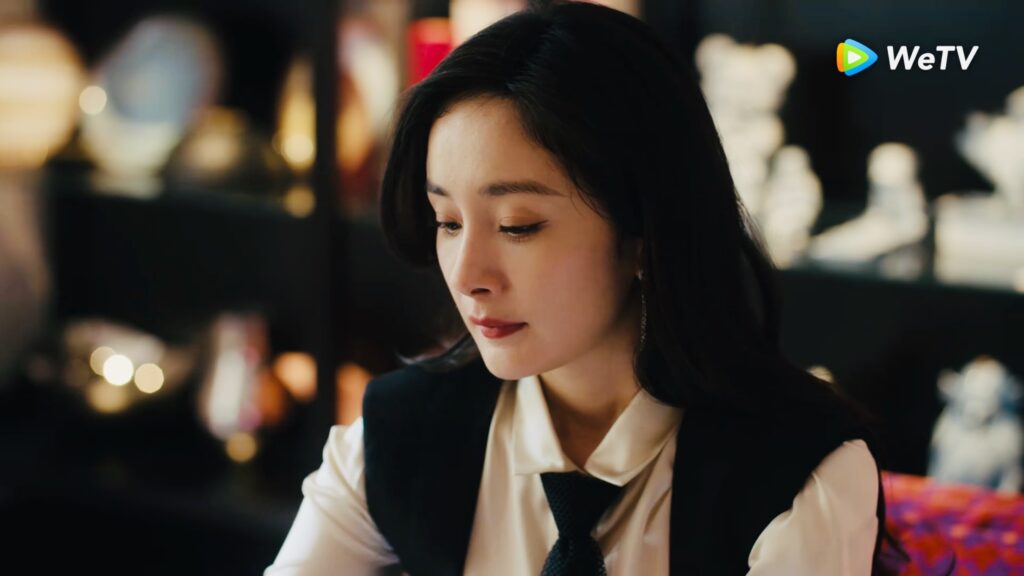 Something in her words felt familiar to Qin Shi. She also saw how complicated her parents' marriage was.
Qin Shi gave Ding Fang Fang a piece of advice. She said that if Ding Fang Fang trusted their love and Cao Yi ren's personality, she could ask Cao Yi Ren to speak to Mr. Ding as a businessman to another businessman. Qin Shi believed that if Mr. Ding and Cao Yi Ren could speak in the same language, they could find a win-win solution for Ding Fang Fang's matter.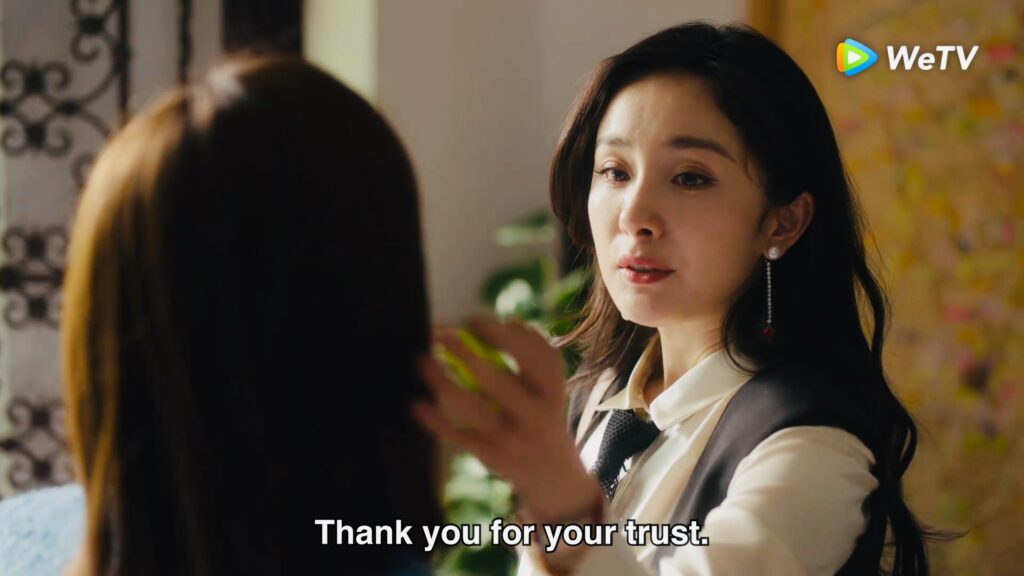 Meanwhile, at the bank, Cai Liang and Yang Hua were having lunch. Yang Hua did not realize that his handsome face attracted many female employees, including the prettiest one (according to Cai Liang's preference, well of course in my eyes, Qin Shi was better than her 😆). Cai Liang suggested Yang Hua make friends with their fellow employees. But to avoid socialization trouble, Yang Hua spoke to him in a loud voice which everybody could hear, that he was a married man who did not need any socialization.
Cai Liang regretted his suggestion right away. When Qin Shi called Yang Hua and asked him to have lunch together, Yang Hua immediately agreed and lied that he had not had his lunch. He gave his lunch to Cai Liang and ran to find Qin Shi.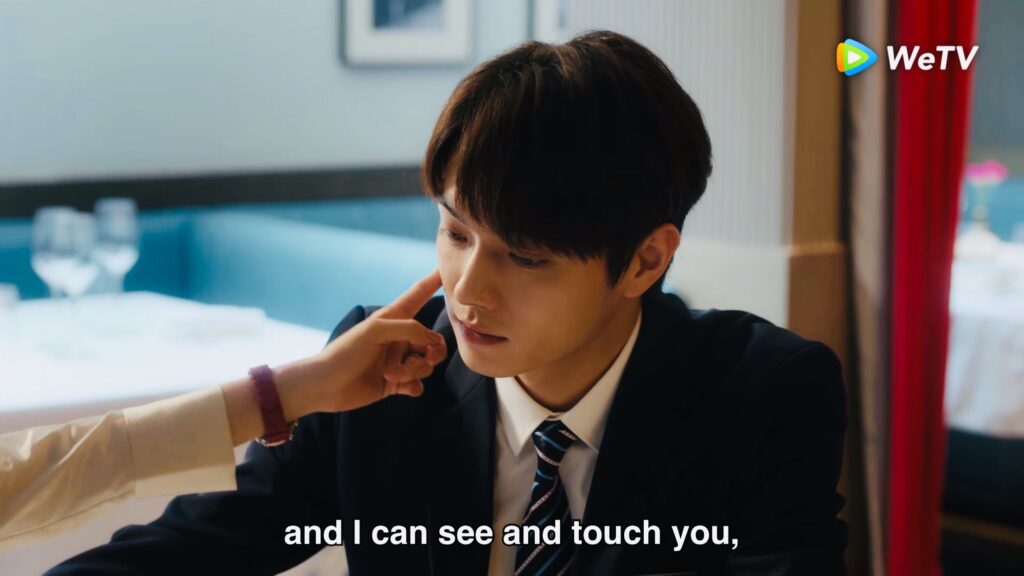 Qin Shi asked Yang Hua if he could use the economic point of view to evaluate true love. A pure love without the influence of money. Yang Hua said that in the real world, every decision including in a love relationship were based on assumption to a certain extent. Because even though you did not have any financial expectations toward your loved one at the moment, you still wanted him/her to have a promising future. And that kind of consideration was a survival instinct of every living being. He also said that if it was called true love, it still needed justification.
After a glimpse of Cao Yi Ren and Ding Fang Fang's prenuptial agreement draft from Mr. Ding, Wu Fei concluded that Cao Yi Ren was too perfect for Ding Fang Fang. Wu Fei believed that Ding Fang Fang was just like what she always said about herself: her only positive trait was her family's wealth. Meanwhile, Cao Yi Ren was superior in every aspect and the most important thing was he did not have any of Ding's family money. Wu Fei believed that Ding Fang Fang and Cao Yi Ren's love was true love.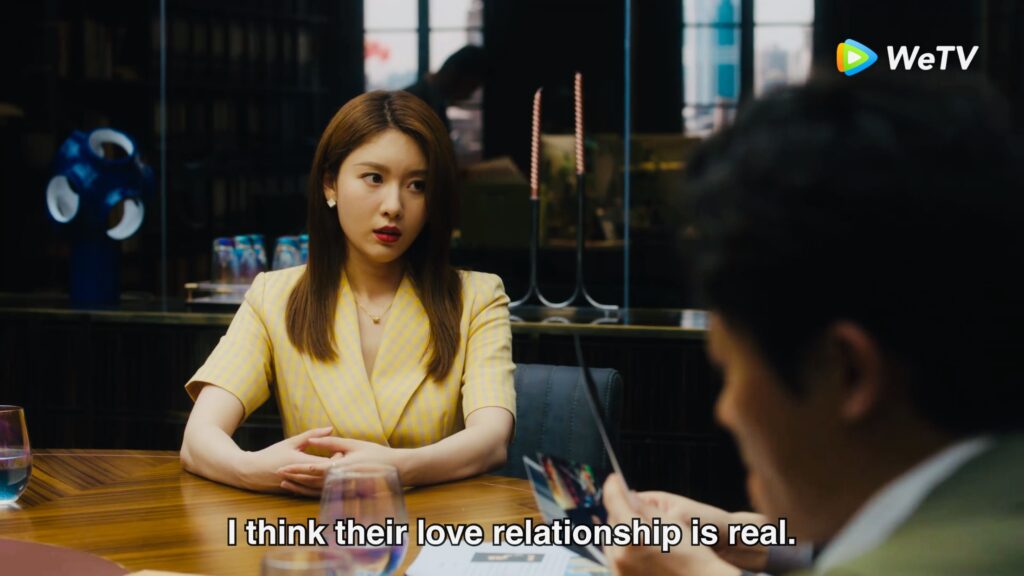 Qin Shi who just arrived rebuked her words. She stated that they were lawyers and not priests. They should not bother whether their love was true love or not. Prenuptial agreements existed to protect assets and not feelings.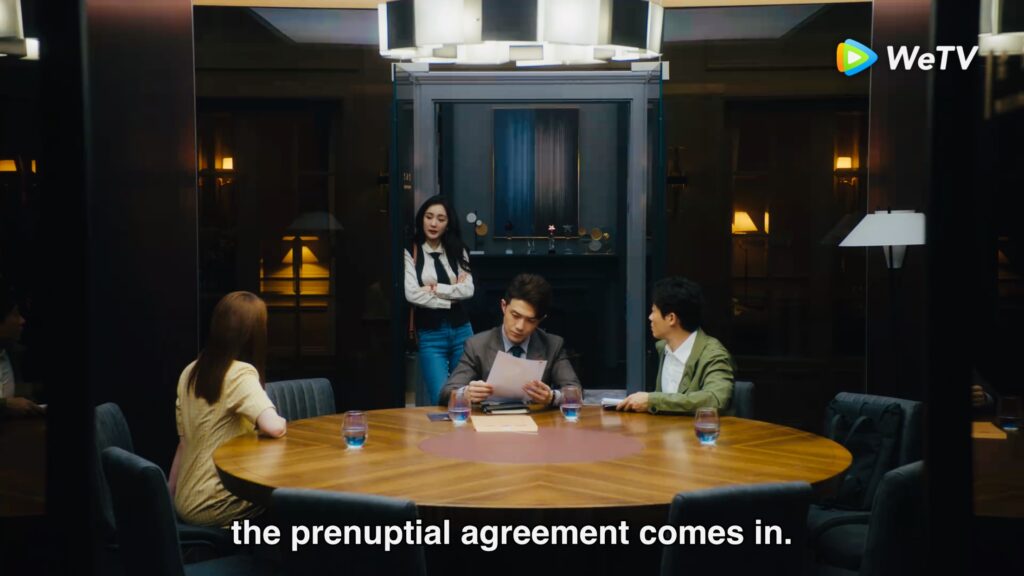 What they had to do was to make Cao Yi Ren sign the prenuptial agreement as soon as possible. She even teased Tao Jun Hui and Wu Fei by asking whether they had signed their prenuptial agreement. Qin Shi's question irked Wu Fei and she chased Qin Shi out. But Qin Shi refused to relent.
Rather than leave the room, she entered and sat in an empty chair between Tao Jun Hui and Wu Fei. Tao Jun Hui decided that he would write the agreement and if Ding Fang Fang wanted to negotiate about it, they could discuss it. Qin Shi asked what would they do if the negotiatons failed. Tao Jun Hui answered that they could not succeed in every task. She refuted his words.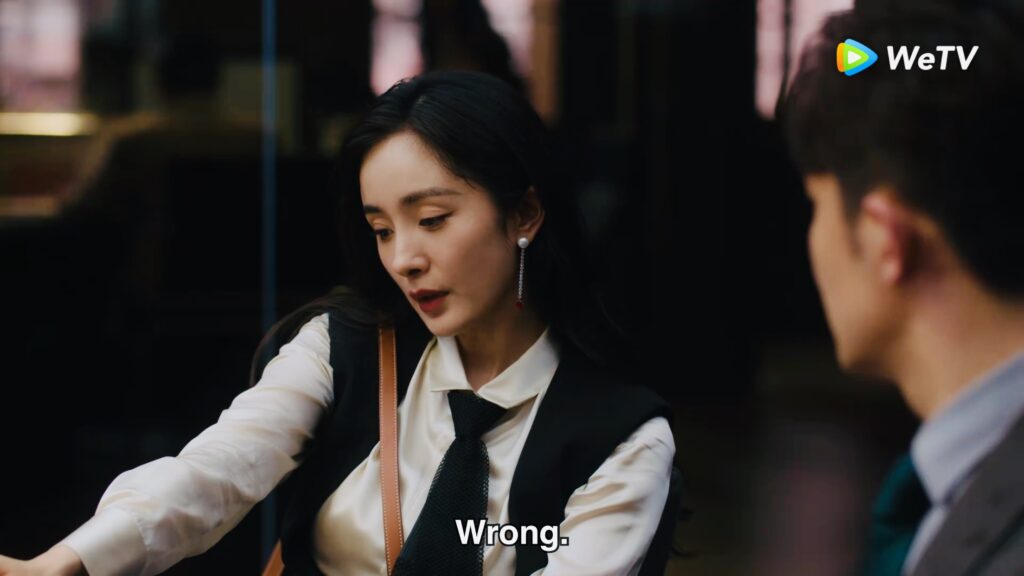 Qin Shi said they could not accept every case, but if they do, they should accomplish it. Because a lawyer was not someone who dressed up nicely and do simple jobs like picking up a call or typing. She did not address her statement, but she stared at Wu Fei and smiled. Wu Fei felt offended, hit the table, and left the room.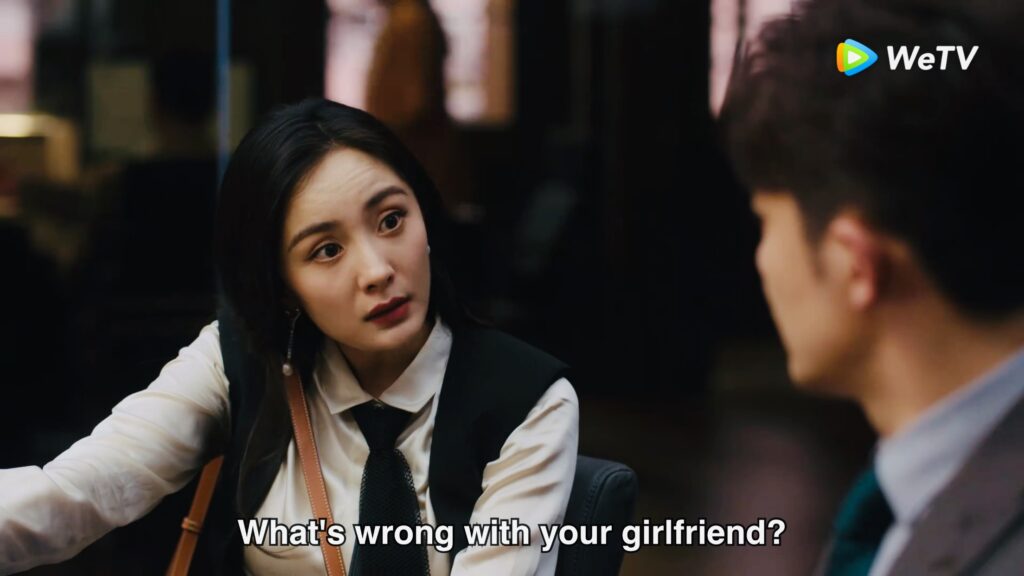 The angry Wu Fei entered her office and vent her anger on the books. The legal assistants who saw it gossiped about her. They managed to find out information about Tao Jun Hui and Qin Shi's relationship back at the university.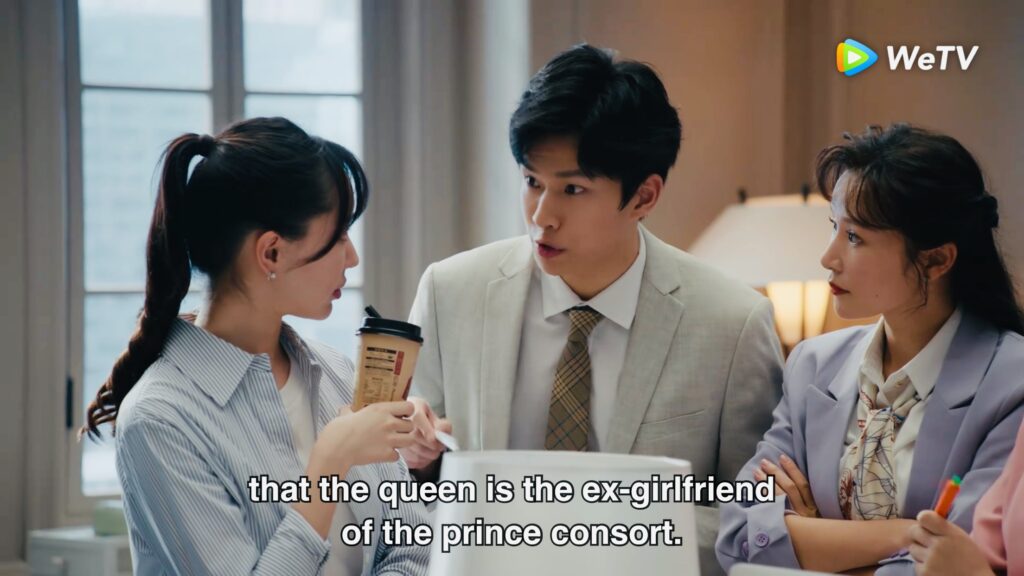 Wu Fei was personally attacked by Qin Shi's words about the prenuptial agreement because her father gave her a prenuptial agreement for Tao Jun Hui. But she was reluctant to give it or him.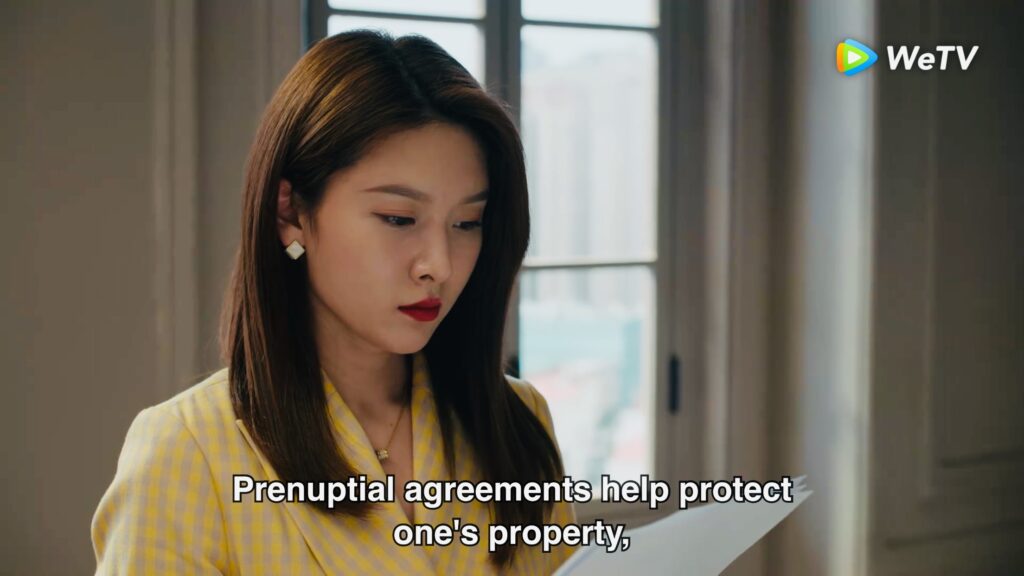 Qin Shi waited for Gang Zi and offered him a lucrative collaboration. Gang Zi accepted the offer.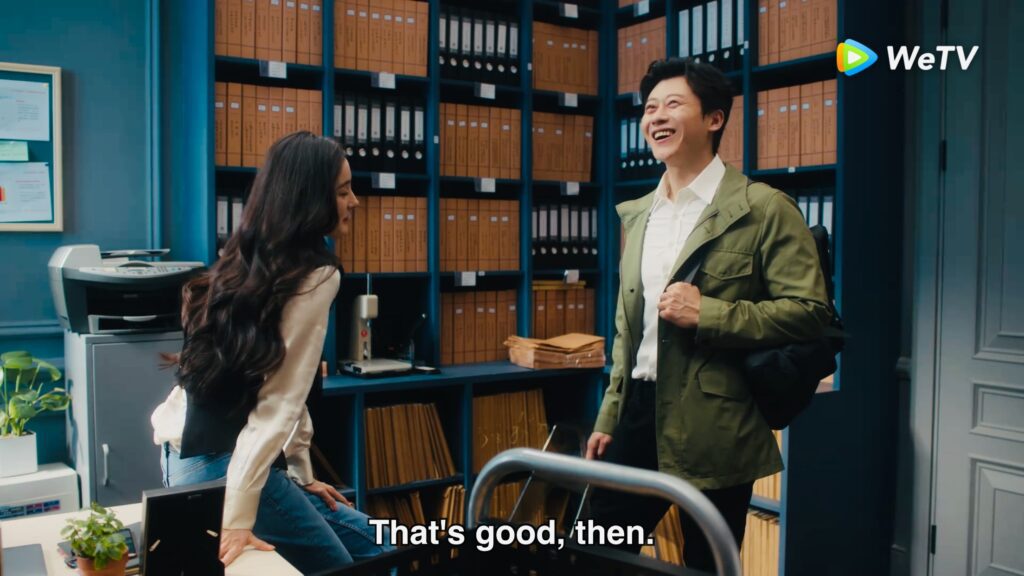 Cai Liang reprimanded Yang Hua because somebody reported that Yang Hua has tripped a girl at work. Of course, it was a lie because the girl tripped by herself to get his attention. But Yang Hua did not even care about her. But in the end, after a series of arguments, it was Cai Liang who lost the war.
Tao Jun Hui walked to Qin Shi's room and saw her with a book in her hand. He took some time to stare at her. With a mischievous smile, Tao Jun Hui surprised her and made Qin Shi fell straight atop the boxes. Qin Shi was embarrassed and mumbled many words incomprehensibly. Tao Jun Hui asked her to help him draft the agreement and Qin Shi accepted the request happily.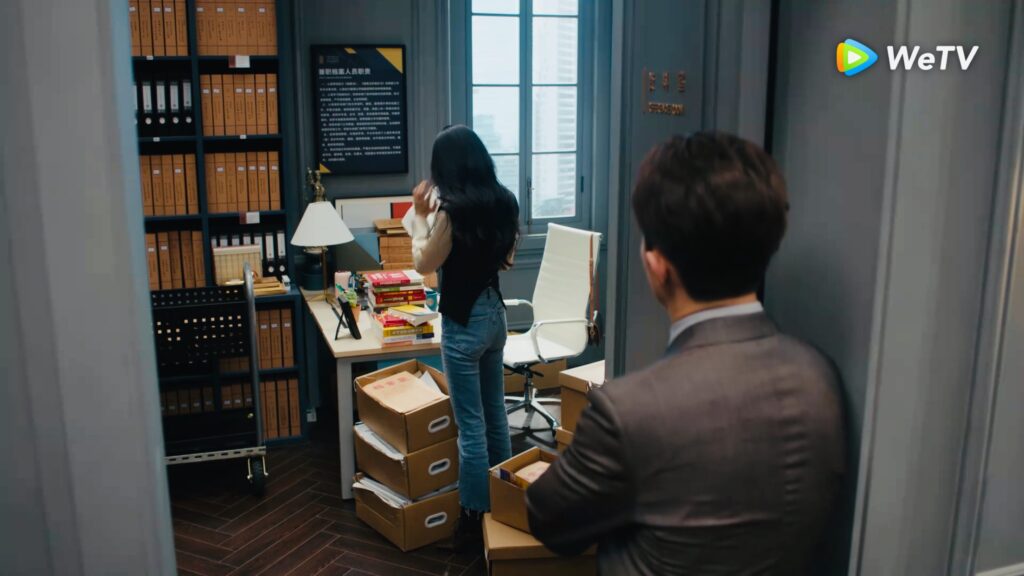 Meanwhile, the poor Cai Liang and his colleagues started to find Yang Hua's anti-social and strict manners annoying.😅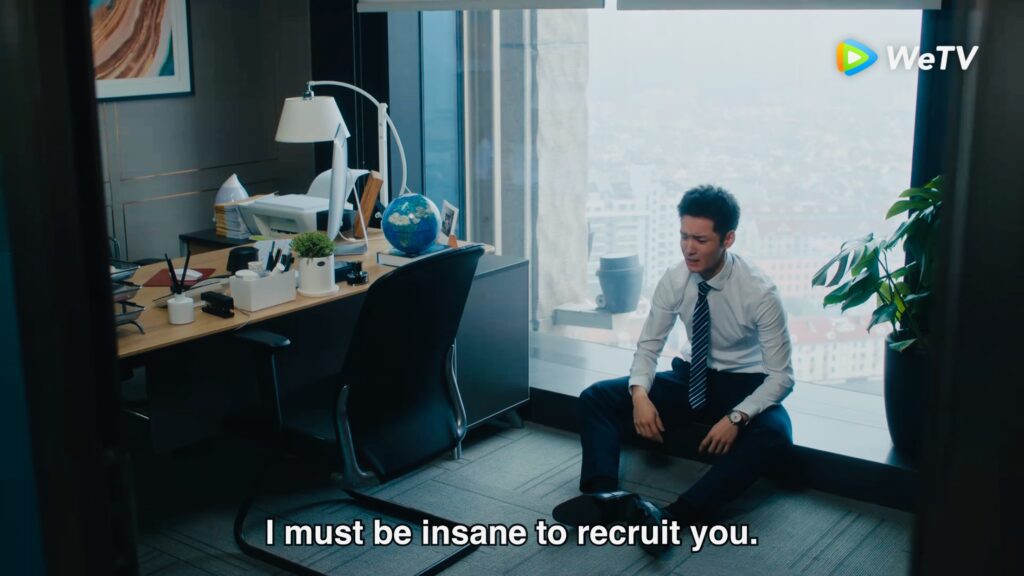 Mother Qin visited the apartment to deliver some food. She was amazed at how tidy it was. Yang Hua panicked because of the visit and sent Qin Shi messages. Qin Shi who was at Tao Jun Hui's office at the moment told him to eat her mother's food because she did not like picky eaters. Tao Jun Hui frowned when he saw her smile at her phone.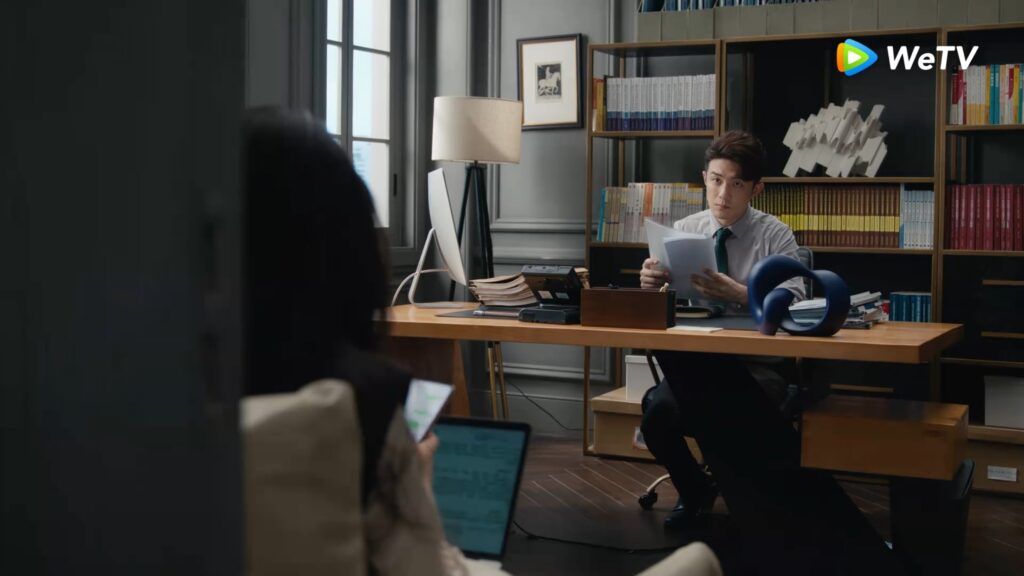 My Two Cents
The wedding scene was only so-so to me… I was more interested in the after-wedding scene..😁