Title: Love Like The Galaxy
Also Known As: 星汉灿烂, Xing Han Can Lan, The Stars Are Brilliant , Splendid Stars
Part 1: 星汉灿烂 / Xing Han Can Lan
Part 2: 月升沧海 / Yue Sheng Cang Hai
Director: Fei Zhen Xiang
Screenwriter: Zou Yue
Genres: Romance, Historical, Mystery, Political
Country: China
Year: 2022
Original Network: Tencent
Where to Watch: WeTV
List of Recap:
Part 1
Part 2
Hola!! Another Love Like The Galaxy episode recap is right here, now is episode 10-12.  This time our dear Shao Shang must face the consequences of her mischievous deeds, and we will see a glimpse of General Ling's worried face. But before we start, let me introduce you to new characters in these episodes. Let's get started, readers!
New Characters Appearance
Fu Deng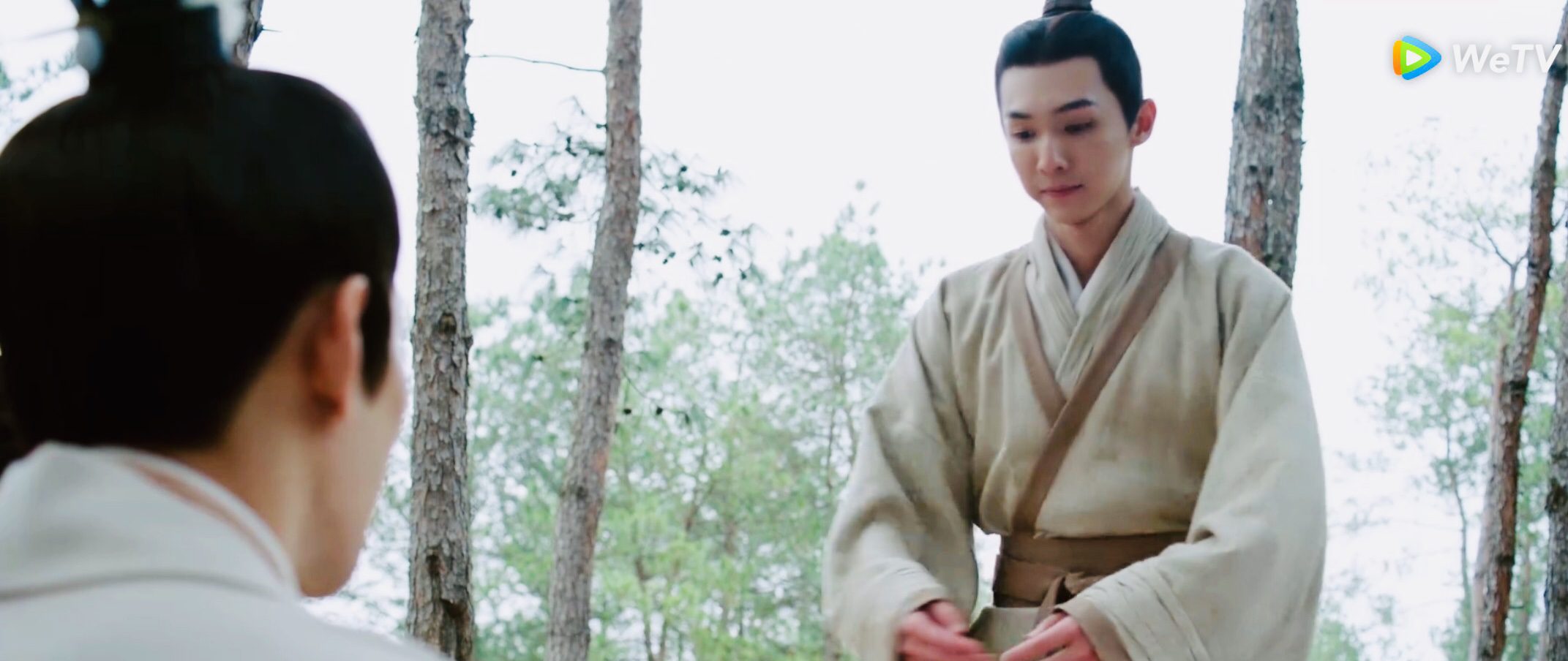 Fu Deng is the servant of Cheng family. He was a good servant and loyal to them. Fu Deng was the one who picked Shao Shang up when she lived at the country house. He also the one alongside Lian Fang to report Shao Shang's bad condition to Father Cheng back in episode 1. He falls in love with Lian Fang and often teased by Shao Shang about it.
Huang Fu Yi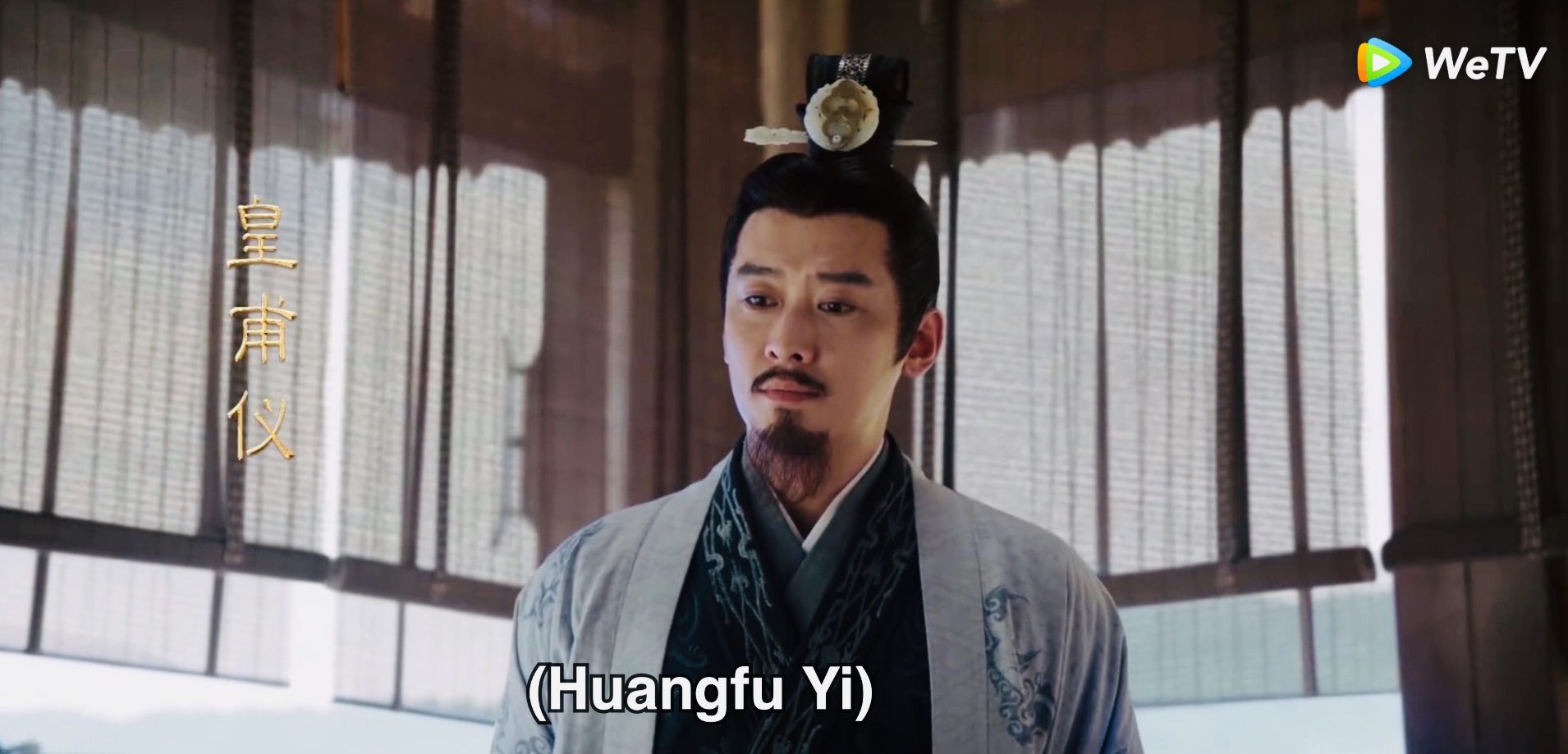 Huang Fu Yi is the master of Mount Bailu Academy. As the master of Yuan Shen Jia, his ability was second to none. But unfortunately, his health was not good, therefore he didn't participate much in the court. Huang Fu Yi still keep his feeling for his former fiancée, Sang Shun Hua or Shao Shang's 3rd Aunt.
Fan Chang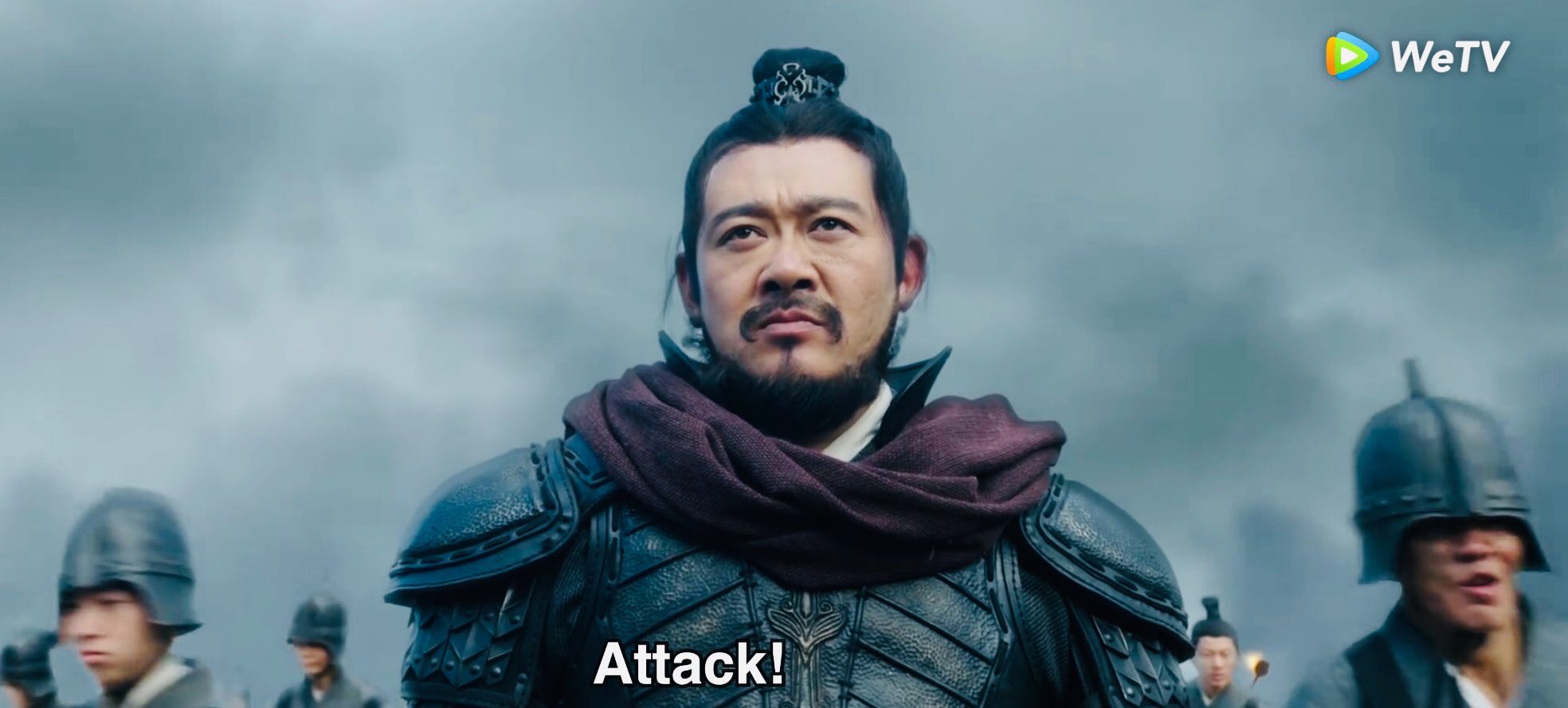 Fan Chang is a rebellious general. He was the subordinate of Prince Xiao who was responsible for the death of County Magistrate Cheng from Hua County.
County Magistrate Cheng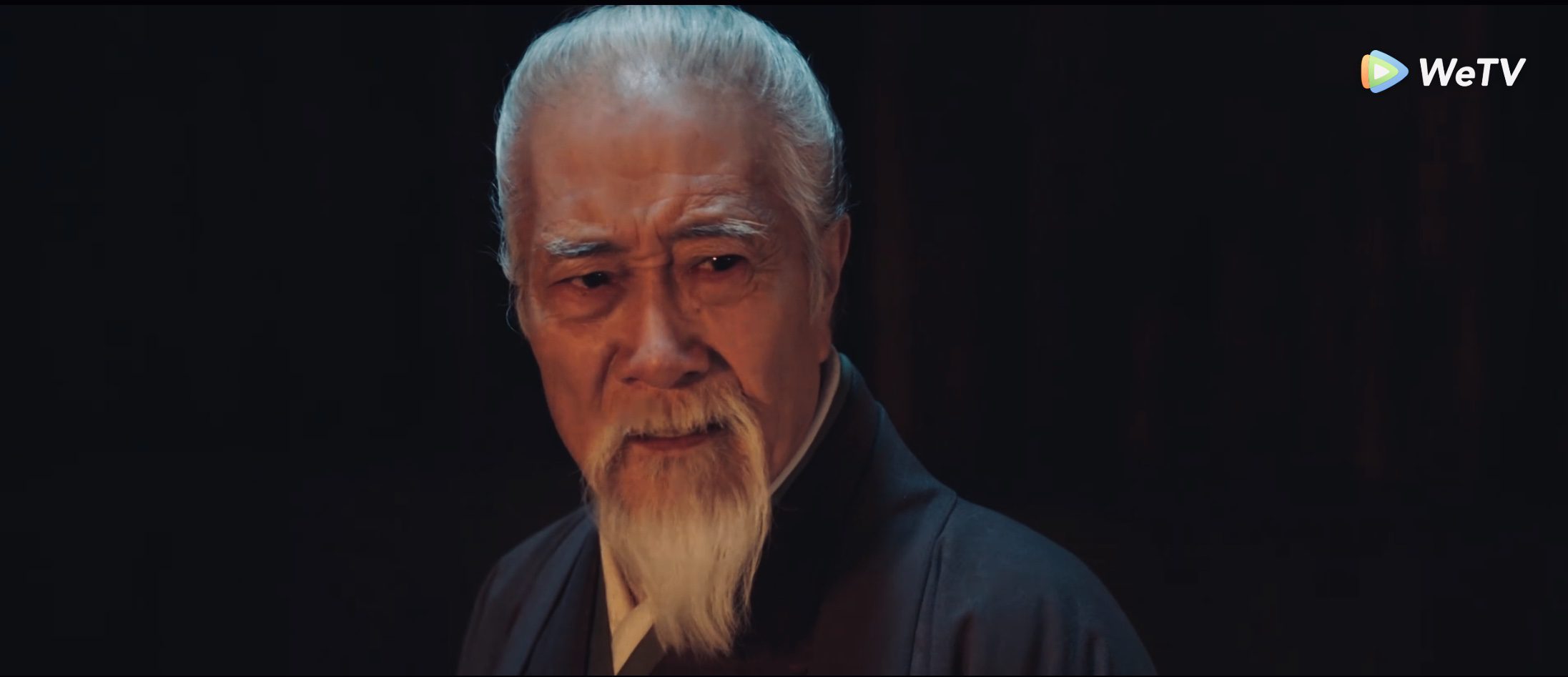 County Magistrate Cheng is the magistrate of Hua County. He's an old man with white hair and full of wisdom. He sacrificed his life and all of his descendants to protect Hua County. Third Uncle regard him as his friend and hold him dear in his heart.
Cheng Xiao Mei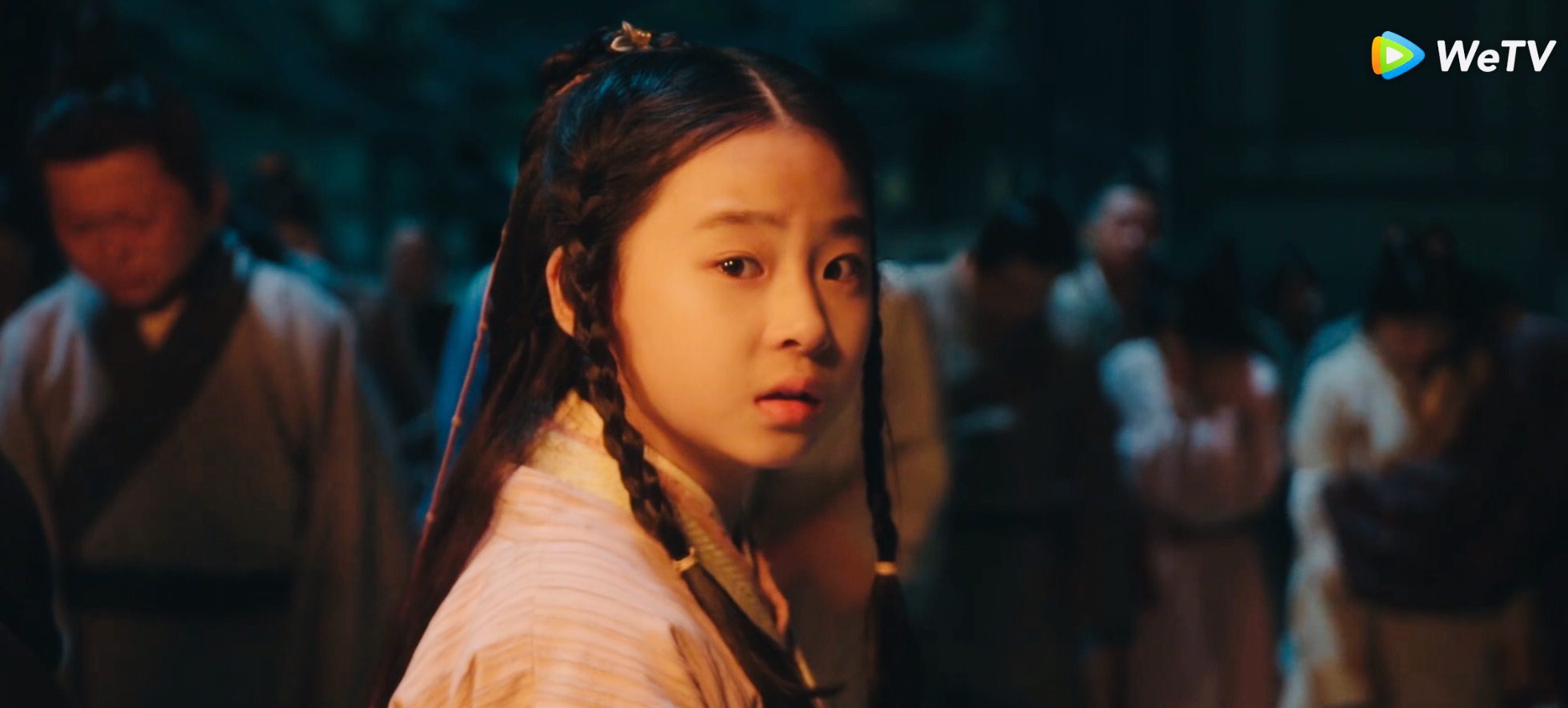 Cheng Xiao Mei is Magistrate Cheng's granddaughter and the only descendant who survive the attack. She is a courageous girl who didn't waver when she have to faced an armed man at war.
Episode Recap
Episode 10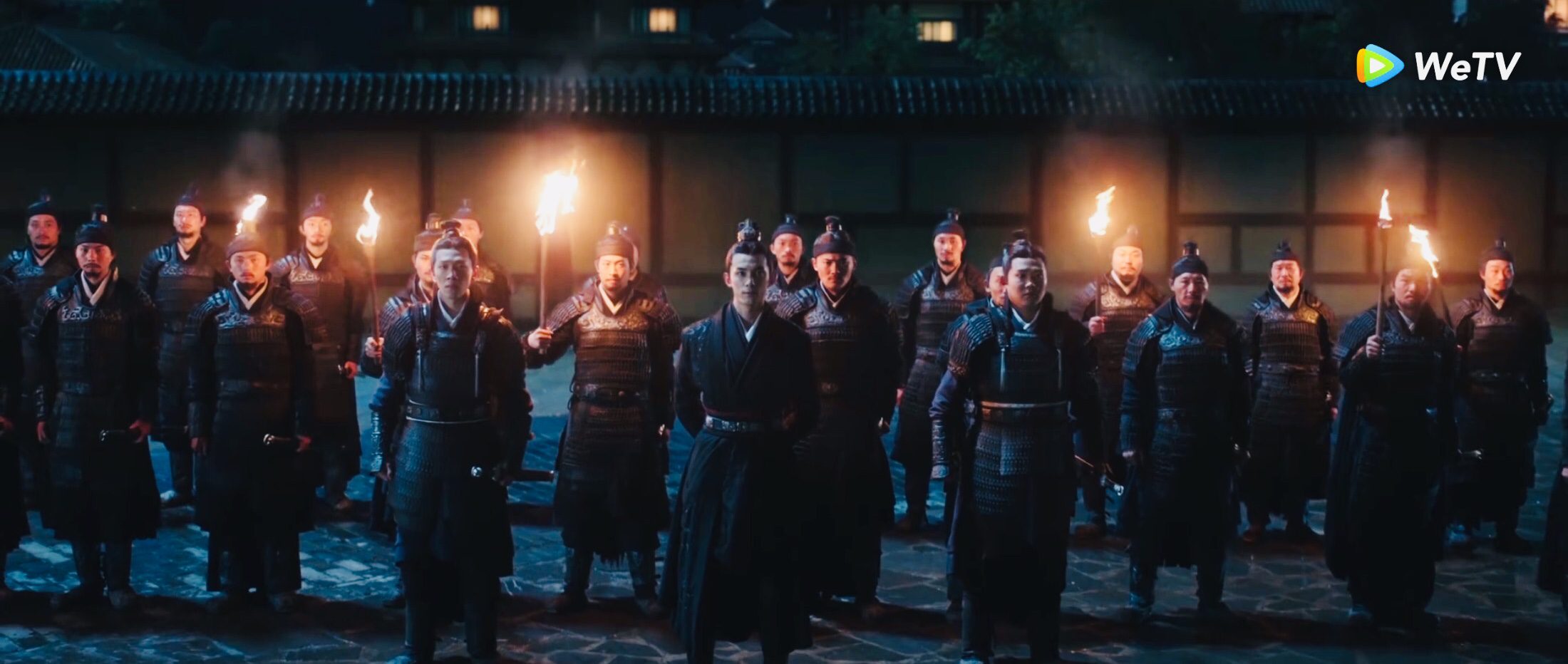 Prince Xiao was running to his entrance gate to see Ling Bu Yi and his Black Armored Guards standing at the front of his residence. Ling Bu Yi told him there was a report about a thief inside his residence and Ling Bu Yi was there to catch them. Prince Xiao tried to stop him, but Ling Bu Yi ordered his soldiers to search the residence.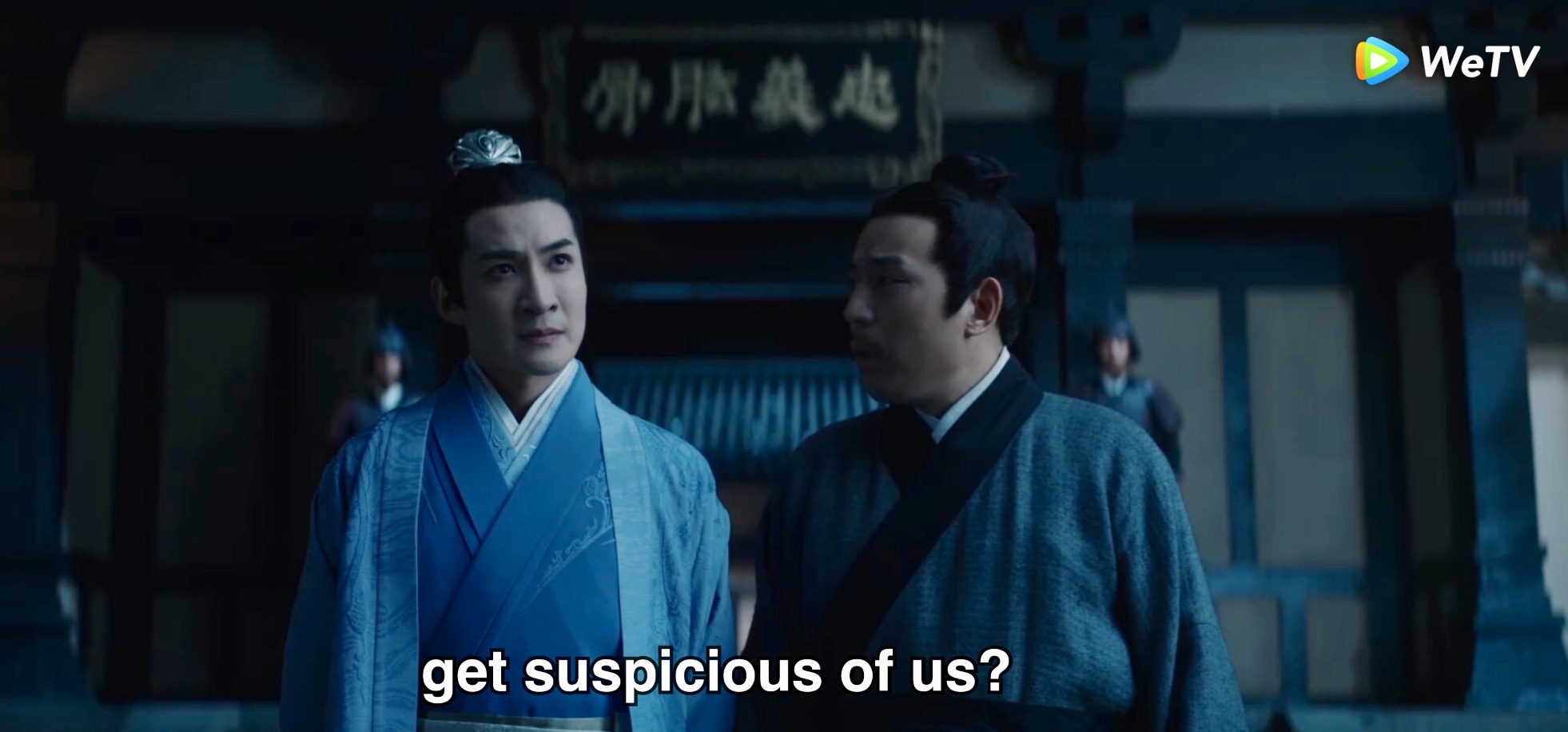 Prince Xiao was angry. The soldiers were back empty-handed. But it didn't matter for General Ling because he only intended to make Prince Xiao anxious.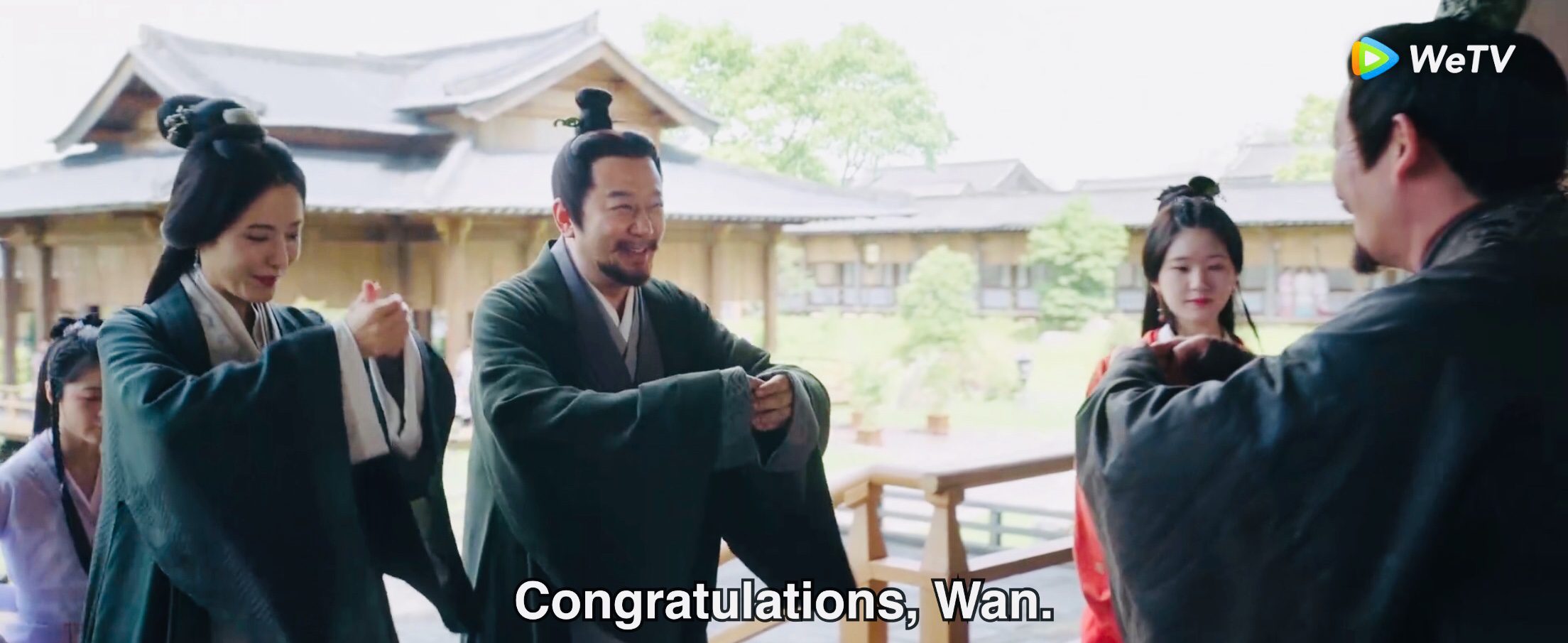 A few days later, the Cheng family arrived at Wan Residence. They came to celebrate Old Madam Wan's birthday and congratulate her on the new title of noble lady bestowed by the emperor.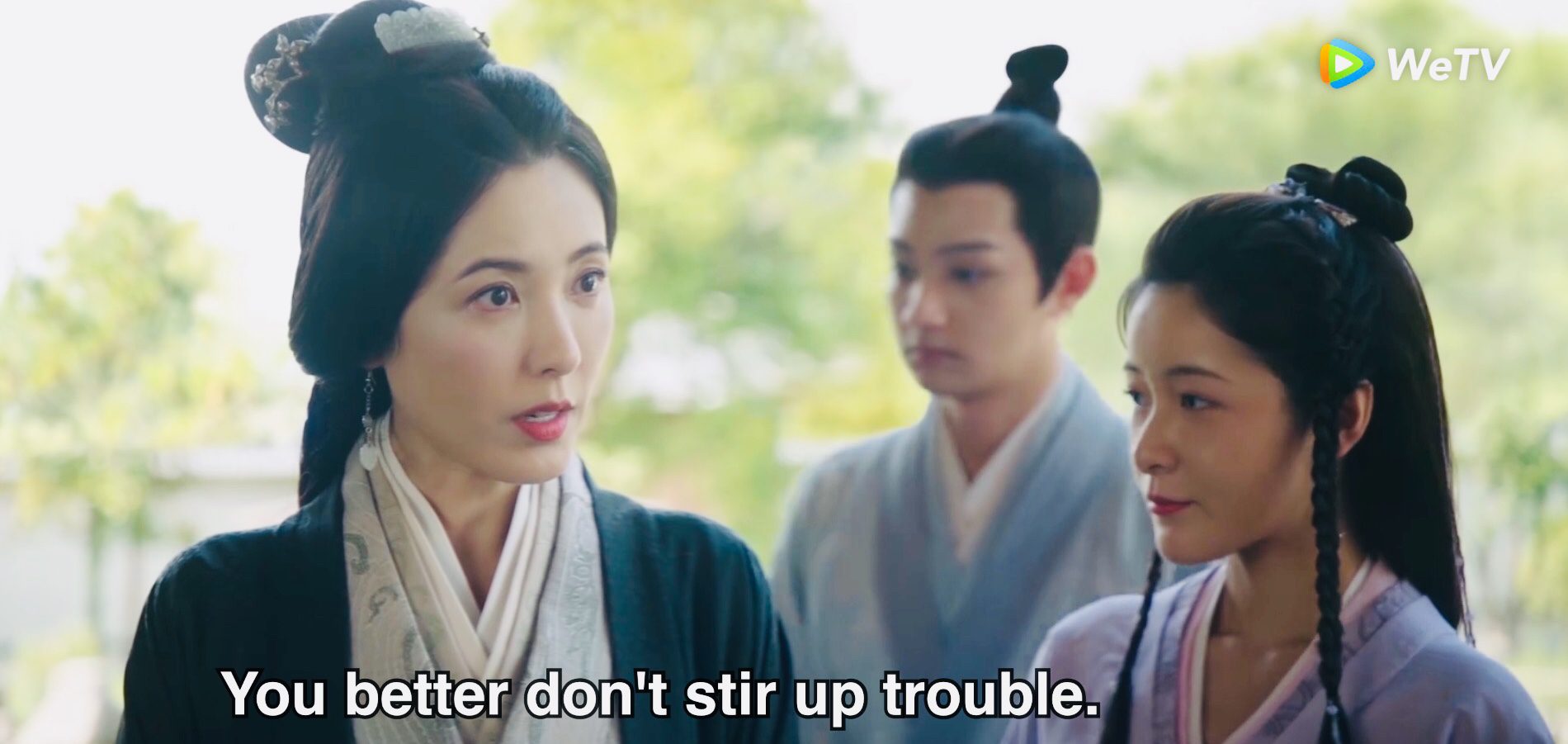 Mother Cheng reminds Shao Shang to stay out of trouble.
But she already has something on her mind…😁
Shao Shang drives Wan Qi Qi away before trotting happily to the broken bridge. Unbeknownst to her, Lou Yao saw her doing her mischievous deed.
Qi Qi went to the pavilion where the young ladies gathered. We could see Shao Shang's three leading targets. Ahem! 😁 I mean three leading ladies; Princess Yuchang, Wang Lin, and Lou Li. After a round of bickering, Qi Qi was surprised because all the young ladies weren't there to celebrate her grandmother's birthday. Instead, they were there to check out the male guests. Wang Lin even shamelessly asked her to lead them to the training ground because she heard General Wan invite all the male guests to go there. Qi Qi refuse the request happily…😂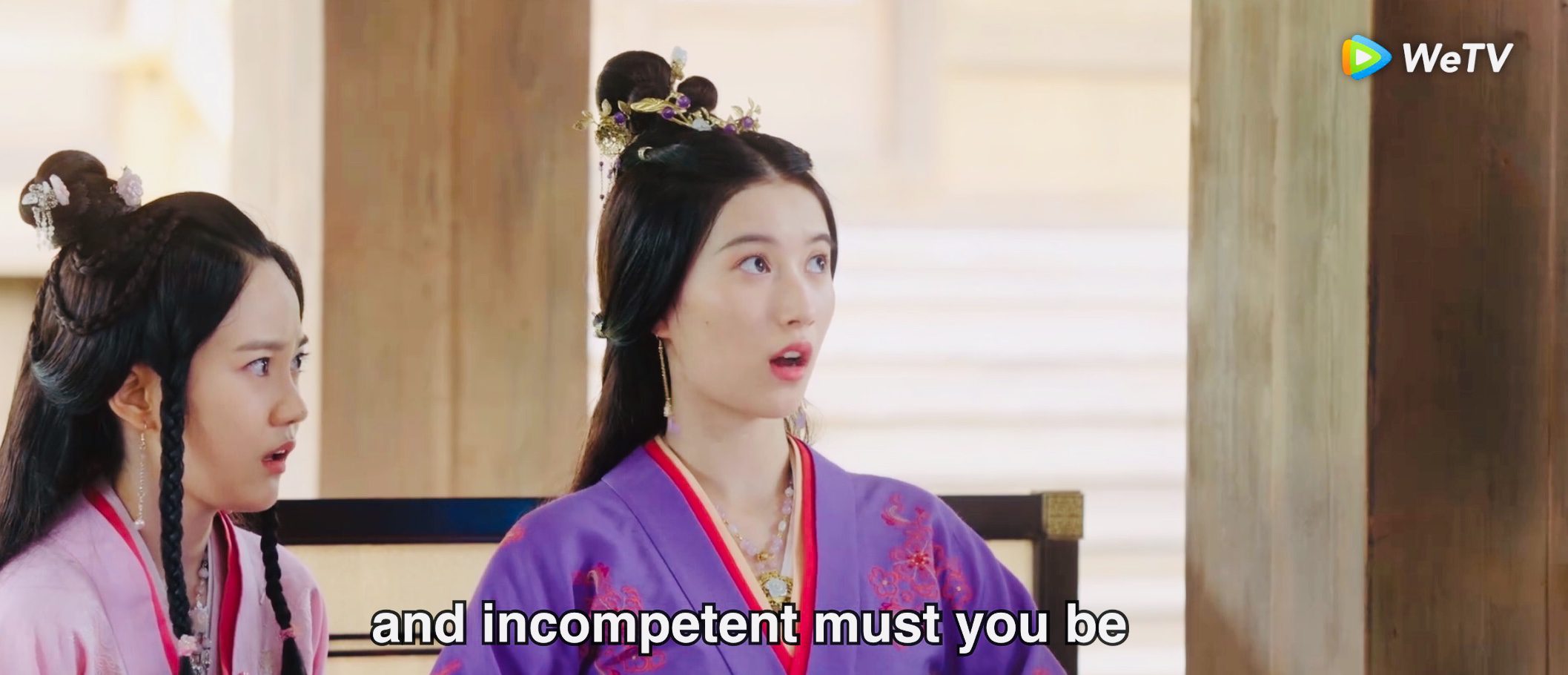 When Shao Shang came, Lou Li instantly mocked her, but Lou Yao suddenly appears and scolds her. To help Lou Li, Wang Lin abruptly made a mocking remark about his failed engagement with He Zhao Jun and called him incompetent and a humiliation.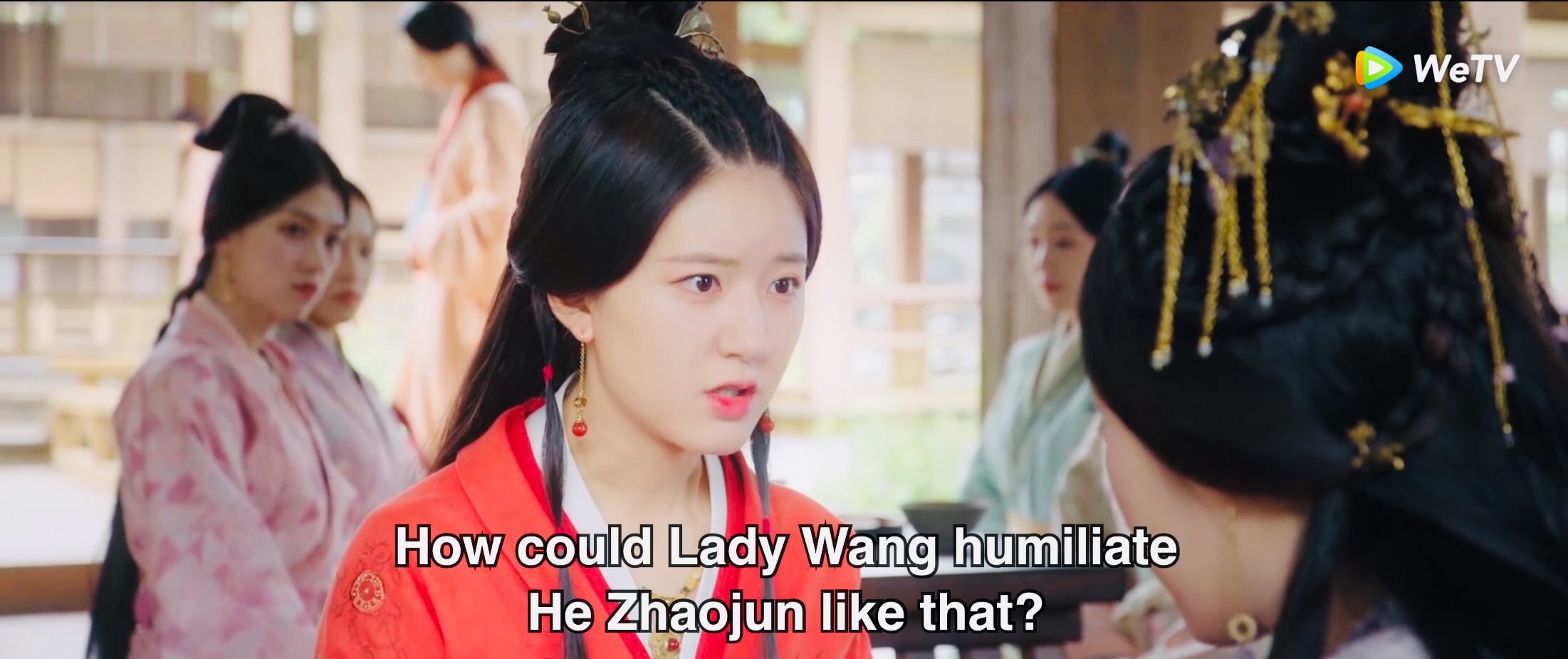 Shao Shang rebuked her words. She was standing up for Lou Yao and made Wang Lin speechless. Serve her right!
In the other pavilion where the male guests gathered, Yuan Shen Jia showed off his ability in a game of throwing an arrow when Ling Bu Yi came. Yuan Shen Jia challenges him to play the game. Ling Bu Yi arrogantly said that if he released arrows, it meant he intended to kill. But he throws it anyway.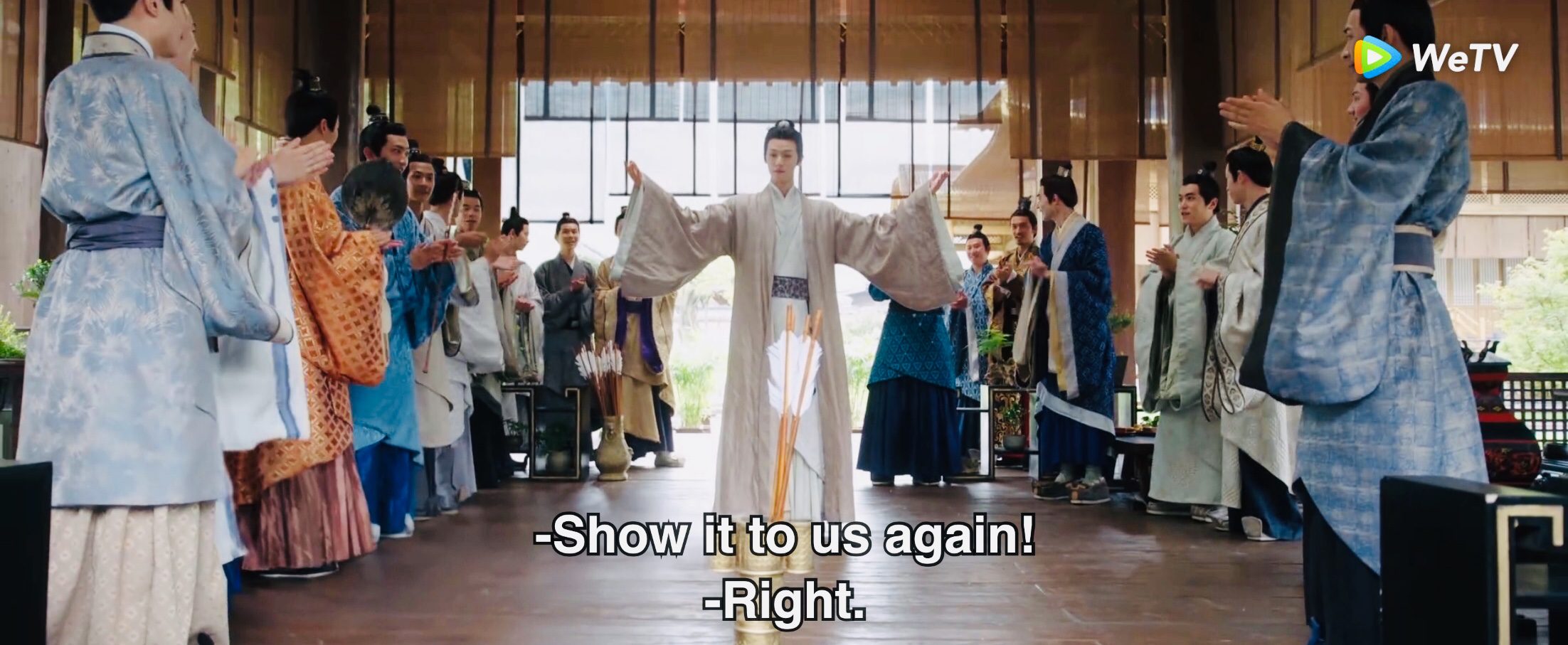 Ling Bu Yi asked Yuan Shen Jia to come with him to admire the flowers. The other guest follows along. They come to a pavilion across the place where the ladies gathered.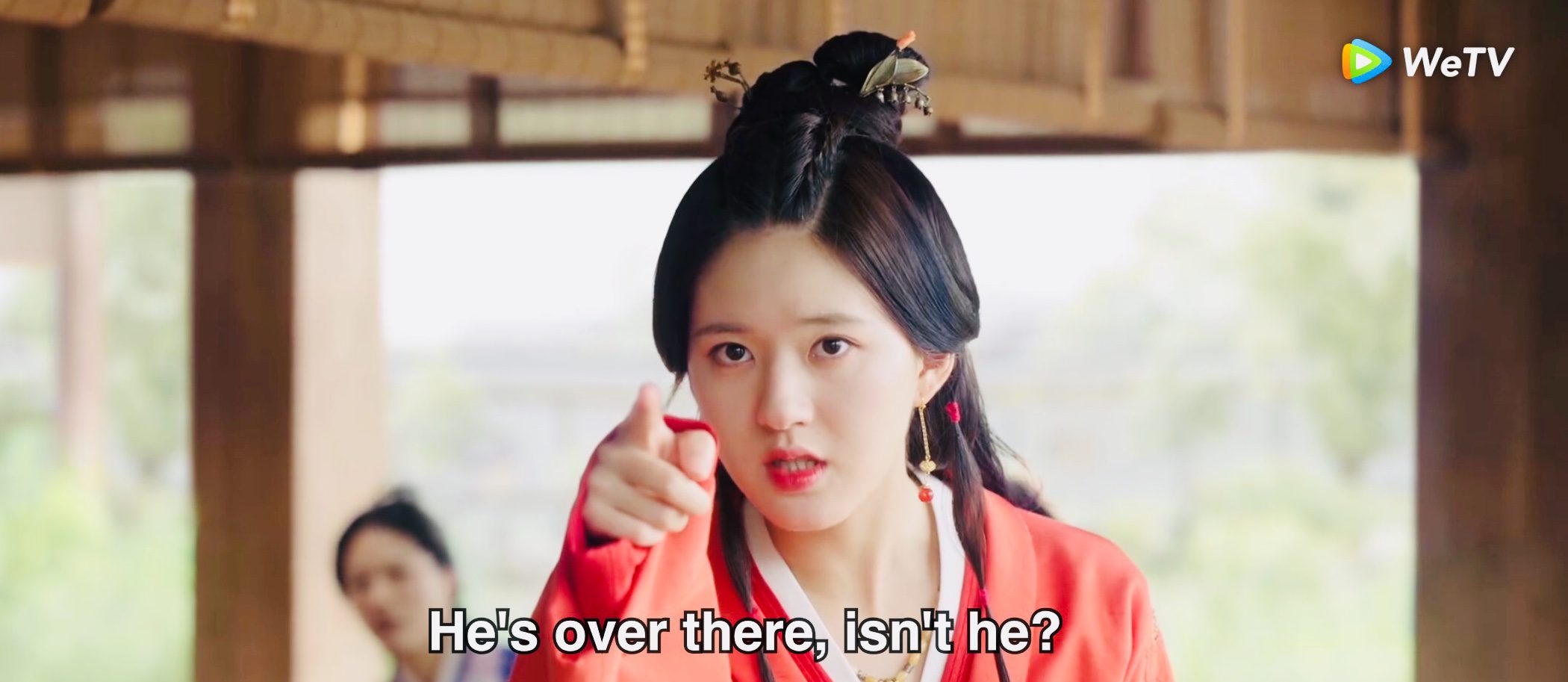 Shao Shang saw them and purposely spoke loud that Zicheng (Ling Bu Yi) and Yuan Shen Jia were there. Those names triggered the fan girl side of the noble ladies. They instantly swarmed next to her to have a good look at Zicheng and Yuan Shen Jia.
At the same time, Ling Bu Yi also played his part. He pretended to laugh and smile in the ladies' direction and urged Yuan Shen Jia to do the same. And other male guests? They still tag along 😂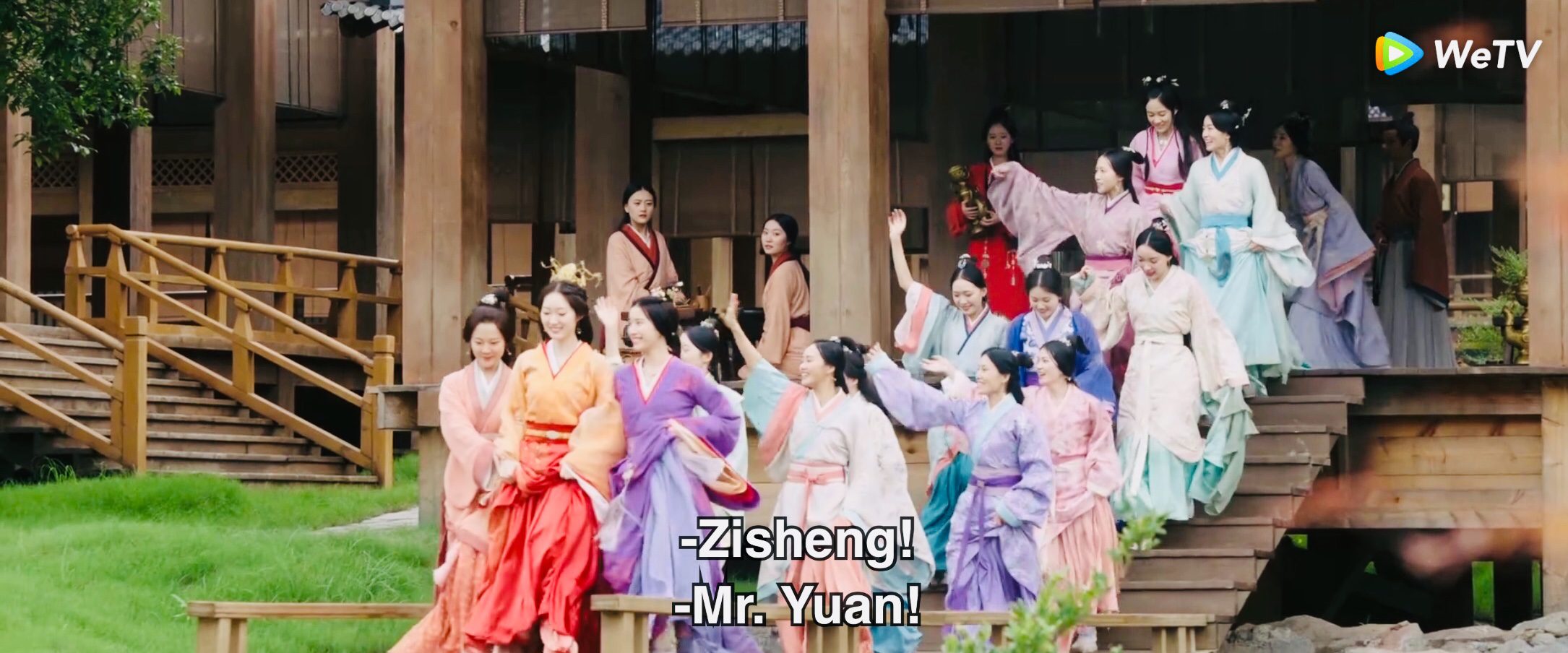 When they saw that their idol was smiling towars them, the noble fan girls become more excited.
Wang Lin pointed out a bridge near the pavilion where the male guests are. So, led by the cheerful Princess Yuchang, the ladies run to the bridge screaming and shouting for Zicheng and Yuan Shen Jia. Qi Qi and Lou Yao wanted to follow them (for a different reason than fangirling), but Shao Shang stopped them.
The overly excited ladies run to the bridge. They didn't noticed the warning sign nor care for the warning from the butler.
At the same time, General Wan who laughed at the young girls' behavior abruptly realized the chaos that was about to happen. He dragged his feet (because his bottom still bruised after the beating) and ran to warn the young ladies about the broken bridge…😂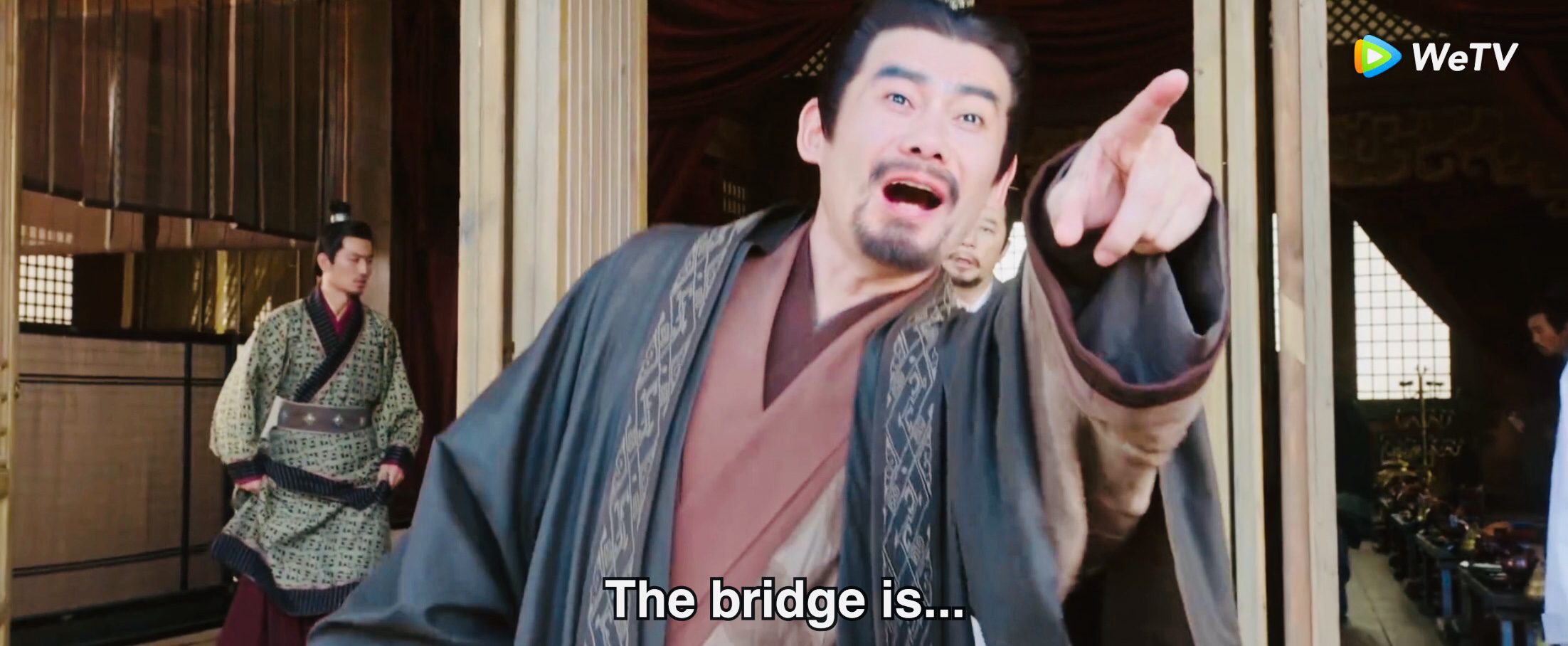 In front of all guests, the bridge collapses, and all the young ladies fell down the pond. They were screaming and crying for help.
Everything turns into chaos. All the servants and male guests run to the pond to save them all. Yuan Shen Jia was left alone in the pavilion, looking baffled. And our General Ling? He was already gone…🤣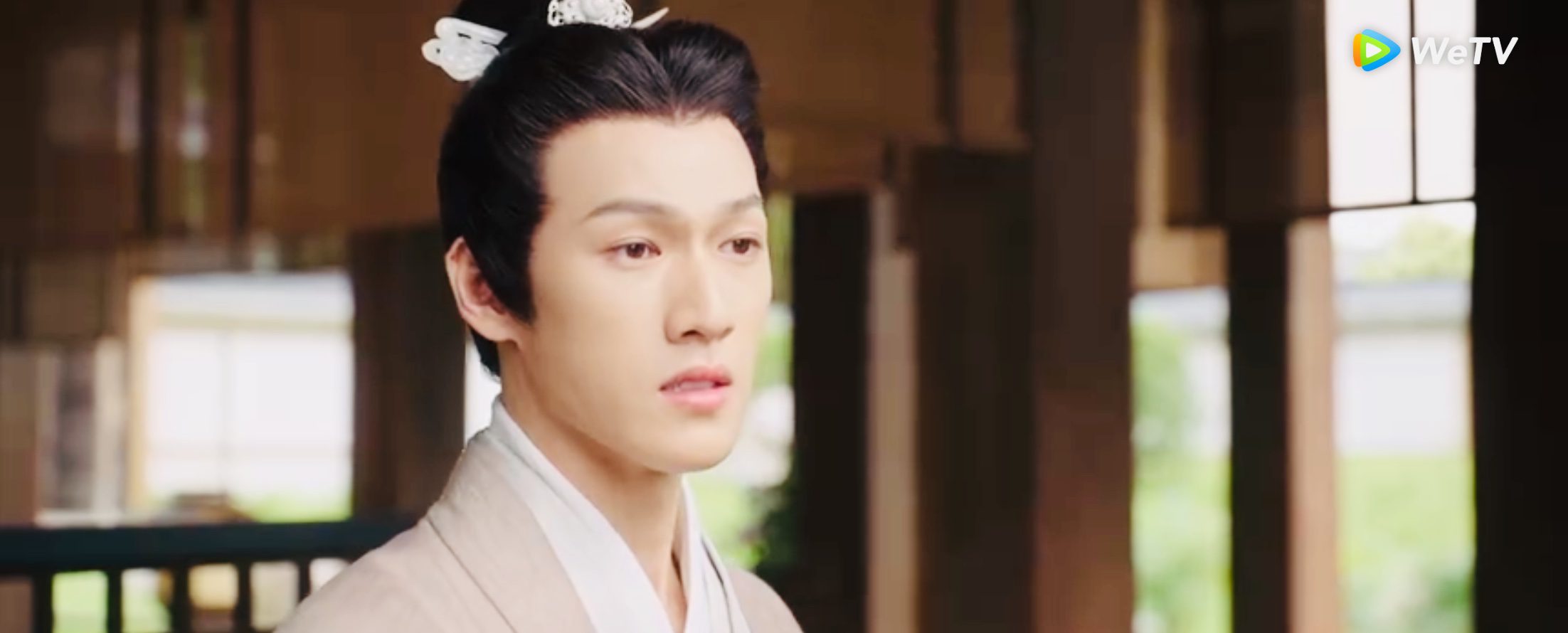 Shao Shang, the mastermind, was smiling and skipping about all the time. She was satisfied that her revenge plan was successful.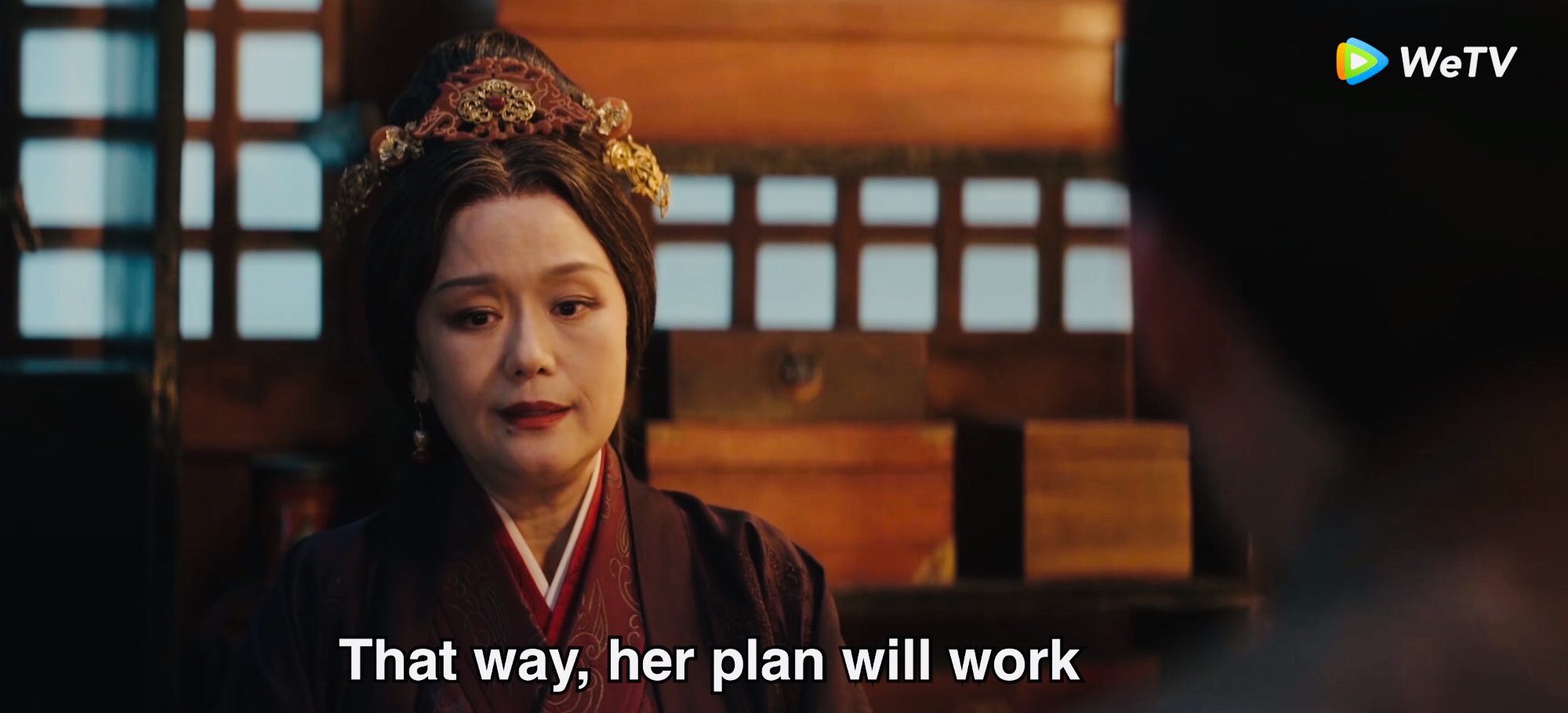 Old madam Wan, the smartest one in Wan's residence, immediately realizes that it was Shao Shang who lured the ladies and made the bridge collaps. She actually didn't blame her, though. Because Shao Shang had already told the butler to set up a warning sign on both ends of the bridge, hence, the Wan residents won't be called accountable for the incident.
But she already sent a letter to Cheng's residence to explain about the matter. She must tell about Shao Shang's deeds to Mother Cheng. Old Madam Wan believes that if someone was brave enough to do mischievous deeds, she also must be brave enough to face the consequences.
At the Cheng's residence, father Cheng was shocked when he read the letter. He knew he couldn't stand up for Shao Shang because this time she went overboard. So he pretended to be angry and wanted to punish her. Mother Cheng stopped him. Father Cheng used the chance to make a plan to pretends to punish Shao Shang.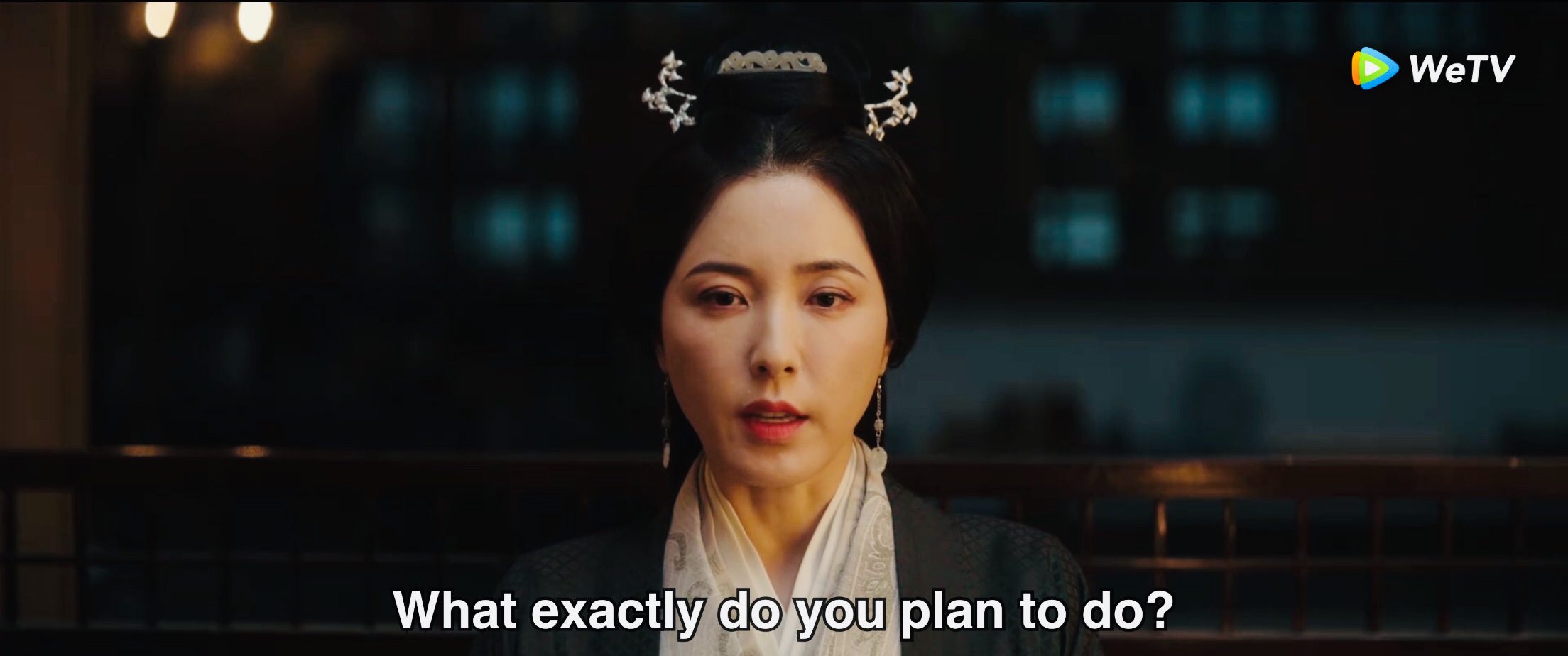 He also dragged 3rd Aunt and 3rd Uncle to helped him with his plan. Their role was to plead for Shao Shang and Mother Cheng's role was the one who deliver the punishment. And Father Cheng? His role was to be the one who coaxed Shao Shang after she has been punished…🤦🏻‍♀️
Well, the plan wasn't bad, though, but unfortunately General Cheng wasn't thoughtful enough…
He forgets that Shao Shang was a stubborn girl.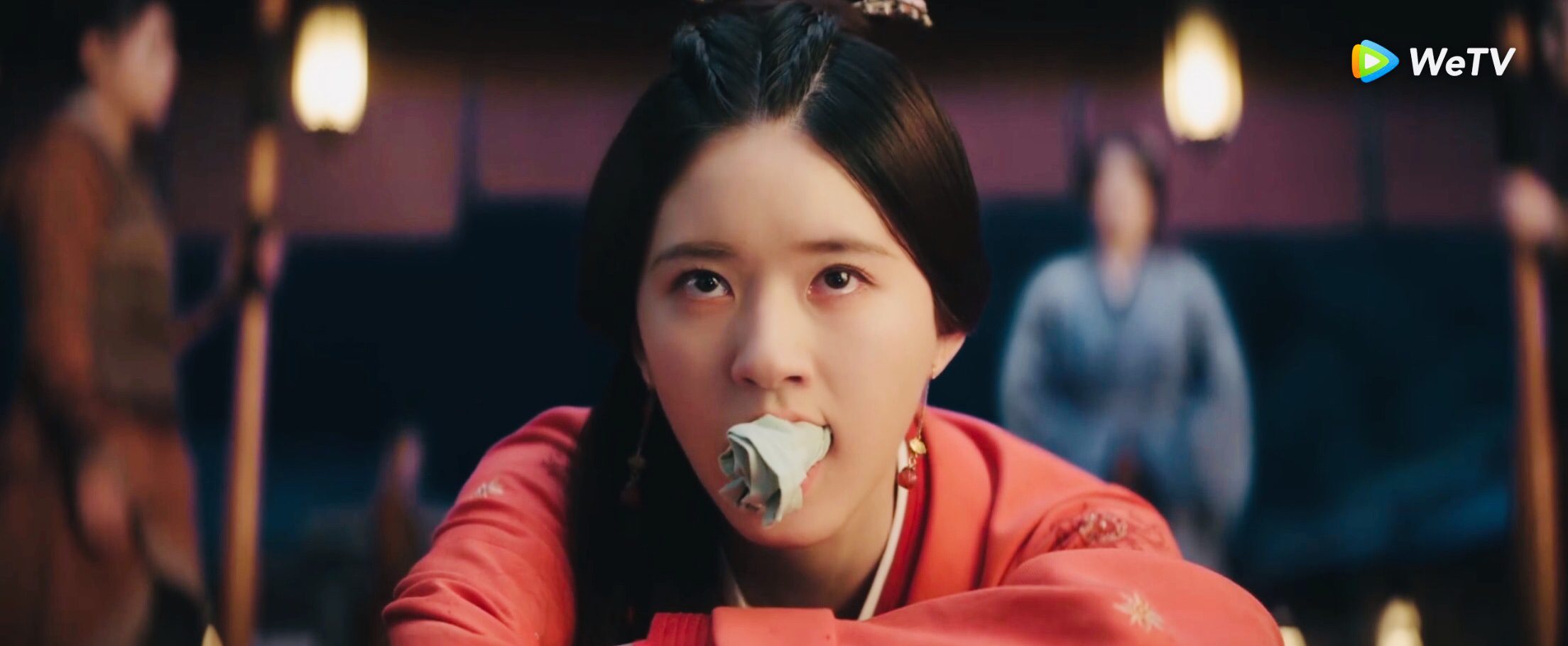 Shen Shao Shang saw the plank and the paddles held by the soldiers. She was afraid, but she didn't want to admit her mistake. Therefore, the stubborn Shao Shang ruined the plan by asking for the punishment herself. The hot-blooded Mother Cheng hit her in the end.
Father Cheng sensed something wrong. He rushed to the hall followed by 3rd Uncle and 3rd Aunt. They regretted the plan and pitied Shao Shang. They blamed Mother Cheng for being heartless.
The already emotional Mother Cheng became furious and told them 3rd Uncle to take Shao Shang to Hua County. Out of anger, she said that she would never care for Shao Shang anymore.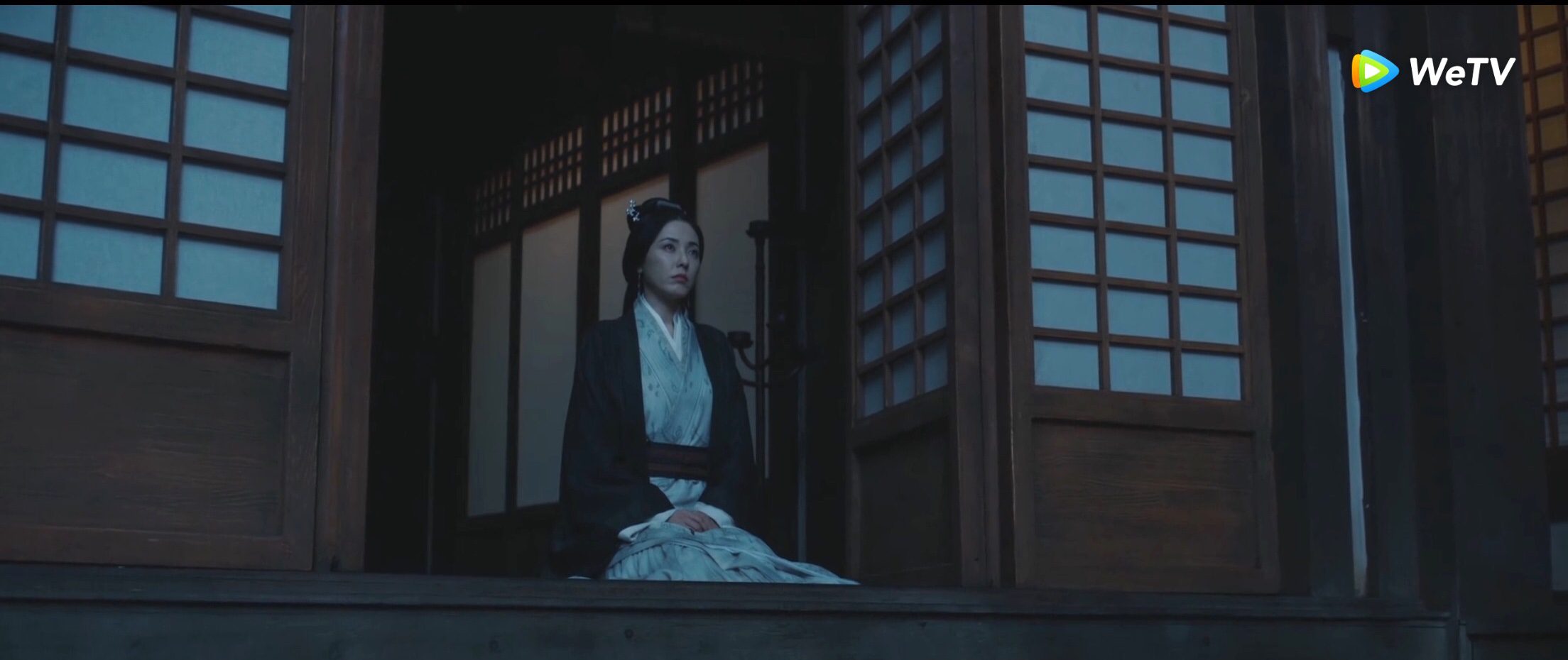 Later that night, Father Cheng came to Shao Shang's room to comfort her while Mother Cheng sat alone under the moonlight, regretted everything.
A few days later, Shao Shang, 3rd Aunt, and 3rd Uncle bid farewell as they were ready to embark on a long journey to Hua County. Old Madam Cheng was crying her eyes out because her favorite son was going away.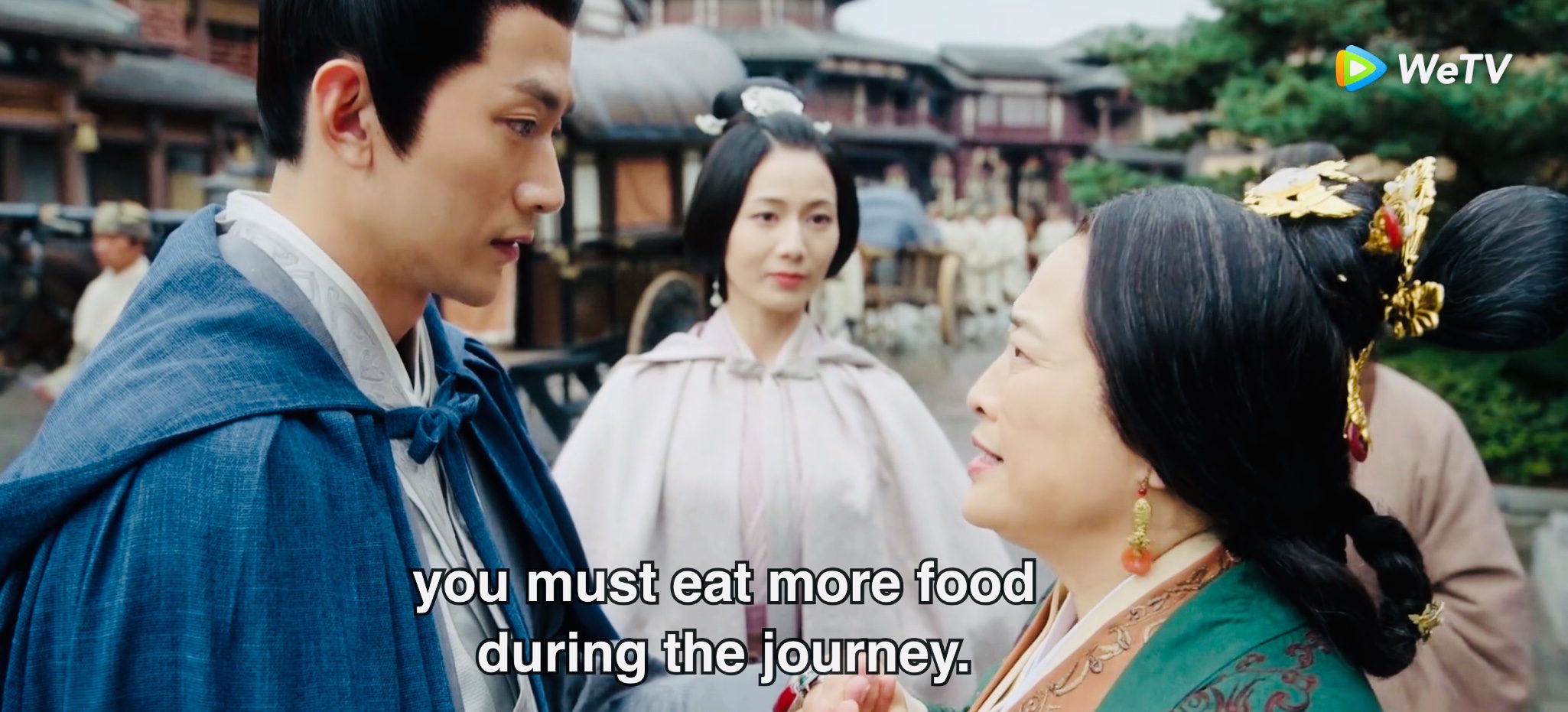 Shao Shang seemed disappointed because her mother wasn't there to send her off. Unbeknownst to her, Mother Cheng was waiting for her inside a black carriage which parked near the city gate.
This mother and daughter truly share the same trait. Both of them was stubborn as an ox!
Episode 11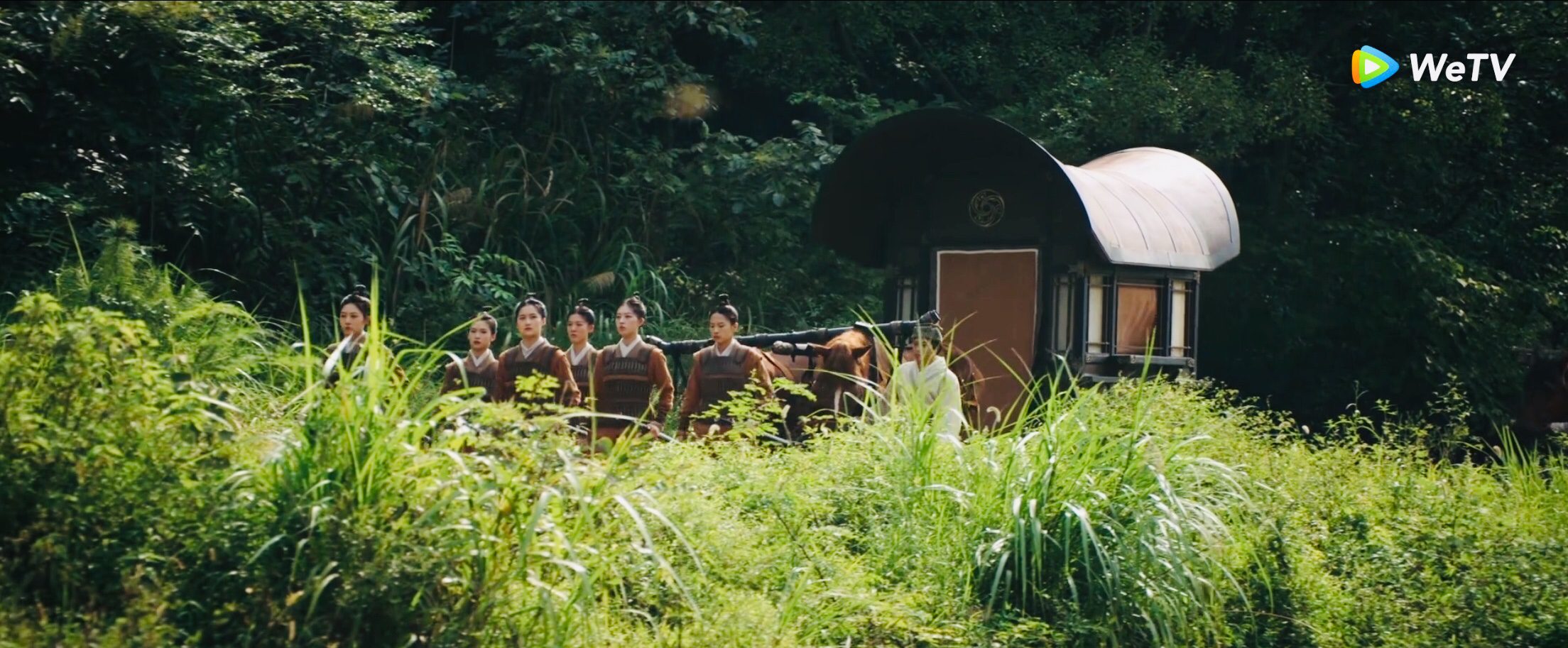 Shao Shang and her caravans traveled in a quiet road. You can feel the happy atmosphere inside 3rd Uncle and 3rd Aunt's carriage, where they could have some quality time together and gossiping about Mother Cheng and Shao Shang. While Shao Shang whom sat alone in other carriage was bored to death…😂
Mr. Screenwriter, I had a question…🙋🏻‍♀️ Why did Lian Fang not follow her on the trip? Our dear Shao Shang needed some companion…🤔
Suddenly Fu Deng reported that there was someone following them by horse. It was Lou Yao. Third Uncle immediately stop the procession and get off the carriage to meet him.
Lou Yao told 3rd Uncle his intention of following them is because he wanted to protect Shao Shang. Third uncle politely declined him before Shao Shang called Lou Yao to talk to him.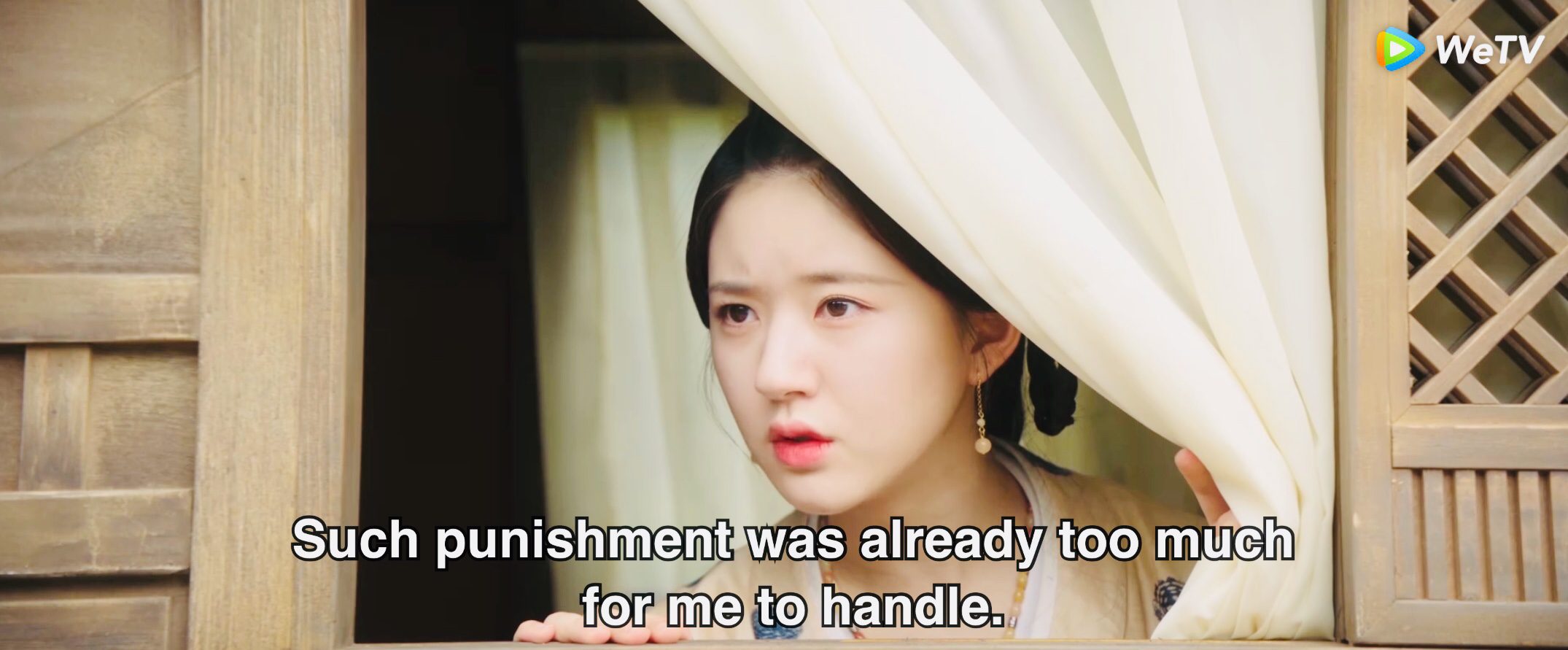 It turned out that Lou Yao saw her when she sneakily removed the beam on the bridge at Wan residence. Shao Shang was baffled and misunderstood him as she thought that Lou Yao was hold her accountable because her sister was the victim of the accident. She also mistook his word when Lou Yao told her about his broken engagement with He Zhao Jun. Shao Shang thought he also complained that she was the one who meddled in his relationship.
Lou Yao was speechless, but he understood one thing, Shao Shang didn't have any feeling for him. But when Shao Shang still bid him goodbye and the caravans proceed their journey, Lou Yao decisively followed them because he didn't want to give up on her.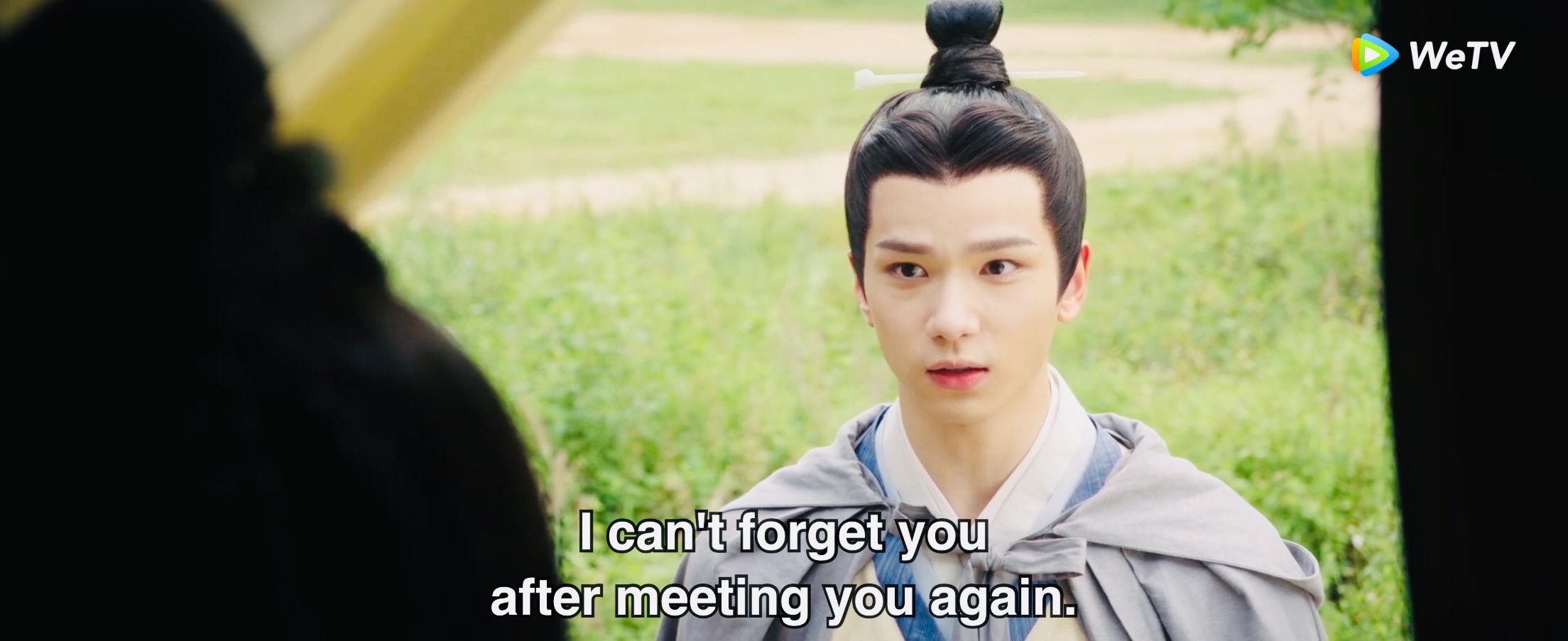 I started to like this bloke. He might seem to be naïve, but he was kinda cute when he sneakily glanced at her.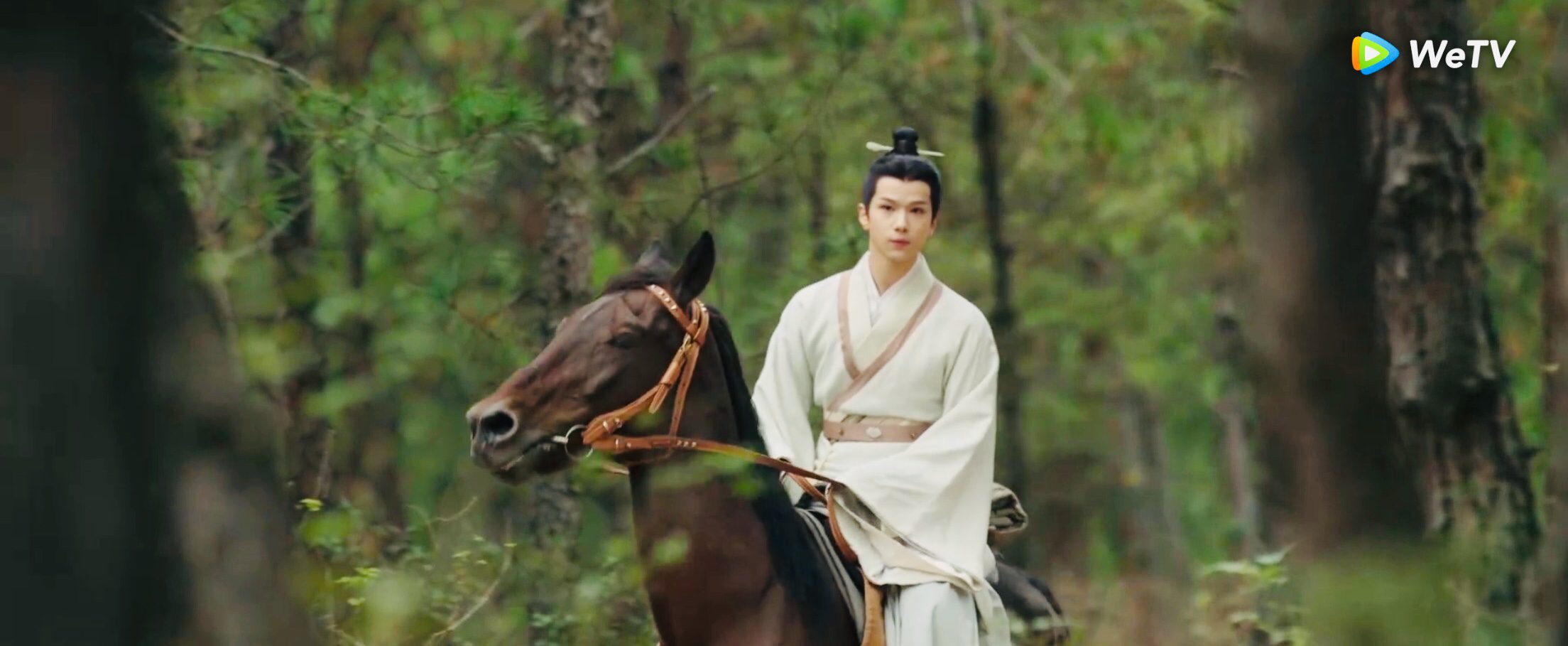 Third Uncle and 3rd Aunt pity him and send him some meal. AAAAHHH… look at him, he's so cute isn't it?
During the journey, Shao Shang seemed to compete with her 3rd Uncle to serve her 3rd Aunt. It was funny to see their uncle-niece interaction.
When Shao Shang started to feel annoyed by Lou Yao, 3rd Aunt asked for help from 3rd Uncle to asked Lou Yao to stop following them. But 3rd Uncle was so unreliable, instead of driving him away, he gave him advice and also opportunity to coax Shao Shang.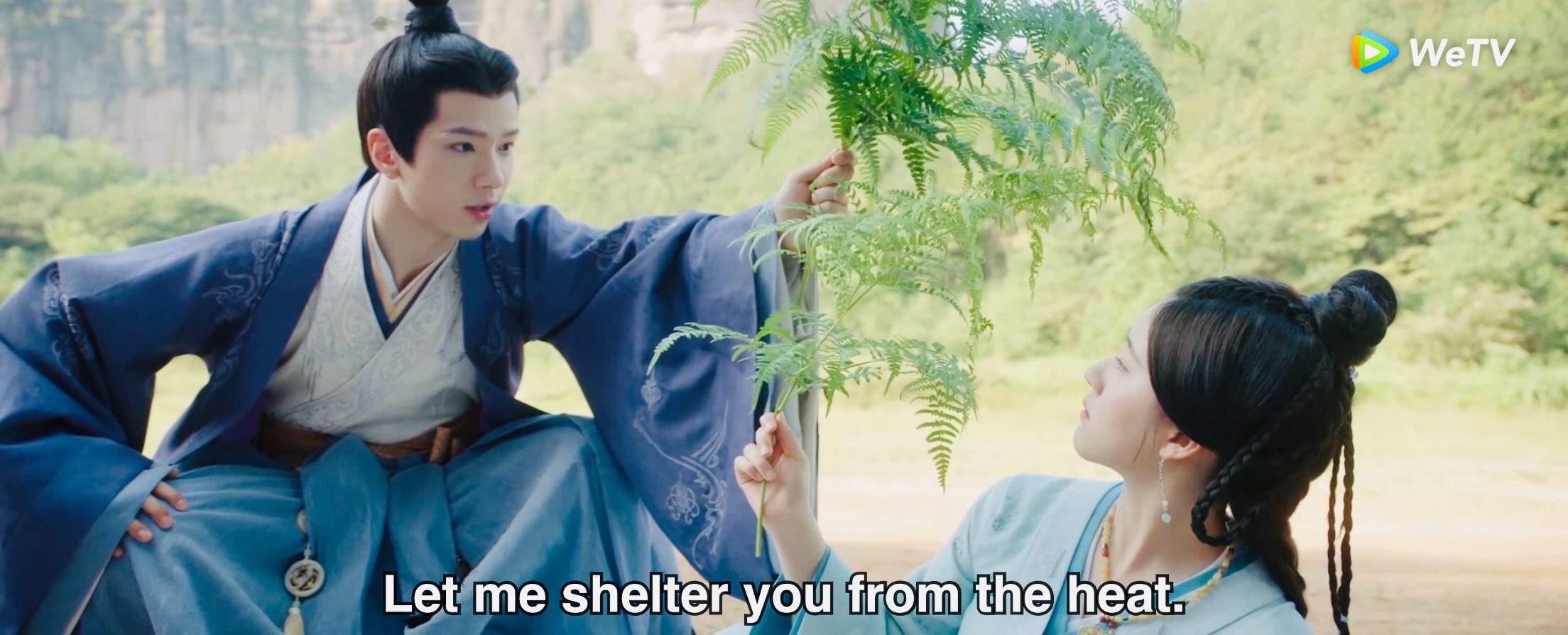 Meanwhile, Yuan Shen Jia and his master, Huang Fu Yi was having a conversation in a serene pavilion. It turned out that he used to betrothed to 3rd Aunt, but he kept her waiting for him for 7 years before she broke the engagement and in the end married to 3rd Uncle. But up until now, Huang Fu Yi still regretting the failed engagement.
One of the military guard/maidservant whose Mother Cheng prepared for her sang beautifully. Her name is Ah Miao. While listening to her, Shao Shang told 3rd Aunt that she wanted to live in a vast world without restraint. Lou Yao mesmerized by her.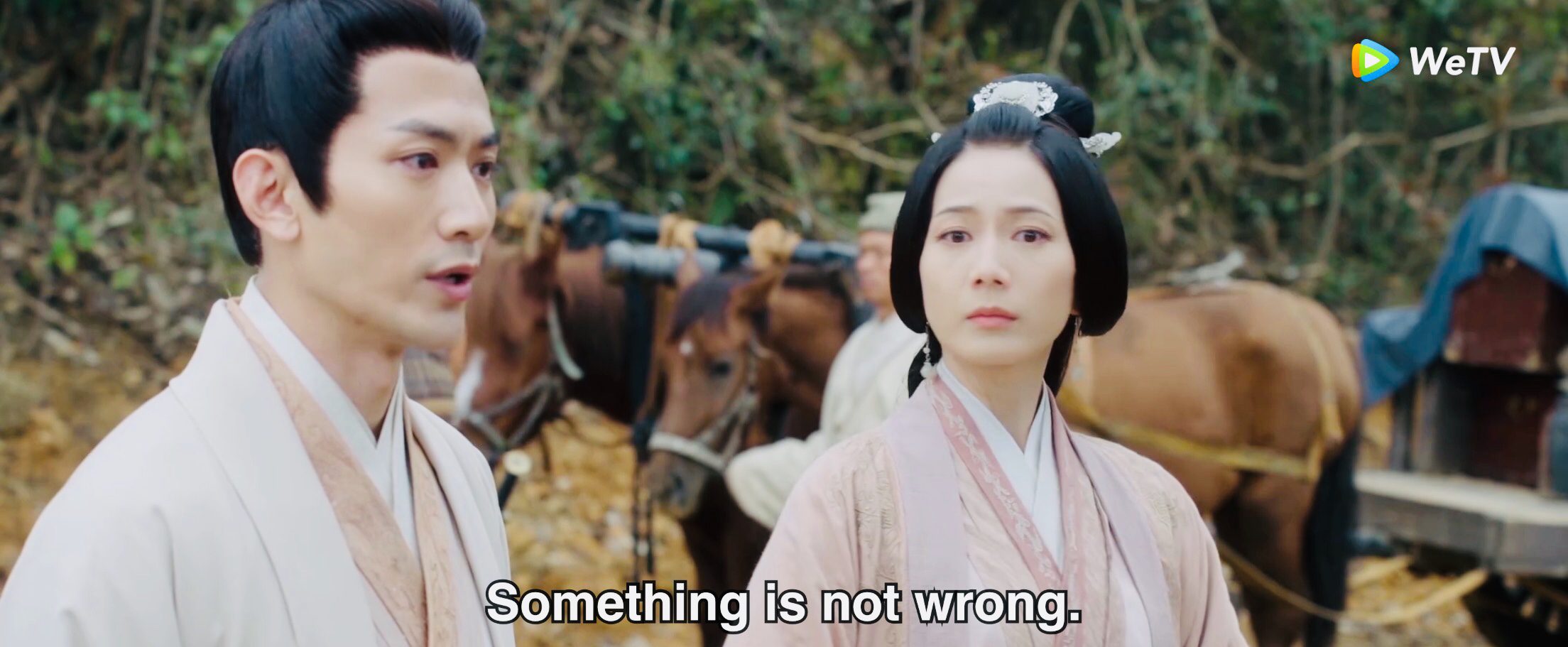 Shao Shang's caravans arrived at their first destination, Qin County. But strangely, the Qin County seemed too desolate and quiet. Third Uncle thought that something was wrong, and he had to check it out. Therefore, he ordered 3rd Aunt to go straight to Huo County with Shao Shang. Lou Yao willingly offered himself to be their guardian and 3rd Uncle agree immediately.
So the caravans split up. Shao Shang proceed to Hua County. The happy atmosphere turned grim. In the middle of a bamboo forest, the guard/maidservant stopped the caravans, they found traces of military horses in the middle of the road.
Shao Shang sensed something wrong and told Fu Deng they had to change route. But before they could make a move, a group of armed men attacked them. An arrow flying trough them and startled the horse.
Third Aunt's carriage toppled and she was injured.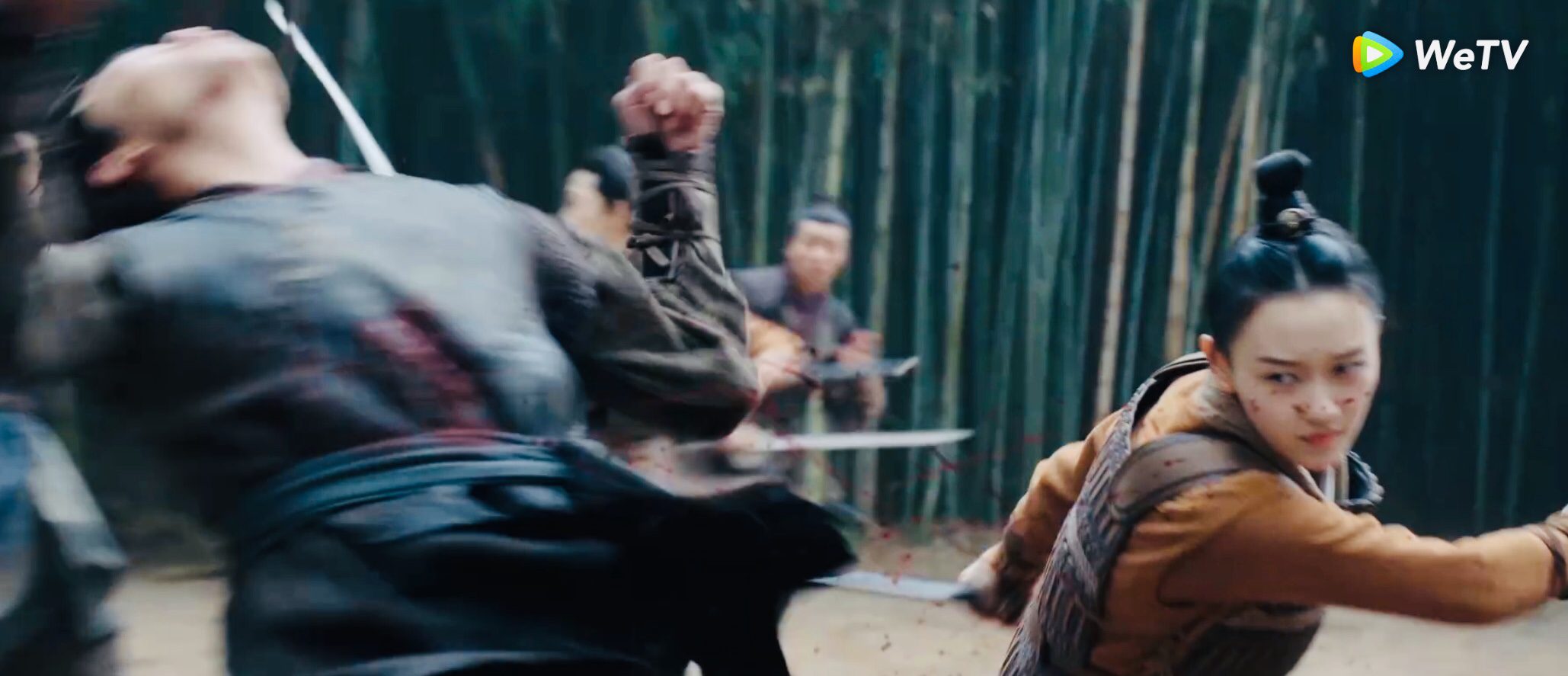 The guards able to defeat the armed men. They managed to avoid calamity at the moment. Shao Shang urged everybody to get into the carriage so they could move faster. She checked on the map and led the caravans by riding a horse. Shao Shang still remember Ling Bu Yi's word when he taught her how to ride a horse.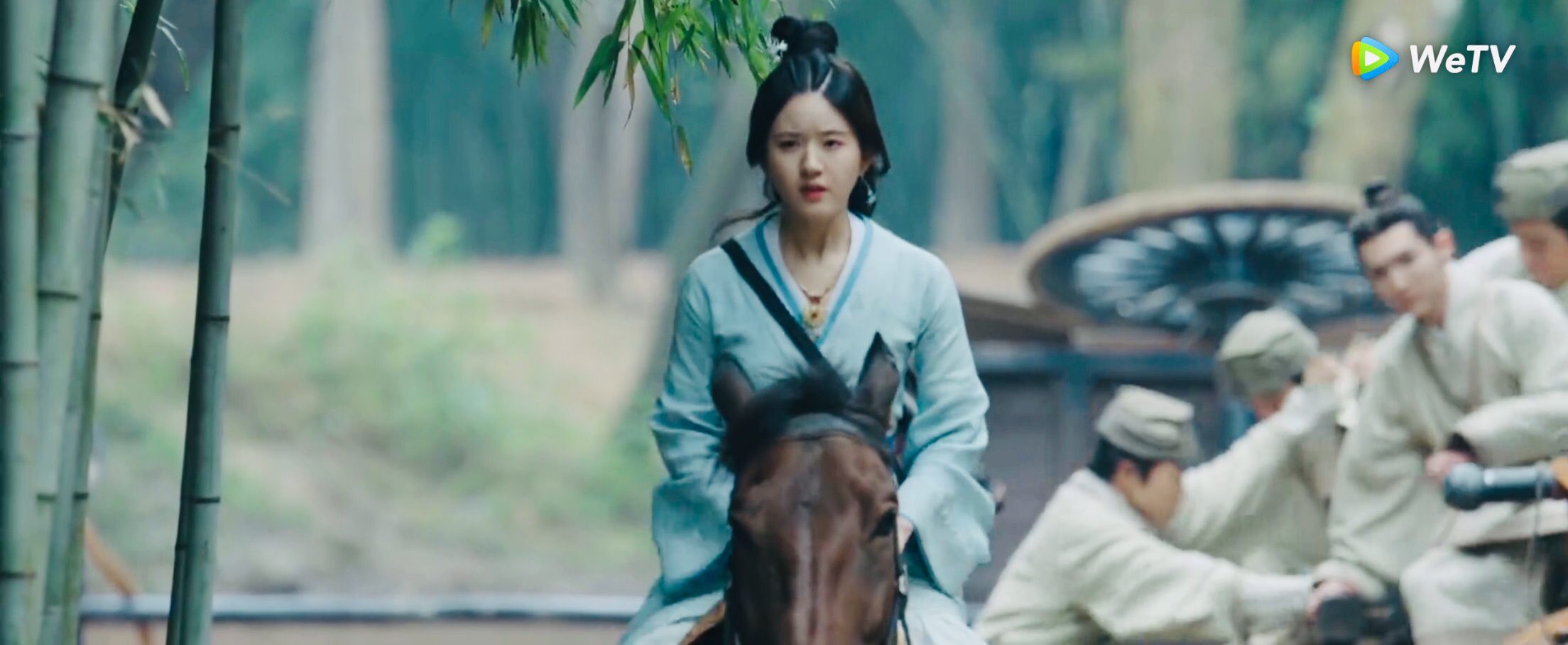 They went to a hunting lodge. Shao Shang's smart brain was working fast to build a trap machines to protect them since they were outnumbered. She was afraid, the bandits would come again and attack them. She has a suspicion that the bandits were not regular bandits, they might after them for an unknown reason.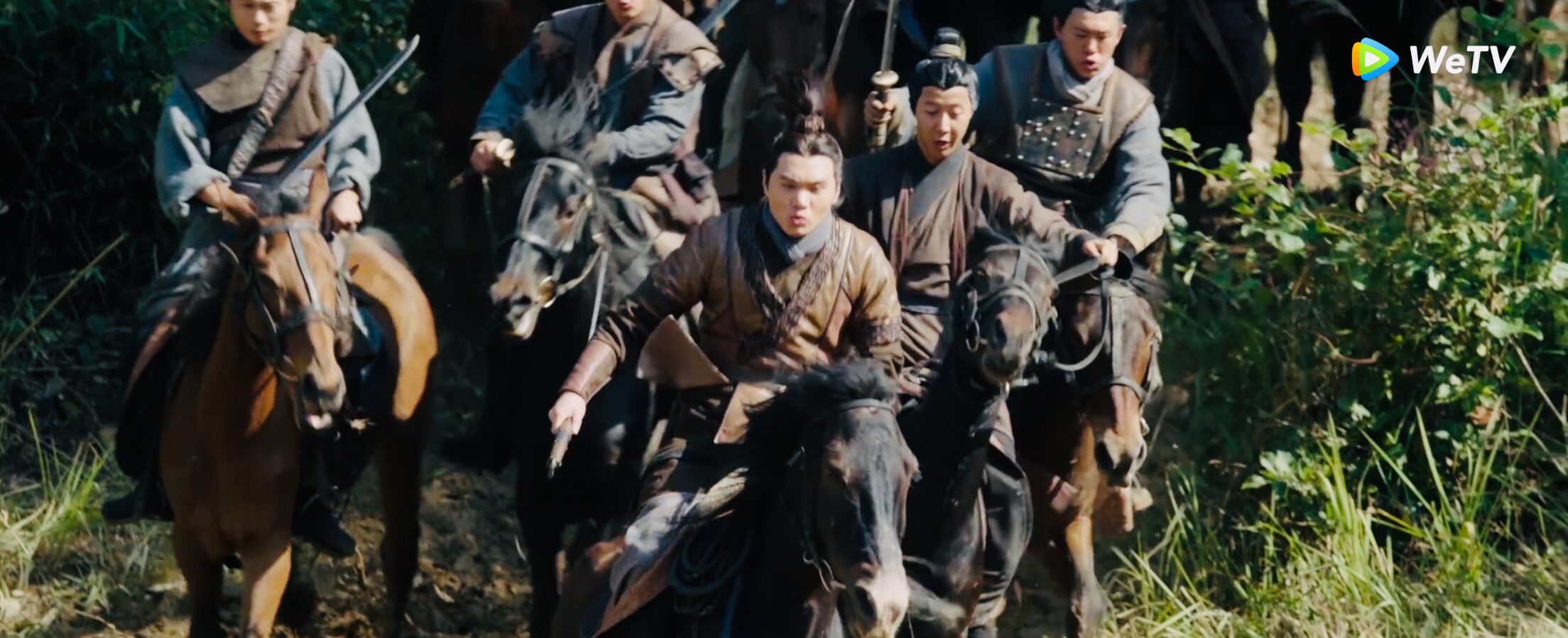 The bandits are coming. They abandon the treasure boxes that Shao Shang left on the side of the road. Her suspicion proved to be true. They were not regular bandits.
Shao Shang signs the guard and servant to release arrows. The arrow injured some armed men.
The leader was furious and tried to attack Shao Shang. Ah Miao tried to saved her, but this resulted in her fell down the tower and being caught by the leader.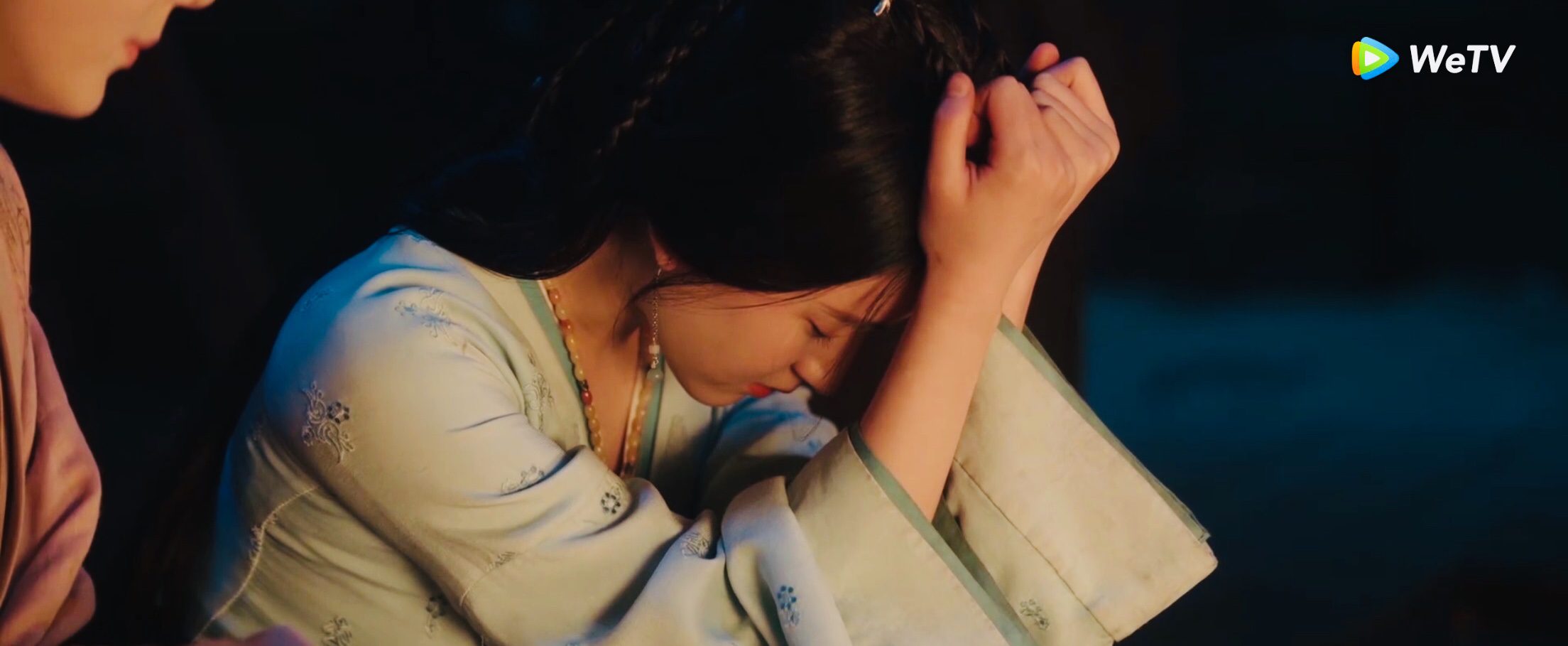 Shao Shang was sad because of the incident. The third aunt comforted her. When they had a conversation, Shao Shang realized something. Those bandits were not bandits but rebel soldiers, and they were after them with one intention only. To kill them all.
Episode 12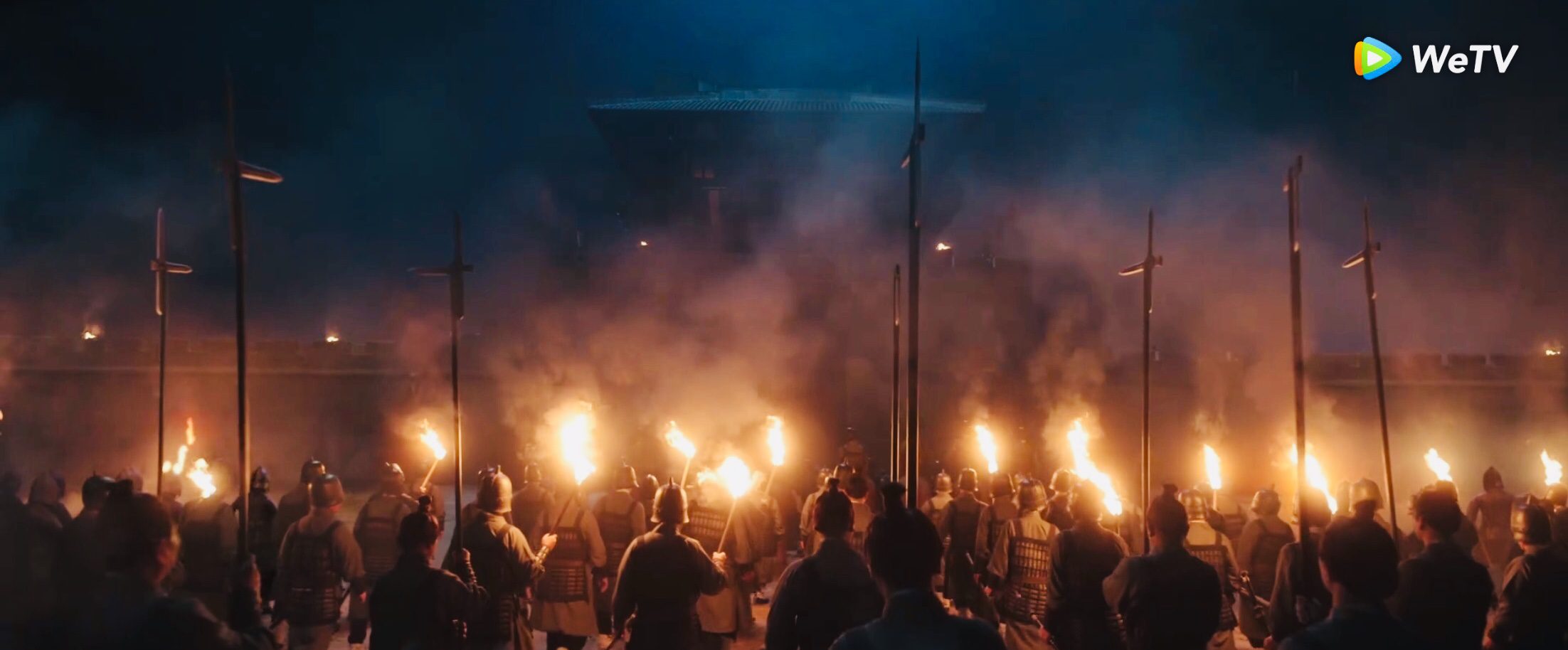 Hua County is under attack. Hundreds of soldiers led by the rebellious general, Fan Chang, waited for an attack order at the gate of Hua County.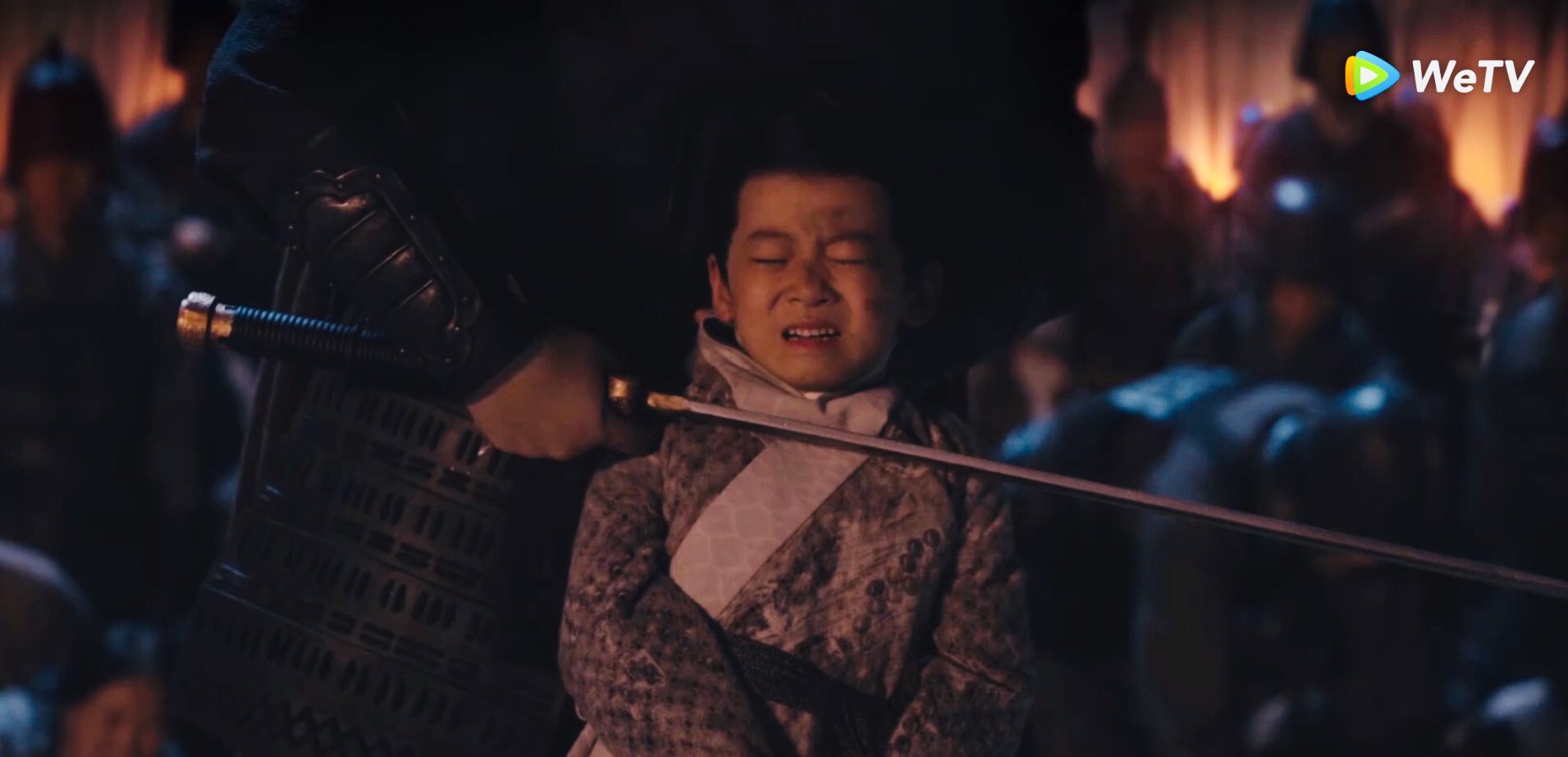 Fan Chang threatens the city magistrate with a boy. He would kill him if they didn't open the gate. The old magistrate tried to hold his emotion when he saw Fang Chang kill the boy and his mother.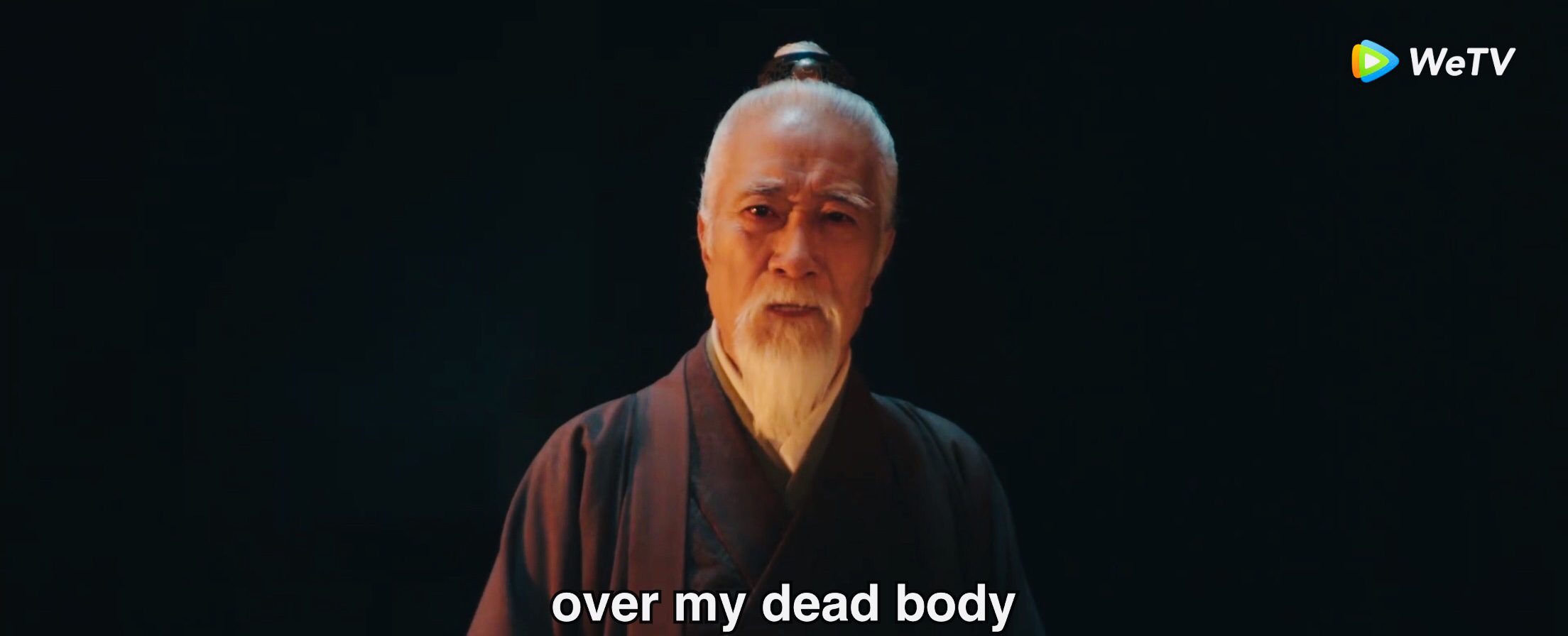 He then decided that he would protect the people by himself. He planned to go outside the gate and sacrificed himself, so the people will be saved.
But his family members and loyal soldiers plead to follow him. He agreed to their plea. Therefore, he took all his sons, and grandsons, and only left his granddaughter, Cheng Xiao Mei.
This is a very sad opening. It broke my heart to see Cheng Xiao Mei crying and calling for her family member to come back…😭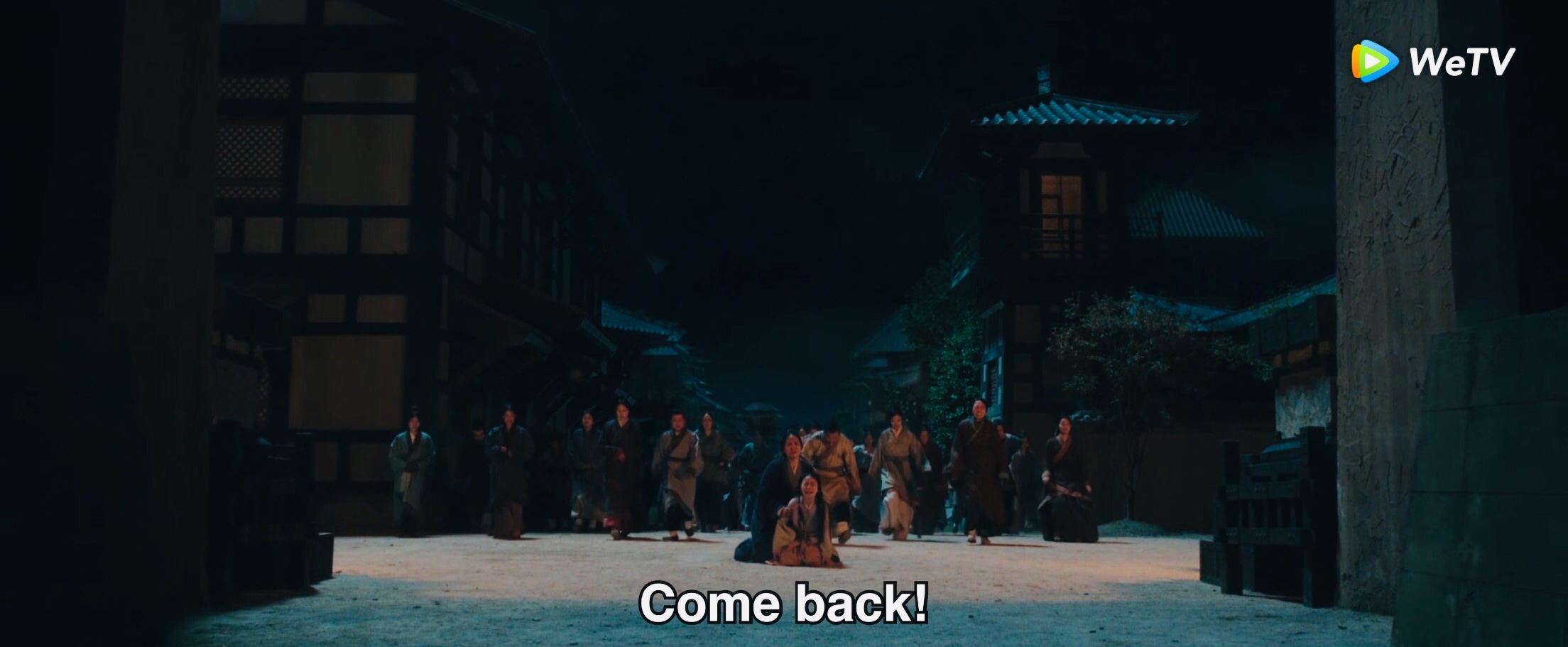 The next day, when the sunrise, we could see the old magistrate kneeling in front of the gate. He leaned to his spear, and a sword pierced him from behind. He was dead. Behind him were the fallen soldiers of Hua County. Meanwhile Fan Chang tried to invade the city using a battering ram to pound down the gates.
At that time, Hua County has lost its soldiers and only protected by several ordinary servants. They were not an opponent of Fan Chang's bloodthirsty soldiers. In just a short time, many people died.

Cheng Xiao Mei tried to stab a soldier who wanted to kill a man. But she didn't have much power to stab him. Instead, she was kicked fiercely by the soldiers. And when he was going to kill her, an arrow pierced him to death.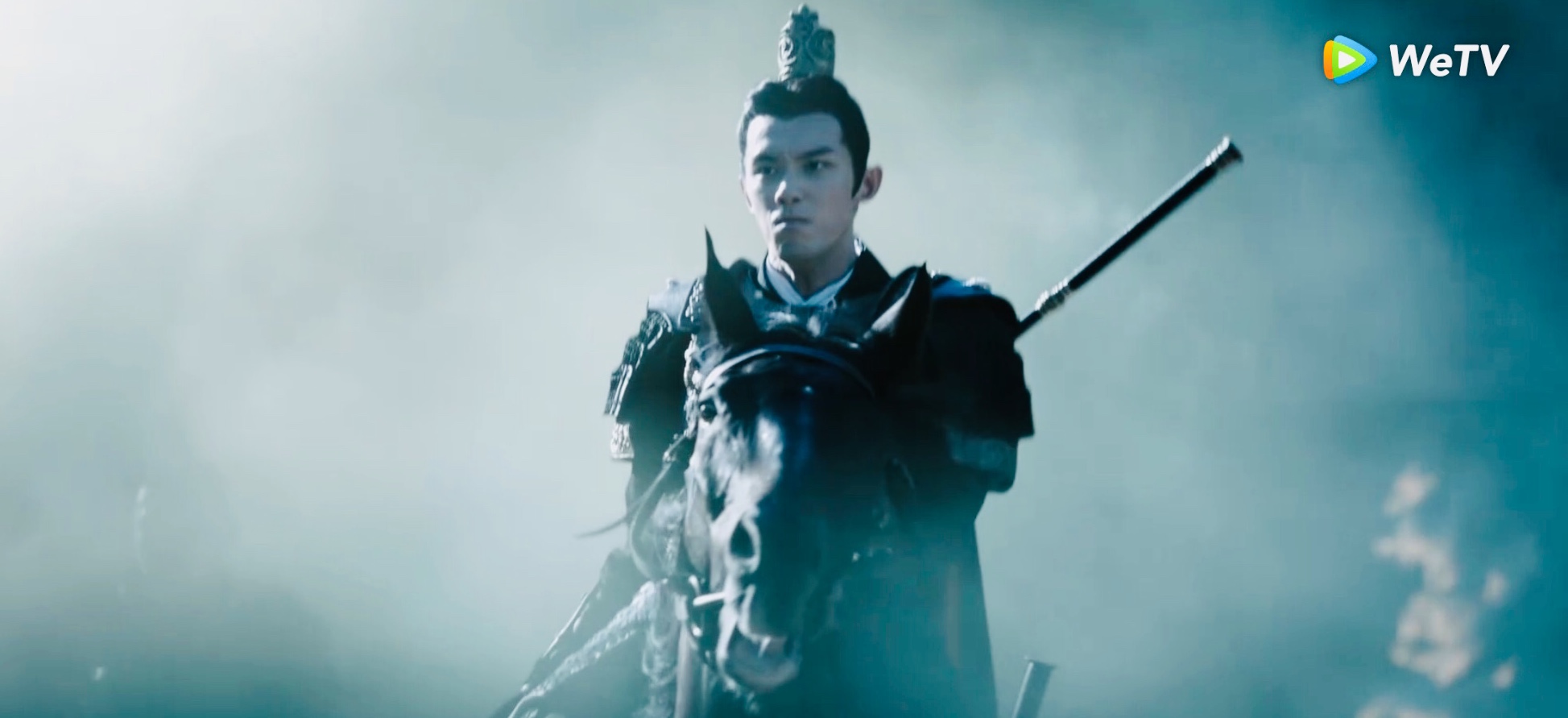 Ling Bu Yi finally came to save the city. The remaining soldiers dreaded by the sight of Black Armored soldiers, including Fan Chang. He ordered them to retreat as soon as he saw Ling Bu Yi.
Ling Bu Yi helped the bloody Cheng Xiao Mei. She thought that Ling Bu Yi was the new Hua City magistrate, so she gave him a seal left by his grandfather and a message. Old Magistrate Cheng said that he left Hua County's people for him to protect. Ling Bu Yi touched by the message.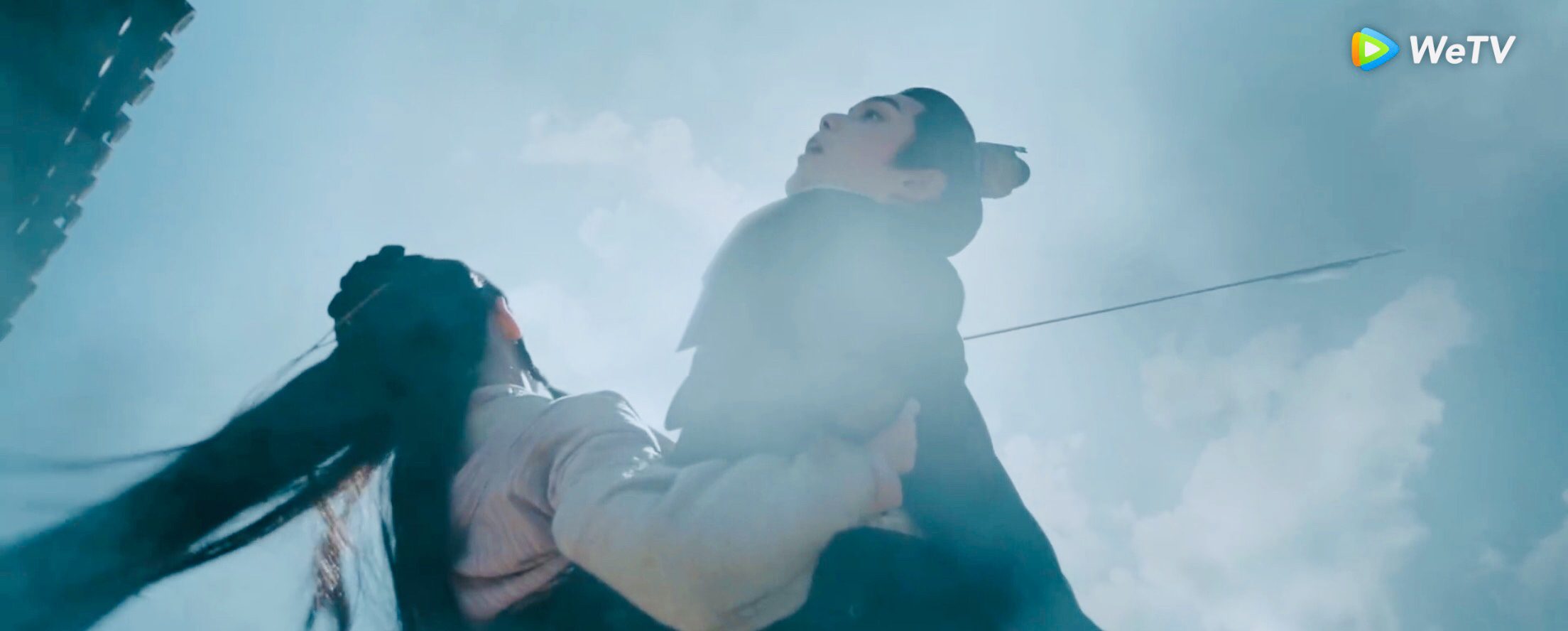 Suddenly, an arrow flew towards them. He shield Cheng Xiao Mei, but as a result, his back pierced by the arrow. Our dear entourage, Liang Qiu Fei and Liang Qiu Qi rushed to help him. They suggested him to go back as soon as possible to the emperor's camp to be treated because the wound was in a critical place.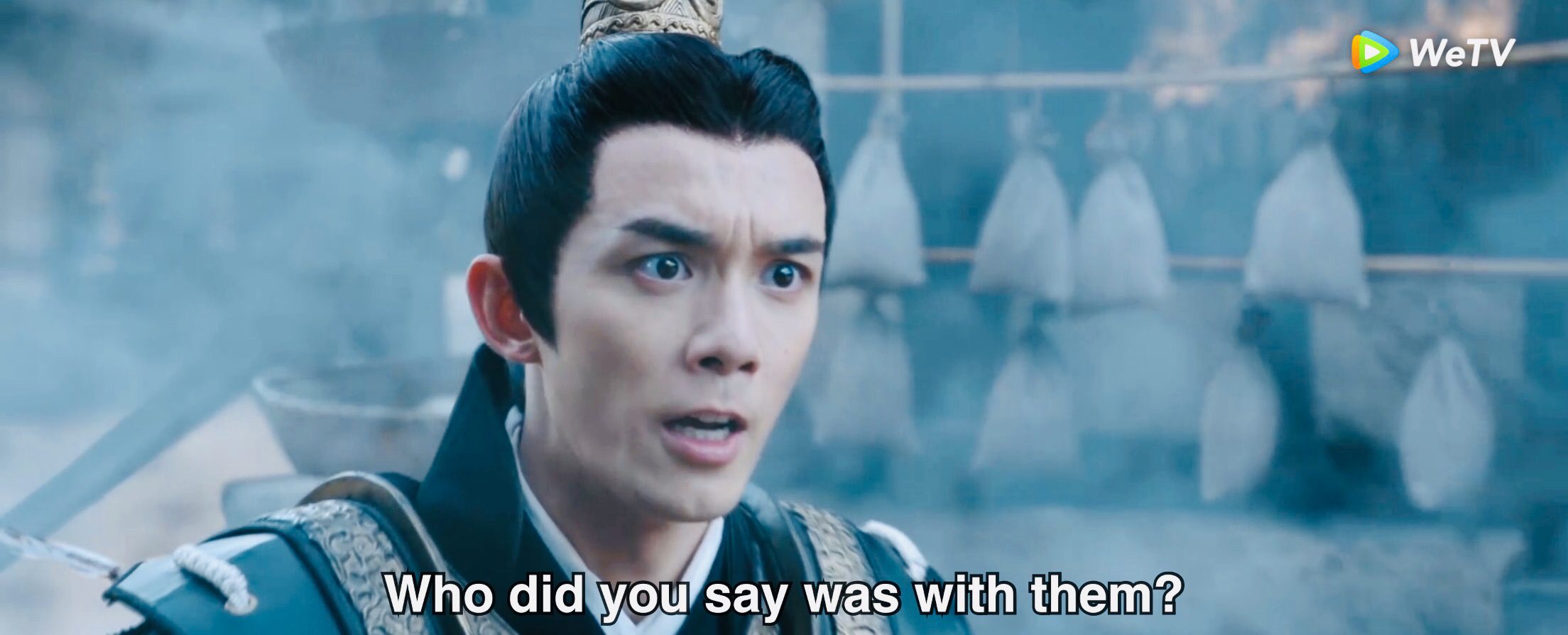 Ling Bu Yi seemed to agree with the suggestion. He then gave Liang Qiu Qi the seal and told him to deliver it to the new magistrate. Liang Qiu Qi told Ling Bu Yi that the new magistrate was Cheng Zhi whom supposed to arrive yesterday. He also told him that Cheng Shao Shang was among the caravans. And they might encounter trouble along the way.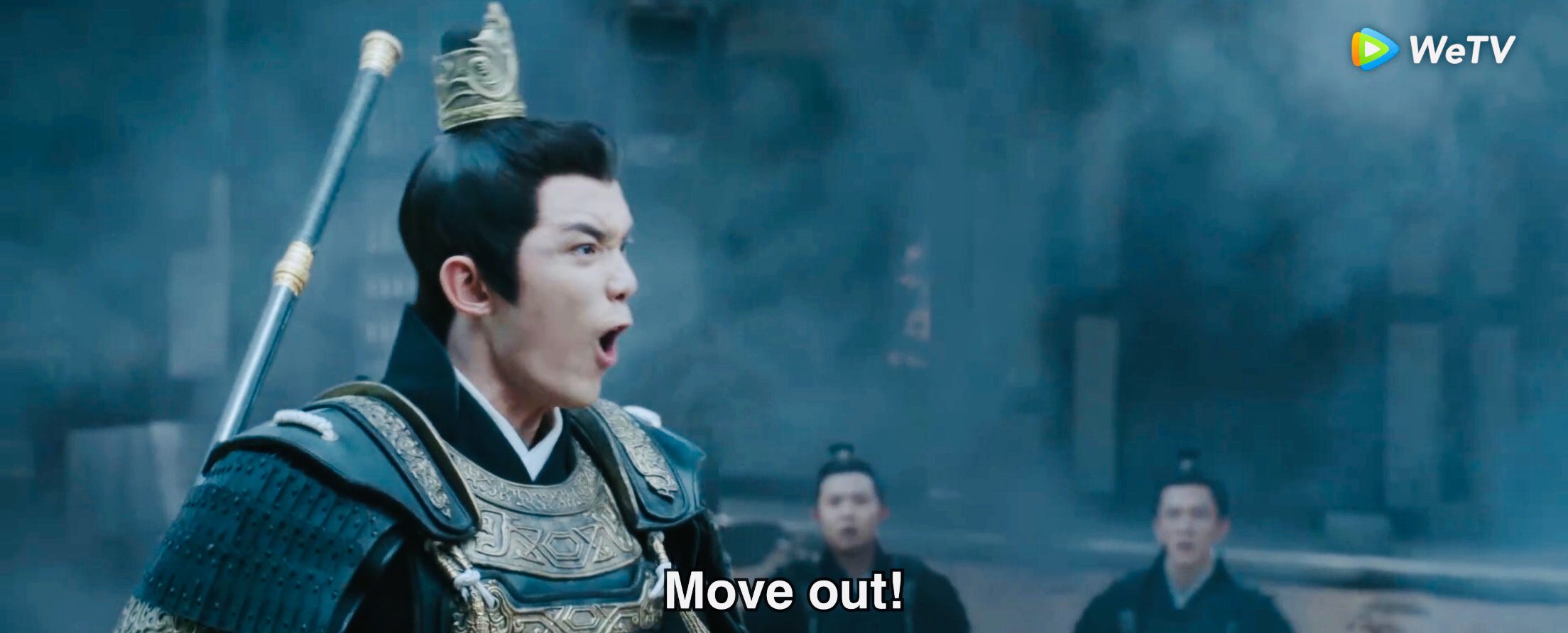 Ling Bu Yi was shocked. Without further ado, he cut the arrow and left the remaining pierced to his body. He mounted his horse and set out immediately.
In the hunting lodge where Shao Shang takes shelter, the rebel soldiers already pound down the gates. The leader was ready to kill Shao Shang when a spear pierced him to death. Shao Shang fell to the ground. But another rebel soldier tried to kill her.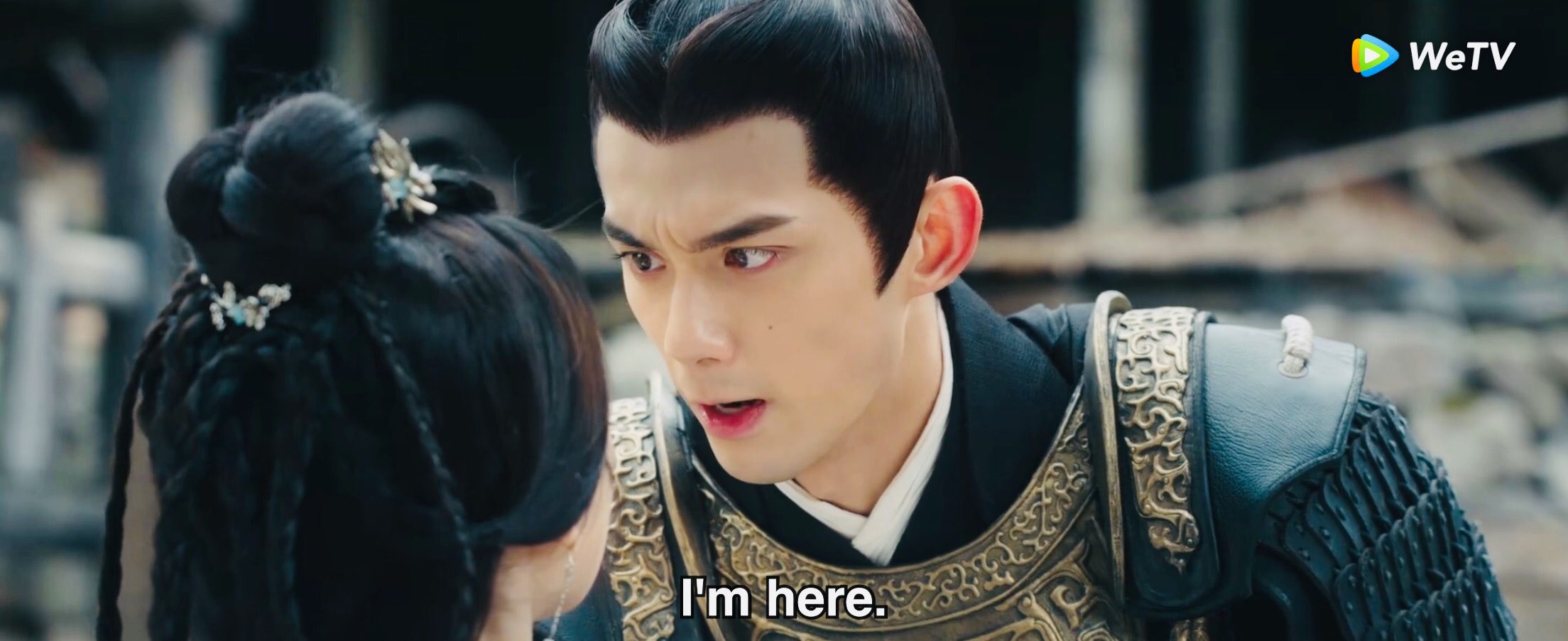 Ling Bu Yi was furious and killed him instantly with his long spears before he ran into Shao Shang and held her. "Don't be scared. I'm here, he said…
Aaaaahhhh… My fragile heart can't handle this sweet scene…
The Black Armored guards swept the rebel soldiers in a short time. Ling Bu Yi standing in the yard looking at the busy Shao Shang when Liang Qiu Fei came with a bandaged arm. When Ling Bu Yi found out that Liang Qiu Fei was bandaged by Shao Shang, he rushed to her to get treated… Oh! What a sly man… 😂😂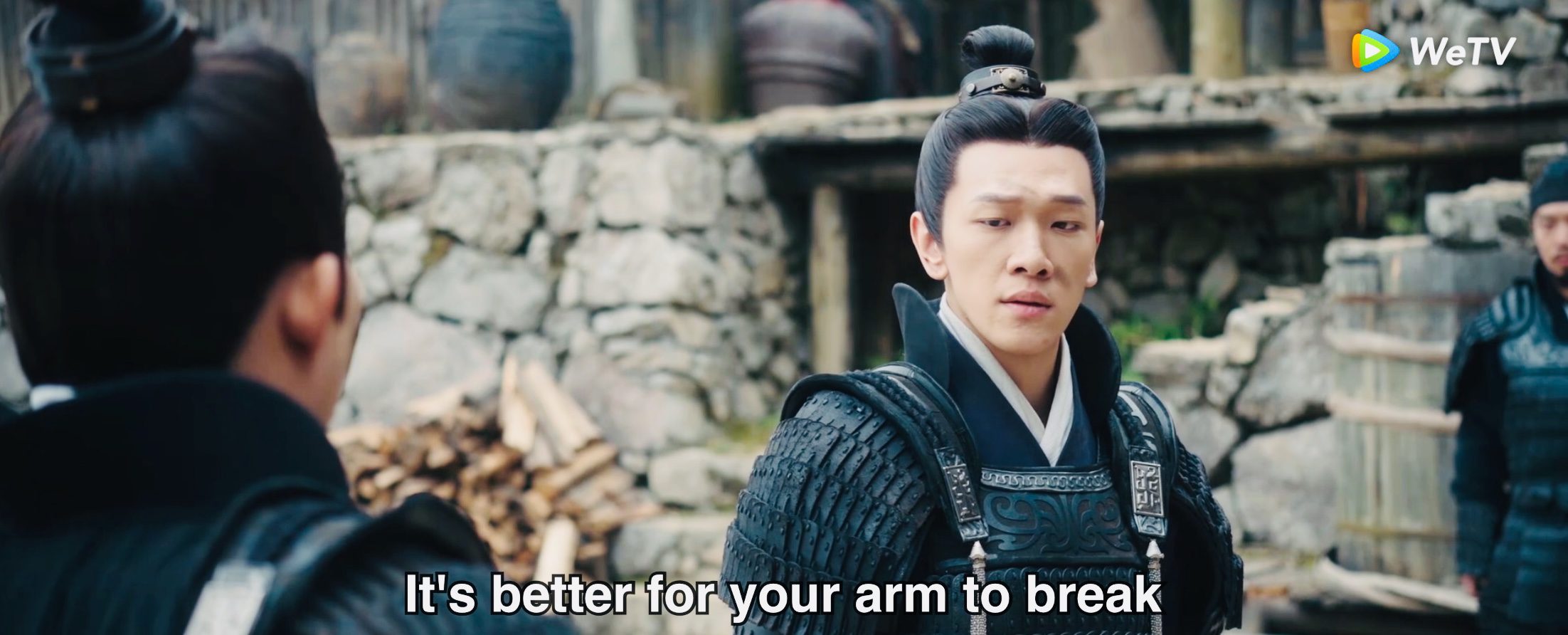 Ling Bu Yi found Shao Shang when she was nauseating over the blood stench. He gave her his handkerchief and told her to use it to cover her nose. He also asked her to treat his injuries.
But the local physician couldn't treat him because his wound was too severe. Shao Shang had an idea to treat his wound. She will used her necklace string to pull out the arrow by inserting it into Ling Bu Yi's wound.

It seemed an impossible idea, but Ling Bu Yi trusted her completely. So she proceed to do it. The process looked painful for Ling Bu Yi as he covered in sweat.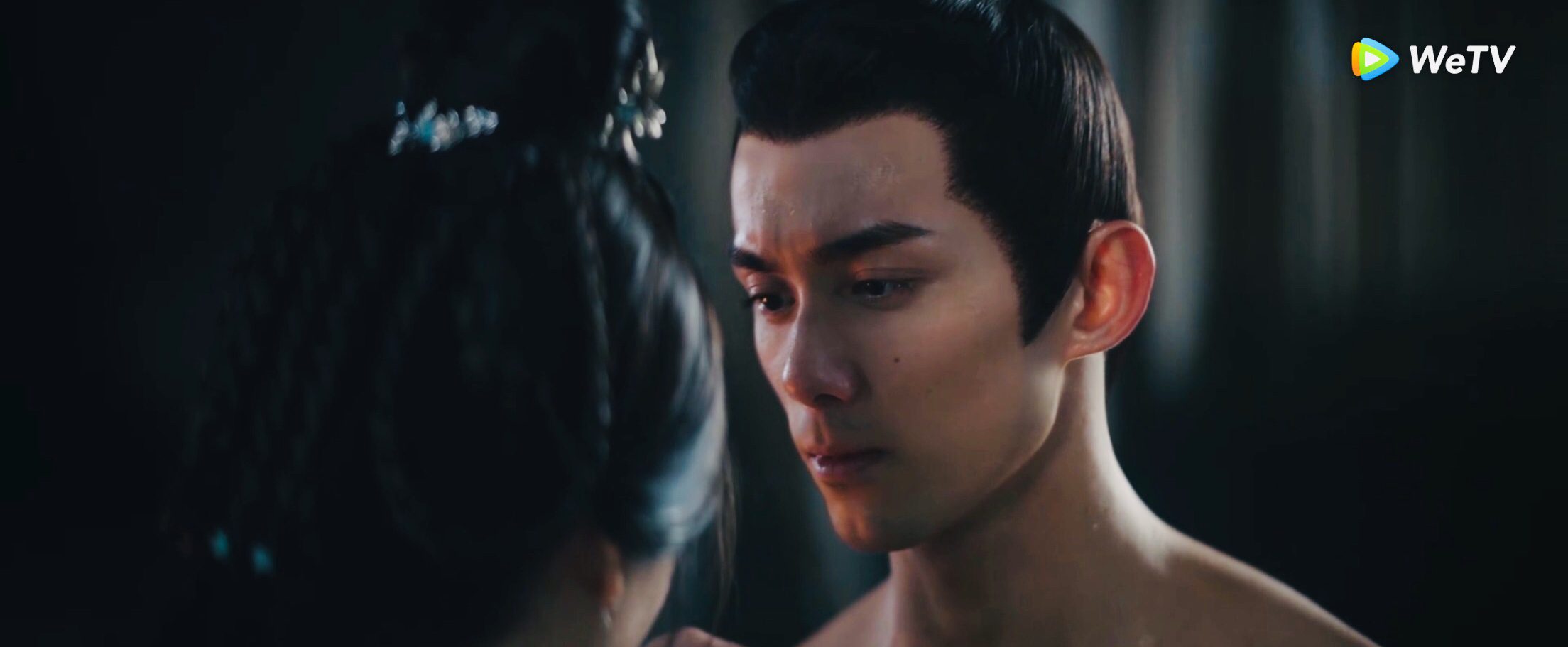 After a looong slow scene of Ling Bu Yi staring at the serious Shao Shang. She finally able to pull the arrow out. She asked Ling Bu Yi a cute (but useless) question… "Is it painful?".
Oh girl, look at that sweaty neck and protruding veins… The pain was obviously excruciating. But our general was too cute because he asked her back, "Did your hand hurts?".
I want to smack Shao Shang's head. In terms of feeling she is obviously slow-witted.
Shao Shang able to guess Ling Bu Yi's train of thought about the arrow and the bandits attack. It was obvious that Shu has been starting its rebellion. And the bandits is actually a group rebellious soldiers.
Ling Bu Yi decided to behead all the remaining rebel. Shao Shang who was fuming because she found out they killed Ah Miao horribly. She wanted to see the execution herself. Ling Bu Yi forbids her but she insisted. Secretly she watched the execution, and it shocked her.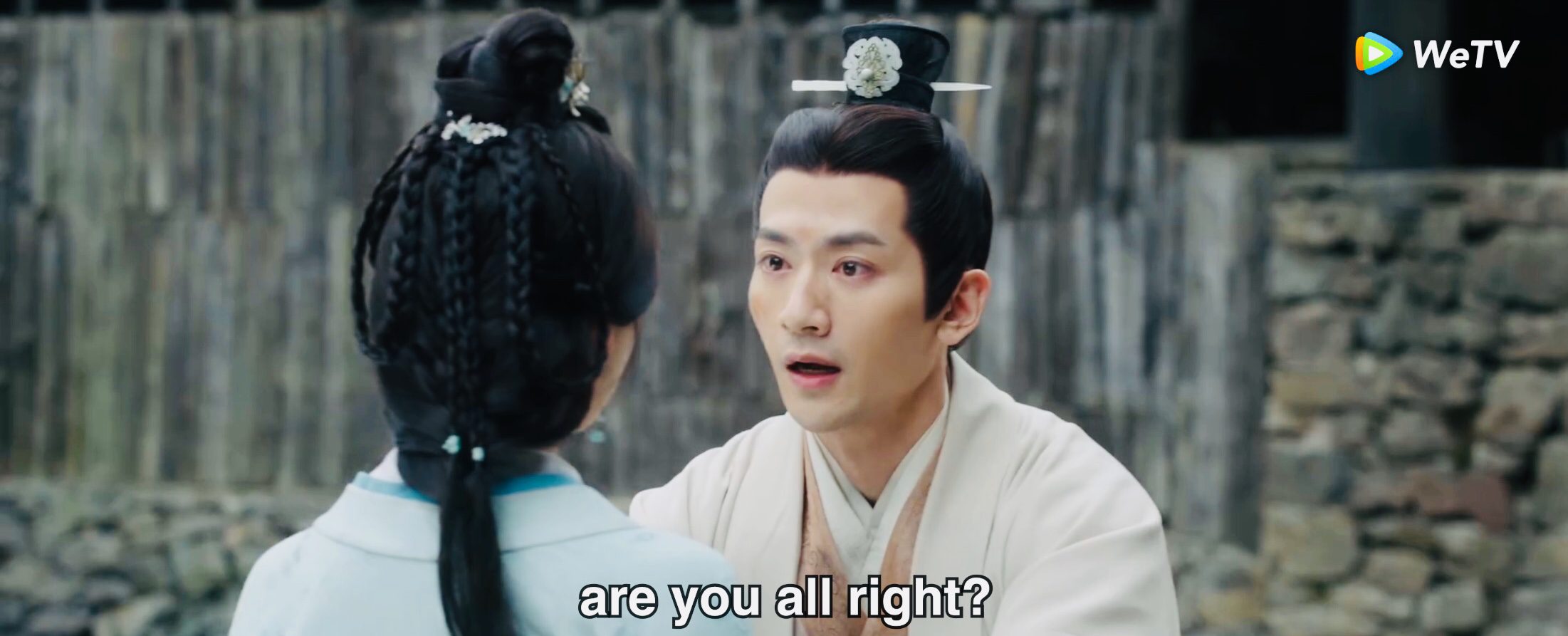 Ling Bu Yi must go back to chase Fan Chang. He left Liang Qiao Qi and a group of soldier to guard Shao Shang's caravans to Huo County safely. Not long after, 3rd Uncle and Lou Yao arrived at the hunting lodge. Thankfully they were fortunate enough not to meet any rebel soldiers along the way. Shao Shang was jealous over her 3rd Uncle fortune.
Ling Bu Yi found the trace of Fan Chang. It was a blood in a leaf, and he touched it with his bare hand. When he was about to clean his hand with a handkerchief, he remembered that Shao Shang had been using the handkerchief to cover her nose. Our general hesitated. In the end he used Liang Qiao Fei's sleeve to wipe the blood trace. 😂😂😂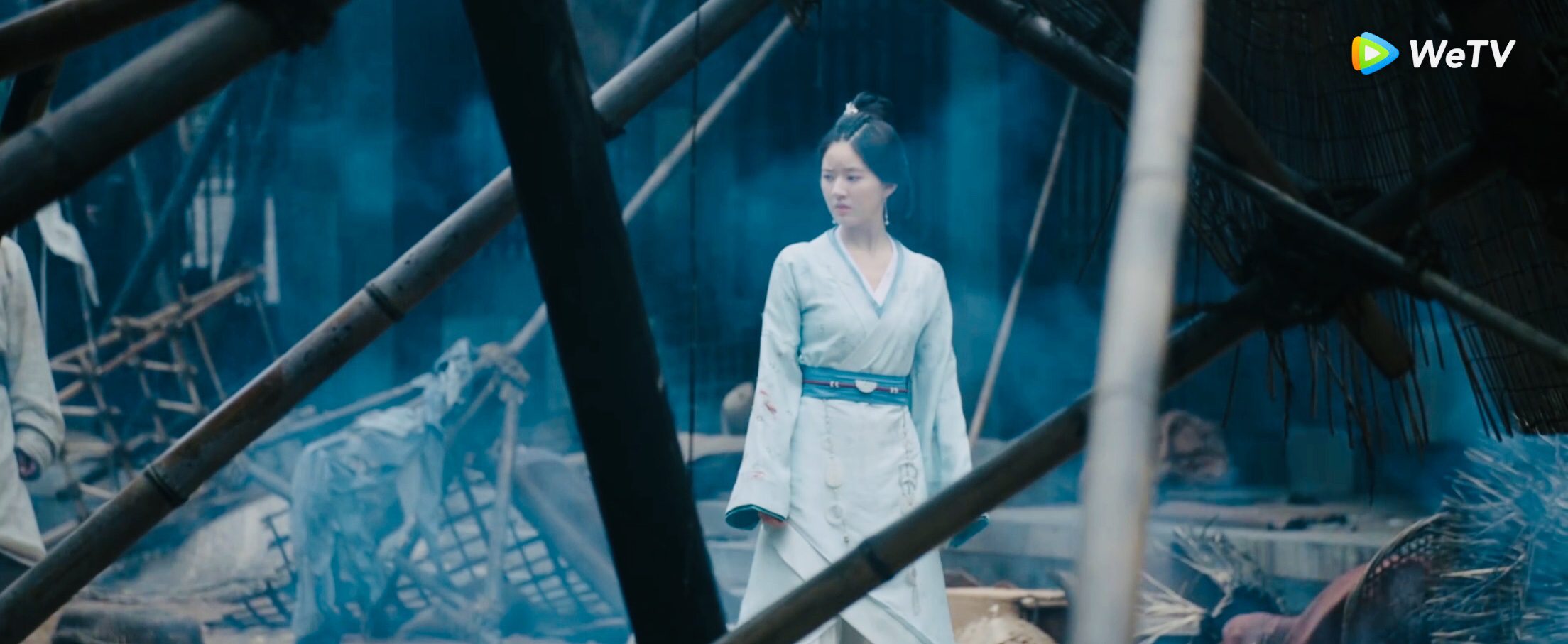 In the meantime, Shao Shang, 3rd Aunt, 3rd Uncle, and Lou Yao arrived at the marred Huo County. They were dismayed to see the destruction in Huo County. Dead bodies were everywhere, children and women crying over their family, and a badly damaged city.