Chinese dramas have a different charm compared to any other Asian dramas. Especially the historical and fantasy drama genre. In terms of story, Chinese dramas was bolder than the others. They are not afraid to give more than a 100% of best wholesomeness to the story and the production, especially in year 2023.
A few dramas such as 2016's Eternal Love: Ten Miles of Peach Blossom drama had poor CGI, but the story was enchanting that you could not resist the temptation to binge watch this drama. You'll love it and would not care about the odd Golden Tiger or the Dragon 😁
Last year we were also drawn to the world's hype of Love Between Fairy and Devil drama and Love Like the Galaxy drama. We are sure that our Dear Readers had already watched those, or at least read our reviews and episode recaps here 😉
And now, let us present you several historical and fantasy dramas in 2023 that are worth watching. Here we go!
Must Watch Historical and Fantasy Chinese Dramas in 2023
1. Till The End of The Moon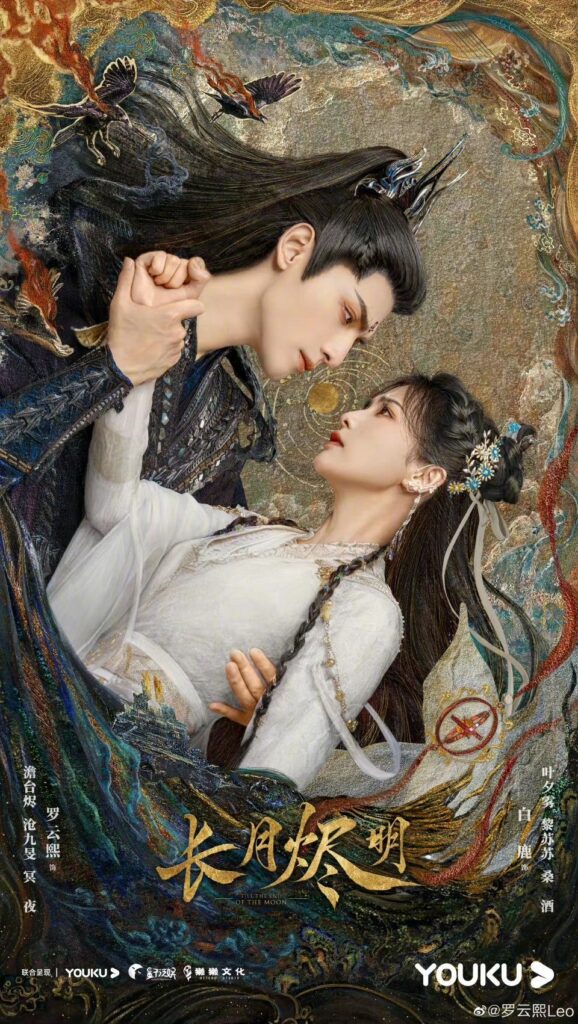 Title: Till The End of The Moon
Also Known As: 长月烬明, Hei Yue Guang Wen Na Be Ju Ben, Yue Zhao Qian Feng Wei Yi Ren, Zhang Yue Wu Jin
Cast: Luo Yun Xi, Bai Lu, Chen Du Ling, Deng Wei
Genres: Romance, Wuxia, Fantasy
Episodes: 40
Date of Release: April 2023
Original Network: Youku
Where to watch: Netflix, Viki, Youku
Till the End of the Moon made our eyes glued to the screen. This ongoing drama's story was captivating. It tells you a story about immortals, demons, and time travel. Magic were everywhere and some people could talk with the animal. The male lead, Tantai Jin, was not our type of man, but boy! You would not be able to escape from his appeal. And the female lead, Li Su Su/Ye Xi Wu, was funny and cute. They made a perfect pair and did a very good job on this drama.
Faraway in the future, the Devil God wiped out almost all immortal sects in the world, leaving only Xiaoyao and Hengyang Sect. When the Devil God attacked them, they could barely survive. The only way to prevent the catastrophe was to change the past. Li Su Su, a mortal from Hengyang Sect, was sent back to the past to prevent Tantai Jin, a weak hostage prince, from his awakening as the Devil God.
Li Su Su woke up in the body of Ye Xi Wu, Tantai Jin's wife who was spoiled and cruel. Their relationship was bad. However, Li Su Su must find a way to destroy his evil bones and reverse the destiny. But things got complicated when they slowly fell in love with each other.
2. A League of Nobleman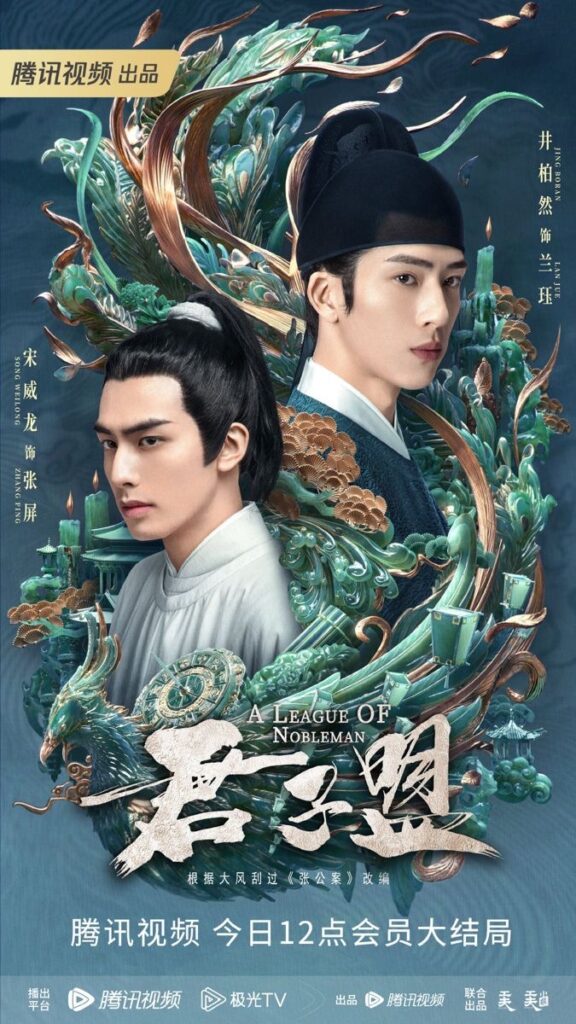 Title: A League of Nobleman
Also Known As: Zhang Gong An, The Society of Four Leaves, The Case of Mr. Zhang, Case of Judge Zhang
Cast: Jing Bo Ran, Song Wei Long, Hong Yao, Guo Cheng, Wang Duo, Shawn Zhang
Genres: Historical, Mystery, Drama
Episode: 29
Date of Release: January 2023
Original Network: Tencent Video
Where to Watch: Viki, WeTv, Tencent Video
We already had review about this fascinating drama, here. The story was packed with mysteries and you would not be able to stop watching it. The mysteries were complicated and very detailed. A League of Nobleman was a novel adaptation. The story was well written and the dialogues were witty. You'll be mesmerized with Jing Bo Ran and Song Wei Long's acting or their handsomeness, or maybe both… 😄
A League of Nobleman was a story about Lan Jue and Zhang Ping. Lan Jue was a promising young official. His career would have advanced if only his family background was not a stumbling block. Meanwhile, Zhang Ping was a very sharp man. He was observant and possessed a good reasoning skill. Both men had a different character.
Zhang Ping was a rigid and stubborn while Lan Jue was a scheming person who knew how to make use of people and situation. Both people got entangled in a mystery of missing bead. Later, more mysteries appeared and they had to solve it together.
3. My Uncanny Destiny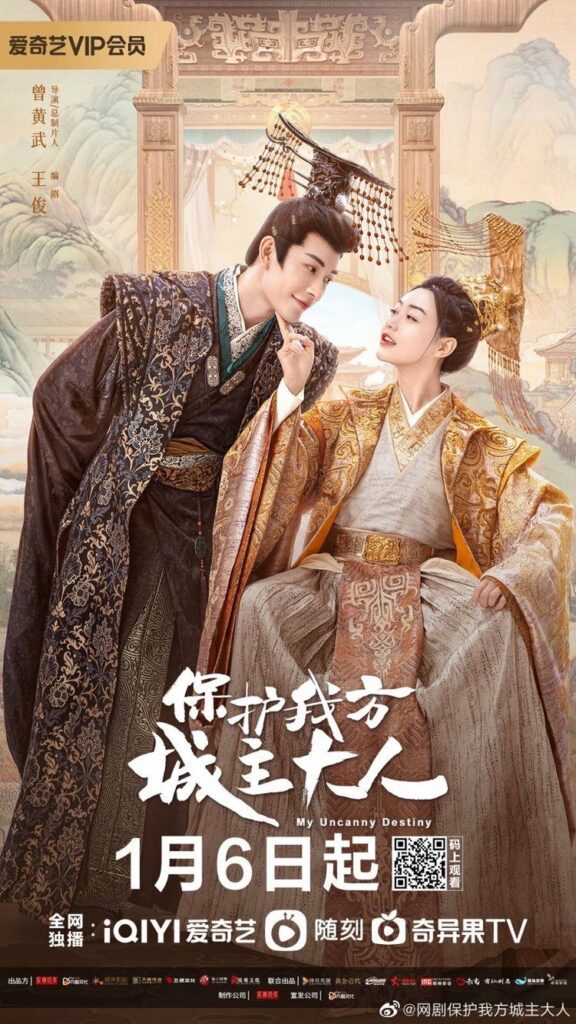 Title: My Uncanny Destiny
Also Known As: 保护我方主大人, Protect Our City Lord, My Dear Destiny, Bao Hu Wo Fang Cheng Zhu Da Ren
Cast: Zhang Yue Nan, Yan Zi Xian
Genres: Historical, Comedy, Romance, Fantasy
Episodes: 24
Date of Release: January 2023
Original Network: iQiyi
Where to Watch: iQiyi, Viki
If you need a good dose of comedy, you might want to try this one. But, be careful… at first, you might feel that this drama was too… cringe. Don't worry… just go with the episode. Don't give up yet, because after you will get used to the cringes, you'll find a hidden gem.😉
My Uncanny Destiny was a love story between Ye Zhao Nan and Liu Xuan Ming. The story started with the enmity between two cities, Mu Xi and Xuan Yue. Ye Zhao Nan was the only daughter of Mu Xi City Lord. However, since she was born Ye Zhao Nan's gender had been concealed. She pretended to be a man so she could inherit the throne.
One day, Ye Zhao Nan accidentally met her mortal enemy from Xuan Yue City, Liu Xuan Ming. Both of them fell from the cliff and Ye Zhao Nan lost her memory. What would happen when two mortal enemies fall in love with each other?
4. Wulin Heroes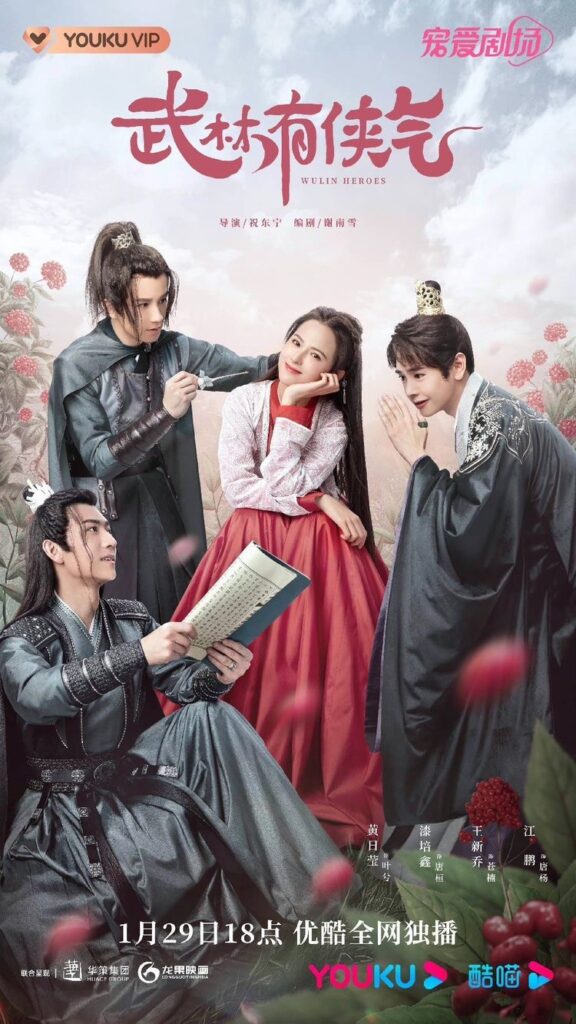 Title: Wulin Heroes
Also Known As: 武林有侠气,Wulin Has Squeamish, Wulin Has Pride, Wu Lin You Xia Qi
Cast: Li Hong Yi, Huang Ri Ying, Zhu Zan Jin
Genres: Comedy, Romance, Fantasy, Wuxia
Episodes: 22
Date of Release: January 2023
Original Network: Youku
Where to Watch: Youku, Viki
If you are looking for a light-hearted, easy-to-watch drama, then Wulin Heroes drama is the best option for you. The story was funny and entertaining, and you'll end up with a warm wholesome feeling. In the middle of the story, you might feel some frustration over the love story, but the story would make up for this. We also had this drama reviewed here. Don't forget to check it out!
Wulin Heroes' story revolves around the intense and quite epic romance between Bai Yue and Ye Xi. Bai Yue was a smart, talented, and ambitious young doctor. He has a poisonous mouth but a tender heart for his patients. Ye Xi was a ginseng fairy who had cultivated for thousands of years before she transformed into a human. She was strong and had undefeated fighting skills, yet her trusting nature made her often fall into others' manipulation.
Ye Xi was attracted to Bai Yue's beautiful looks and amazing skill, but she also find his snappy words annoyed her. While Bai Yue secretly fell in love with her, he also realized that he was afflicted with a curse that prohibited him from falling in love. Would Bai Yue and Ye Xi ever find their true love?
5. Warm on A Cold Night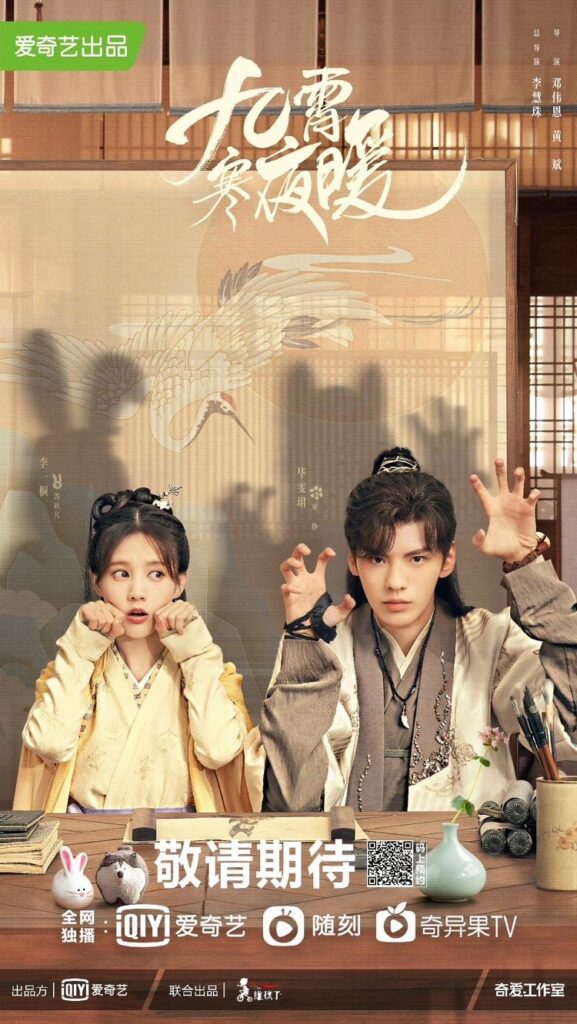 Title: Warm on a Cold Night
Also Known As:九霄寒夜暖, Warm Cold Night in the Nine Heavens, Jiu Xiao Han Ye Nuan
Cast: Li Yi Tong, Bi Wen Jun
Genres: Historical, Mystery, Romance, Fantasy
Episodes: 36
Date of Release: February 2023
Original Network: iQiyi
Where to Watch: IQiyi, Viki
Another heartwarming yet funny drama from Li Yi Tong and Bi Wen Jun. It tells you a story about magic, shapeshifters, mysteries, and romance. The romance was quite sweet but the one that made me hooked was the production. The cinematography was great and you'll enjoy every scene.
Su Jiu Er was a young, and talented female constable. She had a sharp and observant mind. As a Qian person, she possessed a rabbit-like spirit and a strange ailment that made her constantly feel cold. One day, she met Han Zheng, a mysterious Qi person, who possessed a wolf-like spirit.
Han Zheng's warmth attracted her. Every time she touched him, it felt like her body was recharged and her energy level increased. However, Han Zheng was the object of her investigation. And because of a strange murder case, they were forced to team up and solve the mystery that involved both of their kingdoms.
6. The Starry Love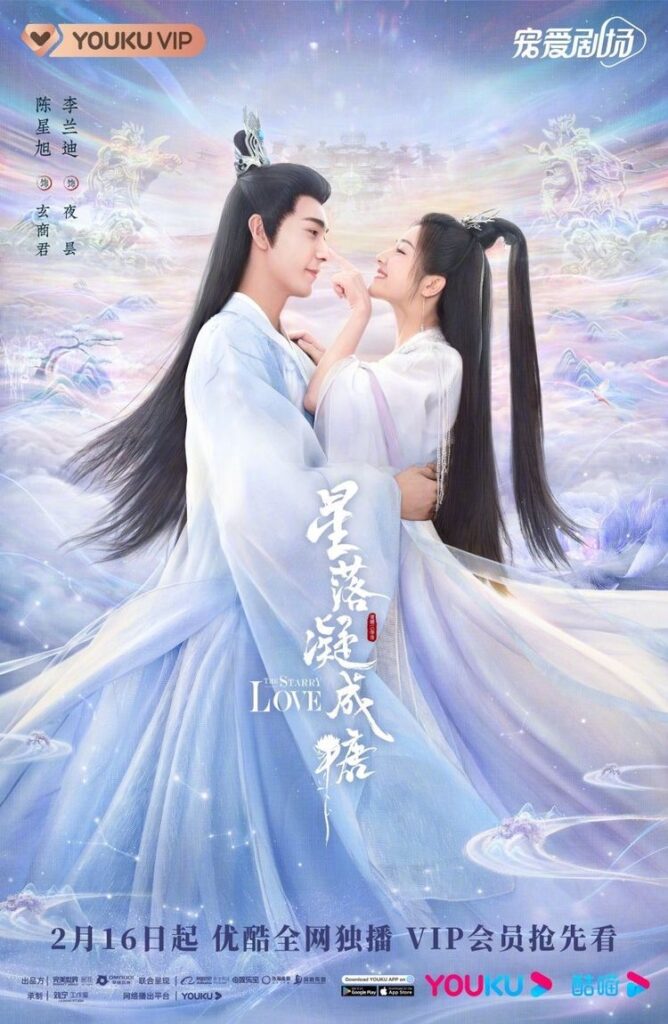 Title: The Starry Love
Also Known As: 星落凝成糖, Love When the Stars Fall, Xing Luo Ning Cheng Tang
Cast: Chen Xing Xu, Landy Li, Luke Chen, He Xuan Lin
Genres: Comedy, Romance, Wuxia, Fantasy
Episodes: 40
Date of Release: February 2023
Original Network: JSTV Youku ZJTV
Where To Watch: Youku, Viki
The Starry Love was a fantasy drama about demons and immortals and the twin mortal princesses who were stuck in those worlds. This drama had a good amount of comedy, romance, and fantasy. You'll be mesmerized by the visual, since the director, Chu Yui Bun, was also the man behind The Blue Whisper, Long Ballad, Ashes of Love, and Skate Into Love. The Starry Love was a part of the Honey Trilogy after Ashes of Love and Skate Into Love. But you surely could watch this drama without watching the prior parts.
Liguan Ye Tan and Liguan Qing Kui were sisters born in the Human Tribe. Although they were born twins, they lived a different life. Qing Kui was favored by their father and respected by the tribe. She was betrothed to You Qin, the prince of the Heavenly Realm. Meanwhile, Ye Tan was deemed a bad luck carrier and hated by the whole tribe, including their father. She was betrothed to marry a prince from the Void realm.
But although the sisters led different kinds of lifestyles, the relationship was harmonious. On their wedding day, they were swapped. Ye Tan who was a willful person was sent to the Heavenly realm to marry You Qin. While Qing Kui who was gentle and refined was sent to the harsh Void Realm. Will they manage to live a good life and met their true love?
7. Royal Rumours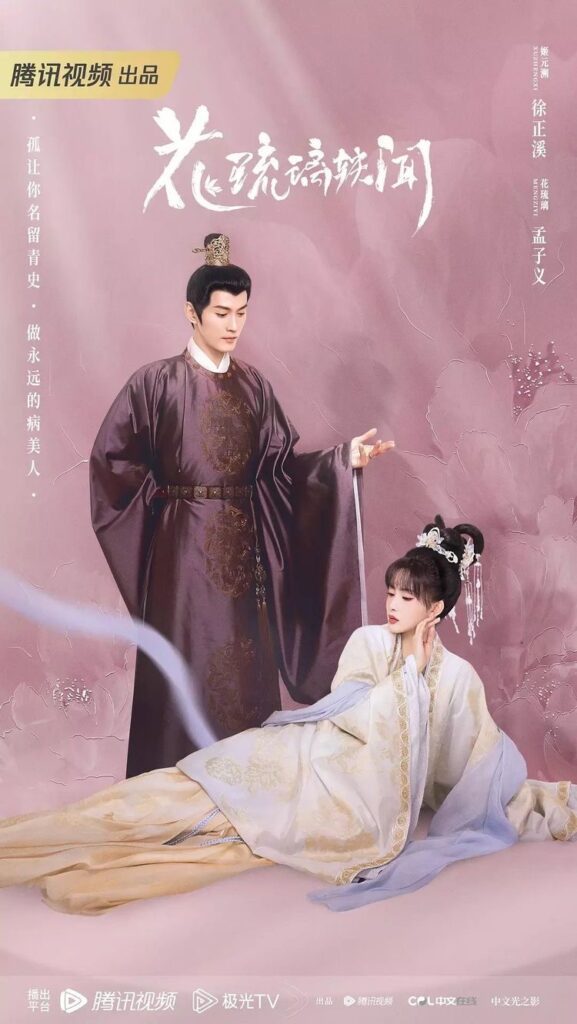 Title: Royal Rumours
Also Known As: 花琉璃轶闻, Pretend time, Time of Creation, The Times Spent in Pretense
Cast: Jeremy Tsui, Meng Zi Yi
Genres: Historical, Comedy, Romance, Drama
Episodes: 24
Date of Release: March 2023
Original Network: Tencent Video
Where to Watch: Viki, WeTV
Royal Rumours was a cute and funny drama. This drama was quite light that you could enjoy it on the weekend. Jeremy Tsui's gorgeous looks and sultry voice were enough to be a reason not to miss this drama. The costumes were great but their headdress was over the top. You might not like it because it was too much, but then you'll find they were quite interesting. The comedy was enough since both of the main characters were cunning and shameless.
What would happen when two people who like to put on a false appearance meet? Ji Yuan Su was a capable crown prince, yet he always pretended to be a useless and willful prince. Hua Liu Li was a strong and sharp girl born into a military family. However, she always pretended to be a weak girl.
Both of them knew each other's secret personality but decided to play along with the farce. Their constant interactions warmed their heart and the bickering turned into their love language.
8. Under the Microscope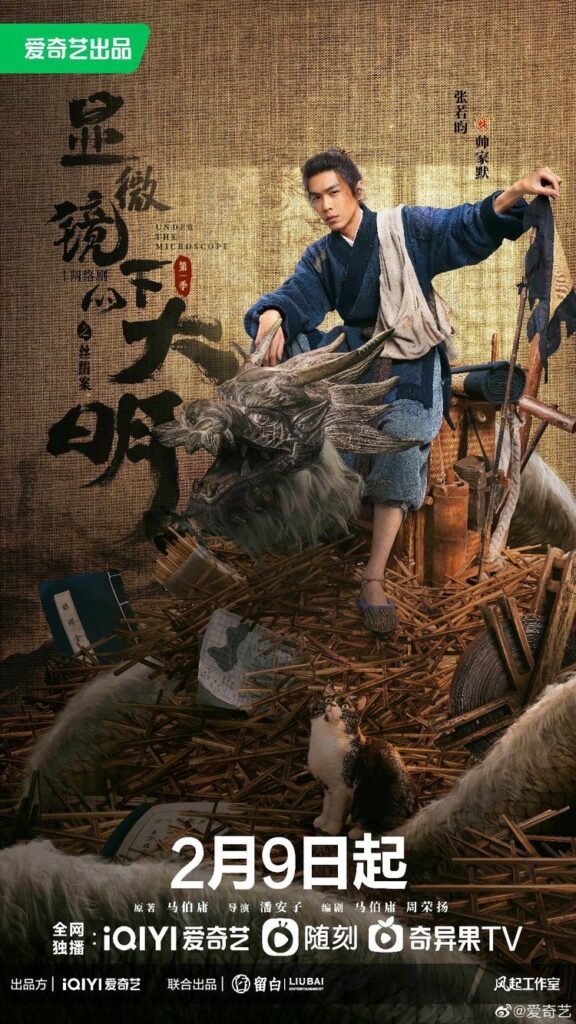 Title: Under the Microscope
Also Known As: 显微镜下的大明, Da Ming Under the Microscope
Cast: Zhang Ruo Yun, Wang Yang, Qi Wei
Genres: Historical, Mystery, Drama
Episodes: 14
Date of Release: February 2023
Original Network: iQiyi
Where To Watch: iQiyi
Have you ever thought about a mathematician's life in ancient China? This theme is surely unlike the usual Chinese drama. Under The Microscope was based on the novel written by Ma Bo Yong. The same author wrote The Wind Blows From Longxi, The Longest Day in Chang'an, and Luoyang.
If you were bored with the romance and comedy genre, then you might want to see this. The story was complicated and it might not be everybody's cup of tea. But we personally, love this gem. Zhang Ruo Yun's acting was superb and deserved a bunch of praise.
Under the Microscope drama was the story of Shuai Jia Mo who has a superior math skills. He seemed to be an autistic savant who possessed a terrific memory and was obsessed with numbers and accuracy. Feng Bao Yu was Shuai Jia Mo's best friend, a gambling maniac. Shuai Jia Mo worked as a person who provided field measurement services for others.
Shuai Jia Mo's obsession helped him to discover a tax discrepancy in Renhua that burdened the taxpayer for 100 years. Together with his friend Feng Bao Yu, Shuai Jia Mo filed for complaints. However, their action caused an uproar in eight counties.
Well, have you made your choice of drama for the weekend? We hope this Must Watch Historical and Fantasy Drama 2023 article helps. Do not forget to write down your choice at the comment section below… We'll be waiting for your response. Happy Watching!